Baltimore Ravens Draft Recap
Today, we will be continuing our look at every team's 2020 NFL draft class.

The 2020 NFL Draft has come and gone, and 255 collegiate athletes have fulfilled their lifelong dream of hearing their name called to join an NFL roster. In this series, we will be looking at each NFL team's individual draft and reviewing just how well the team did at adding the next wave of talent to their roster.
For part three of this series, we will be looking at the AFC North's Baltimore Ravens.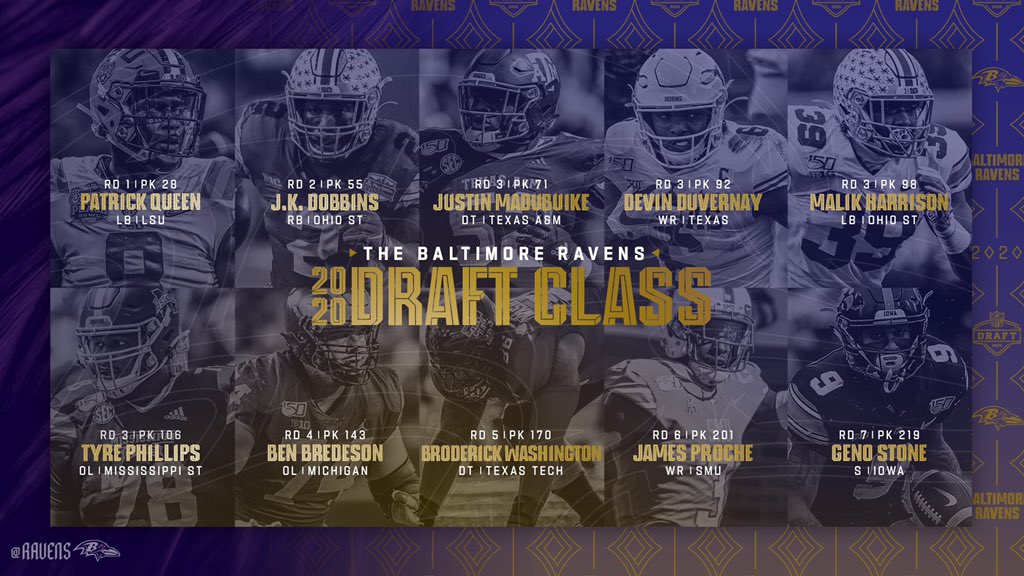 The Selections
1st Round, Pick 28: Patrick Queen, Linebacker, LSU
2nd Round, Pick 55: J.K. Dobbins, Running Back, Ohio State
3rd Round, Pick 71: Justin Madubuike, Defensive Tackle, Texas A&M
92nd pick, 3rd Round: Devin Duvernay, Wide Receiver, Texas
98th pick, 3rd Round: Malik Harrison, Linebacker, Ohio State
106th pick, 3rd Round: Tyre Phillips, Interior Lineman, Mississippi State
4th Round, Pick 143: Ben Bredeson, Interior Lineman, Michigan
5th Round, Pick 170: Broderick Washington, Defensive Tackle, Texas Tech
6th Round, Pick 201: James Proche, Wide Receiver, SMU
7th Round, Pick 219: Geno Stone, Safety, Iowa
[tps_start_button label="Start slideshow" style="" class=""]
Ravens Draft: The Dive
Patrick Queen
Overall value against my board: -45 (68th overall)
This selection is a classic case of the best case scenario for both parties. I wasn't a big fan of Patrick Queen on tape, but he is going to the perfect situation here in Baltimore. His speed for the linebacker position and instincts in coverage fill a huge need on this Ravens defense. Queen gives Baltimore the rangy linebacker they have been looking for since C.J. Mosley got paid by the Jets, but he will have to become a more consistent tackler to truly thrive for this team.
J.K. Dobbins
Overall value against my board: +15 (40th overall)
Here in the second round, the Ravens were able to go with their best player available after filling their biggest need on the roster with Queen. Mark Ingram will not be around forever and Gus Edwards is a quality runner to have in a committee. Dobbins is solid all-around and will add another level to this offense which is already dynamic with MVP Lamar Jackson.
Justin Madubuike
Overall value against my board: +12 (59th overall)
After adding Calais Campbell to the roster in the off-season in a trade to help out the pass rush, the Ravens elected to use their first of four 3rd round picks to add a solid run defender to the squad. Madubuike is a bit raw as a pass rusher, but he has very high potential as a run stuffing defensive tackle. A solid rotational piece from day 1, with starting potential down the line.
Devin Duvernay
Overall value against my board: +10 (82nd overall)
During Lamar Jackson's MVP campaign, the team's wide receiving corps was far from the strongest in the league, with only one wideout eclipsing 350 yards through the air. Devin Duvernay isn't the most effective route runner in the world, but he will provide this offense with another true burner to complement 2019 first round pick Marquise Brown. In the historic wide receiver class that 2020 provided, Duvernay was lost in the shuffle just a bit, but he landed in a great spot in Baltimore.
Ravens Draft: The Dive
Malik Harrison
Overall value against my board: +20 (78th overall)
The Ravens decided to double up on linebacker with this selection here, with Harrison providing the team with solid value late in the 3rd. Harrison will likely be a rotational piece for Baltimore early on in his career, but he has the physical upside to potentially start alongside Queen one day when he has developed more instinctually. This pick should pay off well for the team in due time.
Tyre Phillips
Overall value against my board: N/A
Tyre Phillips was one of the many players in the draft that I did not get to scout due to me running out of time towards the end of the cycle, but this selection does make sense for the Ravens. Longtime offensive stalwart Marshall Yanda retired in the 2019 off-season, leaving a big hole in the middle of the offensive line. Based on draft position, it would not be a surprise to see Phillips slot in at right guard from day 1.
Ben Bredeson
Overall value against my board: +5 (138th overall)
Back to back guards here for the Ravens, and Bredeson is an interesting player to grab on day 3. His physical profile is not the greatest as he has some of the shortest arms in the league for the position. However, he is a very smart football player that will contribute in the Ravens offensive line room early on. Solid depth piece that can provide quality reps for the team in a pinch.
Ravens Draft: The Dive
Broderick Washington
Overall value against my board: N/A
Texas Tech's Broderick Washington is another guy that I haven't seen too much of. He has decent size for the position, but will likely be nothing more than a depth piece for Baltimore for the next couple of years. Washington is a locker room leader that will have his influence on the locker room one way or another.
James Proche
Overall value against my board: +46 (155th overall)
What Devin Duvernay lacks as a route runner, James Proche makes up for in spades. A very solid late round receiver with good hands who does well at getting separation, Proche should contribute for this Ravens team from day 1. Due to his small stature, he will likely be splitting time with Duvernay in the slot, but this is a really good value for this team.
Geno Stone
Overall value against my board: +82 (137th overall)
Stone is a hard hitting safety with solid range and tackling ability. He isn't the most instinctive player right now, but with a couple years to develop in the same safety room as Earl Thomas, Stone could be one of the best 7th round selections from this draft. Excellent value for Baltimore to add depth to their already elite secondary.
Overall Draft Grade: A+
The Ravens draft was one of the best in the entire league in my opinion. As one of the most talented teams in the NFL, Baltimore didn't enter draft weekend with too many restrictions on where they needed to go with their selections. As a result, they ran with the best player available philosophy and executed it to perfection.

The Ravens draft double-dipped at several positions in this draft that they were a bit weaker at, turning those weak spots on the roster into solid, deep positions. They grabbed their linebacker of the future early, added three dynamic weapons to the offense, and beefed up their interior lines on both sides. The Ravens are looking at a long Super Bowl window, and this draft should solidify them as a top team for the foreseeable future.
Don't miss the rest of our 2020 NFL Draft coverage, and don't forget to follow @NFLDraftLounge on Twitter and Facebook!