Today, we will be continuing our look at every team's 2020 NFL draft class with a look at the Bengals draft. 

The 2020 NFL Draft has come and gone, and 255 collegiate athletes have fulfilled their lifelong dream of hearing their name called to join an NFL roster. In this series, we will be looking at each NFL team's individual draft and reviewing just how well the team did at adding the next wave of talent to their roster.
For part seven of this series, we will be looking at the Cincinnati Bengals.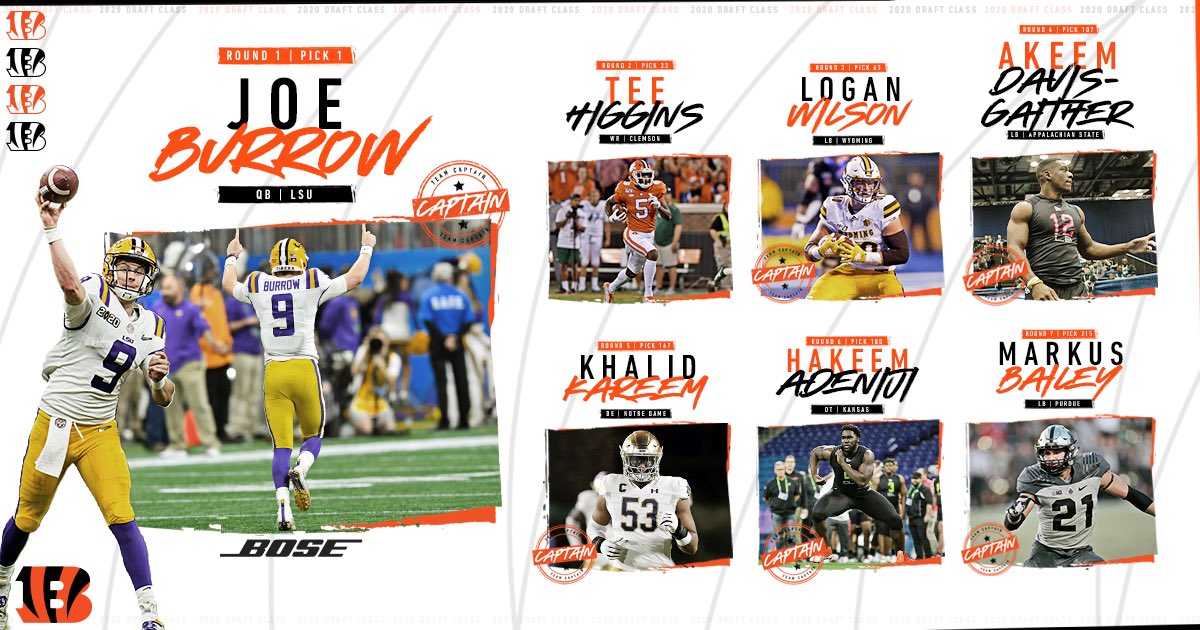 Bengals draft: The Selections
1st Round, Pick 1: Joe Burrow, Quarterback, LSU
2nd Round, Pick 33: Tee Higgins, Wide Receiver, Clemson
3rd Round, Pick 65: Logan Wilson, Linebacker, Wyoming
4th Round, Pick 107: Akeem Davis-Gaither, Linebacker, Appalachian State 
5th Round, Pick 147: Khalid Kareem, Edge Rusher, Notre Dame
6th Round, Pick 180: Hakeem Adeniji, Offensive Tackle, Kansas
7th Round, Pick 215: Markus Bailey, Linebacker, Purdue
Bengals Draft: The Dive
Joe Burrow
Overall value against my board: -2 (3rd overall)
After several years sitting in Andy Dalton purgatory, the Bengals were gifted the opportunity to select Burrow at the top of the 2020 draft. The former LSU Tiger is coming off one of the best seasons the collegiate level has ever seen, capping off his Heisman campaign with a National Championship. Burrow has all the traits you look for in a franchise signal-caller, and will be the leader for the Bengals going forward.
🚨 IT'S REAL 🚨

Welcome Home, @Joe_Burrow10#SeizeTheDEY | @Bose pic.twitter.com/qnauCnpOWI

— Cincinnati Bengals (@Bengals) April 24, 2020
Tee Higgins

Overall value against my board: +2 (31st overall)
With A.J. Green getting up there in age and struggling to stay on the field, the Bengals chose the Clemson big man to be his successor going forward. Higgins isn't the best at getting open on his own, but he has the size and jump ball ability to win in 50/50 opportunities. He likely doesn't find success as a number one receiver, but he will get opportunities with Burrow at the helm.
Joe Burrow gets a weapon

The Bengals draft Clemson WR Tee Higgins with the first pick of the second round #NFLDraft pic.twitter.com/fWcHilgvF5

— Bleacher Report (@BleacherReport) April 24, 2020
Logan Wilson
Overall value against my board: -36 (101st overall)
After trotting out one of the worst linebacker rooms in the NFL for the last several years, the Bengals attacked the position heavily in the 2020 draft. Logan Wilson was the first to land in Cincinnati. Wilson has solid instincts in coverage and will be a tackling machine throughout his career. A bit early for Wilson, but he will be a contributor for this team for a long time.
Logan Wilson#bengals 3rd round pick

He's made big plays in terms of INT's and sacks, but I thought I'd share something that stands out to me when watching him – his patience and timing when it comes to tackling.

He has a composure to him before making tackles which I love. pic.twitter.com/QwG4GciybN

— Sam Ainger (@sam_ainger) April 27, 2020
Bengals Draft: The Dive
Akeem Davis-Gaither
Overall value against my board: +71 (36th overall)
The second linebacker drafted by the Bengals in 2020 fell to them due to injury concerns, and will be a steal going forward. ADG is a tenacious linebacker who can win blitzing downhill and succeed in coverage. He will best be used as a hybrid guy, giving him more blitz opportunities. Great pick at the top of the fourth round for Cincinnati.
Bound for the @Bengals!@AppState_FB // Akeem Davis-Gaither#SunBeltFB #NFLDraft pic.twitter.com/fEQcVLt0oP

— Sun Belt (@SunBelt) April 25, 2020
Khalid Kareem
Overall value against my board: -1 (148th overall)
The Bengals didn't have the best pass rush rotation going into the draft behind Carlos Dunlap and Carl Lawson. Kareem is a player that likely won't ever become a starter, but he has some solid ability to add to this rotation. With Sam Hubbard continuing to develop and Kareem now in the mix, the Bengals pass rush depth continues to get stronger.
The @Bengals have drafted Khalid Kareem#Bengals #WhoDey #LetsRoar #SeizeTheDEY⁠ #NewDEY #NFL #NFL100 #BungleForBurrow #NFLPlayoffs #SuperBowl #NFLDraft #BooTheCommish #BurrOH

pic.twitter.com/msqUepX3uZ

— Cincy Fan Zone (@CincyFanZone) April 25, 2020
Hakeem Adeniji
Overall value against my board: +9 (171st overall)
Even with the return of last year's first round pick Jonah Williams, this offensive line is a mess right now. Hakeem Adeniji is a solid player that has the flexibility to kick inside to guard if he needs to. The Bengals needed to improve depth on the offensive line, and might have found a starter on the interior here with Adeniji. 
#Bengals select #Kansas OL Hakeem Adeniji in sixth round

📰: https://t.co/9BsZPLL98b | #SeizeTheDEY | #NFLDraft pic.twitter.com/HkQw4hARoO

— The Bengals Wire (@TheBengalsWire) April 25, 2020
Markus Bailey
Overall value against my board: +116 (99th overall)
Markus Bailey is a guy who slid way down the draft board due to injury issues that plagued him during his time at Purdue, but he is a very good football player when on the field. He has good instincts in coverage and is a solid athlete. It is a big if, but if he is able to stay healthy, he could be a starter down the road for the Bengals.
Bailey is a Bengal.

Injury forced Markus Bailey to miss his final season with @BoilerFootball, but he's a talented LB.

Check out the reel for yourself. @mb_boiler21 | @Bengals pic.twitter.com/MqxXtBgLp2

— Purdue On BTN (@PurdueOnBTN) April 25, 2020
Bengals Draft: Overall
Draft Grade: A-
Heading out of the draft like… pic.twitter.com/ny6ygXb2it

— Cincinnati Bengals (@Bengals) April 25, 2020
The Bengals did a fantastic job throughout the 2020 NFL Draft. Adding your franchise quarterback is always a great thing if it pans out, and Burrow should absolutely pan out and start for this team for a long time. Adding a solid piece to the offensive line late and bringing in a big bodied receiver to compliment Burrow were great decisions.

While three linebackers might be seen as overkill by many people, the Bengals needed it. They got great value with ADG and Markus Bailey, and Logan Wilson is a prototypical middle linebacker to stick in and be the quarterback of this defense. Khalid Kareem provides solid depth in the 5th round. Overall a great draft both for this season as well as going forward.
Don't miss the rest of our NFL Draft coverage, and don't forget to follow @NFLDraftLounge on Twitter and Facebook!