Today, we will be continuing our look at every team's 2020 NFL draft class by focusing specifically on the Buffalo Bills draft. 

The 2020 NFL Draft has come and gone, and 255 collegiate athletes have fulfilled their lifelong dream of hearing their name called to join an NFL roster. In this series, we will be looking at each NFL team's individual draft and reviewing just how well the team did at adding the next wave of talent to their roster.
For part four of this series, we will be looking at the AFC East's Buffalo Bills.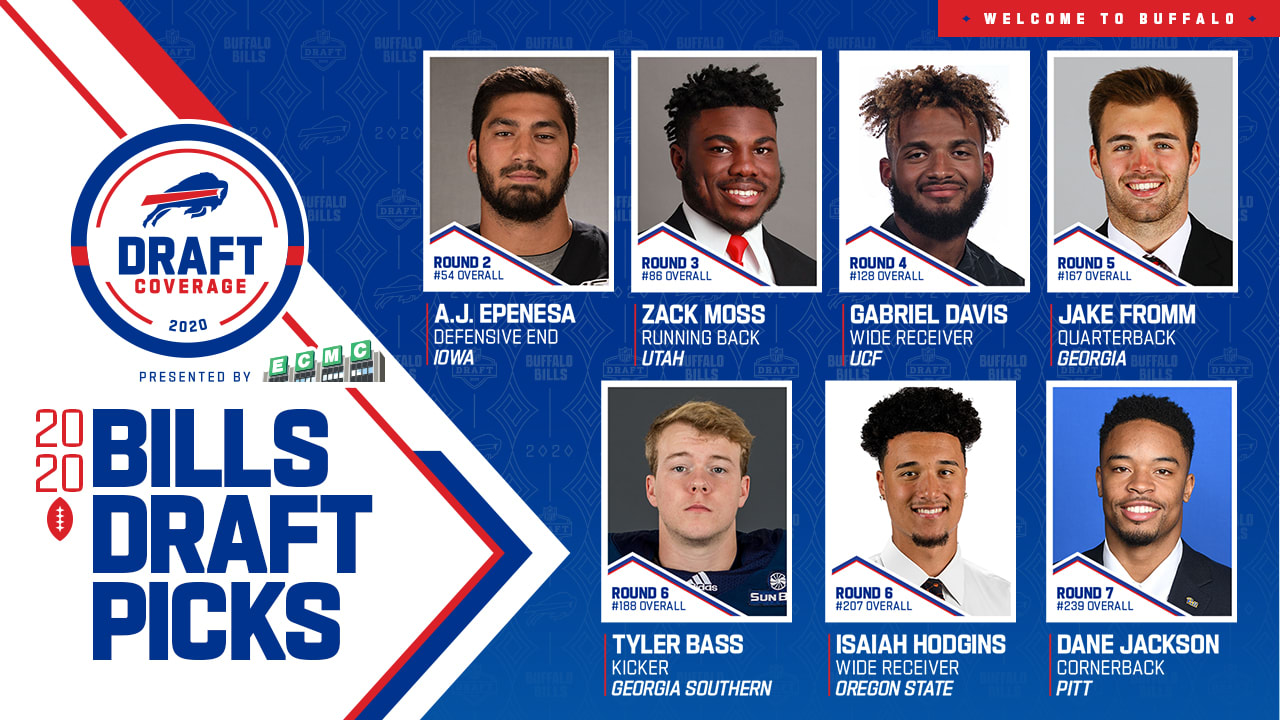 The Selections
2nd Round, Pick 54: A.J. Epenesa, Edge Rusher, Iowa
3rd Round, Pick 86: Zach Moss, Running Back, Utah
4th Round, Pick 128: Gabriel Davis, Wide Receiver, UCF
5th Round, Pick 167: Jake Fromm, Quarterback, Georgia
6th Round, Pick 188: Tyler Bass, Kicker, Georgia Southern
6th Round, Pick 207: Isaiah Hodgins, Wide Receiver, Oregon State
7th Round, Pick 239: Dane Jackson, Cornerback, Pittsburgh
Bills Draft: The Dive
A.J. Epenesa
Overall value against my board: +37 (17th overall)
After losing Shaq Lawson to the Dolphins in free agency, the Bills had a big hole to fill in their edge rotation. A.J. Epenesa was one of the top players in all of college football, but fell in the draft due to a poor combine. Epenesa brings pure power as a rusher and is a stout run defender. This pick was a steal towards the back of the second round, as Epenesa should bring an immediate impact to Buffalo.
First two seasons of college

Nick Bosa (7 starts): 13.5 sacks, 23 TFL, one forced fumble

AJ Epenesa (0 starts): 15 sacks, 22 TFL, five forced fumbleshttps://t.co/QdFQWjzeh6

— Thor Nystrom (@thorku) May 28, 2019
Zack Moss
Overall value against my board: Even (86th overall)
Devin Singletary had a solid rookie season for the Bills last year, but adding a guy like Moss will allow him to thrive even more. Moss's power run style is a great compliment to Singletary, who wins more often with his elusiveness in the open field. Moss brings an edge as a blocker as well as decent receiving ability, adding another weapon to worry about on this Buffalo offense.
Utah RB Zack Moss (@PresMoss2) Highlights

Moss has already broke 3 school records & his career isn't even over yet. He has the most rushing yards (3,479), rushing TDs (34) & 100-yard games (16) #GoUtes

Full Video 🎥: https://t.co/un5Ab0j0jn pic.twitter.com/BhURLztYiB

— JustBombsProductions (@JBP_Official) November 12, 2019
Gabriel Davis
Overall value against my board: -54 (182nd overall)
The Bills traded Zay Jones to the Raiders during the 2019 season, taking away a deep threat from this offense. Gabriel Davis consistently won at UCF when he was tasked with attacking the defense vertically. Davis isn't the most well-rounded receiver, but he should be able to find success with Josh Allen, adding a dynamic option to this receiving corps.
Some highlights from new #Bills WR Gabriel Davis 👀 pic.twitter.com/ZIk0GZkWi4

— Bradley Gelber (@BradleyGelber) April 25, 2020
Bills Draft: The Dive
Jake Fromm
Overall value against my board: +38 (129th overall)
Fromm was one of the most polarizing quarterback prospects in the 2020 draft class. He was able to find team success during his time at Georgia, and he was one of the most gifted quarterbacks in the nation mentally. However, he lacks the physical traits needed to be a quality starter in the NFL. Adding his intangibles to the same QB room as Josh Allen could be huge for Josh's development, and he will be a solid backup for the team.
Jake Fromm dropped this one right in the bucket 🎯 pic.twitter.com/TnpUhn0Rbn

— ESPN (@espn) January 2, 2020
Tyler Bass
Overall value against my board: N/A
Stephen Hauschka has been steadily declining over the last few seasons, opening up the Bills to bring in competition. Selecting Bass in the draft likely puts the writing on the wall for Hauschka in Buffalo, as he was one of the best kickers in the country this past collegiate season. 
The wind was fighting Tyler Bass in that App State clip. And Tyler Bass won. Think he'll be fine in Buffalo pic.twitter.com/LwcpapXijo

— Barstool Sun Belt (@barstoolsunbelt) April 25, 2020
Isaiah Hodgins
Overall value against my board: +132 (75th overall)
The Bills elected to double dip into the 2020 NFL draft receiving class, and I actually like the second one they grabbed better than the first. Hodgins was one of the more underrated players in the draft in my opinion, and could be a nice security blanket for Allen. With very reliable hands and solid separation ability, Hodgins should carve out a nice role in Buffalo's offense, even as a late round selection.
Have a day Isaiah Hodgins! That's 3 scores for the junior and our lead is 41-24. pic.twitter.com/lyiuAZY7Hg

— Oregon State Football News (@BeaverFBNews) October 6, 2019
Dane Jackson
Overall value against my board: +95 (144th overall)
Buffalo continues to add value players with their seventh round selection. Jackson is a solid player that can play on the outside or kick inside to the slot if needed. Jackson will likely spend a couple seasons as a depth piece while he develops his technique, but I like the upside here in the seventh.
Dane Jackson – 7th round pick by the bills – makes a really good play here against 6'7 WR. Plays the back shoulder fade perfectly. pic.twitter.com/FSHP0b67WP

— joseph (@BanFallWeddings) May 15, 2020
Bills Draft: Overall Grade
Draft Grade: A-
The Buffalo Bills did a great job at finding solid value in the 2020 NFL draft. Naturally, the team invested heavily in the offensive side of the ball after their defense came into its own in 2019. Helping out third year quarterback Josh Allen was priority number one going in.
Aside from A.J. Epenesa, I wouldn't expect any of these picks to be extreme contributors right out of the gate. However, the team did a great job of adding solid players with high floors to their roster. Grabbing two wide receivers with contrasting skill sets, as well as a running back that is a nice compliment to the current starter should help Allen take that next step as this team looks to take the next step in the AFC East.
Don't miss the rest of our 2020 NFL Draft coverage, and don't forget to follow @NFLDraftLounge on Twitter and Facebook!