Today, we will be continuing our look at every team's 2020 NFL class with a close look at the Carolina Panthers draft. 

The 2020 NFL Draft has come and gone, and 255 collegiate athletes have fulfilled their lifelong dream of hearing their name called to join an NFL roster. In this series, we will be looking at each NFL team's individual draft and reviewing just how well the team did at adding the next wave of talent to their roster.
For part five of this series, we will be looking at the NFC South's Carolina Panthers.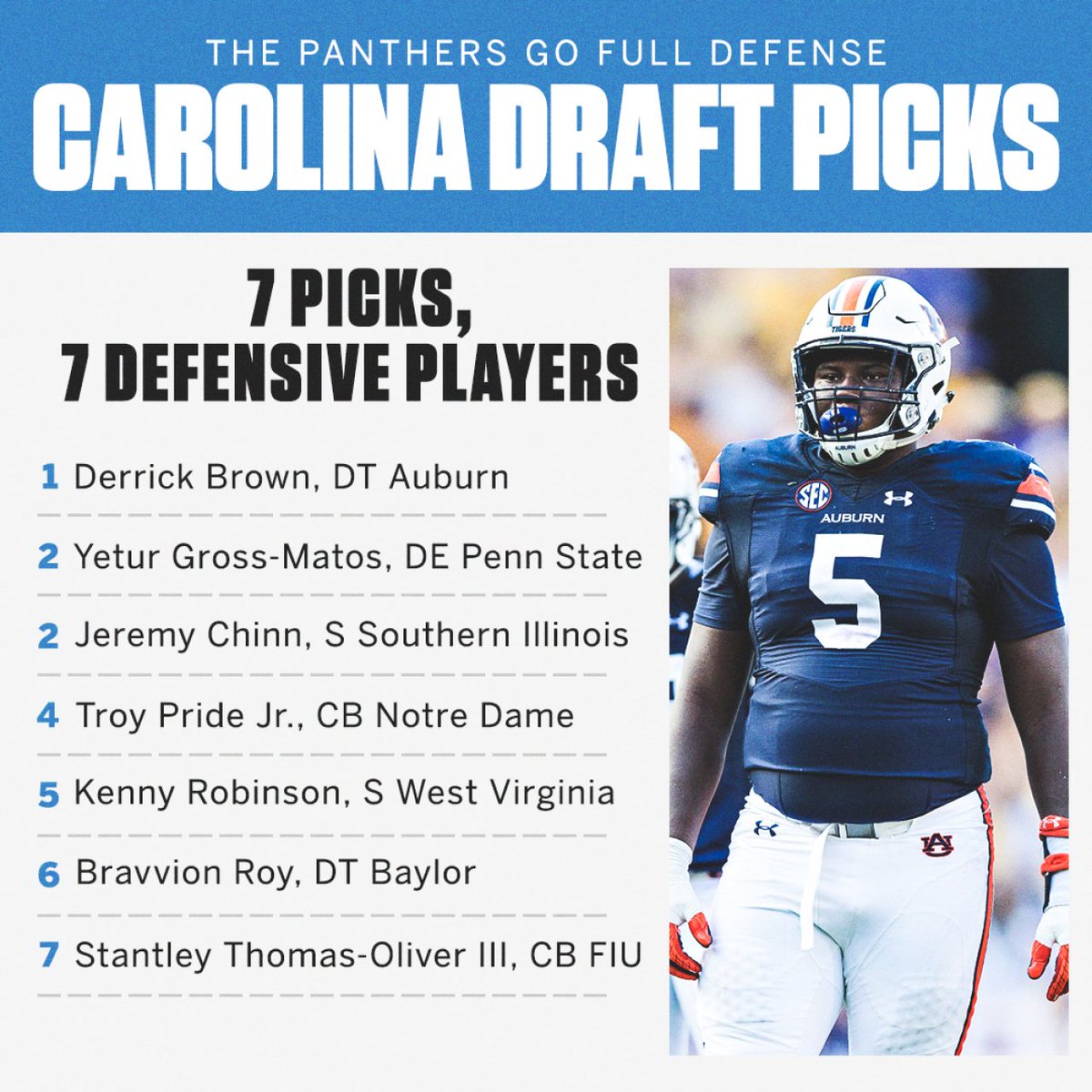 Panthers Draft: The Selections
1st Round, Pick 7: Derrick Brown, Defensive Tackle, Auburn
2nd Round, Pick 38: Yetur Gross-Matos, Edge Rusher, Penn State
2nd Round, Pick 64: Jeremy Chinn, Safety, Southern Illinois
4th Round, Pick 113: Troy Pride Jr., Cornerback, Notre Dame
5th Round, Pick 152: Kenny Robinson, Safety, West Virginia/XFL
6th Round, Pick 184: Bravvion Roy, Defensive Tackle, Baylor
7th Round, Pick 221: Stanley Thomas-Oliver, Cornerback, Florida International
Panthers Draft: The Dive
Derrick Brown
Overall value against my board: Even (7th overall)
The Panthers finished 2019 with one of the worst run defenses in the league, and they lost Gerald McCoy and Dontari Poe to Dallas in free agency. Enter Derrick Brown, who was one of the most pro-ready football players in the class. Brown should provide an immediate impact for the Panthers as a run stuffing defensive tackle. He is also great at eating up double teams, which will open up one on one rush opportunities for standout pass rusher Brian Burns.
Burst out laughing at this Derrick Brown highlight pic.twitter.com/aFDa5ocw6Z

— Jay Rigdon (@jayrigdon5) April 24, 2020
Yetur Gross-Matos

Overall value against my board: -12 (50th overall)
Yetur Gross-Matos is an intriguing player due to his immense physical upside. However, his lack of pass rushing polish is likely to keep him as a rotational piece for this team early on. YGM should have the inside track to the Panthers starting edge opposite Brian Burns for 2021 after a year of development behind Stephen Weatherly. If he continues to polish his game, he will form one of the most dynamic pass rushing duos in the league with Burns.
Yetur Gross-Matos, EDGE, Penn St:

• Speed out of the starting blocks
• Inside-out versatility (++)
• Effective and violent looper
• Moldable baseline traits (+)
• Speed-to-Power transitions
• Having answers to initial moves (+)
• Creative hands to exploit OTs pic.twitter.com/8vJgIGyz1v

— Jordan Reid (@Jordan_Reid) April 9, 2020
Jeremy Chinn
Overall value against my board: +8 (56th overall)
In 2019, the Panthers elected to select Will Grier in the 3rd round with Chauncey Gardner-Johnson on the board. This was polarizing amongst fans for good reason, but the team went heavy on the secondary in this draft starting with Chinn. An athletic freak with versatility to work as a box safety as well as in coverage, Chinn could be a day one starter for the Panthers. He has some room for polish in his coverage ability, but Chinn's upside is incredible.
The @Panthers traded up to get Jeremy Chinn and I think it was worth it.

He's got NFL size and length. Not to mention elite speed. Phil Snow is about to have a field day with him on defense! I absolutely love this pick!#KeepPounding

pic.twitter.com/2sSmNm6p5k

— Fifth Quarter Carolina Panthers (@FQPanthers) April 25, 2020
Panthers Draft: The Dive
Troy Pride Jr.
Overall value against my board: +7 (106th overall)
With James Bradberry leaving in free agency, the Panthers CB room was left in shambles. Donte Jackson regressed quite a bit in 2019, while Corn Elder was slotted in as the CB2 prior to the draft. Pride should find a path to starting early in his NFL career with a solid H/W/S combination. He is a good athlete that needs to iron out consistency at the next level in order to maximize his impact on this Panthers secondary.
Notre Dame CB Troy Pride Jr. may be the biggest draft board riser this week. pic.twitter.com/0cKXwvDb9f

— PFF College (@PFF_College) January 23, 2020
Kenny Robinson
Overall value against my board: N/A
The only XFL player who was selected in the 2020 draft, Kenny Robinson is a ball hawking safety who projects very well as a single high safety. Despite signing a three year deal to return to the team in March, Tre Boston isn't getting any younger. Robinson will be able to sit and develop behind one of the most reliable safeties in the game for a few years before getting his chance to start. At that point, he could be primed for greatness.
Kenny Robinson, a prospect in this year's NFL draft with a pick of Matt McGloin — he was rendered academically ineligible at WVU and needed to earn some money to help his mother, diagnosed with cancer, so chose to play in the XFL instead of sitting a year in transfer pic.twitter.com/BwQFfG7zFq

— Arif Hasan, off-season edition 🌴 (@ArifHasanNFL) February 23, 2020
Bravvion Roy
Overall value against my board: -5 (189th overall)
We had to know Matt Rhule was not going to leave his first draft with at least one Baylor Bear in his grasp. Bravvion Roy was not talked about all that much throughout the draft process, but he will be a solid rotational piece for Carolina. He is solid against the run, but doesn't have great starting upside due to his lack of length. Solid piece with a connection to coach Rhule here in round six.
Bravvion Roy's blocked field goal earns him Big 12 Special Teams Player of the Week honors

>> https://t.co/FnNTu3znXG#SicEm pic.twitter.com/ozZUeVjPOD

— Baylor Football (@BUFootball) November 4, 2019
Stanley Thomas-Oliver
Overall value against my board: N/A
The Panthers add their second cornerback of the draft here in the seventh round with the versatile Stanley Thomas-Oliver. Oliver made plays all over the field during his time at Florida International, and should make this Panthers roster as a depth cornerback. Carolina needs bodies in the cornerback room, so this selection makes sense.
One intriguing developmental prospect that we're going to watch closely is @FIUFootball CB Stanley Thomas-Oliver (@__Alcatraz21). Converted WR that could run 4.4's and will test well at Combine (37 VJ, 10'6" BJ). 6-foot CB that looks the part. 🎯 #thedraftstartsinMobile pic.twitter.com/Oshgm56bOW

— Jim Nagy (@JimNagy_SB) August 30, 2019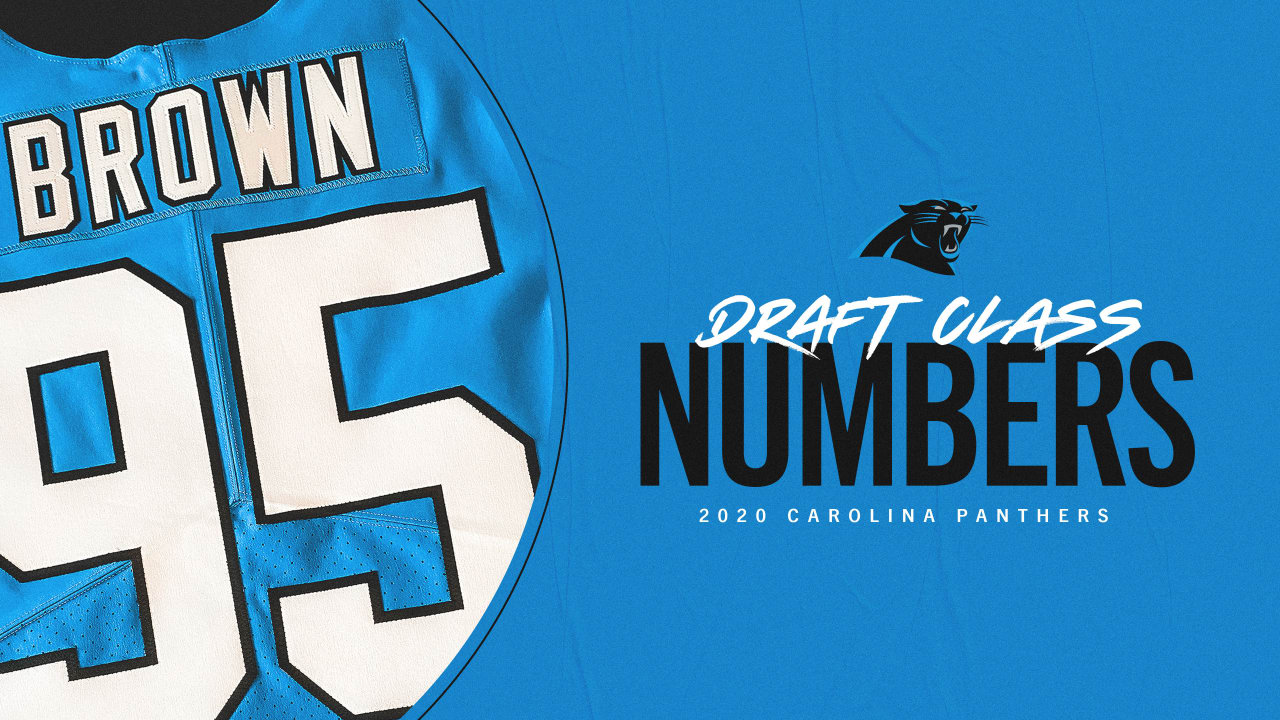 Panthers Draft: Overall
Grade: B
The Carolina Panthers made history in this Draft, becoming the first team to use every selection they had on defense. With several great players already on the offensive side of the ball, this strategy did make sense. Their defense ranked near the bottom of the league in 2019, but they could have benefitted by adding another body to their group of offensive tackles.

This team added good value at several key need areas. Improving their run defense was priority number 1, and they did just that by taking Brown at pick 7. Yetur Gross-Matos and Jeremy Chinn represent upside and versatility for this defense, with Chinn making up for the decision to pass on Isaiah Simmons in favor of Brown. Several of these players could make immediate impacts for the team, but nothing really stands out as a splash when looking at this draft.
Don't miss the rest of our 2020 NFL Draft coverage, and don't forget to follow @NFLDraftLounge on Twitter and Facebook!