Today, we will be continuing our look at every team's 2020 NFL draft class with a close look at the Chicago Bears draft. 

The 2020 NFL Draft has come and gone, and 255 collegiate athletes have fulfilled their lifelong dream of hearing their name called to join an NFL roster. In this series, we will be looking at each NFL team's individual draft and reviewing just how well the team did at adding the next wave of talent to their roster.
For part six of this series, we will be looking at the NFC North's Chicago Bears.
Bears Draft: The Selections
2nd Round, Pick 43: Cole Kmet, Tight End, Notre Dame
Pick 50, 2nd Round: Jaylon Johnson, Cornerback, Utah
5th Round, Pick 155: Trevis Gipson, Edge Rusher, Tulsa
Pick 163, 5th Round: Kindle Vildor, Cornerback, Georgia Southern
5th Round, Pick 173: Darnell Mooney, Wide Receiver, Tulane
7th Round, Pick 226: Arlington Hambright, Interior Lineman, Colorado
Pick 227, 7th Round: Lachavious Simmons, Interior Lineman, Tennessee State
Bears Draft: The Dive
Cole Kmet
Overall value against my board: -6 (49th overall)
Despite entering the draft with eight tight ends already on the roster, the Bears elected to use their first selection on the position. The tight end class wasn't held in high regard amongst the draft community, but Kmet was consistently near the top of rankings. Cole Kmet is a well rounded tight end who could rise to the top of the Bears rotation early on. However, the team had greater needs that could have been addressed at this spot in the draft.
The Bears now have 10 TEs on their roster 🤯

Chicago drafts Notre Dame TE Cole Kmet with the No. 43 pick in the #NFLDraft pic.twitter.com/KlLoRFrGjv

— B/R Gridiron (@brgridiron) April 24, 2020
Jaylon Johnson
Overall value against my board: -29 (79th overall)
Jaylon Johnson was a player getting late first round buzz in the weeks leading up to draft night. He is a solid physical cornerback that should contribute early on in press coverage situations. Right now, Johnson is not the most polished player, and will need to show development in his overall instincts in coverage. The Bears will need to be patient with Johnson in order for him to reach his full potential for the team.
Pick-6 for Utah's Jaylon Johnson (@NBAxJay1). Utah now up 14-0 against No. 14 Stanford. #GoUtes #BeatStanford #UtahFootball pic.twitter.com/u5vxSQyYwT

— GoUtahUtes (@UtahUteFans) October 7, 2018
Trevis Gipson
Overall value against my board: -10 (165th overall)
Gipson is a player who should be a solid rotational player early in his career. With the Bears having Khalil Mack and Robert Quinn starting off the edge, taking Gipson here makes sense in order to add some more juice to the rotation. He has some intriguing traits to work with at this point, but isn't super polished in anything yet. A decent speed rusher who should find success in this rotation.
Everything will pay off! Trevis Gipson has just 6 days to wait until the start of the NFL Draft!#ReignCane 👑🌀 #HuntForTheCrown pic.twitter.com/ztNc9i21aV

— Tulsa Football (@TulsaFootball) April 17, 2020
Bears Draft: The Dive
Kindle Vildor
Overall value against my board: -35 (198th overall)
Despite being a bit of a reach according to my board, Vildor makes a lot of sense for the Bears at this point in the draft. With Kyle Fuller and Jaylon Johnson now set in as the long term starters on the boundary, Vildor provides the team with an option with starting upside in the nickel. He is a solid athlete with decent reaction skills, but he will have to be more consistent as a tackler before he can be counted on as the Bears starting slot corner.
GaSo CB Kindle Vildor isn't tested a whole lot on the outside because of his strong talent. Here he is busting up a bubble. I suspect he'll look pretty good on the all-star circuit this year. #SnapScout pic.twitter.com/jMTHp4PBZB

— Chad Reuter (@chad_reuter) November 4, 2019
Darnell Mooney
Overall value against my board: N/A
The Bears wide receiver room wasn't great going into the draft outside of Allen Robinson. Darnell Mooney is an interesting player who has high upside as a big play threat. He is explosive with great speed, but lacks ideal size. Mooney should see quality reps early on in the slot, but his ceiling could be limited.
I love the Darnell Mooney selection! The Bears needed speed so badly in this offense. He will help stretch the field in 2020. #bears

pic.twitter.com/uQVdXpHSpU

— Dan DeYoung (@DanDeYoungFB) April 25, 2020
Arlington Hambright
Overall value against my board: N/A
Many would argue that the interior offensive line was the biggest weak spot on this Bears roster going into the draft. Naturally, the team waited until late to address that spot. Hambright will likely be a depth piece for this team throughout his career who could start in a pinch. Don't expect to see him get significant playing time in the regular season though.
Senior Film 🎞️

#⃣5⃣1⃣ Arlington Hambright pic.twitter.com/OxXEW3dMGB

— Colorado Buffaloes Football (@CUBuffsFootball) January 1, 2020
Lachavious Simmons
Overall value against my board: N/A
The Bears address the offensive line on back to back selections here in the seventh round. Simmons will likely face an uphill battle to make the final roster for the Bears, but should be a player to monitor during the preseason. There are no reasons to complain about seventh round picks, but it is difficult to project a legitimate path to the roster for Simmons.
You can call him Pig.

No really, OL Lachavious Simmons goes by Pig. pic.twitter.com/1UXETNrFKz

— Chicago Bears (@ChicagoBears) April 25, 2020
Bears Draft: Overall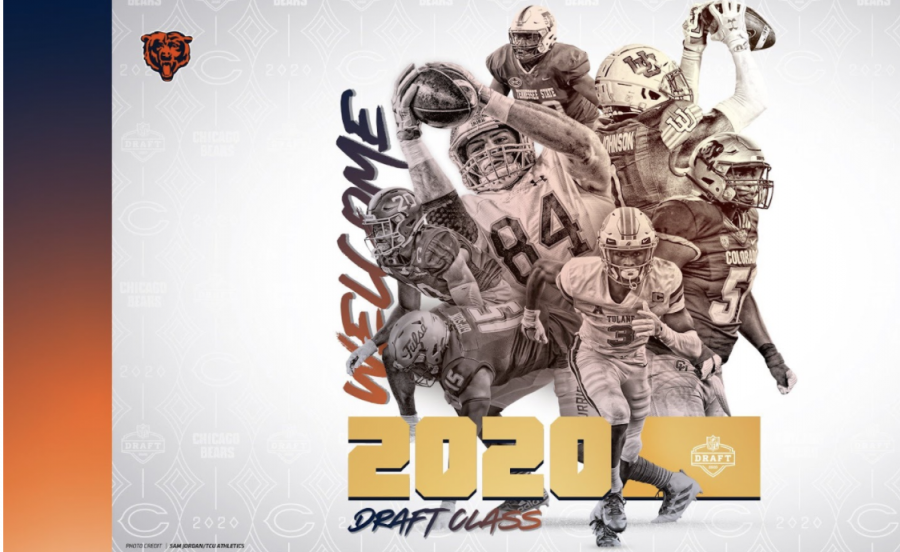 Grade: C-
Overall, I was not super impressed with the Bears approach to this draft. However, the team was working uphill from the start with a lack of premium picks outside of round 2. The team had several holes to fill that they were forced to ignore until late in the draft as a result.

The selection of Cole Kmet made little sense with their first selection based on the current state of the team's roster, and it kept them from improving their interior offensive line. Grabbing a couple of weapons for their messy quarterback room was reasonable with the resources the team had, but they could have done better in this draft.
Don't miss the rest of our NFL Draft coverage, and don't forget to follow @NFLDraftLounge on Twitter and Facebook!