Today, we will be continuing our look at every team's 2020 NFL draft performance with the Cleveland Browns draft. 

The 2020 NFL Draft has come and gone, and 255 collegiate athletes have fulfilled their lifelong dream of hearing their name called to join an NFL roster. In this series, we will be looking at each NFL team's individual draft and reviewing just how well the team did at adding the next wave of talent to their roster.
For part eight of this series, we will be looking at the Cleveland Browns draft.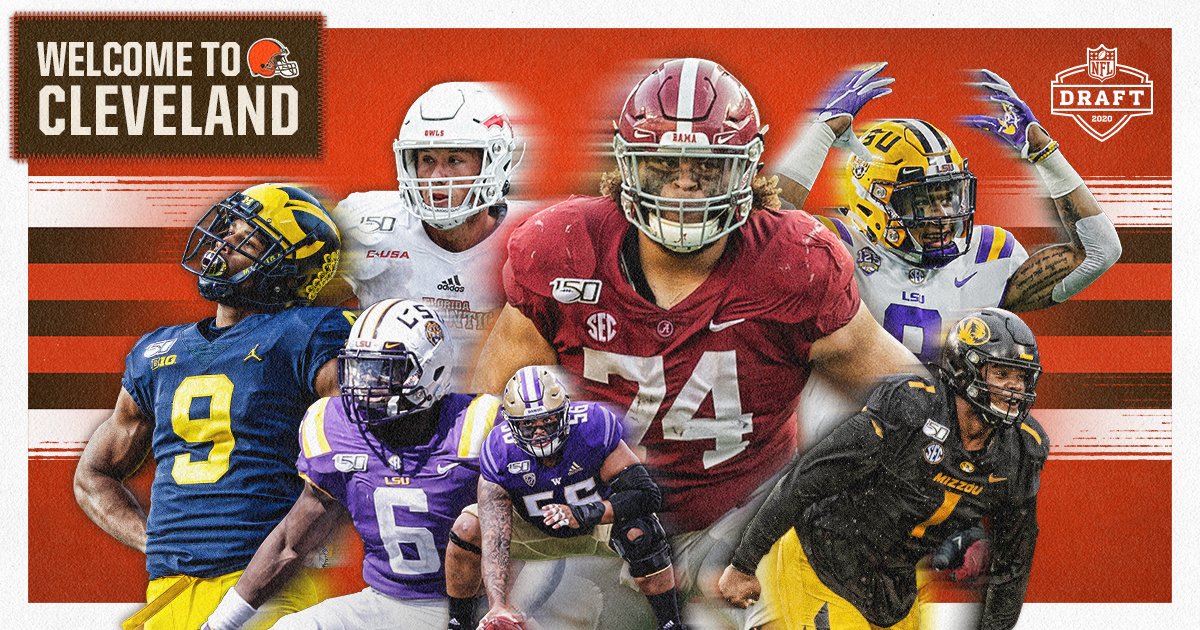 Browns Draft: The Selections
1st Round, Pick 10: Jedrick Wills, Offensive Tackle, Alabama 
2nd Round, Pick 44: Grant Delpit, Safety, LSU
3rd Round, Pick 88: Jordan Elliott, Defensive Tackle, Missouri
3rd Round, Pick 97: Jacob Phillips, Linebacker, LSU 
4th Round, Pick 115: Harrison Bryant, Tight End, Florida Atlantic
5th Round, Pick 160: Nick Harris, Interior Lineman, Washington
6th, Pick 187: Donovan Peoples-Jones, Wide Receiver, Michigan 
Browns Draft: The Dive
Jedrick Wills
Overall value against my board: +4 (6th overall)
After experiencing extreme disappointment from both tackle spots in 2019, the Browns made it a point of emphasis to improve the bookends of their offensive line in the offseason. Jedrick Wills was widely seen as the best tackle in the draft amongst the draft community due to his excellent footwork and versatility as a mover. Although he played right tackle during his time at Alabama, Wills should be moving to Baker Mayfield's blindside as the franchise left tackle.
We just got stronger up front 💪@JWills73 | #BrownsDraft pic.twitter.com/n1MB1g6gDw

— Cleveland Browns (@Browns) April 24, 2020
Grant Delpit
Overall value against my board: +26 (15th overall)
For the second year in a row, the Cleveland Browns are the beneficiary of a talented LSU defensive back struggling during their final year in Baton Rouge. Delpit was once seen as a potential top ten pick, but fell after an injury-riddled junior season that emphasized his struggles as a tackler. However, he has excellent range, instincts, and ball skills that will allow him to slide in nicely as this team's deep safety. Delpit provides great value for this team in round 2.
😤😤 @realgrantdelpit#BrownsDraft pic.twitter.com/YeVSngIHKZ

— Cleveland Browns (@Browns) April 25, 2020
Jordan Elliott
Overall value against my board: -19 (107th overall)
The Browns addressed a pretty big hole on their roster in round 3 with Missouri interior defensive lineman Jordan Elliott. They needed added depth on the interior to help out Larry Ogunjobi, and Elliott provides just that. He is a good athlete for the position with a strong first step and short area ability. However, his overall lack of technical ability could reserve him to a bench role early in his career. Elliott has starting upside, but needs time to reach his full potential.
Welcome to the family, @BIGJ5K!#BrownsDraft pic.twitter.com/bOTaEj3kvt

— Cleveland Browns (@Browns) April 25, 2020
Browns Draft: The Dive
Jacob Phillips
Overall value against my board: -57 (154th overall)
The weakest area of this football team right now is likely their linebacker corps as a whole. Christian Kirksey and Joe Schobert both left in free agency, while they are currently starting two sophomore players in Mack Wilson and Sione Takitaki. Phillips is a developmental player who will need time before he sees significant playing time. It might have been a bit early, but this pick did make sense as he adds depth to the linebacker room.
💪💪💪 @jacobphillips_1#BrownsDraft pic.twitter.com/2hrVAGxwnt

— Cleveland Browns (@Browns) April 25, 2020
Harrison Bryant
Overall value against my board: +10 (105th overall)
After bringing in Austin Hooper on a record setting deal this offseason, the Browns made it clear that tight end is important in their offense by adding Bryant early on day 3. New coach Kevin Stefanski loves his two tight end sets, meaning Bryant should see playing time early and often for the Browns. He has reliable hands but is limited as a blocker. A solid pick that likely spells the beginning of the end of David Njoku's time with Cleveland.
.@FAU_Football ➡️ Cleveland#BrownsDraft pic.twitter.com/op2GDIfpui

— Cleveland Browns (@Browns) April 25, 2020
Nick Harris
Overall value against my board: +77 (83rd overall)
Harris is a late round value player that I could see being a long time starter on the interior for Cleveland. He is a solid mover in space that can take on linebackers effectively at the second level, but he has limited length that hurts his overall upside at the next level.  Even so, Harris has several desirable traits that should keep him around in Cleveland for a long time.
.@UW_Football ➡️ Cleveland@BRICKHARRIS56 | #BrownsDraft pic.twitter.com/TwfJgE8aCM

— Cleveland Browns (@Browns) April 25, 2020
Donovan Peoples-Jones
Overall value against my board: +102 (85th overall)
Donovan Peoples-Jones was a victim of circumstance during his time at Michigan. He is a very talented player that had to deal with abysmal quarterback play the last two years during Shea Patterson's time at the helm. He is solid all around, but will have to prove that he can put up quality numbers, having not done so very often in college. DPJ is a candidate for the steal of the draft if the team is patient with him and actually uses him effectively.
.@UMichFootball ➡️ Cleveland@dpeoplesjones | #BrownsDraft pic.twitter.com/7hNRfJu4he

— Cleveland Browns (@Browns) April 26, 2020
Browns Draft: Overall
Andrew Berry and Kevin Stefanski show collaboration and cohesive plan in their first draft together

📰 » https://t.co/CDDIYdzdm2 pic.twitter.com/G4JEA9XyyM

— Cleveland Browns (@Browns) April 27, 2020
Draft Grade: A-
Overall, the Cleveland Browns did very well in this draft. As a team with very few holes in the starting lineup, they did a great job filling those needs and adding quality depth pieces that could compete for significant playing time down the road. Grabbing a top tier offensive tackle to protect their franchise quarterback, a developmental starter on the interior offensive line who could one day replace J.C. Tretter, and a couple weapons to help out in the passing game makes this offense even more explosive.
The addition of Grant Delpit must be highlighted, as it gives this secondary potential to be one of the best in the entire NFL if he can return to form and become a true center-fielder for his team. Jordan Elliott and Jacob Phillips will both provide solid depth early in their careers making the defense stronger than it already was.
Don't miss the rest of our NFL Draft coverage, and don't forget to follow @NFLDraftLounge on Twitter and Facebook!