The NFL preseason is nearly over and the start of the regular season is just a few weeks away. I don't know if there's a better way to prepare for the start of the season than a 2022 NFL mock draft. It's still early and team needs are likely to change for most teams, but let's have a little fun here.
Be sure to follow NFL Draft Lounge for more coverage. As always, you can find us on social media on Facebook, Twitter, and Instagram.
1. Houston Texans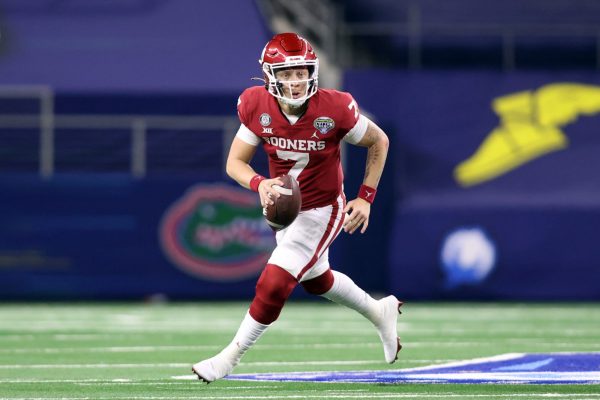 Spencer Rattler, QB, Oklahoma
As the last remaining remnants of the Laremy Tunsil trade, the Houston Texans were without their first and second round picks in the 2021 NFL Draft. Instead, the Texans weren't able to draft until they third pick in the third round. With that pick, Houston selected Stanford QB Davis Mills. While Deshaun Watson remains on the roster, it's unlikely that he'll see any significant playing time in Houston. With Tyrod Taylor assuming the starting role, it's likely that Davis Mills will also see significant time as the starting quarterback later in the season.
With the Texans selecting first overall in this mock draft, it's safe to assume that the season won't go well for the Texans. Not only is David Culley an inexperienced head coach, but the team has lost significant talent. I'd be shocked if the Texans won more than three games this season.
Spencer Rattler is the type of draft prospect that completely changes the direction of a franchise. Not only is he a massive upgrade, but Rattler also gives the Texans stability at the position, which is something that they desperately need during their rebuild.
2. Detroit Lions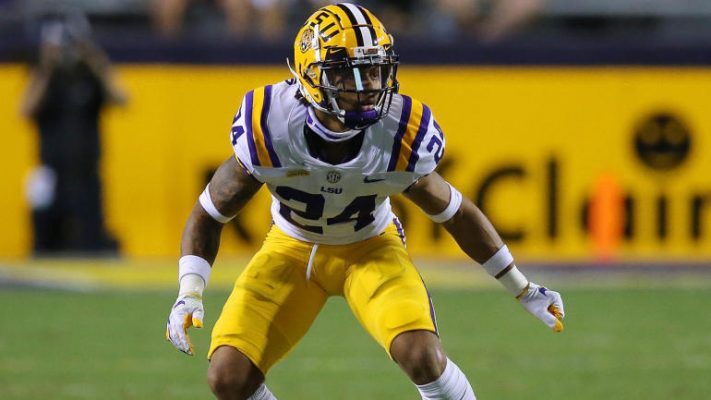 Derek Stingley Jr., CB, LSU
With Rattler off the board to the Texans in this 2022 NFL Mock Draft, I feel like the Lions are out of position to draft an eventual replacement for Jared Goff this early. Sam Howell is an option for them, but I think they could find the same value with their later pick here in the first round. Instead, let's look at a few other areas of need for Detroit.
The defensive line could be addressed here, especially with Texas A&M's DeMarvin Leal on the board. However, the Lions are in a division that's loaded with quality quarterback talent. Let's have Detroit address their secondary and try to keep the ball out of the endzone.
3. Cincinnati Bengals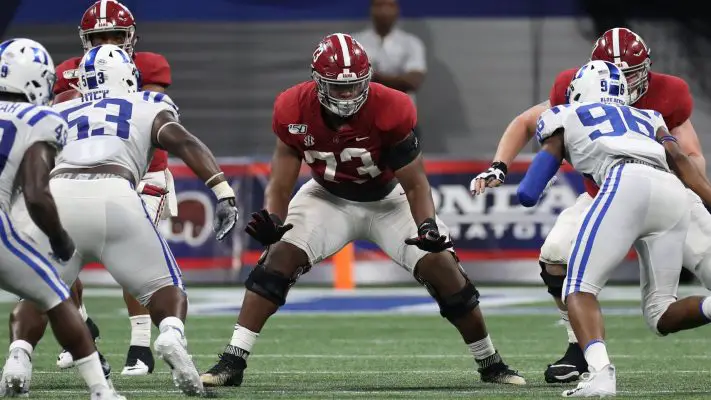 Evan Neal, OT, Alabama
Despite drafting Jackson Carman with their second round pick in 2021, I still see the offensive line as a need for the Bengals. Jonah Williams, the franchise's left tackle, has battled through injuries the last few years.
Evan Neal is an excellent anchor on the outside and is quite capable of protecting quarterback Joe Burrow. By drafting Neal, Cincinnati could shift Carman or Williams inside, fortifying their interior.
4. New York Jets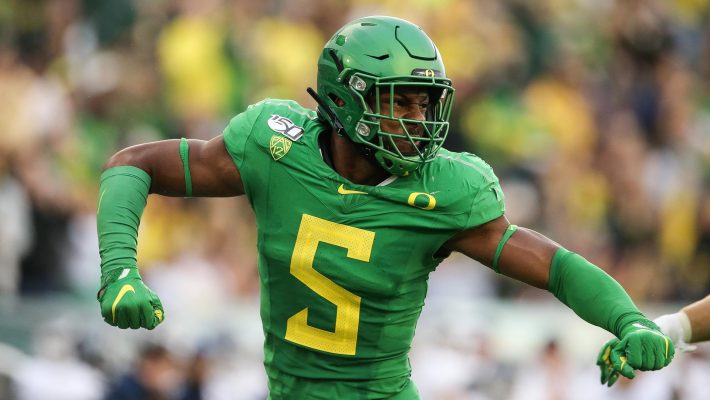 Kayvon Thibodeaux, EDGE, Oregon
Not only is Kayvon Thibodeaux one of the best prospects in this 2022 NFL Mock Draft, but he also has an elite NFL-frame. Thibodeaux has a knack for finding and attacking the ball in traffic, and can often be found making plays across the field. In the 2021 NFL Draft, the Jets found their quarterback of the future in Zach Wilson. With this pick, let's find them a franchise player to build around on defense.
5. Jacksonville Jaguars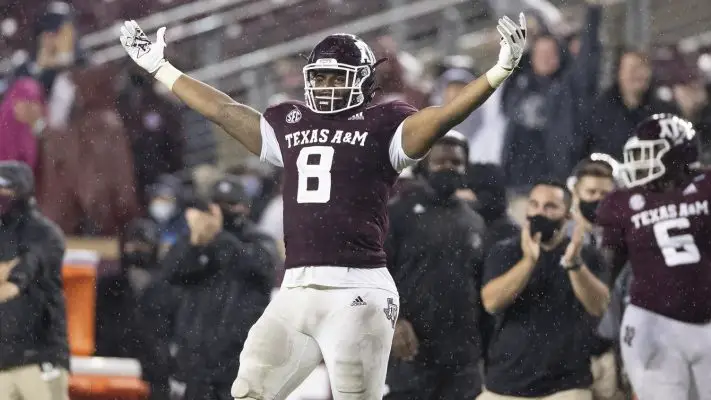 DeMarvin Leal, DT, Texas A&M
The Jacksonville Jaguars took a huge leap forward in the 2021 NFL Draft as they found playmakers that have a high probability of turning the franchise's fortune around. They found long-term solutions to problems that the team has faced for the last several years.
With this pick in our 2022 NFL Mock Draft, let's continue that trend. DeMarvin Leal is a talented defensive tackle that breaks down the pocket with regularity. Jacksonville used a fourth-round pick on Jay Tufele, but I still view this position as one that can be improved. Leal brings that talent upgrade, as well as versatility for defensive coordinator Joe Cullen.
6. Philadelphia Eagles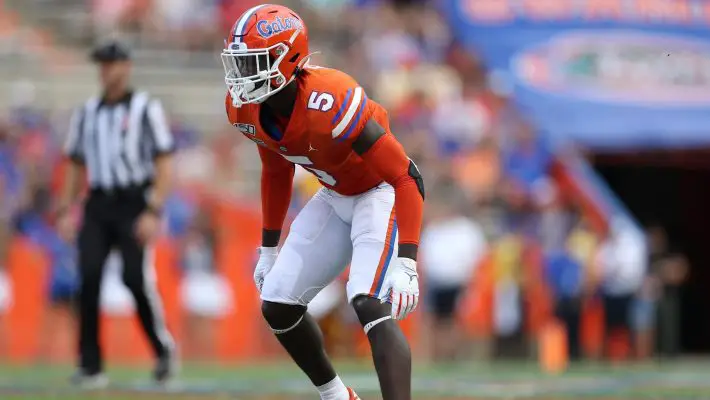 Kaiir Elam, CB, Florida
It feels like a never-ending battle trying to improve the secondary for the Philadelphia Eagles.  Last year, the front office selected Zech McPhearson with their 4th round pick. Given their draft capital in the 2022 NFL Draft, the Eagles are in prime position to drastically improve their roster.
**NOTE** The Eagles traded Carson Wentz to the Indianapolis Colts. As a result of the trade, the Eagles received a second round pick in the 2022 NFL Draft. If Wentz plays 75% of the snaps, which we believe that he will, that pick is upgraded to a first round selection. As a result, we've given the Eagles the Indianapolis Colts' first round draft pick.
Kaiir Elam is projected to be one of the top corners in this draft class. Not only would he be an immediate upgrade at the position, but he'd also bring a ton of stability to the secondary.
7. Atlanta Falcons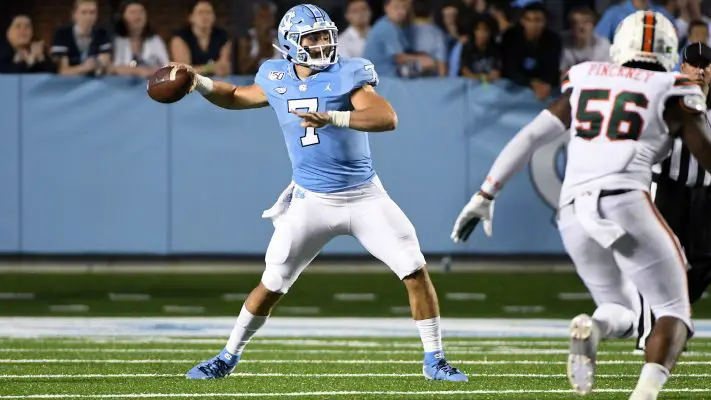 Sam Howell, QB, North Carolina
Atlanta has been blessed with stability at the quarterback position since the Falcons selected him with the third pick in the 2008 NFL Draft. However, with Matt Ryan nearing the end of his career, the organization has to find an eventual replacement.
The Falcons have a potential out in Matt Ryan's contract following the 2021 season. While it's unlikely that they release him, the Falcons are still expected to have a top ten pick in the 2022 NFL Draft.
Sam Howell had a phenomenal 2020 campaign. The Tar Heels had two running backs and two wide receivers drafted in the 2021 NFL Draft. This year is Howell's opportunity to establish himself as a top draft pick and prove himself without the top talent around him. If Sam Howell is able to improve his statistics, and win games, he could easily find himself in the top ten.
8. Las Vegas Raiders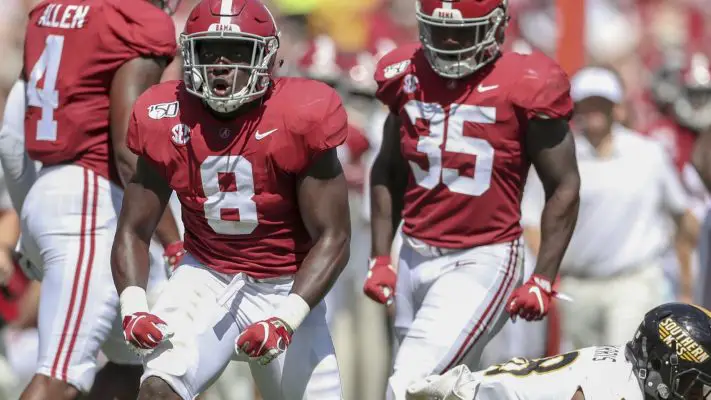 Christian Harris, LB, Alabama
The Raiders brought MLB Nicholas Morrow back on a one-year prove it deal. Regardless of whether it works or not, Christian Harris is an immediate upgrade at the position. More so, we know how much Jon Gruden and Mike Mayock love prospects from top-tier collegiate programs, such as Alabama.
9. New York Giants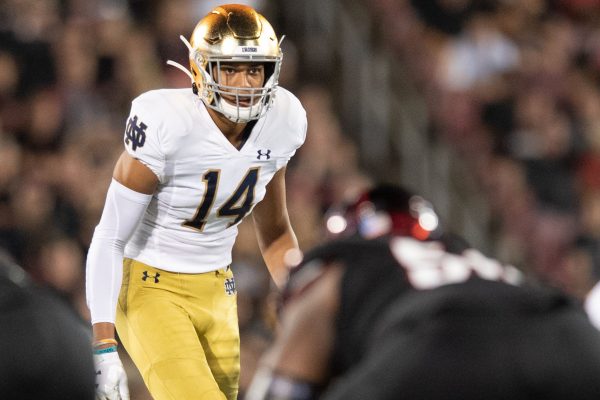 Kyle Hamilton, S, Notre Dame
Is Daniel Jones the quarterback of the future for the New York Giants?
I think this season we find that out. If he plays well, then I think the front office can focus on other areas and build a solid roster around him. If not, then we could see a third quarterback off the board in the top ten of the 2022 NFL Draft.
Kyle Hamilton is a ball hawk at the safety position. The intensity and intelligence that he brings to a defense would be a tremendous asset for any organization. Jabrill Peppers is an unrestricted free agent following the 2021 season, so regardless of where, I think the Giants have to address the position. By doing so here with the ninth pick, I think it makes the most sense long-term.
10. Carolina Panthers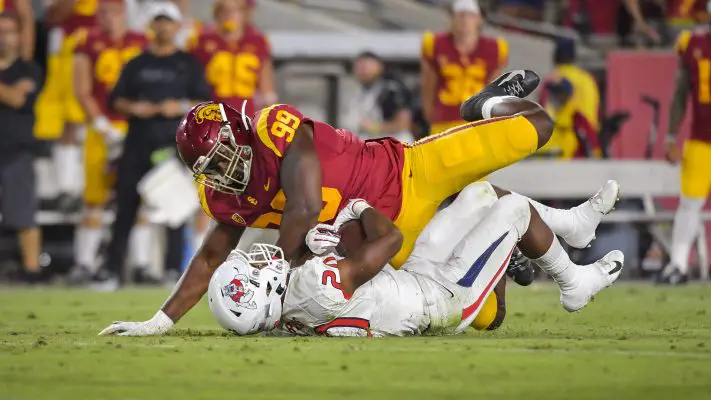 Drake Jackson, EDGE, Southern California
Admittedly, I'm not as high on Drake Jackson as other NFL Draft evaluators. However, with that being said, I can understand the appeal. This season, I want to see Jackson improve with his aggressiveness at getting after the quarterback.
I think Drake Jackson would be a nice player to compliment Brian Burns on the defensive front. I don't know if it's the perfect answer, but it's still very early in the evaluation process.
11. New York Giants (Via Chicago Bears)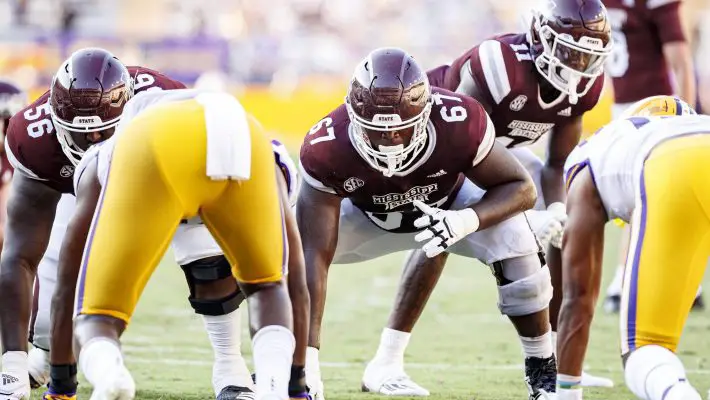 Charles Cross, OT, Mississippi State
As I mentioned with the ninth pick, it's a prove it year for Daniel Jones at quarterback. However, it's also a prove it year for left tackle Andrew Thomas. GM Dave Gettleman surprised many when he selected Thomas with the fourth pick in the 2020 NFL Draft.
I have high expectations for Charles Cross this season at Mississippi State. Even if the Giants isn't his eventual destination, I still think we see Cross' name come off the board in the top fifteen.
12. Arizona Cardinals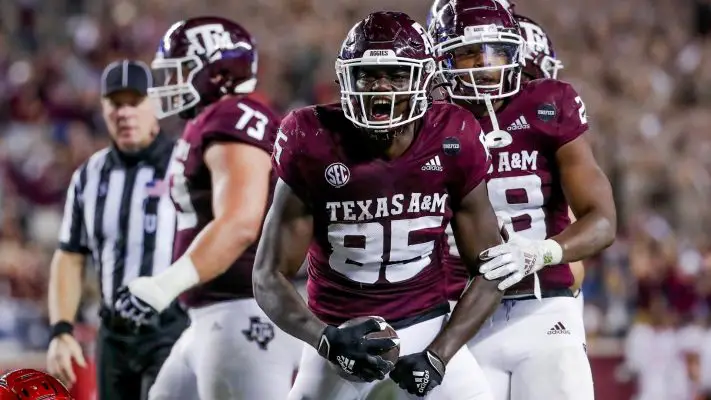 Jalen Wydermyer, TE, Texas A&M
Kyler Murray and Kliff Kingsbury have plenty of offensive weapons to work with to build a high-powered offense. However, I really think they're missing a dynamic receiver at tight end. Jalen Wydermyer could very well be the answer for the Cardinals.
The Texas A&M Aggies are loaded with talent this season, which could drive up Wydermyer's draft stock. With that being said, however, I'm not sure how much higher it can really get. I'm not sure if the top ten is an achievable goal.
13. Washington Football Team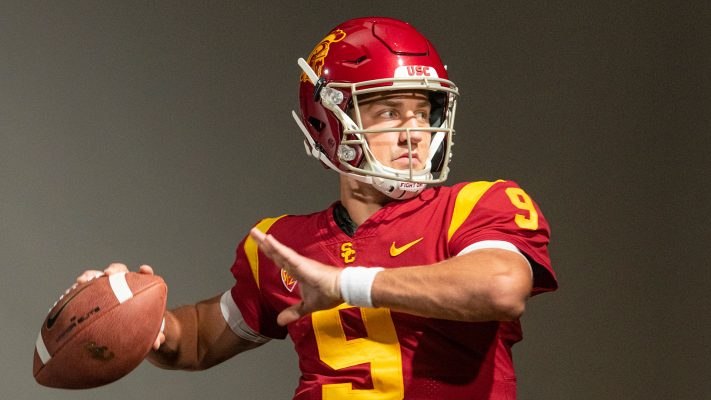 Kedon Slovis, QB, Southern California
This one is a pretty simple, yet quite familiar concept. Washington has to find a long-term answer at quarterback. Slovis had a breakout season as a freshman in 2019. Last year, in a pandemic-shortened season, Kedon Slovis struggled, much like many other collegiate athletes.
If he's able to bounce back this season, or even get close to the consistency that he showed during his freshman season, Kedon Slovis could find himself becoming a very rich man.
14. Pittsburgh Steelers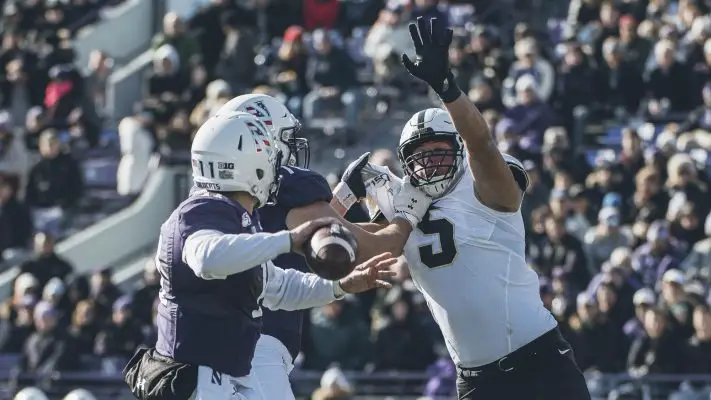 George Karlaftis, EDGE, Purdue
This season is likely to be QB Ben Roethlisberger's final season in the NFL. At 39 years go age, father time has caught up to Big Ben, and it shows. Dwayne Haskins has been a bright spot for the Steelers this preseason, and should be able to step into the starting role if asked.
Pittsburgh has invested in their pass rush quite a bit recently, but they don't have as versatile of a pass rusher as George Karlaftis on their roster. The Purdue EDGE rusher is capable of playing two to three different positions in the NFL, given the right circumstances.
15. Minnesota Vikings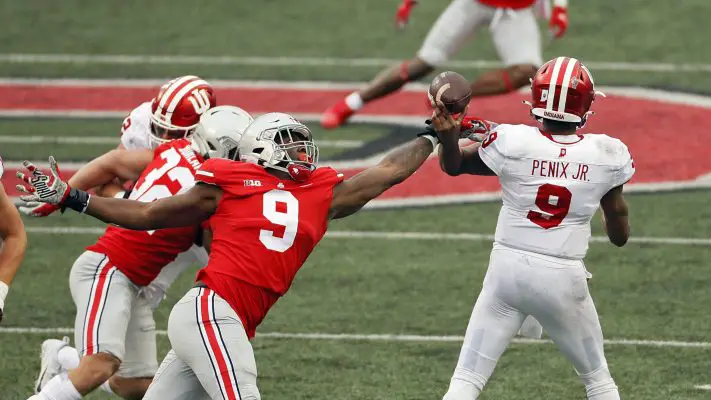 Zach Harrison, EDGE, Ohio State
I was baffled when, in March, the Vikings signed Kirk Sousing to a two-year extension that runs through the 2022 season. At the end of the game, Cousins puts up a solid stat line, but he's never been able to get the Vikings over the hump. Kellen Mond might develop into a nice player for them, but It's not going to be this season.
Chazz Surratt and Patrick Jones II should develop into solid pieces for Minnesota, but I don't know if any of their other young developmental talent will. This EDGE class is loaded up top, which could fit nicely into Minnesota's plans.
16. Denver Broncos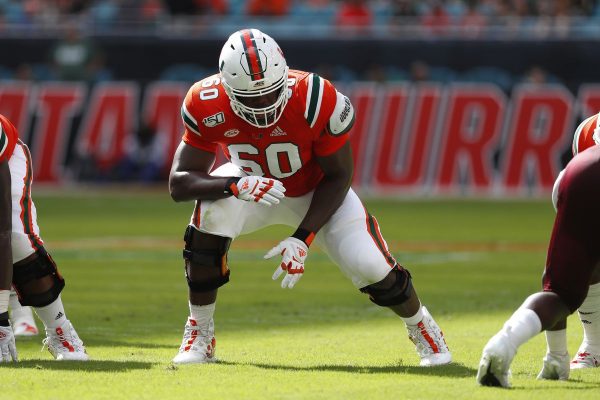 Zion Nelson, OT, Miami (FL)
This offseason, the Broncos brought in Teddy Bridgewater to compete with drew Lock for the starting QB job. Regardless of who wins the battle, the outcome remains the same. Denver must beef up their offensive line.
Kenyon Green, an interior offensive lineman for the Texas A&M Aggies is also a very realistic possibility here.
17. Los Angeles Chargers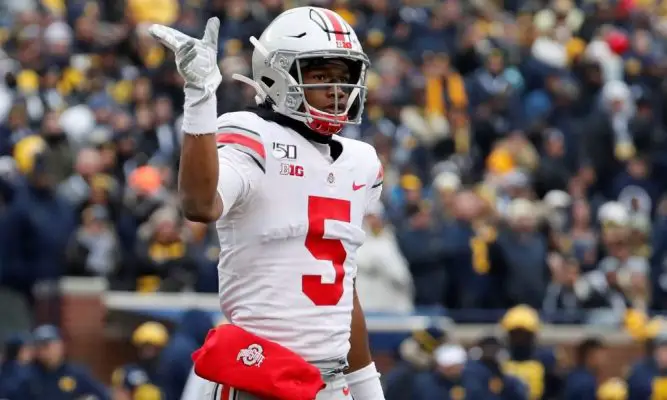 Garrett Wilson, WR, Ohio State
While I don't necessarily believe that it'll take this long until we see our first wide receiver off the draft board, it's tough to find potential suitors. For the Chargers, Mike Williams is set to become an unrestricted free agent this offseason. Furthermore, Los Angeles isn't loaded with a ton of talent at the position to begin with.
Not only does it make sense for the Chargers to draft a wide receiver in the 2022 NFL Draft, I think it's highly likely that they do so in the first round.
18. New England Patriots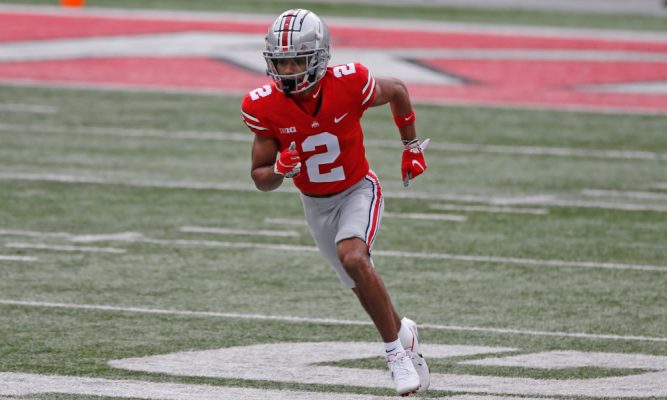 Chris Olave, WR, Ohio State
Mac Jones has been a bright spot for the Patriots as they rebuild following Tom Brady's departure last offseason. I was a big fan of Chris Olave as I began scouting for the 2021 NFL Draft, and thought he might declare back then. However, he's returned for his final season at Ohio State, and I fully expect him to shine.
The New England Patriots have struggled to find good receiver talent in the NFL Draft in recent years. Despite this, I think Olave is a solid pick for any team.
19. New Orleans Saints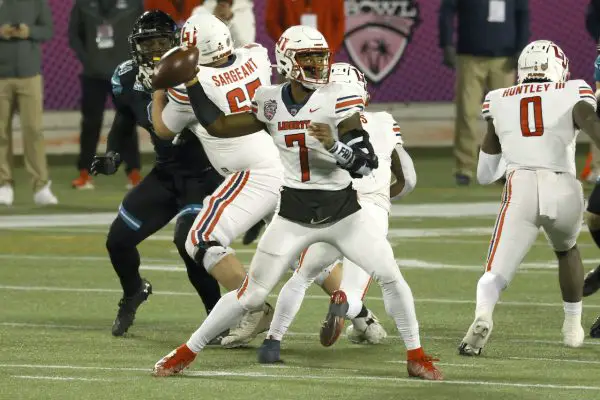 Malik Willis, QB, Liberty
I really want to see what Jameis Winston is able to do this season as he returns on a one-year incentive-based contract. However, there's no guarantee that New Orleans will sign him to a long-term contract. More so, there's no guarantee that Winston will want to return to the Saints in 2022.
Time will tell on how the situation plays out, but one thing is clear. The New Orleans Saints must find a backup quarterback. If Winston goes down, and Taysom Hill is forced to start, it's a completely different team. We're not taking about a better team, either. Malik Willis is pretty far down my quarterback rankings, but Liberty University has a weak schedule lined up for 2021, which could play into his favor. If Willis is able to ball out, he could be flirting with a first round grade in the NFL Draft.
20. Philadelphia Eagles (Via Miami Dolphins)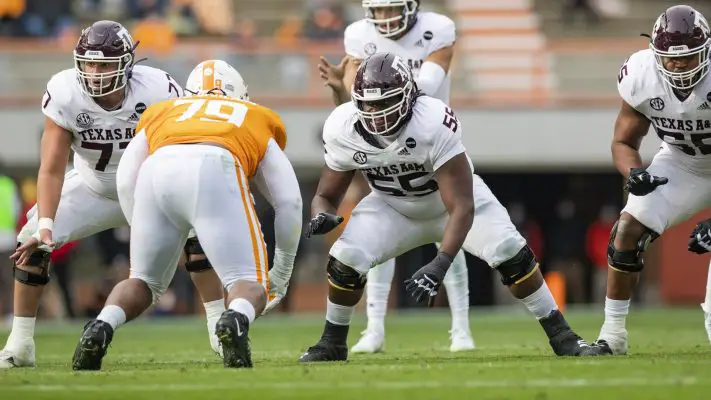 Kenyon Green, IOL, Texas A&M
I've seen some 2022 NFL mock drafts that have Green coming off the board in the top ten. I'm really impressed with his athleticism and toughness on the offensive line, but I don't know if I'd spend a top ten pick on him.
Philadelphia needs to improve on the offensive line if they want to return to a Super Bowl under new head coach Nick Sirianni. With three picks in the 2022 NFL Draft, they have the ammunition to make nearly any move that they want. However, staying put and drafting best available might be their best option.
21. Dallas Cowboys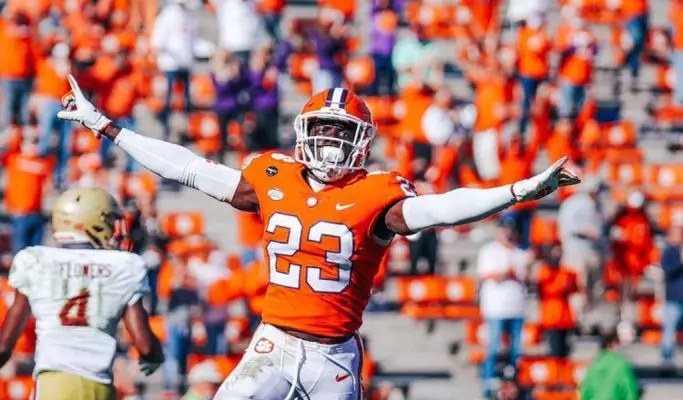 Andrew Booth Jr., CB, Clemson
With Dak Prescott returning to full health, the Cowboys offense should be much-improved from a year ago. More importantly, Dallas was able to lock him into a long-term contract. By doing so, it gives the front office the flexibility to attack other positions, such as cornerback.
I have Andrew Booth Jr. third on my cornerback rankings. If he continues to play at a high level, I think it's likely that we see him drafted in the first round. The Cowboys have built a solid defense, but lack top-level talent in the secondary.
22. New York Jets (Via Seattle Seahawks)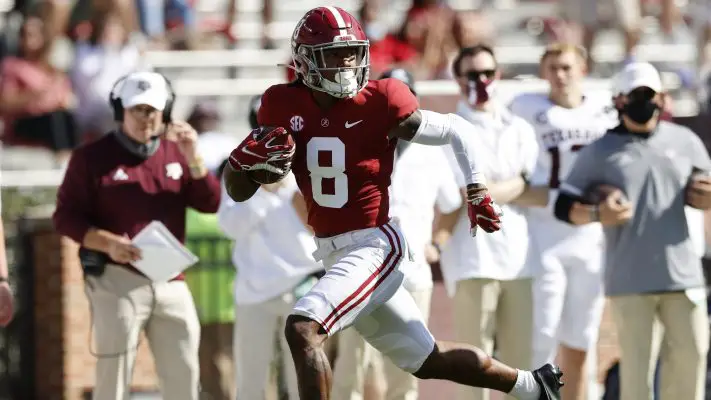 John Metchie III, WR, Alabama
It's John Metchie III's time to shine in Alabama. Jaylen Waddle and DeVonta Smith are both on NFL rosters this season, clearing the way for Metchie. It'll be interesting to see how Metchie performs under new offensive coordinator Bill O'Brien at Alabama, but I think he does well enough to earn a first round selection.
As for the Jets, I had them selecting Oregon EDGE Kayvon Thibodeaux with their first pick. Circling back here towards the end of the first, let's tie the Jets a playmaker for new QB Zach Wilson.
23. Philadelphia Eagles (Via Indianapolis Colts)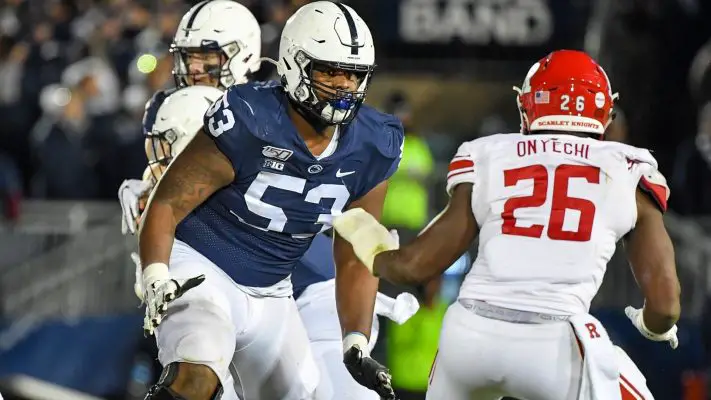 Rasheed Walker, OT, Penn State
So far in this 2022 NFL mock draft, I've had the Eagles front office draft a cornerback and an interior offensive lineman. With their final pick of the first round, let's draft an offensive tackle that can contribute long-term.
This is a make it or break it year for current left tackle Andre Dillard. He missed all of last season with a biceps injury. Earlier this month, Dillard injured his knee and has missed the preseason. At this point, it might be in Philadelphia's best interest to trade Andre Dillard  and move forward without him.
Rasheed Walker is the best offensive tackle on the board at this point, in my opinion. However, if there is a dark horse for an offensive tackle that could sneak into the first round, it's Minnesota's Daniel Faalele. I had a high grade on him last summer, but once the pandemic hit, Faalele opted out of the season. He's back with the Gophers this season and, if he can return to form, should be in the mix for a first round grade.
24. Tennessee Titans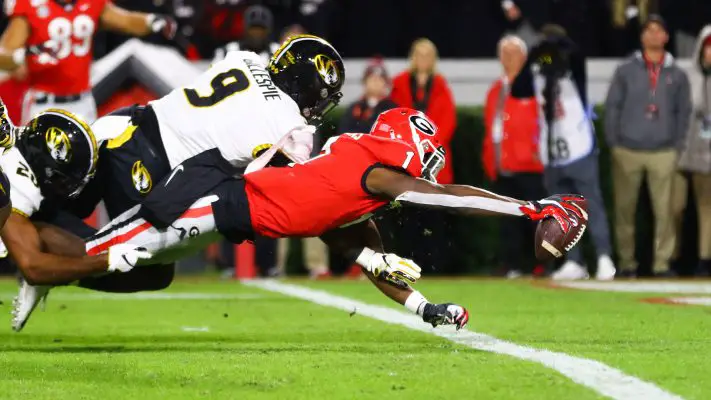 George Pickens, WR, Georgia
The Tennessee Titans took a gamble this offseason and acquired WR Julio Jones from the Falcons this offseason. If it pays off, it could give the Titans the push needed to make a championship run. However, what happens if it doesn't work?
Jones is 32 years old, and as evidenced in recent seasons, hasn't had the same impact on the field. Tennessee has a potential out following this season in which they could release Jones with a minimal dead money cap hit.
George Pickens is the top receiver for the Georgia Bulldogs and could easily fill a role for Tennessee. Even if Julio Jones is still on the roster next season, I still believe that there's a place for Pickens on this team.
25. Cleveland Browns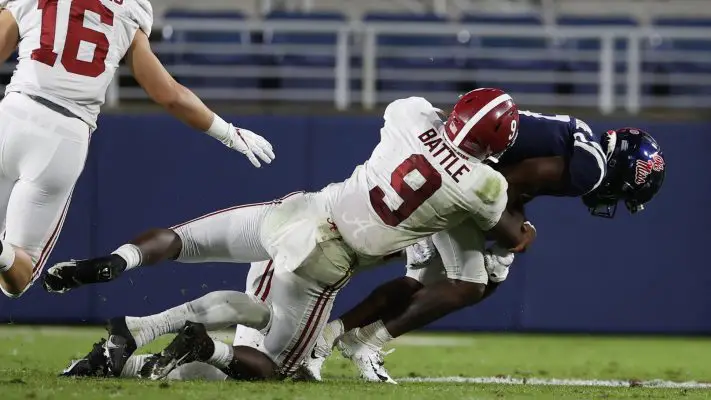 Jordan Battle, S, Alabama
There's a massive drop in talent at the safety position in the 2022 NFL Draft. Given how well the Browns are expected to play this year, that puts them towards the end of the first round. If they're smart, they'll invest in their secondary early. I like Jordan Battle and think that the Browns are getting tremendous value by drafting him here in our 2022 NFL mock draft. However, I don't believe that he's anywhere near the player that Kyle Hamilton is.
26. Miami Dolphins (Via San Francisco 49ers)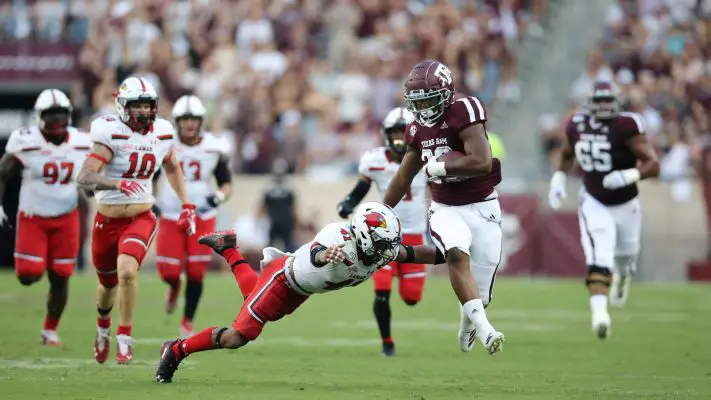 Isaiah Spiller, RB, Texas A&M
I don't know how likely it is that we'll see a running back come off the board in the first round of the 2022 NFL Draft, but I think it's a move that the Dolphins could justify making. I like what Spiller has been able to do with the Texas A&M Aggies thus far, not to mention that he already looks like he's ready for the NFL. This is a simple plug-and-play type of prospect for head coach Brian Flores.
27. Baltimore Ravens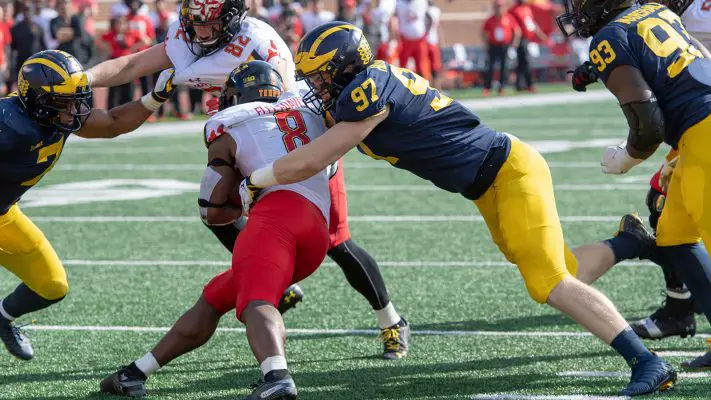 Aidan Hutchinson, EDGE, Michigan
I can honestly say that I don't know where Aidan Hutchinson will fit best on an NFL roster. He's a versatile defensive lineman that has a knack for disrupting the pocket. I have him listed as an edge rusher in our 2022 NFL mock draft, but quite frankly, I think he's a better defensive tackle prospect. Despite this, if there's a team that's likely to find a place for Hutchinson to flourish, it's Baltimore.
28. Green Bay Packers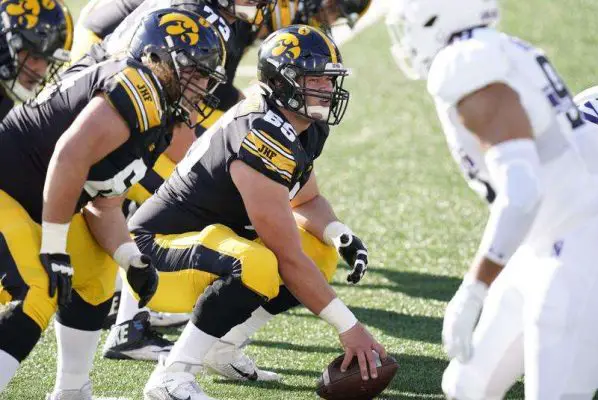 Tyler Linderbaum, IOL, Iowa
Time will tell on what will happen with the quarterback position in Green Bay. If Aaron Rodgers returns in 2022, I think we could see the organization draft an offensive weapon for him to throw to. However, I think this is his final season in Green Bay. As a result, I have the Packers drafting interior offensive line help for his eventual replacement in Jordan Love.
29. Buffalo Bills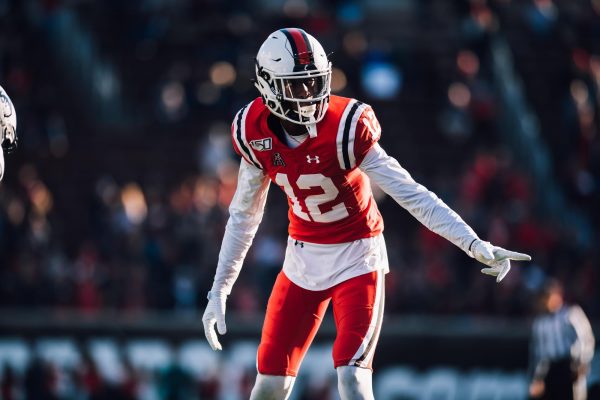 Ahmad Gardner, CB, Cincinnati
A.J. Epenesa, Greg Rousseau, and Carlos Basham Jr. have all been massive bright spots for the Bills this offseason. Buffalo hasn't played QB Josh Allen this preseason, but if the offense is able to click again this season, it gives the Bills the flexibility to focus on other areas, such as the secondary.
30. Detroit Lions (Via Los Angeles Rams)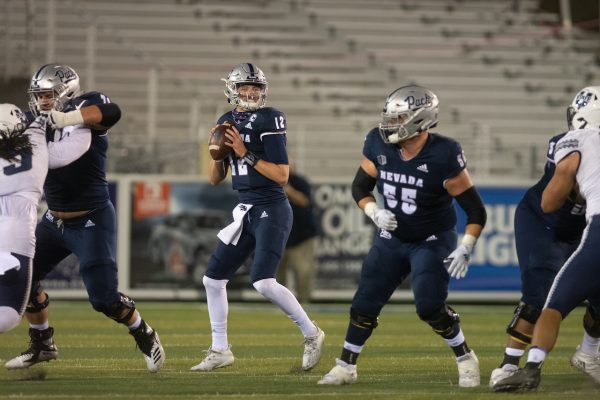 Carson Strong, QB, Nevada
Given the contract that they inherited, the Lions are stuck with QB Jared Goff through at least next season. With that being said, I don't know if he's the answer for Detroit long-term. If he is, they should look at extending, and restructuring, his current deal.
If he's not, this is the perfect place to draft a replacement to groom. Detroit could have Jared Goff start the 2022 season, but let Strong take over at the right time. Making sound decisions isn't necessarily in Detroit's playbook, but hey, that's what mock drafts are for!
31. Tampa Bay Buccaneers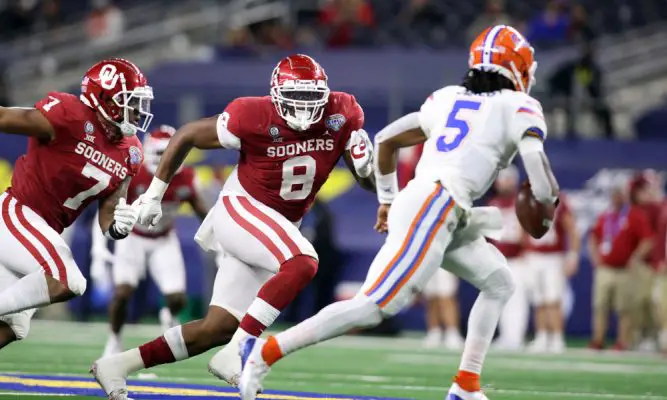 Perrion Winfrey, DL, Oklahoma
The Buccaneers are, once again, loaded with talent and poised for another Super Bowl run. I love what they've been able to do on both sides of the ball, but let's try to make them better. Ndamukong Suh is 34 years old and has been working on one-year contract deals over the last several seasons. Even if he returns next season, he likely doesn't fall into Tampa's long-term plans.
32. Kansas City Chiefs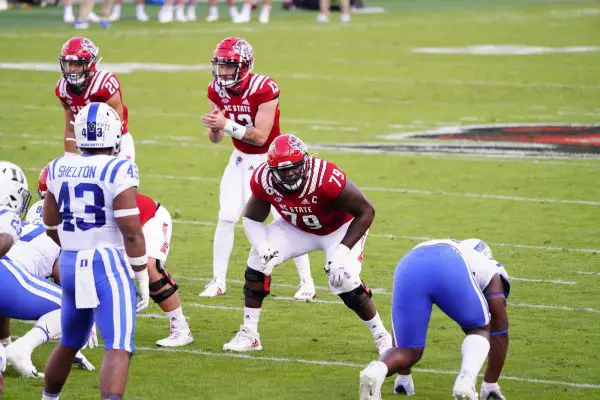 Ikem Ekwonu, IOL, North Carolina State
As we saw in last year's Super Bowl, the Chiefs struggled with injuries late in the season on the offensive line. They could focus on other areas of need, but depth in the trenches should be a top priority for the front office.