With the 2022 NFL Draft just a handful of weeks away, it's time for us to look at another mock draft. Collin Haalboom releases his 2022 NFL Mock Draft 1.0 below. This particular mock draft is a one-round piece without potential trades. Furthermore, this is being released prior to the official start of free agency, so it's obviously subject to change.
Be sure to follow NFL Draft Lounge for more coverage and analysis of 2022 NFL Mock Draft 1.0 articles. As always, you can find us on Facebook, Twitter, and Instagram.
1. Jacksonville Jaguars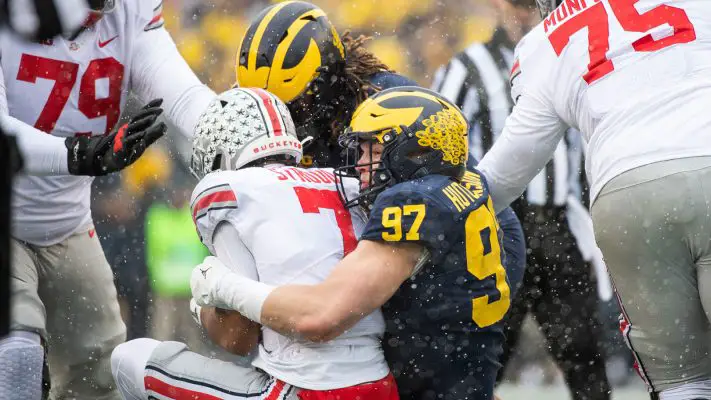 Aidan Hutchinson, Edge, Michigan
Offensive tackle was the consensus opinion regarding what the Jaguars would do with this pick. That was until they decided to place the franchise tag on Cam Robinson for a second consecutive season. Based on this decision, we can infer that Jacksonville would prefer to add an impact player at another position. Aidan Hutchinson is a player who can step in and be an effective edge rusher in the NFL right away. He is a relentless competitor with the power, tenacity and work ethic to continue to refine his craft. His elite three cone and short shuttle performances at the combine should help to disprove the notion that he's not a great athlete. Pairing him with Josh Allen in this 2022 NFL Mock Draft 1.0 would create a formidable pass rushing tandem for the foreseeable future in JAX.
2. Detroit Lions
Kyle Hamilton, S, Notre Dame
The Lions have needs all over the field. As a result, they aren't necessarily forced to prioritize a specific position in this draft. GM Brad Holmes should feel comfortable pulling the trigger on a player who has all-pro potential in Kyle Hamilton. His size, instincts, versatility and competitive nature make him the most "can't miss" prospect in this entire draft. The perceived value of the safety position in the NFL is undoubtedly on the rise. The value of Kyle Hamilton patrolling the back end of the Lions defense would pay immediate dividends while still providing the team with a valuable building block for the future.
3. Houston Texans
Ikem Ekwonu, OT, NC State
The Texans could just as easily choose to rebuild their roster with a talented edge rusher, but in this scenario they opt for my favorite offensive lineman in the draft. Ikem 'Ickey' Ekwonu is a powerful athlete with a mean streak on the field. He is an absolute weapon in the run game, and with a bit more refinement, he could become equally as effective in pass protection. He has the versatility to play guard if needed, but with this sort of investment, I would expect him to be developed as a tackle right from the get-go. As long as he is able to stay in control, and choose the right opportunities to unleash his full aggression, he should be a really effective OT in the NFL for many years.
4. New York Jets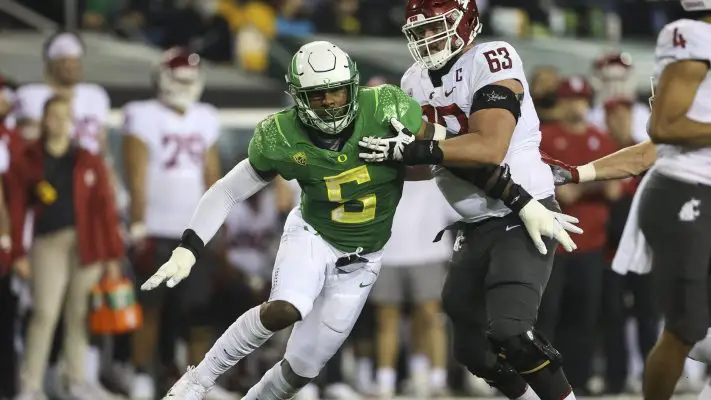 Kayvon Thibodeaux, Edge, Oregon 
Questions about Thibodeaux's effort and passion for the game have arisen during the pre draft process. This is nothing more than unjustified pre-draft slander, and for whatever reason, Kayvon Thibodeaux was chosen as the target. I see no evidence to support any such claims. He is a twitchy, powerful, athletic pass rusher with all the physical tools required to be a stud at the NFL level. Robert Saleh had a very positive experience in San Francisco, a franchise that prioritized pass rushers in the draft as foundational pieces from which the rest of the roster could be built upon. I expect Saleh and Joe Douglas to take a similar approach here in the 2022 NFL Draft, along with this 2022 NFL Mock Draft 1.0 – especially having used multiple first round picks on the offensive line in the previous two drafts.
5. New York Giants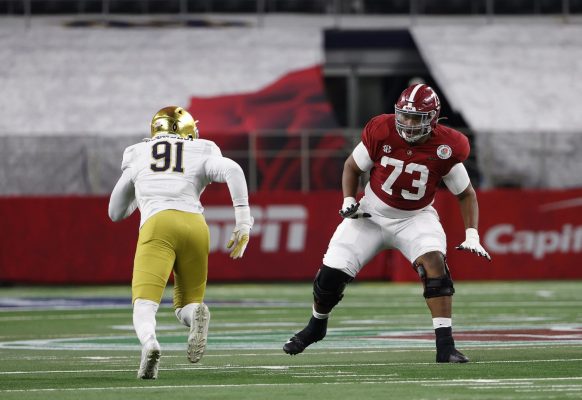 Evan Neal, OT, Alabama
Predicted by many to be the first pick in the draft, new Giants GM Joe Schoen gets a gift here with Evan Neal still on the board. Neal is an imposing physical specimen, standing at 6'7″ and a chiseled 350lb. More importantly though, he's a fundamentally sound technician, with a rare combination of size, brute strength and discipline. These are traits that can't be taught, but coming from Nick Saban's program at Alabama, you know Evan Neal is well coached, with the mental capacity to handle high expectations and the rigors of a long career in the NFL.
6. Carolina Panthers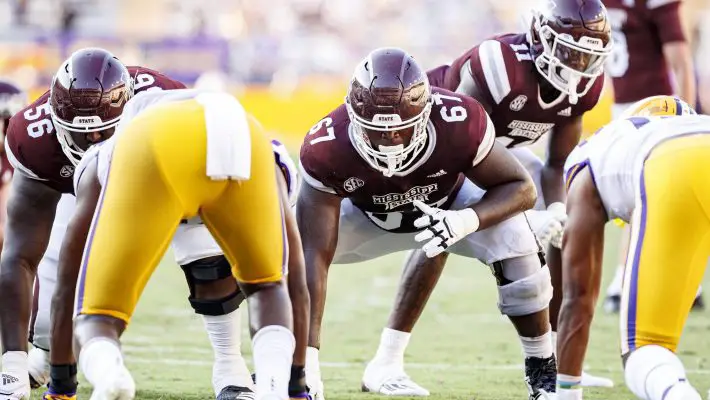 Charles Cross, OT, Mississippi State
Charles Cross is the last of the tier-1 offensive tackles left on the board. Even with uncertainty at the quarterback position, the Panthers need to address their offensive line. I could see them selecting a player like Malik Willis here, but with a less than stellar crop of signal callers available in this class, I think the safer play is to draft a bonafide stud in the top 10 – one who can hopefully serve as their franchise LT for the next decade.
7. New York Giants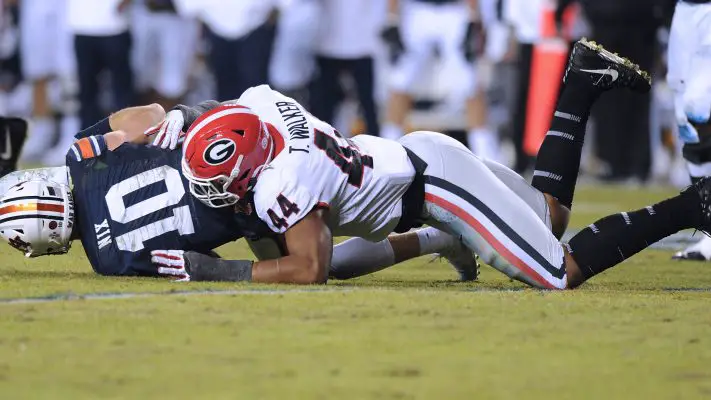 Travon Walker, Edge, Georgia
I had a lot of trouble deciding between Travon Walker and Jermaine Johnson with this pick. I settled on Walker because of his limitless ceiling. His physical profile and athletic traits are simply off the charts. Although his production at Georgia wasn't exceptional, he was far from a focal point within Kirby Smart's defensive scheme due to the absurd number of elite players on that roster. There's no question that Walker has the physical tools and natural ability to become the best player to come out of this 2022 NFL Mock Draft 1.0. Whether or not he has the mentality and work ethic to put it all together is the greater unknown.
8. Atlanta Falcons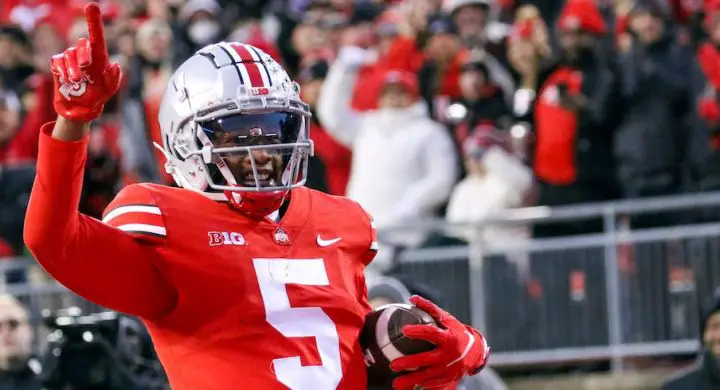 Garrett Wilson, WR, Ohio State
The Falcons could go a lot of different ways with this pick. Considering Matt Ryan is still their starting quarterback, coupled with the Calvin Ridley suspension, the Falcons are more or less required to add a wide receiver if they want to win any football games in 2022. Assuming that's still the objective in Atlanta, drafting Garrett Wilson here provides their offense with arguably the most dynamic weapon at the position. Wilson can win at all levels. He can beat you with his speed. He can win jump balls. He's a player with tremendous body control, good hands, and a knack for finding the end zone.
9. Seattle Seahawks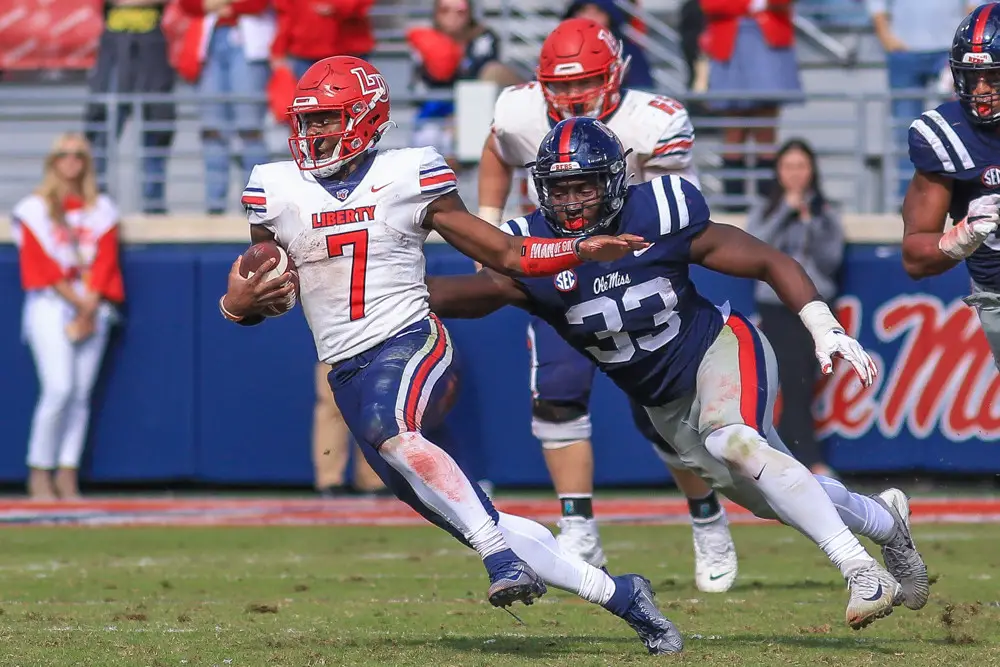 Malik Willis, QB, Liberty
With the Russell Wilson era officially behind them, and some first-round draft capital re-established after the disastrous Jamal Adams trade, what better place for the Seahawks to begin their rebuild than at the Quarterback position? They've already tasted the success that a talented, mobile QB can provide their offense. Although he's a tougher evaluation due to the lack of quality competition he faced playing in the ASUN Conference, there's no arguing the fact that Malik Willis has the most impressive collection of skills out of any QB in the class. If the Seahawks truly believe Willis has the ability to be a franchise quarterback, then acquiring him with the 9th pick is a very reasonable price to pay.
10. New York Jets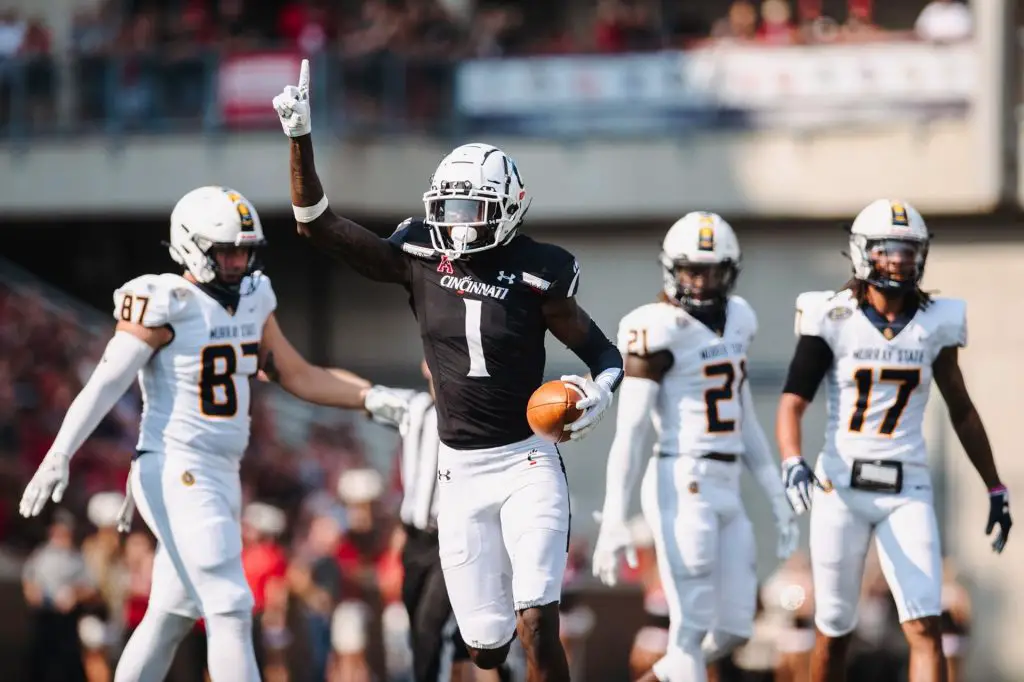 Ahmad Gardner, CB, Cincinnati
Following an impeccable career at Cincinnati, a very impressive combine performance, and a spotless track record off the field, Ahmad 'Sauce' Gardner appears to have firmly established himself as the CB1 in this draft. He has rare size and length for a player with all the movement skills of a smaller corner. He represents a perfect blend of physical ability and natural feel for the position. He's a very cerebral player and all indications are he's a great teammate and extremely coachable. If he's still on the board at this point of our 2022 NFL mock Draft 1.0, Joe Douglas should sprint the card up to Roger Goodell himself.
11. Washington Commanders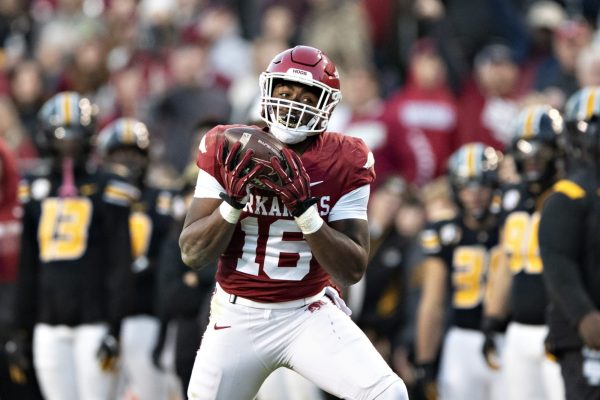 Treylon Burks, WR, Arkansas
Burks proved to be a dynamic, game-changing talent playing in the SEC. He was utilized in every which way at Arkansas. Possession receiver, home-run hitter, jet sweeper… Treylon Burks can be a multi-faceted weapon when his versatility is embraced by a creative play-caller. He has received criticism for running a modest 40 at the combine, which was only magnified when he opted out of running it again at his Pro Day. Do I have concerns? Hell no. He's a 6'3″, 225lb Wide Receiver with exceptional "game speed". The MPH data proves as much. I think there's a legitimate chance that Burks ends up being the best receiver to come out of this draft when it's all said and done.
12. Minnesota Vikings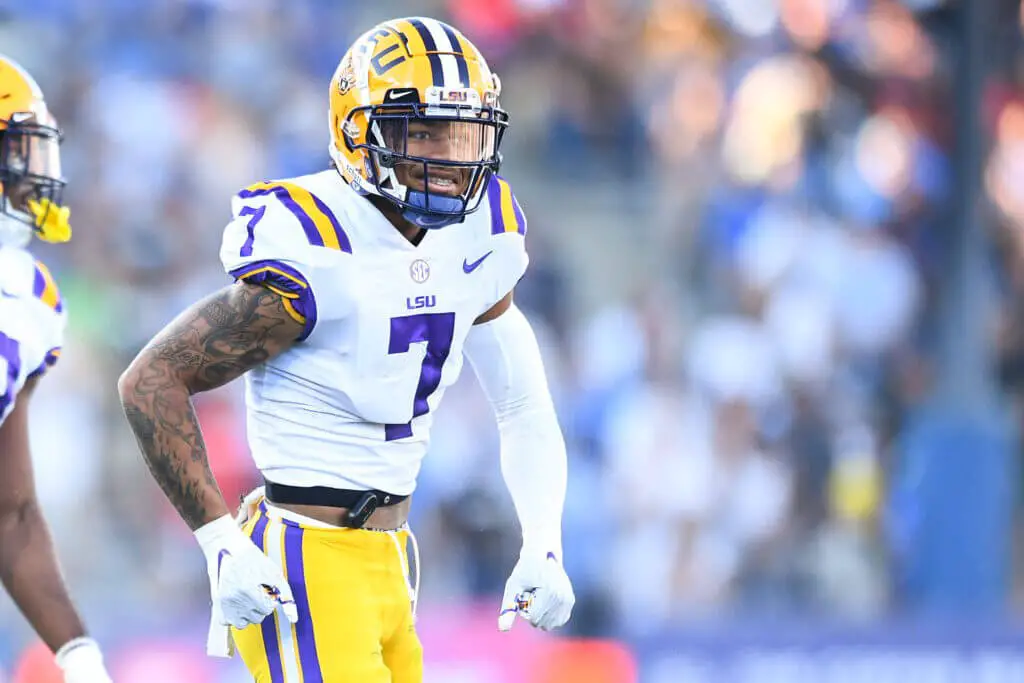 Derek Stingley Jr, CB, LSU
As a freshman in 2019, Derek Stingley Jr looked like the best cornerback prospect we've seen in years. Due to injuries, some inconsistent play, and a weaker supporting cast than in 2019, we saw his production decrease over his next two seasons at LSU. His talent is still undeniable as he possesses an elite skillset for the position. He has quick feet, smooth transitions when changing direction, and the aggressiveness and ball skills of a true shutdown corner. This would be a strong fit for the player and team as the Vikings have a major need at the position in this 2022 NFL Mock Draft 1.0. Meanwhile, Stingley has the ability to step in and be a key contributor in year 1.
13. Cleveland Browns
Jermaine Johnson II, Edge, Florida State
The Browns desperately need to add a Wide Receiver in this draft. I would imagine they planned to do so with this pick, but if Jermaine Johnson were still on the board — which he is in this scenario — Andrew Berry is smart enough to pounce on the opportunity. After transferring from Georgia, Johnson put on a clinic as the premier pass rusher in the ACC last year. He has very few holes in his game. Beyond the physical traits, where he checks all the boxes, he has an impressive Football IQ. Johnson has a varied arsenal of pass rush moves but is also heady enough to diagnose run plays and fight off blockers to be an extremely effective run defender. He's an all-around football player with the physical profile, intelligence and motor to become a force at the NFL level.
14. Baltimore Ravens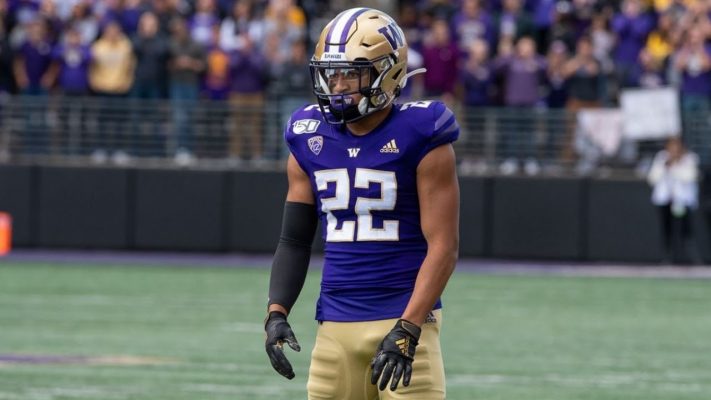 Trent McDuffie, CB, Washington
Although McDuffie is a little bit undersized, his natural ability and feel for the position is special. Turn on the tape and you'll quickly realize just how cerebral of a player McDuffie is. He is able to process, diagnose and close on plays extremely quickly – all while playing within the scheme of the defense. He also has the speed and short area quickness to capitalize off of his sharp instincts. This results in pass break ups, interceptions, and all that good stuff. The Ravens would know how to use McDuffie effectively, and he would immediately add another dimension to their secondary. Obviously as a smaller corner, he will be somewhat susceptible to giving up plays in jump ball scenarios to top tier NFL receivers but he has the athleticism to hang tough in those challenging situations.
15. Philadelphia Eagles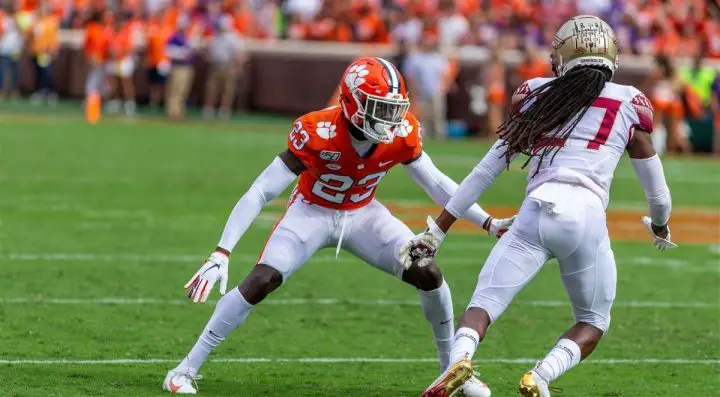 Andrew Booth Jr, CB, Clemson
With one of their first of 3 picks in the top 20, the Eagles would be wise to address the cornerback position. Here I have them selecting Andrew Booth Jr, a player many feel is a top 3 CB in this class. Booth has good size, athleticism and ball skills. He's also an aggressive and fundamentally sound tackler — a rare trait for the cornerback position. He would form a really nice pairing with Darius Slay, who could serve as a valuable resource for Booth as he aspires to become the type of NFL player many believe he has the talent to become.
16. Philadelphia Eagles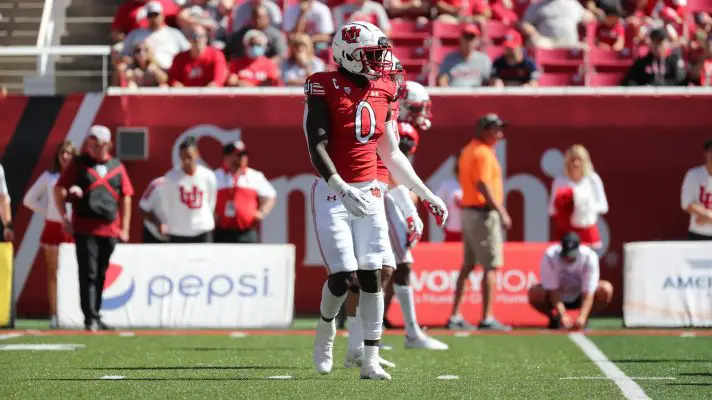 Devin Lloyd, LB, Utah
At 6'3″ 225lb, Devin Lloyd is a monster of a linebacker, and considered by many to be the best one available in the 2022 Draft. He has drawn comparisons to Darius Leonard for his size/length, movement skills and knack for the football. If that comparison proves to be accurate, then the Eagles will be getting a steal at #16. He's much more than just a physical specimen though as he was extremely productive over his 4 seasons as a Ute. As a Senior, Lloyd graded out as one of the most productive linebackers in recent memory (91.4 – PFF). Philly fans have been screaming from the rooftops for Howie Roseman to draft a good LB prospect – so maybe this is the year he finally grants their wish, as he did in this 2022 NFL Mock Draft 1.0.
17. Los Angeles Chargers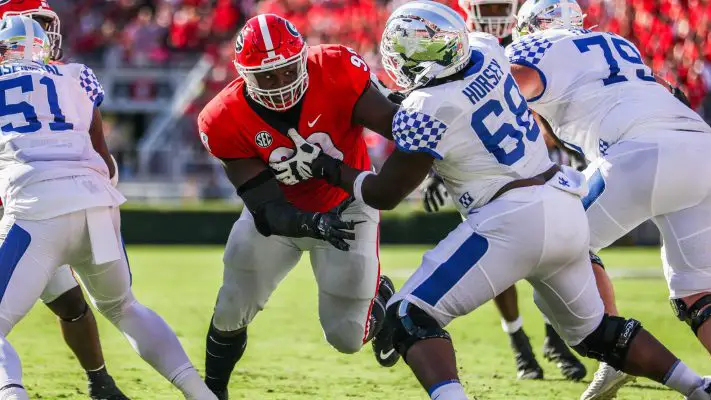 Jordan Davis, DL, Georgia
This may be my favorite player-team fit. The Chargers were an absolute mess trying to stop the run last season. I'm not sure there's any solution that could attack this weakness as directly as adding the 6'7″, 350lb DT from Georgia. Davis was the brightest star at the NFL Combine this year, and that honestly might be selling him short. He achieved scores in the speed, quickness and vertical testing that most NFL talent evaluators didn't think was possible for a man his size. The primary criticism of Jordan Davis relates to a desire for him to remain on the field for a higher percentage of snaps. As long as he can stay on the field for the Chargers on 2/3 downs, he will be a valuable addition to their defensive unit.
18. New Orleans Saints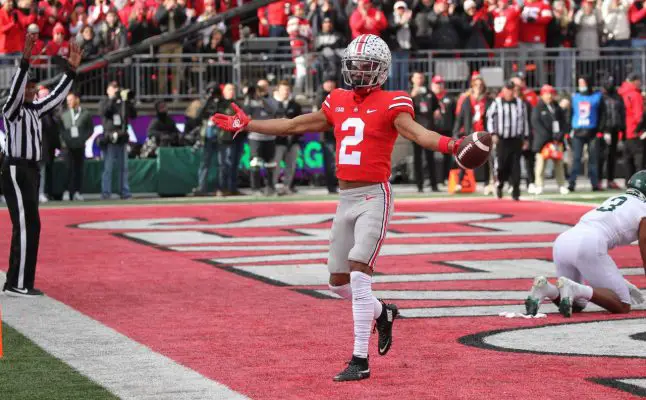 Chris Olave, WR, Ohio State
It feels like people have been overlooking just how good Chris Olave is when discussing the best receiver prospects in this draft. He's a polished route-runner with good hands, breakaway speed and an undisputed ability to find the end zone. He's incredibly smooth getting in and out of his breaks. He reminds me a lot of Keenan Allen — except he's significantly faster. It's too bad that Drew Brees wasn't still around because him and Olave would have been a match made in heaven. Regardless of who's under center for the Saints, they need a playmaker at the receiver position and Chris Olave would give them just that.
19. Philadelphia Eagles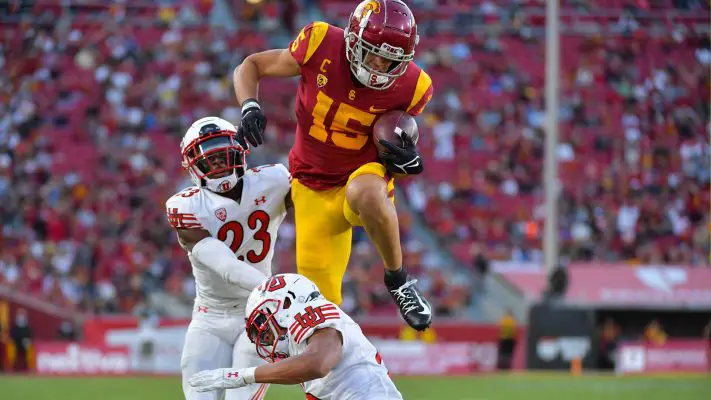 Drake London, WR, Southern California
Drake London's experience as a basketball player is obvious when watching him box out and win contested jump balls all over the field. Even as the clear focal point of USC's offense, opposing teams still couldn't stop him. The 6'5″ receiver is a full year younger than the other top players at his position but he sure didn't look it when he went for 1,084 yards and 7 TD's as a Junior this past season. I recognize that Howie Roseman has already used plenty of first round draft capital on receivers in recent years but with 3 firsts in 2022, why not give it one more kick at the can? After all, London's style of play would be the perfect compliment to Devonta Smith.
20. Pittsburgh Steelers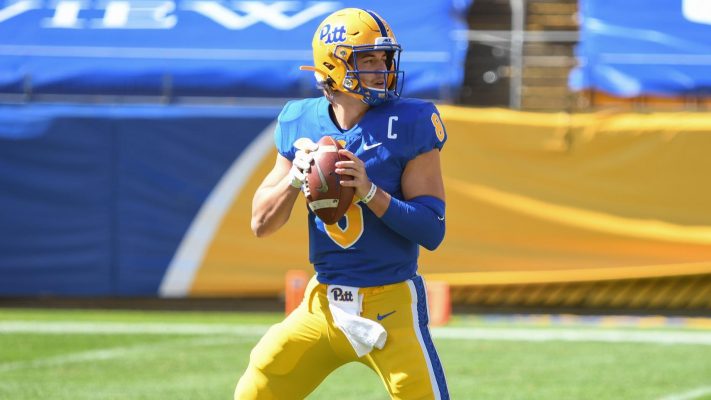 Kenny Pickett, QB, Pitt 
Two gloves. Pittsburgh proud. Ring any bells? Obviously there are a number of reasons why Kenny Pickett may have a little extra appeal to the Steelers organization — but none stronger than the fact they are in dire need of a franchise Quarterback to replace Big Ben. The Steelers feel like they are built to compete now, and Pickett is the most pro-ready QB available in this draft. Despite signing Mitchell Trubisky to presumably be their starter this season, they'll want to have a QB waiting in the wings if that experiment doesn't work out. Pickett may have historically small hands but he is an accurate passer with the ability to read a defense and command an offense. And besides, you know the Steelers brass got a good look at him this past season where he threw for 42 TD's and 7 interceptions — small hands and all.
21. New England Patriots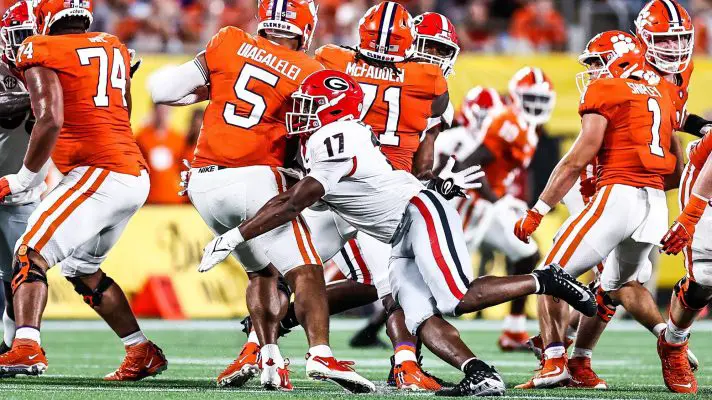 Nakobe Dean, LB, Georgia
The Patriots may be tempted to draft a CB or a WR here but I can't see Belichick going that route with a player like Nakobe Dean still on the board. He doesn't have the jaw dropping physical profile of a Devin [Lloyd or White] but he more than makes up for it with incredible football instincts. Dean was arguably the most important player on the best team in the country last year. Dean is a winner. He plays with controlled aggression at all times, he is a natural leader, and he has more than enough athleticism to get the job done. I expect Nakobe Dean to be a tremendous all-around player in the NFL for many years. Take that to the bank if he ends up playing under the greatest defensive coach of all time.
22. Las Vegas Raiders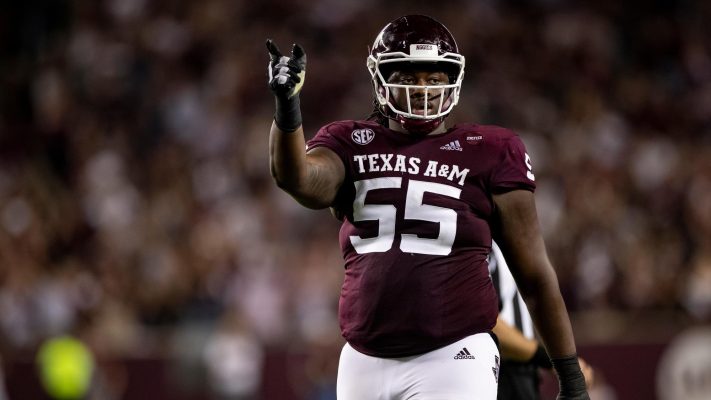 Kenyon Green, IOL, Texas A&M 
Wide Receiver is a major position of need for the Raiders in this 2022 NFL Mock Draft 1.0, but so is offensive guard. The opportunity to land the best guard in the entire draft at #23 is something that new GM, Dave Ziegler, can't afford to pass up. Green is rock solid in every way. He can pave the way in the run game and he can stand up to the interior pass rush he'll face playing in the NFL. You know what you're getting when you draft a player like Kenyon Green, and that's a high quality, plug and play, long term NFL starter who will have a direct impact on keeping your QB clean in the pocket.
23. Arizona Cardinals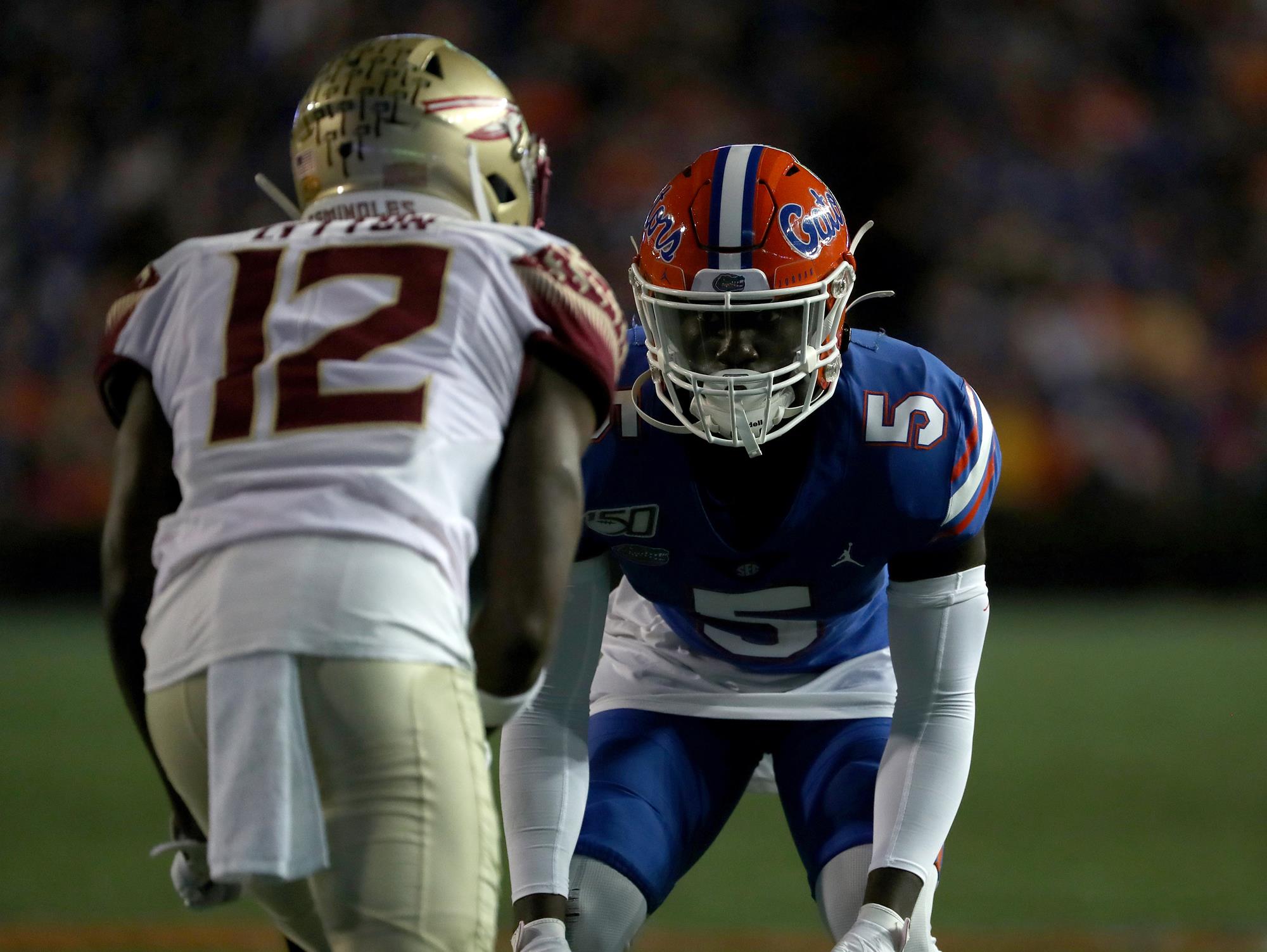 Kaiir Elam, CB, Florida
The Cardinals will most likely be looking to add a corner early in the draft. Despite Andrew Booth Jr. being drafted 8 picks earlier, many believe that Kaiir Elam projects to be a better all-around player at the NFL level. He is 6'2″ with great length, and he ran a sub 4.4-40 in Indianapolis. Those measurables place him into a highly desirable category based on his physical profile alone. Unfortunately, Elam wasn't quite as productive in 2021 compared to his Sophomore season the year previous, but it's important to remember that Florida had a much better team in 2020. Cornerbacks are at a premium, and despite showing some inconsistency, chances are Elam will go in this range due to his appealing upside.
24. Dallas Cowboys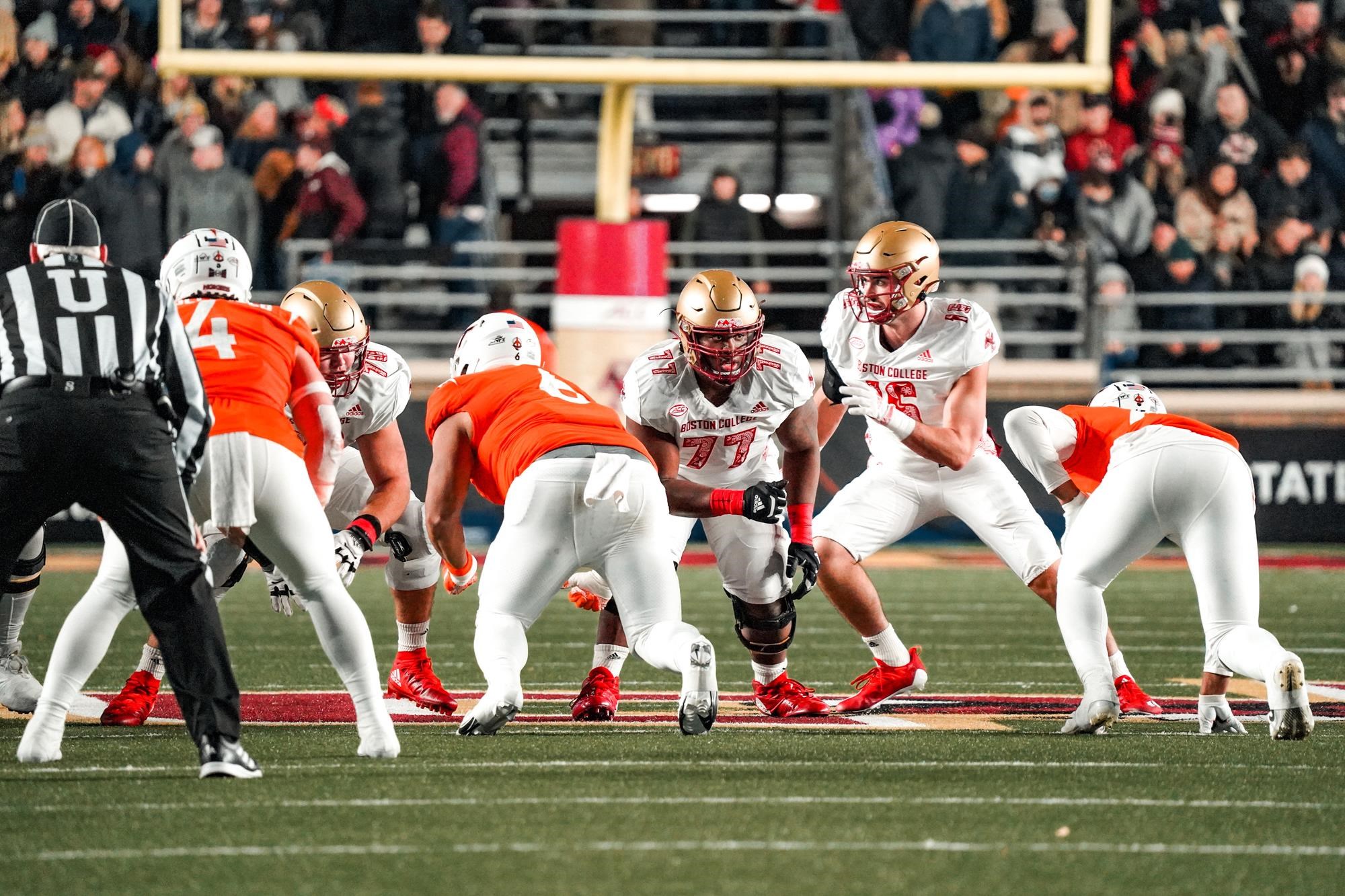 Zion Johnson, IOL, Boston College
Zion Johnson is tailor made for the NFL. He has positional versatility, but his smoothest path to success at the NFL level is on the interior. The Cowboys have seen their once dominant OL begin to break down as a result of age, injury, retirement and other factors. To insert a player with the strength, discipline and pedigree of Johnson into this unit would immediately bolster the entire group. In addition to the physical tools and success at the collegiate level, word is that Johnson also helped his cause during his interviews at the combine — apparently he impressed evaluators with his intelligence, attitude, and preparation.
25. Buffalo Bills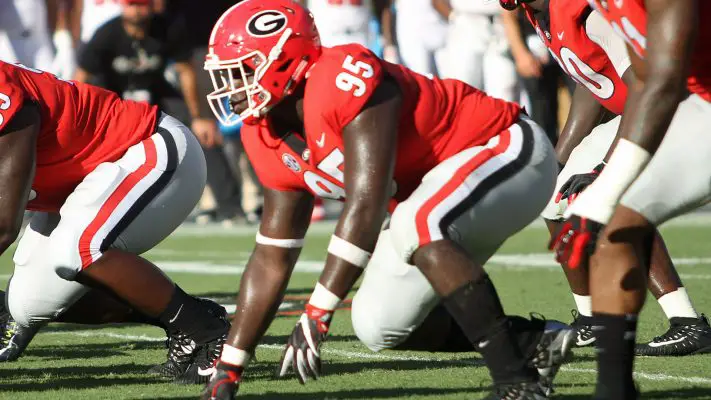 Devonte Wyatt, DL, Georgia
Although a slot receiver would be nice to fill the void left by Cole Beasley's inevitable departure, the Bills will have plenty of opportunity to add one later in the draft. Devonte Wyatt is my favorite IDL prospect in this class — and if he's still available at #25 — the Bills should take him. If recent drafts have told us anything about Bills GM, Brandon Beane, it's that he understands the importance of a strong defensive line. With multiple outside pass rushers drafted last year, the selection of Devonte Wyatt here might be the final piece to the puzzle. Wyatt is a stud who will not only help the Bills defend the run, but he'll also be a force rushing the passer up the middle.
26. Tennessee Titans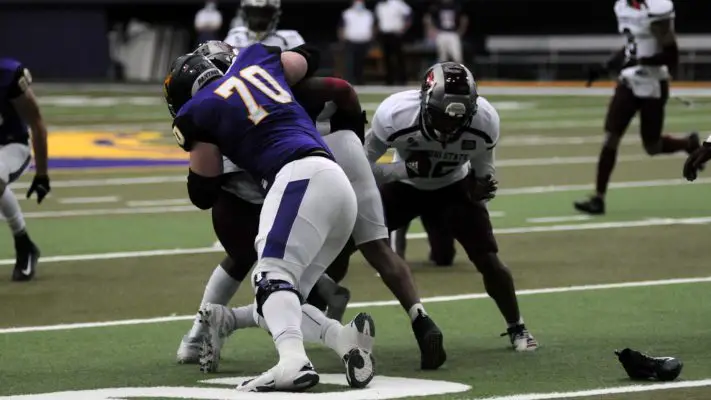 Trevor Penning, OT, Northern Iowa
Although the Titans have needs along the interior as well, if Trevor Penning were to slide into their lap here, I think it would be a great value selection for GM Jon Robinson. Free agent right tackle, David Quessenberry, gave up the most sacks in the NFL last season. Penning could start his career off playing on the right side, and eventually transition over to the left when Taylor Lewan's time is up. Penning is a large, athletic player with a ferocious demeanor on the field. He showed this at the Senior Bowl where he didn't back down from anyone. He has a legitimate chance to be selected in the top-15 so I'm sure the Titans would be thrilled if he were still available at this point of the draft.
27. Tampa Bay Buccaneers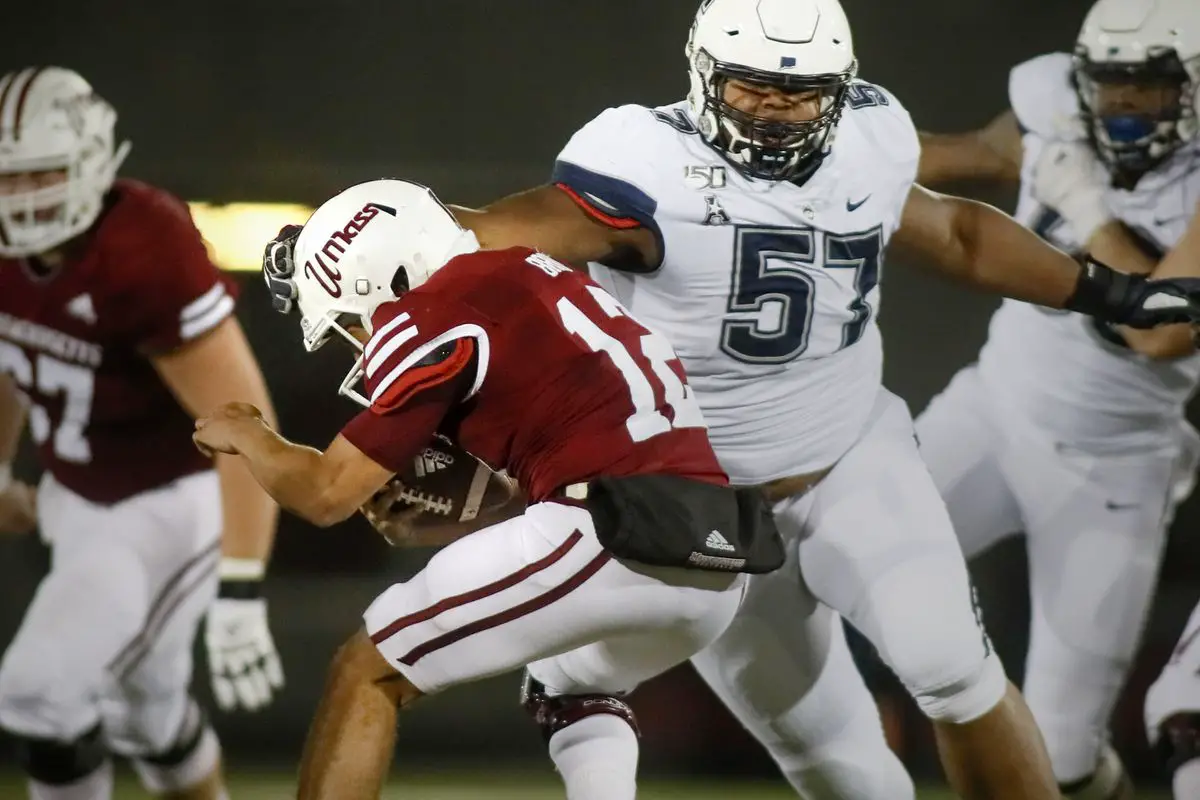 Travis Jones, DL, Connecticut
The Buccaneers could go a number of ways with this pick in our 2022 NFL Mock Draft 1.0 — including a trade down. However, with the top tier of IOL, CB's and WR's already taken, Travis Jones makes the most sense if they stay in this spot. I expect him to be high on their board, and it would also address an obvious position of need. Don't let the fact that he went to UCONN fool you, Travis Jones has the size, power and athleticism to be a forceful disrupter in the NFL. He has been one of the biggest risers throughout the pre-draft process. This stems from dominant play all week at the Senior Bowl in Mobile, AL, followed by an extremely impressive combine performance. Jason Licht and his staff fall hard for Senior Bowl standouts and they aren't afraid to draft players from non-traditional football programs — this selection makes sense for numerous reasons.
28. Green Bay Packers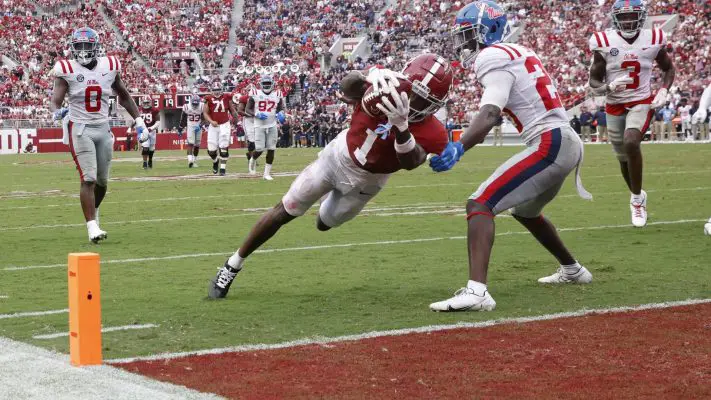 Jameson Williams, WR, Alabama
Had he not torn his ACL in the National Championship game, there's a legitimate chance Jameson Williams would have been a top-10 pick. His loss is the Packers gain however, as here I have them selecting an elite vertical threat to really take the top off the defense. Williams' presence in the Packers lineup would force opposing teams to play more conservative on the back end while ultimately adding an entirely new dimension to Green Bay's already potent offense. I realize that history tells us there isn't a chance in hell that the Packers use a first round pick on a wide receiver, but I truly believe that GM Brian Gutekunst feels indebted to Aaron Rodgers for committing to Green Bay after the fiasco that was last offseason.
29. Miami Dolphins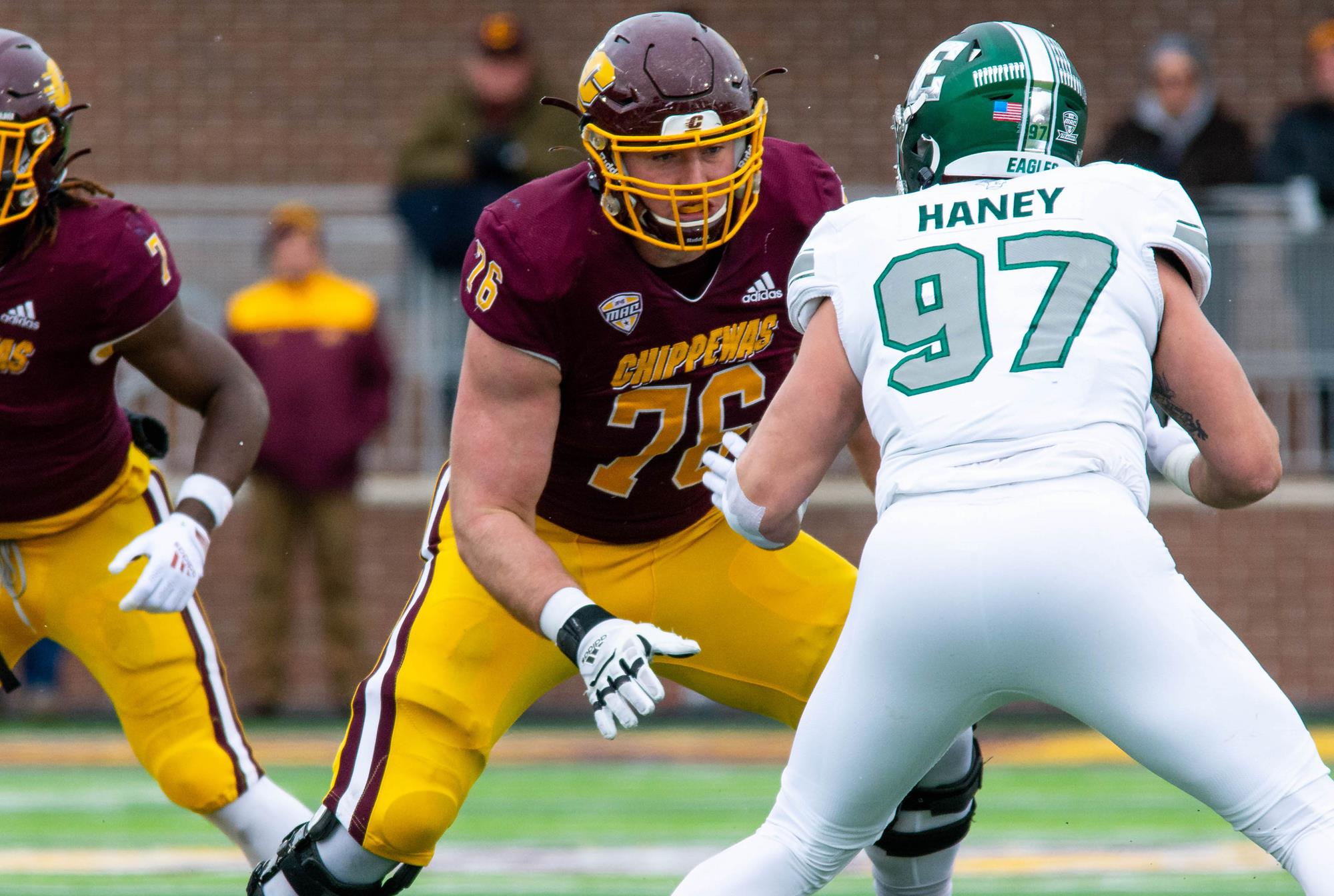 Bernhard Raimann, OT, Central Michigan
The Dolphins desperately need to improve their OL play if they want to give Tua a fair shot as their franchise quarterback. Tyler Smith (Tulsa) is another player to keep an eye on here. Raimann is a 6'6″, 300lb athletic specimen. He has impressive agility and movement skills for a player of his size, which isn't all that surprising when you consider the fact that he was a TE just over two years ago. Raimann's upside is tantalizing. He'll need to refine his technique and understanding of the position to realize his full potential, but he's got all the tools to develop into a really solid NFL player.
30. Kansas City Chiefs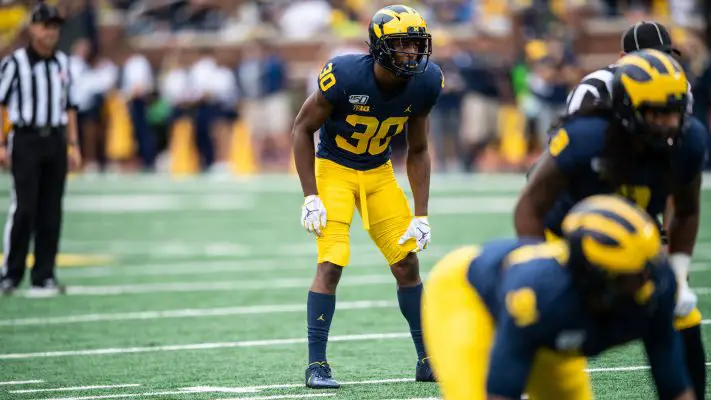 Daxton Hill, S, Michigan
Daxton Hill is a tremendous all-around football player. He's a polished Safety prospect with true versatility. Hill is aggressive in run support, he can patrol the back end of a defense with great confidence, range and instincts — he can even play the nickel if needed. He is a really dynamic athlete, with fantastic closing speed, impressive agility and change of direction. Despite signing Justin Reid to replace Tyrann Mathieu, I still believe the Chiefs would benefit greatly from the addition of a dynamic young safety prospect like Daxton Hill. Juan Thornhill will be a free agent next year, and Daniel Sorenson simply isn't the answer. Injecting some youth into their defensive backfield now would be wise.
31. Cincinnati Bengals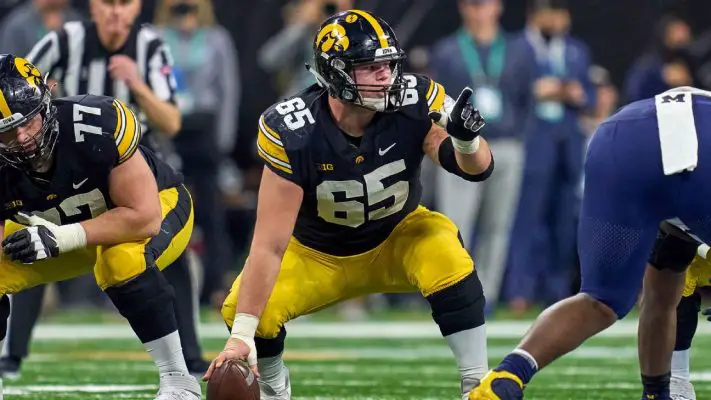 Tyler Linderbaum, IOL, Iowa
Based on his talent alone, Linderbaum is likely more deserving of a selection in the top-15. Unfortunately for him, there's only so many teams with a void at the center position — or at least teams that are willing to fill that void with a first round investment. Although it doesn't sound significant, Linderbaum's arm measurements came in at 31 and 1/8th inches, which is traditionally very short. Add in the fact that he's sub-300lbs, and you have the recipe for a bit of a slide on draft night. This would be huge for the Bengals who are desperate for upgrades all over their offensive line. Physical measurements aside, Linderbaum is a fantastic center prospect with the grit, technique and athleticism to be a Pro-Bowl caliber starter in year 1.
32. Detroit Lions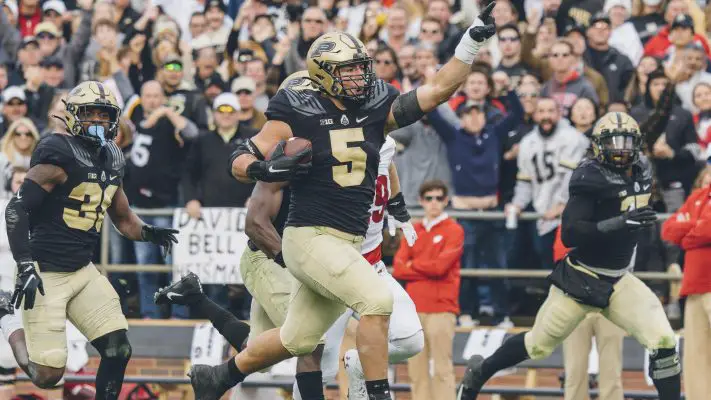 George Karlaftis, Edge, Purdue
Of course the Lions could choose to pick a Quarterback with this selection but with David Ojabo and George Karlaftis still available, I think accumulating as much high end talent is Detroit's wisest strategy at this juncture. I have the Lions selecting Karlaftis simply because he profiles as a "Dan Campbell guy" more so than Ojabo. Although he isn't the twitchiest of athletes, Karlaftis has plenty of strength/power which helps him generate leverage. Furthermore, he is a tough player with a non-stop motor. He has that "will not be denied" mentality which is a trait that Dan Campbell exhibits himself when dominating his nephews in arm wrestling matches during the offseason.