NFL Draft: Who Should Have Gone First?
The 2020 NFL Draft remains the most unique event of its kind. While teams have high hopes for their selections, whether or not they made the right choice is unclear.
Cincinnati sure hopes they made the right selection by taking Joe Burrow No. 1 overall. However, Chase Young, who went No. 2 to Washington, was considered the draft's top pro prospect. Other quarterbacks dotted the top-10, including Miami's Tua Tagovailoa at No. 5 and Los Angeles's Justin Herbert at No. 6.
Despite instant draft grades and talk, most pundits and analysts normally reserve fully evaluating a specific draft for at least three seasons. Redrafting NFL classes can be fun, particularly when the first overall selection is clearly not the best player to come from that draft. Boon or bust judgements seem to emerge quickly and are obvious in retrospect.
Those judgements become difficult when look at specific team fits. The exercise here will take into account overall production, Pro Bowl and All-Pro appearances, as well as years as a primary starter for his team.
So here's a look at who should have been the No. 1 overall pick in the NFL Draft for the last 5 years.
Who Should Have Gone First: 2019 NFL Draft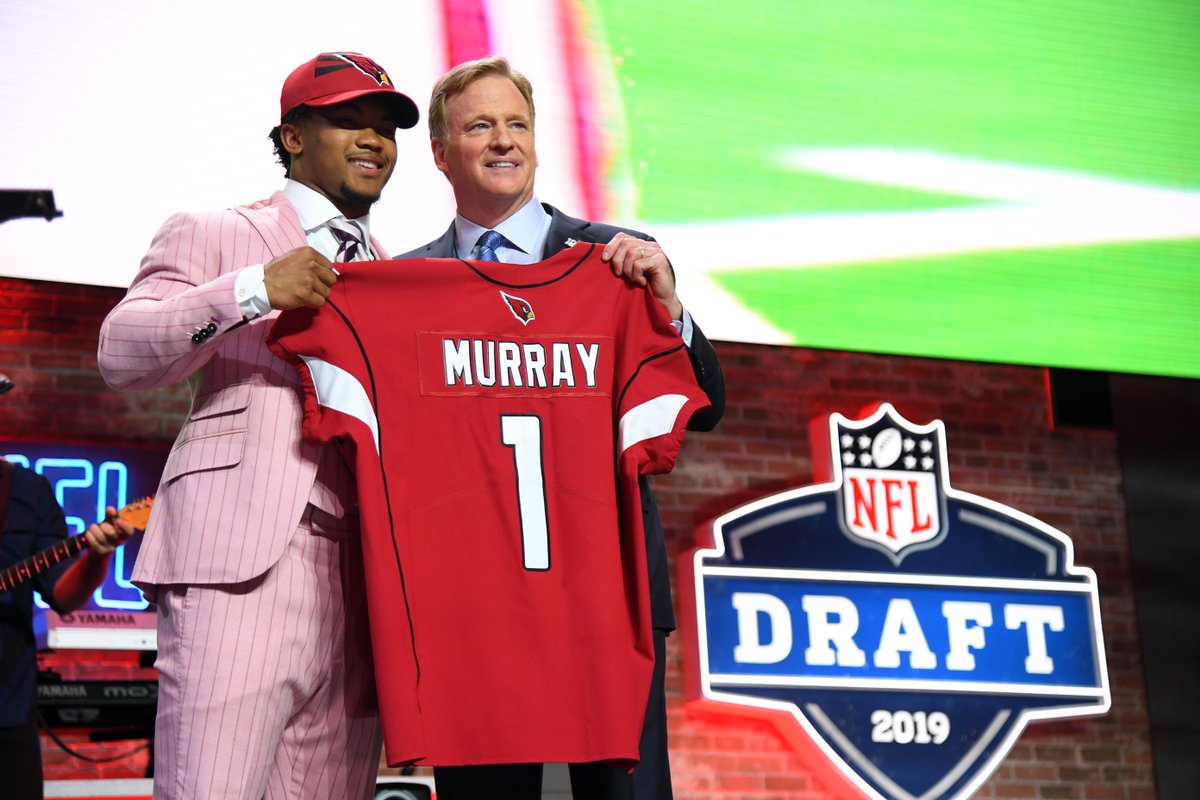 Original Pick: QB Kyler Murray, Oklahoma
Who Should Have Gone First: Too Early To Tell
While it's too soon to tell, the top two picks of the 2019 NFL Draft might very well have been the correct two. Kyler Murray went No. 1 overall out of Oklahoma to the Arizona Cardinals. He proceeded to have a productive rookie campaign. Murray took home the AP Offensive Rookie of the Year award after throwing for over 3,700 yards and posting over 4,000 from scrimmage overall. He registered 24 touchdowns (20 passing and four rushing).
San Francisco selected edge rusher Nick Bosa with the No. 2 overall selection. Bosa went on the terrorize opposing quarterbacks, including Murray. He registered 47 tackles (16 for loss), nine sacks, one interception, two passes defensed, two fumble recoveries and one forced fumble. His nine sacks were third among all NFL rookies (fourth-most all-time by a 49ers rookie) and his 16 tackles for loss were tied for fifth among all NFL players. He led the NFL with 25 quarterback hits. Bosa took home the AP Defensive Rookie of the Year award.
Some argue that Raiders running back Josh Jacobs, selected No. 24 overall from Alabama, should have been the offensive rookie of the year. a 2019 redraft one year later would probably put Jacobs in the top-10, but not No. 1 overall.
The 2019 NFL Draft boasts three Pro Bowlers after one season: Bosa, Josh Allen and Mecole Hardman. Allen led all rookies with 10.5 sacks. Should he continue on his current trajectory, Allen could very well be viewed as the best player from this draft class. He was drafted No. 7 overall by the Jaguars. Hardman, a second-round pick by the Chiefs, earned his Pro Bowl berth as a return man.
Who Should Have Gone First: 2018 NFL Draft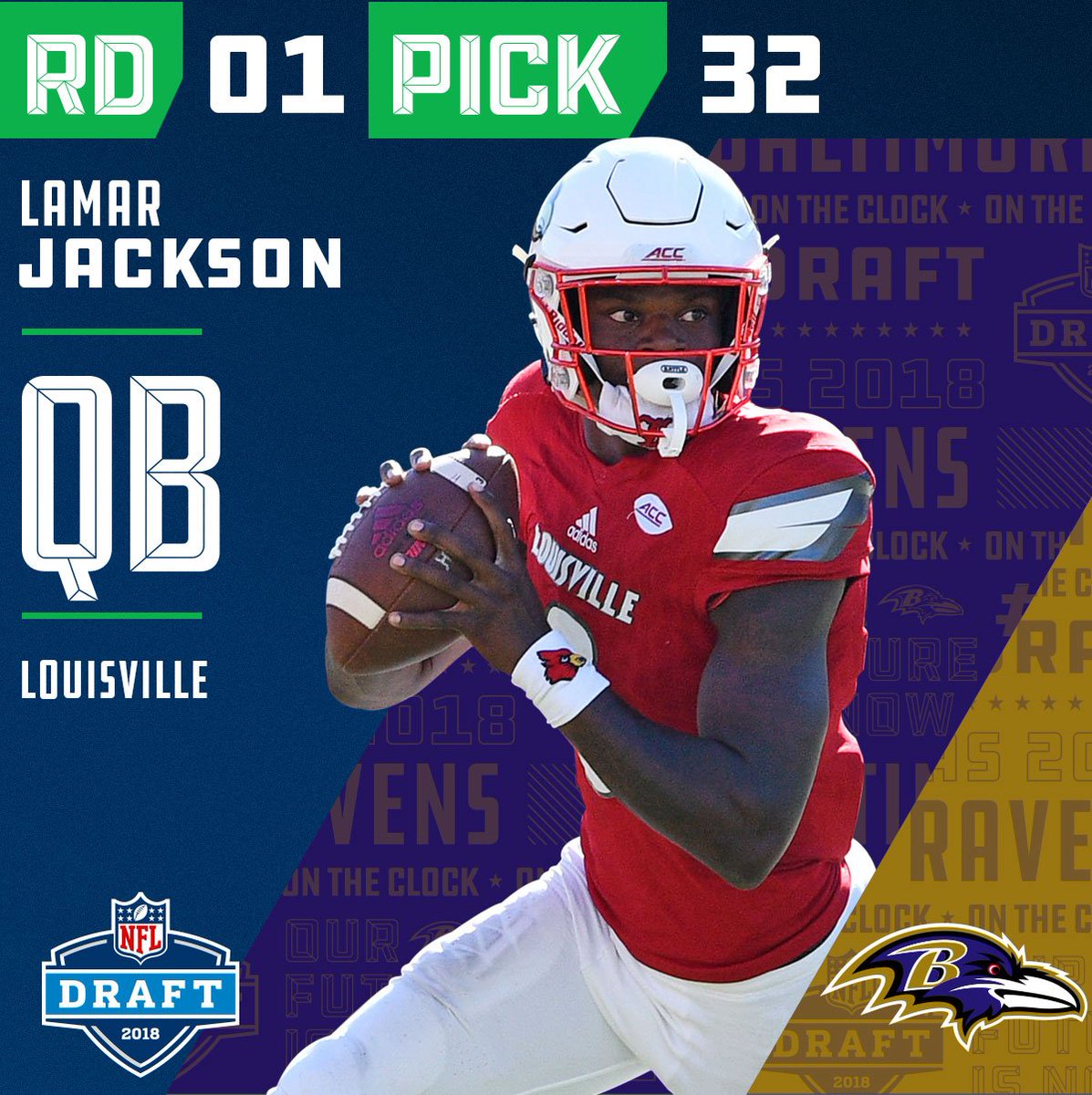 Original Pick: QB Baker Mayfield, Oklahoma
Who Should Have Gone First: Probably too early, but QB Lamar Jackson, Louisville
Entering the 2018 NFL Draft, Baker Mayfield boasted back-to-back 40-plus touchdown pass seasons, nearly 15,000 passing yards over four years and a Heisman trophy. He shot up draft boards late in the process, leaping other prospects like USC's Sam Darnold in the process. But over the last two seasons in Cleveland, Mayfield has been inconsistent, despite the skill position talent surrounding him.
Lamar Jackson from Louisville nearly slipped from the first round entirely. He went No. 32 overall to the Baltimore Ravens and spent most of his rookie season on the bench. But as the primary starter in 2019, Jackson led the Ravens to a 13-2 record and won league MVP. He made his first Pro Bowl and earned a first-team All-Pro berth as well. His current trajectory sees him topping out this class.
Saquon Barkley may have an argument for the top spot as well. He won the 2018 AP Offensive Rookie of the Year award. In two seasons, he's piled up over 3,500 yards from scrimmage and 23 touchdowns. He went No. 2 overall and the Giants probably nailed the pick perfectly.
Who Should Have Gone First: 2017 NFL Draft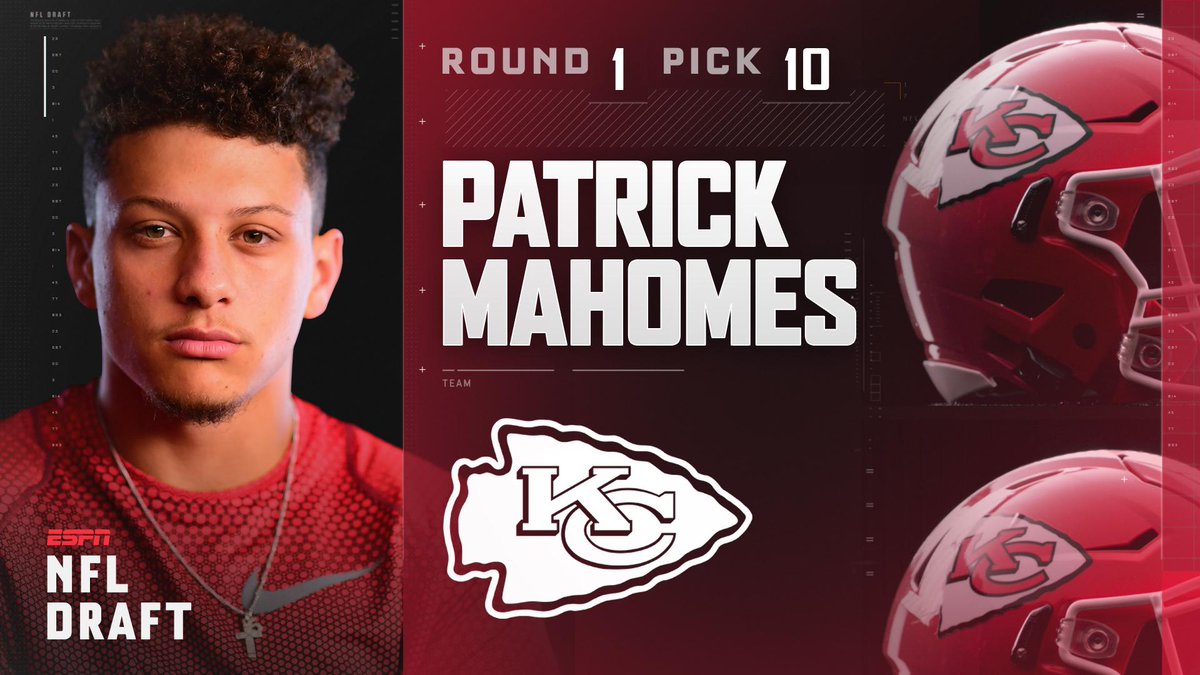 Original Pick: EDGE Myles Garrett, Texas A&M
Who Should Have Gone First: QB Patrick Mahomes, Texas Tech
The 2017 NFL Draft features several players who should have been No. 1 overall. Although Myles Garrett is not a bad football player, he's probably not the best player to come from this draft. He's best known these days for his assault on Steelers quarterback Mason Rudolph. Garrett has registered the second-most sacks in the class (30.5). He's certainly still a first-round pick in any redraft, and perhaps top-10.
Patrick Mahomes leads the pack in terms of who should have gone first in the 2017 NFL Draft. Already with a Super Bowl win on his resume, Mahomes also sports an MVP award, two Pro Bowls and one first-team All-Pro berth. His 50 touchdown passes in 2018 led the league and tied for second-most in a single season all-time. He's the odds-on favorite to be No. 1 overall in any 2017 redraft after being selected No. 10 overall by the Chiefs out of Texas Tech.
The contenders behind Mahomes include Christian McCaffery and Jamal Adams. McCaffery came from Stanford and the Panthers selected him No. 8 overall. He's since become one of the most dynamic offensive weapons in the league. Adams went No. 6 overall to the Jets out of LSU. Although he wants to fly away from New York and Adam Gase, Adams has emerged as one of the top safeties in the NFL. McCaffrey and Adams probably go two and three in any redraft.
Who Should Have Gone First: 2016 NFL Draft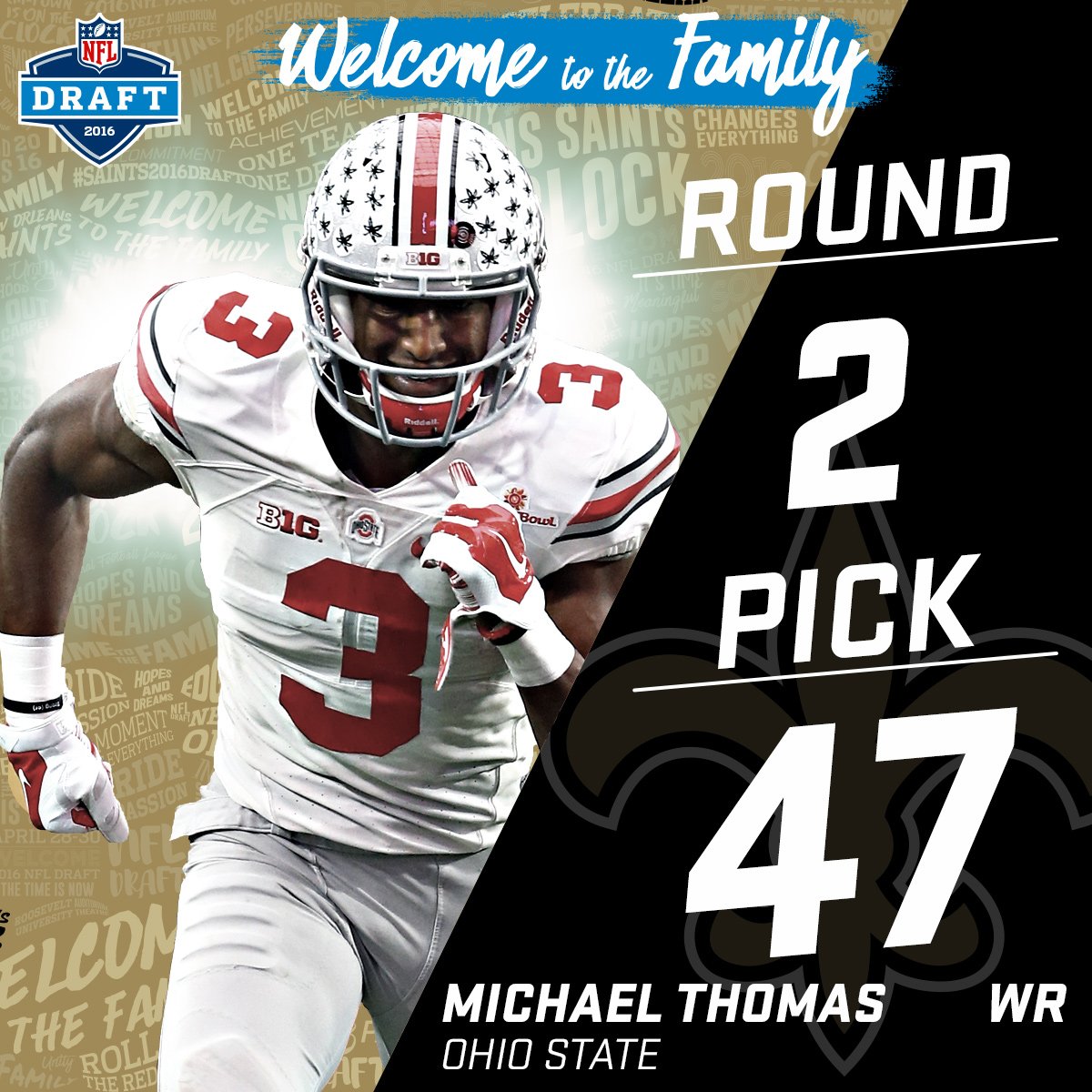 Original Pick: QB Jared Goff, California
Who Should Have Gone First: WR Michael Thomas, Ohio State
The 2016 NFL Draft features its fair share of success stories. In a redraft of this class, as many as seven of the top-15 would likely be players who were originally selected outside of the first round.
Jared Goff went No. 1 overall to the LA Rams. A California kid, Goff made sense for the Rams and has since led them to the Super Bowl. Despite the worst offensive showing in Super Bowl history, that's something. Goff has two Pro Bowl appearances and over 14,000 yards passing with 87 touchdowns. But he's not the best quarterback in the class, nor the best player.  
Michael Thomas, originally selected No. 47 overall by the Saints, would probably go No. 1 in a redraft of the 2016 class. Thomas earned the 2019 AP Offensive Player of the Year award after setting a new NFL single-season receptions record (149). He also led the league in receiving yards (1,725) and has caught 32 TD passes over four seasons. He's a three-time Pro Bowler and two-time first-team All-Pro.
Other players with arguments for the top spot in 2016 include a pair of Cowboys, Dak Prescott and Ezekiel Elliott. Prescott, originally a fourth-round pick, leads the class in total touchdowns (118) and has two Pro Bowl berths. Elliott has piled up over 5,000 yards rushing in four seasons and nearly 50 touchdowns, and he's a three-time Pro Bowler.
Who Should Have Gone First: 2015 NFL Draft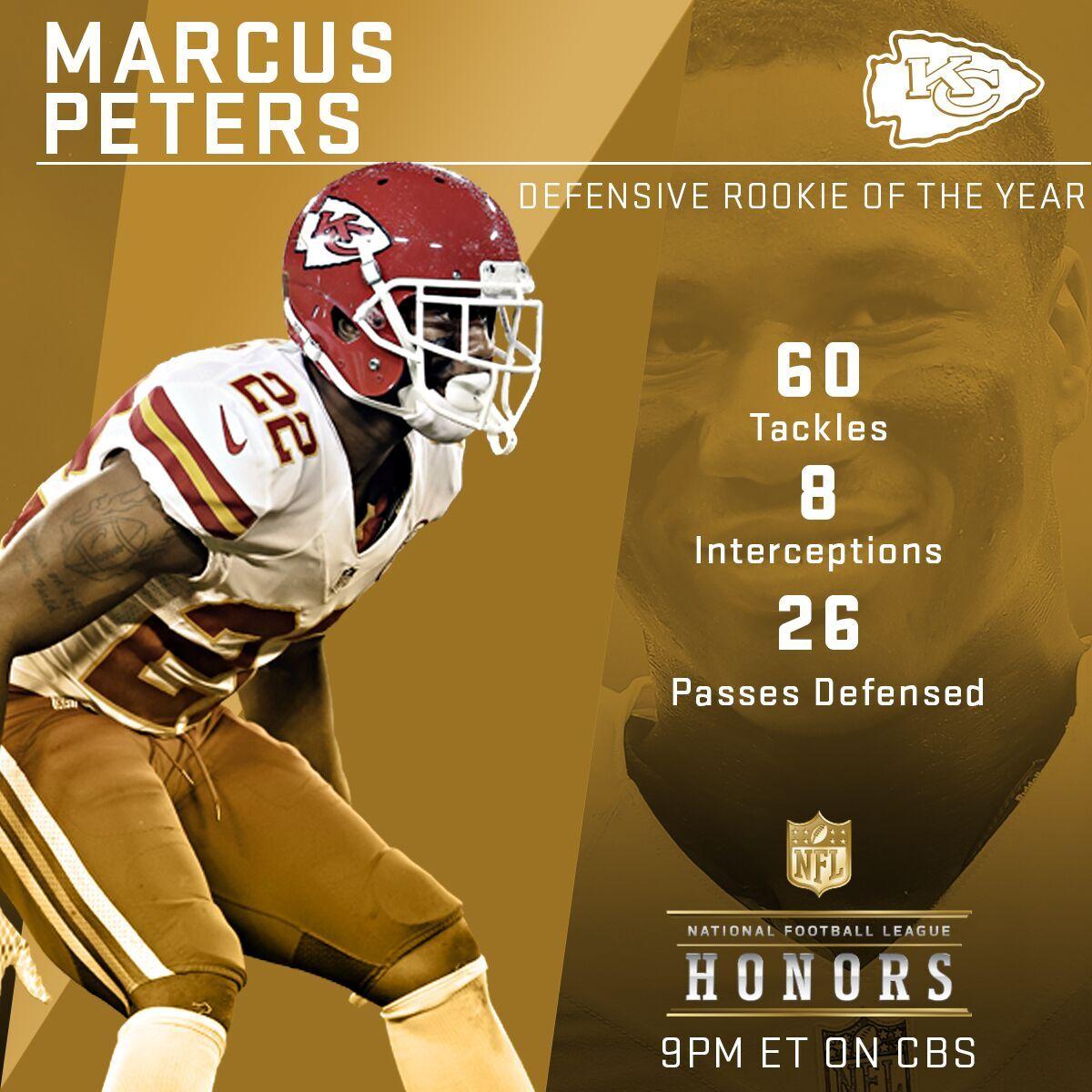 Original Pick: QB Jameis Winston, Florida State
Who Should Have Gone First: CB Marcus Peters, Washington
The 2015 NFL Draft hasn't really produced any transcendent talent like some of the other recent drafts. Only seven of the 256 players selected have made the first-team All-Pro, and 22 have made at least one Pro Bowl.
Jameis Winston entered the 2015 draft after piling up NCAA awards in 2013. He won the Heisman trophy, Manning award and AP Player of the Year award as a freshman at FSU. He led the Seminoles to the 2013 BCS National Championship but couldn't replicate the effort as a sophomore.
The Buccaneers took Winston with the No. 1 overall selection in 2015, but he posted just a 28-42 win-loss record for Tampa Bay. He's the most productive QB in the class though, being the only one to have thrown over 100 touchdown passes. But after throwing a league-leading 30 interceptions in 2019, Winston has been replaced by Tom Brady as the Bucs quarterback.
Some might still take Winston No. 1 overall for the 2015 draft. But another player with a serious case for the spot is Marcus Peters. As a cornerback, Peters won the AP Defensive Rookie of the Year award and has since earned two first-team All-Pro selections. His three Pro Bowl berths trail only WR Amari Cooper's four in the class. Peters' sports 27 career interceptions. As a rookie, he led the league with eight interceptions, including two returned for touchdowns. Peters has six defensive touchdowns since 2015.
Had Peters been the No. 1 pick in 2015, it would have marked the first time a corner was the top pick and the first time since 1956 for a defensive back to go first overall.
The other players who could make an argument to be the No. 1 overall pick in 2015 include WR Amari Cooper, RB Todd Gurley and ILB Eric Kendricks.
Don't miss the rest of our NFL Draft coverage, and don't forget to follow @NFLDraftLounge on Twitter and Facebook!