I took a few weeks to catch myself up on the offensive tackles in the 2021 NFL Draft and there are a lot of impressive guys. Unfortunately, someone is going to get left out of this list. So without further ado, let's jump right in and hit these rankings.
Be sure to follow NFL Draft Lounge for more coverage on the 2021 NFL Draft. As always, you can follow us on Facebook, Twitter, and Instagram.
1. Penei Sewell, Oregon–6'5", 320lbs
Scheme Fit: Vertical Power Run
I will try not to dwell too long on the obvious but this is by far the best offensive tackle in this draft, and he has been one of the highest graded tackles in the draft for some time. There is nothing this guy cannot do. He can pass protect, run block, get to the second level with ease, and do whatever he is asked to do. He has solid athleticism, length, plus he has versatility. There are a lot of questions about whether or not he is a solid fit in the NFL at the tackle position. If he struggles with NFL pass rushers, then I have no doubt that he could kick inside if need be. He has tremendous upside because he is only 20 years old and he already is as talented as he is. Easily should be the first tackle off the board.
2. Rashawn Slater, Northwestern–6'4", 315lbs
Scheme fit: If moved to guard, an offense that uses a lot of zone run.
If moved to tackle, West Coast offense
Rashawn Slater is a guy who a lot of people believe needs to be moved to guard. I think he could personally make it at any position on the offensive line. He is that versatile of a guy. What was most impressive to me was his game against Ohio State in 2019 where he effectively shut down Defensive Rookie of the Year candidate Chase Young. He is a guy who can pass protect with ease and also move up in the second level and run block. Next to Sewell, Slater is the second most versatile linemen in this Draft. He is a queen chess piece who can go wherever he needs to be placed, and take care of whatever he is assigned to do.
3. Christian Darrisaw, Virginia Tech–6'5", 314lbs
Scheme fit: Zone run
For once we have a guy who is not being considered as a move to guard. Darrisaw is a true, pass protecting, mauler of a left tackle. What impresses me most about Darrisaw is his lateral mobility. He does a great job of moving to the second level to help block. Many times I have seen him drive a defender up the field for 20 yards. As far as pass protection goes he is really strong. He has a solid kick back and gets set really well. At times pass rushers who are twitchy and slippery to handle can throw him off his timing, but overall he handles any type of pass rusher well. Darrisaw is the type of guy that you want at tackle and only tackle. It is the position he has played since he arrived at Virginia Tech, and it is the position he has shown steady improvement in. He is the best pure tackle in the 2021 NFL Draft. 
4. Samuel Cosmi, Texas–6'6", 309lbs
Scheme fit–Zone blocking
Samuel Cosmi is an interesting study for the offensive tackle position. He has played games at both right and left tackle, so he is versatile in that aspect. Coming into the league he projects best as starting on the right side when he arrives in the NFL. He definitely has the potential to move to the left. Cosmi is raw but has outstanding upside. He needs to work on his footwork in pass pro, his technique with the lower half of his body, and he needs to try and add some pounds to his frame. By adding more weight and improving his technique with the lower half of his body he would be able to handle pass rushers who bull rush much better. Cosmi is a strong prospect and he will do well in the NFL. He just needs a team to develop him and help him reach his true potential. 
5. Dillon Radunz, NDSU–6'5", 299 lbs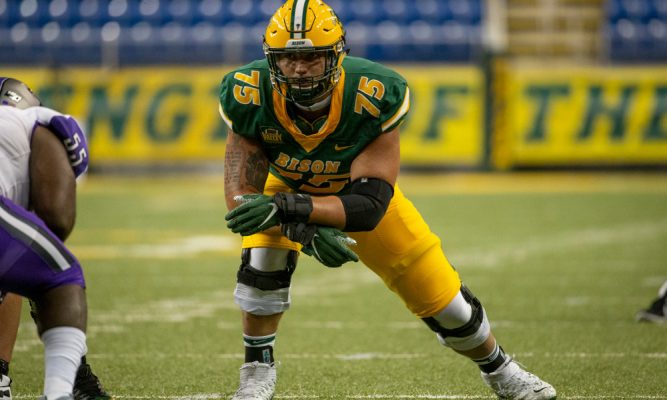 Scheme fit: Power Run
Trey Lance isn't the only potential first-round draft pick out of North Dakota State. Dillon Radunz is a fun guy to watch. He is an absolute mauler in the run game with a crazy mean streak. He wants to hit you and he wants to completely push you out of the play. When it comes to pass blocking he is also solid. There are a lot of questions surrounding how well he will be able to block NFL pass rushers compared to the competition that he has faced in the FCS. In reality, the increase in the level of competition is a struggle every offensive lineman will have to overcome. Radunz would project better if he could add on some weight. If he could gain a little more weight he would be better-suited size-wise for the NFL. Overall he has all the traits and characteristics you would want in an offensive tackle and should go in the first or second round.
Outside Looking In
6. Liam Eichenberg, Notre Dame–6'6", 305 lbs
Scheme fit–Power run
Liam Eichenberg is yet another super-strong offensive tackle in this year's draft. Eichenberg is absolutely NFL ready and should have no issue starting day one. He does not do the best with containing the more twitchy and speedy edge rushers. Those tend to give him trouble. His strength however lies in his ability to run block. Eichenberg does a great job at releasing vertically and reaching the second level. While his strength is in the run, he did do a pretty decent job of helping protect Ian Book in the 2020 season. He should start as a left tackle in the NFL and should make the transition with minimal issues. 
7. Jalen Mayfield, Michigan–6'5", 320 lbs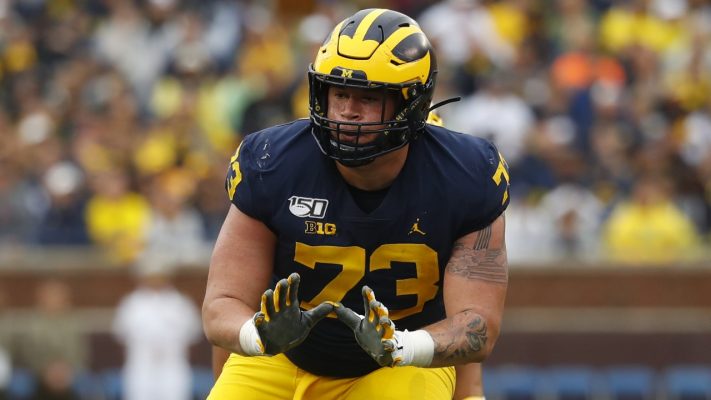 Scheme fit–Literally any scheme
Jalen Mayfield is an interesting prospect going into the NFL Draft 2021. For most of his career, he has played at right tackle for Michigan. He has great size and stature and it doesn't seem to affect his mobility at all. While not his strong suit, he is impressive in the run game. With his size and length, he can really do a good job of containing and shutting down pass rushers. He is a boom or bust type of guy. Mayfield is still raw at the position and there are parts of his technique that he could improve on. Overall he has great potential and is worth the risk for an NFL team.