2024 NFL Draft Scouting Report: Alabama CB Kool-Aid McKinstry
| Year | School | Class | Games | Solo Tackles | Assisted Tackles | Total Tackles | Tackles For Loss | Sacks | Interceptions | Passes Defended | Forced Fumbles |
| --- | --- | --- | --- | --- | --- | --- | --- | --- | --- | --- | --- |
| 2021 | Alabama | FR | 9 | 9 | 17 | 26 | 1.0 | 1.0 | 1 | 1 | 0 |
| 2022 | Alabama | SO | 13 | 29 | 6 | 35 | 2.0 | 1.0 | 1 | 15 | 0 |
Very good play recognition and attack speed
Outstanding ability to restrict the wide receiver and leverage against the sideline
Fine ability to recover and close on the target from intermediate range
Needs to improve his use of hands at the line of scrimmage to disrupt timing
Inconsistent effort on plays that originate from the opposite side of the field
Adequate ability over the top to leverage the ball and attack the ball carrier
2024 NFL Draft: Kool-Aid McKinstry Draft Profile and Scouting Report
Kool-Aid McKinstry first burst onto the scene as a starting corner late in the 2021 season. Was considered to be the top cornerback in the 2021 recruiting class, with offers from Clemson, Georgia, and LSU. Capped off his 2022 season as a semifinalist for the Bednarik Award. Named to 2023 Walter Camp Preseason First-Team All-American list.
Kool-Aid McKinstry 40 Time
Projected 40 Time: 4.40 seconds
Kool-Aid McKinstry is a two-year starter at cornerback for the Alabama Crimson Tide. One of the top corners in the 2021 high school recruiting class that has been able to remain at the top of his game. He possesses good height and weight for the corner position in the NFL. Additionally, his predicted 40 time of 4.40 seconds is just above the league average.
McKinstry displays a fantastic ability to leverage the wide receiver against the sidelines to restrict available space. Has a solid ability to mirror the wide receiver while keeping his hips pointed at his target. Possesses a good ability to track the ball and disrupt the pass at the point of attack. His tackle range is solid, as is his ability to wrap up the ball carrier in space. Has very good play recognition and explosiveness to attack the ball carrier from deep range. Possesses a good recovery ability to close on the target from intermediate range.
His ability over the top to leverage the ball and keep the ball carrier inside is adequate. Needs to play with more violent hand usage at the line of scrimmage to disrupt the timing between the wide receiver and quarterback. His motor and effort needs improvement, especially on routes that originate from the opposite side of the field.
2023 Walter Camp Preseason First-Team All-American
2022 Bednarik Award semifinalist
2021 All-SEC Freshman Team (Coaches)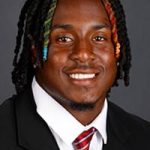 Kool-Aid McKinstry
CB – Alabama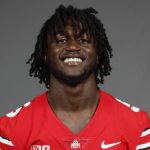 Denzel Burke
CB – Ohio State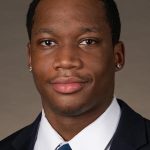 Kalen King
CB – Penn State