2024 NFL Draft Scouting Report: BYU OT Kingsley Suamataia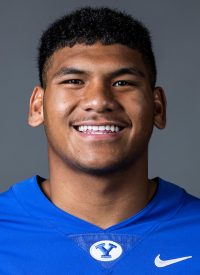 Anchors and holds ground off the edge extremely well
Good quickness out of his stance to drive and block the run
His footwork is a plus trait
Violent use of hands off the edge is difficult for him to control
Can get to the second-level quickly, but struggles to attack once there
Inconsistent ability to handle swim and aggressive hand moves inside and outside
2024 NFL Draft: Kingsley Suamataia Draft Profile and Scouting Report
Kingsley Suamataia first saw significant playing time in 2022, following a transfer from the University of Oregon. Made an impact immediately as the team's right tackle. Received multiple first and second-team honors following his first year on campus at BYU. Should have a much larger impact with another full season under his belt.
Kingsley Suamataia 40 Time
Projected 40 Time: 5.00 seconds
Kingsley Suamataia is a one-year starter at right tackle for the Brigham Young Cougars following a transfer from the University of Oregon, where he redshirted for a season. He possesses good height and solid weight for the offensive tackle position in the NFL. Our projected 40 time of 5.00 seconds is several tenths quicker than the league average for offensive tackles.
Suamataia displays a good quickness out of his stance and ability to drive through opponents as a run blocker. Maintains a good pad level to establish leverage and open up gaps at the point of attack. Has solid footwork to slide out and handle suddenness off the edge. Further, he shows to have a very good anchor ability to handle power without losing ground in the pocket. He does a nice job of steering defenders where he wants them to go and frequently establishes and maintains leverage during the rep.
However, violent use of hands at the point of attack can be difficult for him to handle and control. He shows a poor ability to identify and attack defenders when asked to block at the second-level. Displays an adequate ability to stay engaged with the defender off the edge, as well as stay in front of him. Body bend and lean off the edge is an Achilles' heel for him in pass protection. Does not handle evasive maneuvers inside well, either.
Kingsley Suamataia was a graduate of Orem High School in Orem, Utah, where he played football for head coach Jeremy Hill. He was ranked as a five-star recruit, according to Rivals. He was a four-star recruit according to 247Sports, ESPN, and On3. Additionally, he scored a 0.9823 in the 247Sports Composite grading system.
Prior to his commitment to Brigham Young, Kingsley Suamataia had multiple offers and visits. Those offers included Georgia, Alabama, BYU, and Arkansas, as well as dozens more.
In September of 2020, Suamataia committed to the University of Oregon. A few months later in December, he signed his letter of intent, with enrollment coming in February of 2021. He appeared in one game for the Ducks, but redshirted for the season.
Following one year in Eugene, Kinglsey Suamataia entered the transfer portal at the end of October 2021. A week and a half later, he committed to Brigham Young University, which was  a short drive from his hometown of Orem.
2022 Freshmen Second-Team All-American (The Athletic)
2022 First-Team All-Independent (College Football Network)
2022 Second-Team All-Independent (Phil Steele)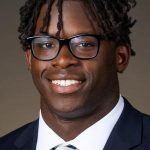 Olumuyiwa Fashanu
OT – Penn State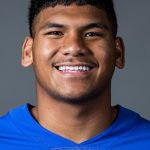 Kingsley Suamataia
OT – BYU