2024 NFL Draft Scouting Report: Georgia TE Brock Bowers
| Year | School | Class | Games | Receptions | Receiving Yards | Yards Per Reception | Touchdowns | Rushing Attempts | Rushing Yards | Yards Per Rushing Attempt | Rushing Touchdowns |
| --- | --- | --- | --- | --- | --- | --- | --- | --- | --- | --- | --- |
| 2021 | Georgia | FR | 14 | 56 | 882 | 15.8 | 13 | 4 | 56 | 14.0 | 1 |
| 2022 | Georgia | SO | 15 | 63 | 942 | 15.0 | 7 | 9 | 109 | 12.1 | 3 |
Elite catch radius to haul in passes that are away from his body
Excellent at blocking defenders downfield or in the flats
An explosive runner with the ball in his hands
Struggles to explode out of his stance and off the line of scrimmage
Inconsistency to find and block defenders as a pull-blocking in-line tight end
Needs to improve upon his ability to maximize space downfield in zone coverage
2024 NFL Draft: Brock Bowers Draft Profile and Scouting Report
Brock Bowers first saw significant playing time as a true freshman in 2021. Earned First-Team All-American honors from USA Today in his first year with the program. Enters his junior season with 119 receptions, 1,824 receiving yards, and 20 touchdowns, along with four additional rushing touchdowns.
Brock Bowers 40 Time
Projected 40 Time: 4.45 seconds
Brock Bowers is a two-year starter for the University of Georgia Bulldogs. He possesses solid height and has adequate weight for the tight end position at the pro level. Bowers ran a 4.50 40 time at the Nike Sparq Camp in 2019. Based off of that time, we've predicted a 4.45 40 time for him, which would be much quicker than the average for tight ends.
Bowers displays good speed and athleticism to outrun defenders across the field. He adjusts to passes that are placed high, even when is body is turned away from the quarterback. Tremendous at tracking and catching the ball in heavy traffic. In my opinion, he has an elite-level catch radius. Shows a good ability to square up the defender and drive through his blocking assignment, opening up wide running lanes for the ball carrier, a trait that he thrives at accomplishing. After the catch, he has a good ability to break tackles and remain upright through contact. Possesses a very good second gear to outrun defenders with the ball in his hands.
However, he displays adequate explosiveness and burst out of his stance and off the line of scrimmage, as he's often the last receiver off the line. He has an inconsistent ability to find and attack defenders when asked to pull block from the in-line tight end position. Needs to improve upon his ability to diagnose coverage and sit on routes across the middle of the field to maximize space for the quarterback to throw into.
Brock Bowers graduated from Napa High School in Napa, California. He played football for head coach Richie Wessman. He was unanimously a four-star recruit among the four major rankings. His highest national ranking came from On3, where he was the 66th ranked player. On3, ESPN, and 247Sports all had him ranked as a top-five tight end in the class. Furthermore, he scored a 0.9531 in the 247Sports Composite. Brock Bowers wowed evaluators at the 2019 Nike Sparq Camp when he ran a 4.50 40 time.
Bowers was selected to the 2021 All-American Bowl, as well as the PrepStar Top 150 Dream Team. In high school, he played multiple positions, including tight end, running back, wide receiver, linebacker, and on special teams as a kick returner.
Prior to his commitment to Georgia, Brock Bowers had offers form LSU, Notre Dame, Texas A&M, USC, and many more. Bowers committed to the University of Georgia in August of 2020, with his letter of intent coming in December on National Signing Day. He was an early enrollee in January of 2021.
2022 Rotary Lombardi Award finalist
2022 Water Camp Player of the Year semifinalist
2022 Biletnikoff Award preseason watch list
2021 John Mackey Award semifinalist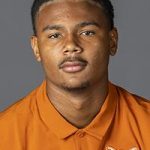 Ja'Tavion Sanders
TE – Texas