2024 NFL Draft Scouting Report: Iowa IOL Connor Colby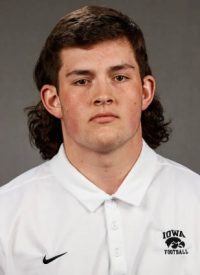 Holds ground and anchors quite well in pass protection
Absorbs contact and recovers extremely well
Generates fantastic drive forward to open up gaps in the running game
Stunts, twists, and delayed blitzes are difficult for him to pickup quickly
Struggles heavily against aggressive use of hands form the defender
Inconsistency to steer defender at the line of scrimmage to create room for the ball carrier
2024 NFL Draft: Connor Colby Draft Profile and Scouting Report
Connor Colby first popped onto the scene in 2021 as a freshman starter on the offensive line. He's played right guard, right tackle, and left guard for the Hawkeyes. The interior offensive line is a natural position for him, and one that he has performed the best at. Might develop into a tackle, but isn't pro ready to do so at this point.
Connor Colby 40 Time
Projected 40 Time: 5.00 seconds
Connor Colby is a two-year starter on the offensive line for the University of Iowa Hawkeyes. He's played multiple positions, proving his versatility, but fits best at guard at the next level. Might develop into an offensive tackle, but will need to improve his footwork and use of hands considerably. He possesses good height and solid weight for the offensive line position in the NFL. Our projected 40 time of 5.00 seconds is much quicker than the league average, as evidenced by his abilities in the second-level.
Colby displays a good ability to absorb contact and recover quickly to regain leverage versus the defender. He generates good drive forward as an IOL to create space in the running game. Shows a good ability to fight through the defensive line to reach the second-level quickly and efficiently. Possesses good strength to drive through double teams to open up massive holes in the running game. In pass protection, he has a good ability to hold his ground and is rarely driven backwards by the defender.
However, he lacks an ability to bat down the opponent's hands to establish leverage consistently. Struggles to handle aggressive hand usage at the point of attack, allowing the defender to get by him inside. Possesses an inconsistent ability to steer defenders at the line of scrimmage to create space for the ball carrier. In pass protection, delayed blitzes and stunts up the middle are a difficulty for him.
Connor Colby was a graduate of John F. Kennedy High School in Cedar Rapids, Iowa, where he played football for head coach Brian White. He was an unanimous four-star recruiting prospect, as well as widely considered to be one of the best prospects out of the state of Iowa. His 247Sports Composite grade was a 0.9140, which ranked him in the early-to-mid 200s nationally.
Prior to his commitment to the University of Iowa, Connor Colby also had offers from Iowa State, Nebraska, Minnesota, Virginia Tech, Ohio State, and Michigan State. In June of 2019, Colby committed to Iowa, with a letter of intent coming in December of 2020. Finally, he was an early-enrollee at the end of January 2021.
2022 Second-Team All-Big Ten Preseason Honors (Phil Steele)
2022 Academic All-Big Ten
2021 Freshman All-American (FWAA and Maxwell Club)