2024 NFL Draft Scouting Report: Notre Dame OT Joe Alt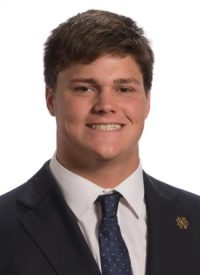 Excellent use of hands to lockout the defender and maintain leverage
Opens up running lanes into the second-level quite well
Anchors well and maintains leverage without giving up space
Contact balance in the trenches is a liability
Bend and body lean is a struggle for him to handle
Inconsistent ability to pickup and handle delayed blitzes
2024 NFL Draft: Joe Alt Draft Profile and Scouting Report
Joe Alt has been an anchor on the offensive line dating back to 2021. His father, John, played in the NFL and is in the Chiefs Hall of Fame, while his brother, Mark, is in the NHL. He was a four-star prospect, according to 247Sports, while ESPN and Rivals had him as a three-star prospect. Last season, he helped Notre Dame rush for 220+ yards in seven games.
Joe Alt 40 Time
Projected 40 Time: 5.30 seconds
Joe Alt is a two-year starter at offensive tackle for the Notre Dame Fighting Irish. He possesses very good height and solid weight for the offensive tackle position in the National Football League. Our projected 40 time of 5.30 seconds is slightly below the league average, but not significantly so.
Alt has a very good use of hands to lockout the defender and maintain leverage throughout the rep. Displays a solid ability to handle twitchiness off the edge and keep them in front of him. Shows a good ability to drive through defenders and open running lanes all the way into the second-level. Does a tremendous job at anchoring and handling power off the edge.
However, he has a below average contact balance to remain upright at the line of scrimmage. Inconsistent ability to handle bend and body lean off the edge. Delayed blitzes from the second-level are difficult for him to process quickly. Displays an adequate ability to recover versus power moves.
2022 First-Team All-American (AP, PFF, and ESPN)
2022 Second-Team All-American (Sporting News, Walter Camp, The Athletic)
2022 Joe Moore Award Midseason Honor Roll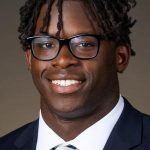 Olumuyiwa Fashanu
OT – Penn State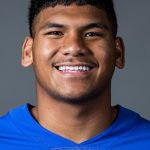 Kingsley Suamataia
OT – BYU