2024 NFL Draft Scouting Report: Ohio State CB Denzel Burke
| Year | School | Class | Games | Solo Tackles | Assisted Tackles | Total Tackles | Tackles For Loss | Sacks | Interceptions | Passes Defended | Forced Fumbles |
| --- | --- | --- | --- | --- | --- | --- | --- | --- | --- | --- | --- |
| 2021 | Ohio State | FR | 12 | 29 | 6 | 35 | 0.0 | 0.0 | 1 | 12 | 0 |
| 2022 | Ohio State | SO | 11 | 24 | 10 | 34 | 3.0 | 0.0 | 0 | 5 | 0 |
Keenly aware of receivers in his area when in zone coverage
Sets the edge quite well as a run defender
Good sense of leverage versus ball carriers outside the hashes
Struggles to mirror tightly in man coverage at the top of the receiver's route
Inconsistent ability to locate and track the ball at all points on the field
Poor ability to finish when rushing the passer
2024 NFL Draft: Denzel Burke Draft Profile and Scouting Report
Denzel Burke rose to prominence in 2021 as a true freshman. Entering his third season for the Buckeyes, Burke has 71 total tackles, along with 17 passes defended. He started all 13 games in 2021, but did miss some time in 2022 due to a hand injury, which required surgery. With a third full season under his belt, Denzel Burke should be a preeminent defender in 2023.
Denzel Burke 40 Time
Projected 40 Time: 4.45 seconds
Denzel Burke is a two-year starter at cornerback for the Ohio State Buckeyes. He possesses good height and solid weight for the cornerback position when compared to the average in the NFL. Additionally, our projected 40 time of 4.45 seconds is on-par with what others in the league have ran at the position.
Burke has very good awareness in zone coverage to find and target receivers in his general area. Displays a good ability to set the edge and force the ball carrier inside when defending the run. Shows a good ability to leverage the ball over the top of blocks and force the runner out of bounds. Has a good recovery ability to reengage and attack receivers in downfield coverage.
However, he does struggle with his ability to mirror receivers tightly, especially at the top of their route. Inconsistencies in his ability to locate and track the ball downfield. Typically, he plays with his back to the quarterback, which aids in his struggles to locate the ball quickly in the air. Further, he possesses adequate hand usage to shed blocks and attack the ball in space. Rarely wins 1-on-1 battles in space versus blocking receivers. When pass rushing, he has a poor ability to finish when rushing the quarterback.
Denzel Burke is a graduate of Saguaro high School in Scottsdale, Arizona. He was an unanimous four-star recruiting prospect, and scored a 0.9213 in the 247Sports Composite. However, he was not ranked very highly in the nation, as Rivals had the highest score on him at 148th nationally.
Prior to his commitment to Ohio State, Denzel Burke had offers from Texas, USC, Michigan State, and LSU. In May of 2020, Burke committed to Ohio State. His letter of intent was signed in December, and he officially enrolled in school in January of 2021.
2022 All-Big Ten Honorable Mention
2021 Freshman All-American (ESPN, The Athletic, 247Sports)
2021 Third-Team All-Big Ten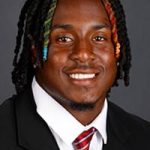 Kool-Aid McKinstry
CB – Alabama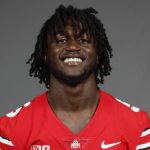 Denzel Burke
CB – Ohio State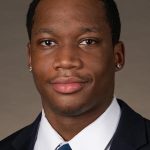 Kalen King
CB – Penn State