2024 NFL Draft Scouting Report: Penn State OT Olumuyiwa Fashanu
Footwork is a plus trait for him
Very good ability to anchor and hold his ground against power moves off the edge
Handles violent hand-usage to keep the defender on his outside shoulder
Swim and spin moves are difficult for him to recover from
Inconsistent ability to attack defenders that are just out of his reach
His hands can get a bit wide when blocking out in space
2024 NFL Draft: Olumuyiwa Fashanu Draft Profile and Scouting Report
Olumuyiwa Fashanu first saw significant starting reps during the 2022 season. Considered to be one of the top offensive tackles in the 2024 class. Did not allow a single sack in 281 passing downs during the 2022 season. He was a four-star prospect according to Rivals, while 247Sports and ESPN had him ranked as a three-star.
Olumuyiwa Fashanu 40 Time
Projected 40 Time: 5.10 seconds
Olumuyiwa Fashanu is a three-year contributor at left tackle for the Penn State Nittany Lions. Made one start during the 2021 season, but saw significant time in 2022. Possesses good height and solid weight for the offensive tackle position in the NFL. Our projected 40 time of 5.10 seconds is slightly quicker than the league average.
He displays good footwork to slide out and remains in front of speedy edge rushers. Handles violent hand usage quite well to keep the defender on his outside shoulder. Has a solid ability to create drive up the middle to open up running lanes. His athleticism is solid, as it allows him to get out of his stance quickly to reach blocking assignments out in space or at the second-level. Shows a very good ability to anchor and hold his ground versus power off the edge. He has very good strength to attack double-teams and hold his ground.
However, swim moves inside are a struggle for him to handle and recover from. Displays an adequate recovery ability against spin moves both inside and outside. Inconsistent ability to attack defenders that are just out of his reach off the edge. His hands can get a bit wide when blocking out in space or upfield.
2022 Second-Team All-American (Walter Camp)
2022 Third-Team All-American (Phil Steele)
Allowed zero sacks in 281 pass protections in 2022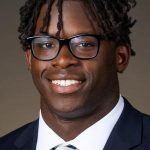 Olumuyiwa Fashanu
OT – Penn State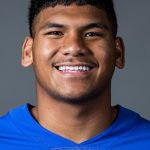 Kingsley Suamataia
OT – BYU