2024 NFL Draft Scouting Report: Texas A&M S Demani Richardson
| Year | School | Class | Games | Solo Tackles | Assisted Tackles | Total Tackles | Tackles For Loss | Sacks | Interceptions | Passes Defended | Forced Fumbles |
| --- | --- | --- | --- | --- | --- | --- | --- | --- | --- | --- | --- |
| 2019 | Texas A&M | FR | 12 | 38 | 33 | 71 | 0.5 | 0.5 | 1 | 2 | 1 |
| 2020 | Texas A&M | SO | 8 | 25 | 11 | 36 | 2.5 | 0.0 | 1 | 1 | 0 |
| 2021 | Texas A&M | JR | 12 | 44 | 21 | 65 | 6.5 | 2.0 | 0 | 3 | 1 |
| 2022 | Texas A&M | SR | 12 | 48 | 25 | 73 | 2.5 | 0.0 | 1 | 5 | 1 |
Good range to attack the ball form intermediate range
Solid strength to drive through blockers to constrict running lanes along the sidelines
Times his pass rushes well to get consistent penetration in the pocket
Lacks top end speed to remain engaged with receivers on deep routes downfield
Adequate hip fluidity to change directions with ease
Fails to process the entire field as a deep safety
2024 NFL Draft: Demani Richardson Draft Profile and Scouting Report
Demani Richardson first saw significant playing time as a freshman in 2019. He's a versatile defensive back for the Aggies, often playing nickelback, as well as safety. Through his first four seasons for Texas A&M, he has 43 starts, 245 total tackles, 3 interceptions, 11 passes defended, and 3 forced fumbles.
Demani Richardson 40 Time
Projected 40 Time: 4.45 seconds
Demani Richardson is a four-year contributor at safety for the Texas A&M Aggies. He possesses good height and weight for the defensive back position in the National Football League. Our projected 40 time of 4.45 seconds is a tenth quicker than the league average.
He displays a good ability to attack and reach the ball from intermediate distance. Shows a solid ability to release form blocks and attack the ball upfield, as well as along the sidelines. Possesses a solid ability to drive the blocker forward to constrict running lanes for the ball carrier. As a pass rusher, he has good timing and quickness to rush the passer from the second-level and get penetration consistently.
However, he displays an inconsistent ability to process the entire field, often only focusing on one receiver at a time. He lacks top end speed that's necessary to stay with receivers on deep routes downfield. Shows an adequate ability to locate receivers in his area when in zone coverage. Possesses adequate hip fluidity to change directions quickly. I would like to see him be more aggressive at the catch point to disrupt the pass as the receiver attempts to make the catch.
Demani Richardson graduated from Waxahachie high School in Waxahachie, Texas, where he played football for head coach Todd Alexander. Richardson was a four-star recruiting prospect according to 247Sports, ESPN, and Rivals. He scored a 0.9629 in the 247Sports Composite, which was good enough for the 80th national ranking in their system. All of the major outlets had Richardson ranked as a top ten safety in the class.
Prior to his commitment to Texas A&M, Demani Richardson had offers from Alabama, Texas, Georgia, and Ohio State, as well as many others. He committed to Texas A&M in February of 2018, with a letter of intent being signed in December. He officially enrolled in May of 2019.
Named top senior safety heading into the 2023 season (Bleacher Report)
2022 Leadership and Toughness Awards; Mr. Dependable and Strength & Conditioning Top Conditioned Athlete honors
2019 SEC All-Freshman Team (Coaches)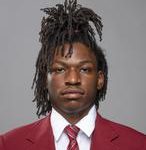 Calen Bullock
S – Southern California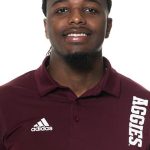 Demani Richardson
S – Texas A&M