2024 NFL Draft Scouting Report: Texas TE Ja'Tavion Sanders
| Year | School | Class | Games | Receptions | Receiving Yards | Yards Per Reception | Touchdowns | Rushing Attempts | Rushing Yards | Yards Per Rushing Attempt | Rushing Touchdowns |
| --- | --- | --- | --- | --- | --- | --- | --- | --- | --- | --- | --- |
| 2021 | Texas | FR | 12 | 0 | 0 | 0.0 | 0 | 0 | 0 | 0.0 | 0 |
| 2022 | Texas | SO | 13 | 54 | 613 | 11.4 | 5 | 0 | 0 | 0.0 | 0 |
Generates excellent drive and push at the point of attack to open up running lanes
Locates and tracks the ball very well vertically
Strong willingness to sacrifice his body to block defenders off the edge
Struggles to pull bock effectively from an inline position
Lacks the necessary strength to hold his own in pass protection and keep the pocket clean
Inconsistent ability to separate from the defender at the top of his route
2024 NFL Draft: Ja'Tavion Sanders Draft Profile and Scouting Report
Ja'Tavion Sanders burst onto the scene in 2022 as the starting tight end for the Longhorns. He finished the 2022 season with over 50 receptions, 613 receiving yards, and 5 touchdowns. Recorded multi-touchdown games against West Virginia and Oklahoma, helping lead Texas to an 8-5 record.
Ja'Tavion Sanders 40 Time
Projected 40 Time: 4.62 seconds
Ja'Tavion Sanders is a two-year contributor at tight end for the University of Texas Longhorns. While he can hold his own as a receiver, Sanders is typically used as an extra run blocker. He possesses solid height and weight for the tight end position in the NFL. Our projected 40 time of 4.62 seconds is a tenth quicker than the league average.
He possesses a good ability to locate and track the ball vertically. His quickness off the line of scrimmage is solid, which allows him to get upfield in a hurry. Shows a good ability to block in space to open up room for the ball carrier at the second-level. Has a solid ability to deliver impactful blocks in goal line situations to generate push at the line of scrimmage. Displays good willingness to sacrifice his body to block the defender and win the rep at the point of attack.
However, he shows a poor ability to pull block and defend the ball from an inline position. Has an adequate strength to anchor without giving up room versus edge rushers. His use of hands versus edge rushers to establish leverage and keep the pocket clean is poor. Lacks a consistent ability to create separation from the defender at the top of his route.
Ja'Tavion Sanders graduated from Billy Ryan High School in Denton, Texas, where he played football for head coach Dave Henigan. He was a two-sport athlete, also playing on the basketball team. He was a consensus five-star recruiting prospect among the major outlets, as well as ranked as the 1st or 2nd athlete in the country.
Prior to his commitment to the University of Texas, he received offers from Notre Dame, Oklahoma, Ohio State, Alabama, and Georgia, as well as many others. In September of 2019, Sanders committed to Texas, with his letter of intent coming a year later in December of 2020. He enrolled in classes in June of 2021.
2022 John Mackey Award semifinalist
2022 John Mackey Award preseason watchlist
2022 First-Team All-Big 12 (Coaches and Associated Press)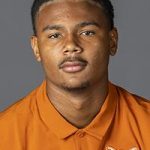 Ja'Tavion Sanders
TE – Texas