2024 NFL Draft Scouting Report: Texas WR Xavier Worthy
| Year | School | Class | Games | Receptions | Receiving Yards | Yards Per Reception | Touchdowns | Rushing Attempts | Rushing Yards | Yards Per Rushing Attempt | Rushing Touchdowns |
| --- | --- | --- | --- | --- | --- | --- | --- | --- | --- | --- | --- |
| 2021 | Texas | FR | 12 | 62 | 981 | 15.8 | 12 | 1 | 7 | 7.0 | 0 |
| 2022 | Texas | SO | 13 | 60 | 760 | 12.7 | 9 | 2 | 14 | 7.0 | 0 |
One of the fastest prospects in the 2024 NFL Draft class
Natural separator at the catch point
Reads and processes very quickly with the ball in his hands
Inconsistent effort level to make the job easier on his teammates
Lacks the ability to block defenders on every down
Would like to see him clean up the sharpness of his routes
2024 NFL Draft: Xavier Worthy Draft Profile and Scouting Report
Xavier Worthy first wowed scouts during his freshman season of 2021. As a freshman, he led the big 12 in receiving yards and touchdowns, and ranked 5th among FBS freshmen in receptions. Had a slight drop in production in 2022, but still finished with 60 receptions for 760 yards and nine touchdowns.
Xavier Worthy 40 Time
Projected 40 Time: 4.32 seconds
Xavier Worthy is a two-year starter at wide receiver for the University of Texas Longhorns. He's a versatile wide receive for the program, but typically plays the outside position more often than not. He possesses good height, but is considerably underweight for the position when compared to the league average. Our projected 40 time of 4.32 seconds is much faster than the league average. In fact, Xavier Worthy might be one of the fastest prospects in this class.
Xavier Worthy possesses a good ability to sense that the pocket is breaking down and work back towards the quarterback on crossing routes. He displays a very good top end speed once he hits intermediate range to stretch the defense vertically and separate. Has an excellent ability to go the extra mile at the top of his route to dig in and explode out of his break to separate further. Has solid quickness to reach the sideline and turn the corner on end arounds across the field. Good ability to change directions quickly and utilize blocks in space to push the ball forwards. Shows to have a solid ability to adjust to the ball and make catches along the sidelines in traffic.
Despite this, there are still some concerns. I'd like to see him play with a higher effort level to make the job easier on his teammates when he's not the intended target. Needs to improve upon his ability to plant his feet along the sidelines to ensure that the catch is made inbounds. Some of his routes can be a bit rounded off more than others. He's not an engaged blocker. Lacks the desire to square up defenders in space to lock out and create space in the open-field on a consistent basis.
Xavier Worthy is a graduate of Central East high School in Fresno, California, where he played football for head coach Kyle Biggs. He was a two-sport athlete in high school, as he also competed in track and field. Worthy was a consensus four-star recruiting prospect, with all of the major outlets ranking him within their top 100 overall. He scored a 0.9712 in the 247Sports Composite.
Prior to his commitment to the University of Texas, Xavier Worthy had offers from Auburn, Georgia, Alabama, and Michigan, as well as many others. In June of 2020, it was predicted that Worthy would commit to the University of Oregon. However, the following month, Xavier Worthy committed to the University of Michigan. He signed his letter of intent to play for Michigan in December of 2020.
However, in April of 2021, Worthy decommitted from Michigan. On the same day, he was offered by Texas. A week later, Xavier Worthy officially committed to Texas on April 24th, 2021. He signed his letter of intent and enrolled in the school in July of 2021.
Xavier Worthy was predicted by some to enter the transfer portal following the 2022 season. In fact, it was reported that he had a high-figure deal from a Power 5 school to transfer. Despite this, Xavier Worthy remained committed to the University of Texas.
2022 Second-Team Big-12 (Coaches and Associated Press)
2021 Freshman All-American (ESPN, The Athletic, 47Sports)
2021 Big 12 Offensive Freshman of the Year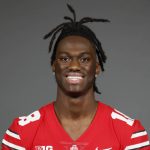 Marvin Harrison Jr
WR – Ohio State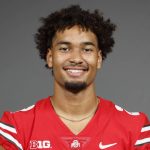 Emeka Egbuka
WR – Ohio State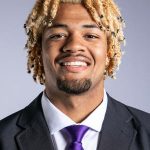 Rome Odunze
WR – Washington