2024 NFL Draft Scouting Report: USC S Calen Bullock
| Year | School | Class | Games | Solo Tackles | Assisted Tackles | Total Tackles | Tackles For Loss | Sacks | Interceptions | Passes Defended | Forced Fumbles |
| --- | --- | --- | --- | --- | --- | --- | --- | --- | --- | --- | --- |
| 2021 | USC | FR | 11 | 25 | 15 | 40 | 0.0 | 0.0 | 2 | 3 | 0 |
| 2022 | USC | SO | 14 | 29 | 19 | 48 | 0.0 | 0.0 | 5 | 5 | 0 |
Good range and acceleration to get to the ball from deep zone coverage
Sure tackler when out in the open-field
Fantastic ability to mirror the receiver from the top of the route
Poor ability to track and locate the ball when downfield in coverage
Takes poor angles towards the ball on intermediate and deep routes
Will target one receiver while losing track of others in the zone
2024 NFL Draft: Calen Bullock Draft Profile and Scouting Report
Calen Bullock burst onto the scene in 2021, where he saw significant playing time as a true freshman. He contributed at free safety, nickelback, and cornerback during his first year on campus. 247Sports and Rivals both had him ranked as a four-star recruit. He enters his third season at USC with 88 total tackles, 7 interceptions, and 8 passes defended.
Calen Bullock 40 Time
Projected 40 Time: 4.45 seconds
Calen Bullock is a two-year starter in the secondary for the University of Southern California Trojans. He possesses good height and solid weight for the safety position in the NFL. Our projected 40 time of 4.45 seconds is much quicker than the league average for the position.
He displays a good ability to pickup the receiver at the top of the route and mirror the rest of the route. Has a solid ability to read the quarterback and break on the ball from dep zone. Does a good job of tackling the ball carrier in the open-field. Shows to have good acceleration and explosiveness to get to the ball from a deep zone coverage.
However, there are some concerns. Bullock will target and attack, but will lose track of other receivers in his zone. When downfield in zone coverage, he displays an adequate ability to track and locate the football. Additionally, he takes poor angles to the ball on intermediate and deep routes, which also hinders his ability to leverage the ball.
Calen Bullock graduated from John Muir High School Early College Magnet in Pasadena, California. 247Sports and Rivals had Bullock ranked as a four-star recruit, while ESPN had him at three-stars. He had a score of 0.9238 on the 247Sports Composite system. Additionally, he made the 2020 PrepStar Dream Team, as well as the Southern California News Group Fab 15 Second-Team.
Prior to his commitment to the University of Southern California, Calen Bullock had offers from Texas, Texas A&M, Ohio State, and Florida, as well as several others. Bullock committed to USC in April of 2020, with a letter of intent in December. Calen Bullock enrolled at USC in January of 2021.
2022 First-Team All-American (Pro Football Focus)
2022 First-Team All-Pac 12 (Associated Press)
2021 True Freshman First-Team All-American (Pro Football Focus)
2021 USC's Co-Defensive Perimeter Player of the Year Award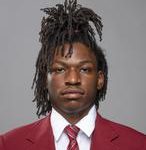 Calen Bullock
S – Southern California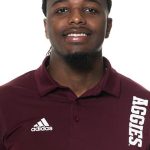 Demani Richardson
S – Texas A&M