Welcome to week 8 of prospect fight night! This week is going to be a bit of a different one as we are only going to be looking at one match-up. However, we will be going into this match-up in depth and will be analyzing their performance as I would when scouting them for my final rankings. Let's get into the fight.
Ladies and gentlemen, welcome to the fight! Fighting out of the green corner, we have Justin Herbert! Fighting out of the purple corner, we have Jacob Eason! We'll start with Justin Herbert and the Oregon Ducks
Coming into this week, Oregon was ranked #12 in the nation. The team is quite experienced, as 10 of 11 players on offense are returning. The most important of those returning players is quarterback, Justin Herbert. Viewed as a consensus top-2 quarterback coming into the year, Herbert was the continuity the Oregon Ducks needed to take the next step. Unfortunately, it doesn't seem like they took the step they've hoped for, but Herbert still seems to be a good quarterback. Herbert has the ideal physical tools one would want at the quarterback position; according to the Oregon roster, Herbert stands at 6-6 and weighs 225-pounds. As a prospect, Herbert has a lot of the tools you'd like to see. His arm strength is incredible and can drive the ball to any part of the field with ease. His accuracy is great and pairing that with his arm strength, he can fit throws into tight windows. He has enough athletic ability and willingness to run that defenses need to be careful of the scramble. However, there are negatives to his game. He has some struggles if his first read isn't there and can start to panic at times. We'll be looking at some of his throws from the game against Washington.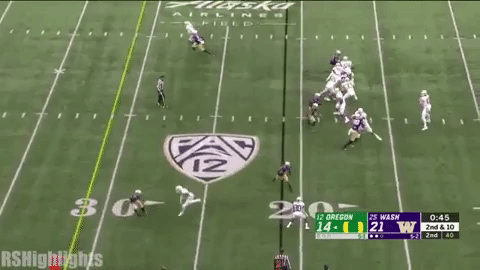 The throw shown above is the most impressive throw I've seen from Justin Herbert this season. One of his weaknesses I noticed last year was his poise under pressure. This throw is incredible, there's no other way to put it. Herbert sits in the pocket, gets hit, and throws an absolute dart to his receiver. He is releasing the ball right as he's getting hit and still throws it on target and is able to get it to the receiver before the safety hits him. Herbert wasn't the strongest under pressure last year so if this throw is any indication of his improvements under pressure, that's a great sign. 
The next throw we'll look at is another throw of Herbert under pressure. This one is a bit different from the last one, though. On this throw, Herbert feels the inside pressure and rolls away from it; the defensive lineman cuts in front of Herbert's path and Herbert is forced to escape from him, which he does. Herbert pump fakes and jumps back away from the lineman. After he gets away from the rusher he is able to deliver a first down ball in a crucial situation. Herbert's ability under pressure seemed improved in this game and it's a great sign for him. 
Aside from these throws, Herbert's stat line was very misleading. He finished for 280-yards and 4 touchdowns. Those stats might seem good, but it doesn't tell the whole story. A large portion of Herbert's yards came from screen throws and slant routes. While he had fantastic plays like these, the majority of plays were quite simple. Now to look at Jacob Eason. 
There wasn't a whole lot known about Jacob Eason coming into the year, as he's only played one full year of college football, and it was as a true freshman. After getting injured at Georgia and having Jake Fromm take his place, Eason transferred to Washington and was forced to sit out last year. He showed enough talent his freshman year to have some hype surrounding his this year but no one really knew how he would play. Like Justin Herbert, Eason has the ideal size for a quarterback. According to the Washington roster, he is 6-6, 227-pounds. Throughout the first half of the year, Eason has shown brilliant accuracy and arm strength that shows he is capable of making any throw on the field, and he has shown that on multiple occasions. There have been questions about Eason and his ability to play well against good defenses, so this game against Oregon is the perfect test. The two throws we will look at show the ability Eason has as a passer. 
This is the first throw we will be looking at, and it's a good one. Eason has been making these types of throws all season and they are all just as beautiful. This is Eason's first read, he comes up from the play action and immediately looks downfield for the deep ball, and it's there. He delivers the ball on the money and it results in a touchdown. Eason's release is quick and has more than enough arm strength and accuracy to get this ball to his receiver. 
The next throw by Eason is another incredible throw, and catch. Another play action pass, Eason looks downfield yet again and connects with his primary read. The coverage by the defender is fantastic on this route so he had to have perfect ball placement to complete this pass, and he did. Eason delivered a beautiful back-shoulder throw and his receiver made a fantastic adjustment to pull the ball in and secure the catch. 
Eason finished with 289-yards and 3 touchdowns. Herbert and Eason had very similar stat lines and both played a great game. However, only on can win. 
The winner of prospect fight night: week 8 is…
Jacob Eason! 
I think Herbert played a great game and did everything well, resulting in his team getting the win. However, when looking at how each player impacted their team, I feel like Eason made more big time throws that impacted the Washington offense more than Herbert impacted the Oregon offense. It will be a hot debate at the top of the quarterback class for the 2020 draft and these players will both be there.