With the end of the season soon approaching, position rankings are slowly but surely beginning to take shape. In this article we will look at my top five quarterbacks for the 2021 NFL Draft. Let's get started.
Be sure to follow NFL Draft Lounge for more coverage on the 2021 NFL Draft. As always, you can find us on Facebook, Twitter, and Instagram.
1. Trevor Lawrence, Clemson–6'6", 220 lbs
Trevor Lawrence has had all eyes on him since he was in high school. He was expected to be a projected #1 overall pick since his freshman year in college. He has not disappointed. Lawrence has everything you could possibly want in an NFL quarterback. He has confidence, incredible arm talent, vision, football IQ, etc. You name it, this kid has it. Lawrence is the near perfect NFL prototype for a QB. There is no doubt that whoever gets Lawrence is going to get the face of their franchise for years to come, and that is why he is my number one ranked quarterback for the 2021 NFL Draft.
2. Justin Fields, Ohio State–6'3", 228 lbs
Sitting at the number two spot on my list is Justin Fields out of Ohio State. Fields originally played for Kirby Smart and the Georgia Bulldogs. After not getting playing time, Fields decided to enter the transfer portal where he would end up playing for the Buckeyes. Fields exploded on the scene last season helping lead Ohio State to the College Football Playoff where they would be knocked out by Clemson. Fields is coming into the league at the perfect time. With QBs like Lamar Jackson, Kyler Murray, and Russell Wilson, Fields is going to fit right in. Fields has a great arm and great accuracy. He can make plays on his feet by both throwing on the run and scrambling. If Fields gets into the right system, he is going to be downright deadly. 
3. Trey Lance, North Dakota State–6'3", 224 lbs
Another quarterback out of North Dakota State. Trey Lance impressed a lot of people last season with his stat line. 28 touchdowns and 0 interceptions for the entire season, on top of rushing for over 1,000 yards. Everyone would have liked to have seen Lance throw the ball more. He is just in an offense that runs the ball more than they pass. But he has made it work. Lance is a raw prospect who shouldn't start week one. He has great accuracy on deep passes but he lacks touch on the short to intermediate throws. Because of his athleticism and potential to improve, he has a high upside and has plenty of traits that translate well to the pros. They just need to be refined and he needs to prove that he can make the jump from FCS to the NFL.
4. Mac Jones, Alabama–6'2", 205 lbs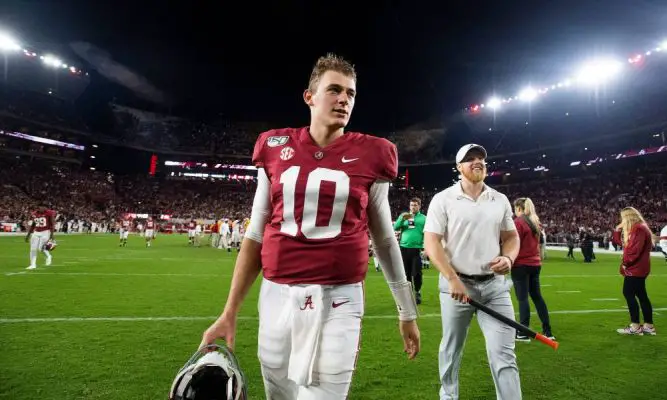 This is a quarterback that I never thought would be in my top five in the preseason. There is no doubt about it, Mac Jones out of Alabama has been impressive this year. He has played really well and he has been very consistent. Jones has thrown for over 3,000 yards passing, 27 touchdowns, and only three interceptions on the year. He is a pocket passer and man is he a poised thrower. Jones has no issue standing in the pocket to make throws. He is accurate on mostly every type of throw. He can lead guys open and he has the ability to move defenders with his eyes. The downside to him is he is not going to have the matchups he has in college, in the NFL. When you have had guys like Jaylen Waddle, Devonta Smith, and John Metchie to throw to…who wouldn't have an issue throwing the ball up and saying, "Go get it!"? Jones could improve his mobility in the pocket and his awareness. Don't be surprised if Jones sneaks into the first round.
5. Zach Wilson, BYU–6'3", 210 lbs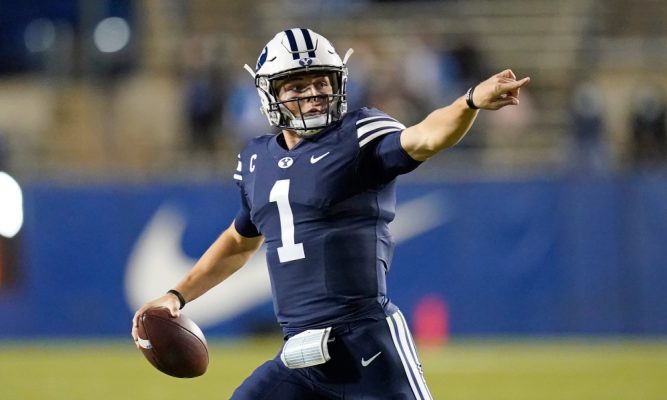 If you haven't heard of the name Zach Wilson in college football this season you have been living under a rock. Wilson has been called the "Mormon Manziel", and when you watch him play it is easy to make those comparisons. Wilson is a master at extending plays, making throws he has no business making, and overall just being a massive frustration for defenses. Some people have him going in the top ten. I don't know if I am sold on him for that just yet. While Wilson can make a lot of things happen on his feet there are a few concerns. First his footwork is incredibly terrifying to watch as they are all over the place when he is in the pocket. Second, the level of competition that he has faced at BYU has not been the most challenging. Wilson at first glance is incredible, but once you take a look at the tape it tells a different story. Wilson still has the potential to do well in the league, but I think the hype is a little too much.
Outside Looking In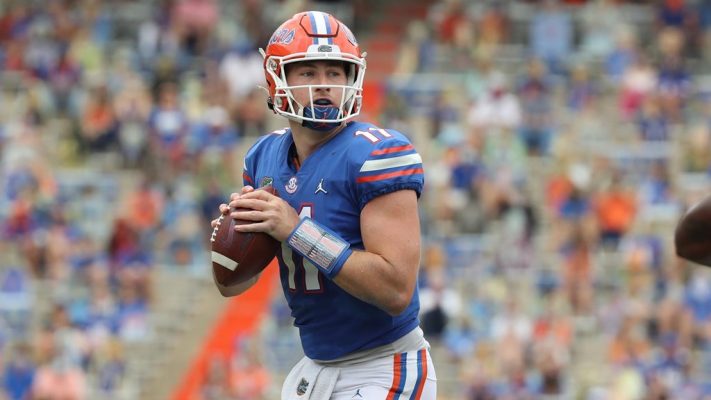 6. Kyle Trask, Florida–6'5", 239 lbs
Kyle Trask is a guy that I want to believe in but I just don't see translating that well to the NFL. Trask has had a phenomenal year at Florida and has truly taken advantage of his first full season as a starter. His lack of experience does raise some concerns in his projection to the pros. He also has some fundamental issues to his throwing that if not fixed will cause him to get picked apart in the pros. He does not put enough velocity and power into his throws which cause them to fall short or taper off. Trask also is not the most accurate and can put his receivers in sticky situations. Trask will have a place in the NFL but it's hard to see him translating as an all pro quarterback.
7. Brock Purdy, Iowa State–6'1", 210 lbs
Brock Purdy was a guy that I had ranked as my number four quarterback in the summer. He wasn't perfect by any means in his 2019 film but he had a lot of things that I liked. This season he has been a disappointment. Purdy's success primarily comes from throws in the middle of the field. He reads the middle of the field well and anticipates his receivers routes opening up. It is rare to see him do well with throws outside the hashes. He at times can see ghosts when he is in the pocket. Purdy can sense pressure that is not there and throw the ball prematurely. He struggles on deep throws and lacks the arm strength to throw down the field.