Early Round Instant Impact NFL Rookies
Going from college standout to NFL rookie is not easy. The 2020 NFL Draft class will be starting further behind than usual, considering a lack of rookie mini camps thanks to COVID-19. Through video conferencing and virtual workouts, these NFL rookies are relocating across the country and trying to transition to the professional ranks amid a pandemic.
While some of these selections might have been head-scratchers back in April, there's clear opportunity for success for some. General managers envision how these players fit, while coaches and coordinators adjust game plans and scheme fits to maximize this new asset.
The Top Rookies In The NFL
These NFL rookies are moving into new situations in strange circumstances. Some will have to play right away, whereas others will sit and wait. Although much has been made of Miami's selection of Tua Tagovailoa, the Alabama product probably won't be the starter for Week One. The same is true of new Chargers quarterback Justin Herbert.
However, there are several NFL rookies from the early rounds of the draft that are likely to have an instant impact. Here's a look at 10 of them.
Instant Impact: NFL Rookies –Top 10
1. Joe Burrow, QB (No. 1 overall) – Cincinnati Bengals
Sometimes a rookie quarterback has to sit and learn, other times, they're thrown into the fire. For Joe Burrow, it'll be the latter. With the Bengals saying bye-bye to Andy Dalton, Burrow sits atop the depth chart already. He's coming off one of the most memorable college football seasons ever while taking home the Heisman and leading LSU to a national title.
Burrow will be flanked by an underrated group of skill position players. He'll have A.J. Green, Joe Mixon, Tyler Boyd, fellow rookie Tee Higgins, Auden Tate and John Ross at his disposal. Second-year head coach Zac Taylor will have his work cut out for him to prepare Burrow for the big time.
2. Chase Young, Edge (No. 2 overall) – Washington Redskins
Chase Young was considered by most to be the best player in the 2020 NFL Draft. He was certainly the most dominant defensive force, recording 21 tackles for loss and 16.5 sacks in 2019. He's clearly a game-changer and he's joining a front-seven that should highlight his strengths.
Young joins a defensive line that's already loaded with former first-round picks in Jonathan Allen, Ryan Kerrigan, Da'Ron Payne and Montez Sweat. That talent is going to create opportunities for him and vice versa.
Instant Impact: NFL Rookies – Late 1st Rd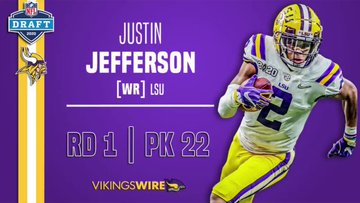 3. Justin Jefferson, WR (No. 22 overall) – Minnesota Vikings 
Justin Jefferson comes to Minnesota to fill the void left by Stefon Diggs, who was dealt to Buffalo. At LSU, Jefferson helped pad Joe Burrow's stats by hauling in 111 receptions for 1,540 yards and 18 touchdowns last season. He hauled in over 82 percent of the passes slung his way.
For Kirk Cousins, this means he has another suitable set of hands besides Adam Thielen. If Jefferson shows the ability to run routes well, he should be primed for a huge rookie season. Defenses will load up on Thielen and Dalvin Cook, leaving Jefferson with plenty of opportunity.
4. Patrick Queen, LB (No. 28 overall) – Baltimore Ravens
LSU set records on draft night, so it's no surprise to see so many former Tigers on this list. Patrick Queen became the first LSU player to be drafted by Baltimore, and the Ravens won't regret it.
Baltimore had a clear need at linebacker, and they've filled it nicely with the addition of Queen. Queen helped lead the LSU defense to a national championship season with 85 tackles, 12 of which were for loss.
5. Clyde Edwards-Helaire, RB (No. 32 overall) – Kansas City Chiefs
Clyde Edwards-Helaire is joining an offense quarterbacked by one of the most dynamic players in the league in Patrick Mahomes. This offense is the brainchild of one of the most innovative minds in the game in Andy Reid. CEH is a potential three-down back at a position of need for the defending Super Bowl champs.
Reid referred to Edwards-Helaire as a better version of Brian Westbrook who's about to be "unleashed in our offense." Edwards-Helaire is the only SEC running back ever with 1,000 rushing yards and 50-plus catches in a season. And he's been called the best route-running back to enter the league since Christian McCaffrey.
Instant Impact: NFL Rookies – Second Rd
6. D'Andre Swift, RB (No. 35 overall) – Detroit Lions
As NFL rookies go, some might initially balk at D'Andre Swift, considering he'll likely will start in a committee with Kerryon Johnson and Bo Scarbrough. But Matt Patricia could turn to his Bulldog running back and use him in a similar role as his former mentor Bill Belichick uses another former Bulldog in Sony Michel. Swift might be inconsistent from week to week early in the season, but there's a good chance he leads all rookies in rushing yards in 2020.
Johnson showed promised but succumbed to injury throughout the season. The Lions haven't seen a 1,000-yard rusher since 2013, and Swift piled up nearly 2,300 in his final two years at Georgia.
7. Xavier McKinney, S (No. 36 overall) – New York Giants
The Giants' defense was abysmal in 2019. They gave up 377.3 yards per game, 25th most in the NFL, but much of that was on the ground. Xavier McKinney comes to the Big Apple with big-play ability. He's multi-positional and should upgrade a defensive backfield that wasn't terrible.
McKinney should see the field from the start. He's solid in run support, which will help, and play deep or cover in the slot. He'll fill the void left by former Pro Bowl safety Landon Collins.
8. Cam Akers, RB (No. 52 overall) – Los Angeles Rams
With Todd Gurley gone to Atlanta, the backfield is open for Cam Akers to take over. Rams head coach Sean McVay has been pretty public with his confidence in Akers' ability. The former Seminole piled up 1,144 yards and 14 touchdowns playing behind a terrible offensive line at FSU.
Akers can be a three-down back, and he should be a solid fit for McVay's zone-heavy scheme. And the Rams will need him to be productive, considering the offense struggles when it gets too one-dimensional.
Instant Impact: NFL Rookies – Third Rd
9. Zack Baun, Edge (No. 74 overall) – New Orleans Saints
It was something of a surprise that Zack Baun fell to the third round. He was incredibly productive at Wisconsin, registering 12.5 sacks and 19.5 tackles for loss in 2019. The Saints traded up to pick Baun, and there's a clear path for him to produce early.
The Saints didn't need another coverage linebacker, although Baun has good range. They have Alex Anzalone and Kiko Alonso, but no one to fill A.J. Klein's role. Baun will likely do that.
10. Ke'Shawn Vaughn, RB (No. 76 overall) – Tampa Bay Buccaneers
The Bucs have made the biggest offseason splashes so far with the additions of Tom Brady and Rob Gronkowski. And while adding Ke'Shawn Vaughn in the third round has gone under the radar, he has the opportunity to produce immediately.
Ronald Jones II is the incumbent, but Vaughn could outpace him quickly. At Vanderbilt, Vaughn was a big-play machine with the explosiveness and pass-catching prowess. In fact, he piled up more than 2,700 yards in two years and could be an every-down back as a rookie.
Don't miss the rest of our NFL Draft coverage, and don't forget to follow @NFLDraftLounge on Twitter and Facebook!