As has been mentioned many times over the last several months, the 2022 NFL Draft is not strong at quarterback. Personally, I will be moving forward with Malik Willis as my QB1. This is largely due to the lessons we've been taught from previous classes.
The Game is Changing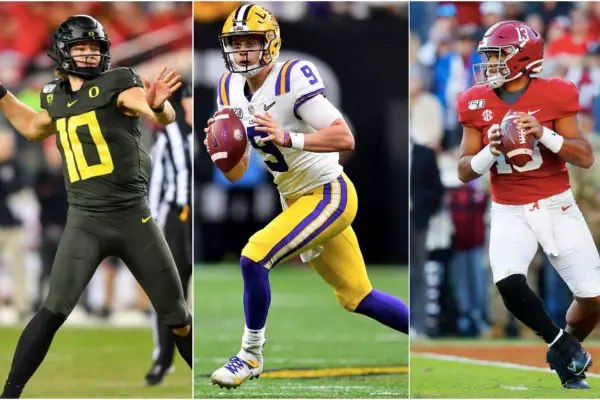 If you think back to some of the greatest quarterbacks in NFL history, everyone traditionally thinks of the same guys. Tom Brady, Joe Montana, Peyton Manning, John Elway are all pretty similar quarterbacks in the sense that they are all traditional, pocket-passers. For years, this was the blueprint for NFL teams.
As the NFL evolved, so did the quarterback position. With a generation of kids who idolized Michael Vick, young football players wanted to play quarterback. This led to more dynamic athletes playing the position which gave us such luminaries as Lamar Jackson and Robert Griffin III. Now, we are in an era where, regardless of how it looks, physical talent outweighs all.
However, when I started scouting the NFL Draft in 2016, this was not how many talent evaluators thought. This led to more traditional passers like Deshone Kizer, Josh Rosen, and Sam Darnold to be ranked highly by many pundits. While I had Patrick Mahomes as QB1 (humble brag), I missed wildly on prospects such as Josh Allen and Justin Herbert, whom I had third-round, Day 3 grades on. I no doubt saw the traits but didn't know if their styles of play could translate to the NFL, especially Allen.
Skillset Over Everything
The biggest thing that Herbert and Allen had in common as prospects were elite physical tools. My biggest mistake was not recognizing how the NFL had shifted to accommodate passers with elite skillsets despite unorthodox play styles. In this class, no one has better physical tools than Liberty's Malik Willis.
Firstly, his arm is likely the best in the class. Capable of throwing the football 50+ yards with relative ease, it would not be overly surprising to see him push the ball 60+. His arm is not on the same level as Allen or Herbert's but would still be one of the best in the NFL.
In addition to this, he possesses a skill that few QB's in the NFL have. That, of course, would be his running ability. Set to be one of the fastest at the position, he has truly game-changing ability in this regard. What's more, he stood out at this year's Senior Bowl.
Doesn't get much better than this deep beauty from @LibertyFootball QB Malik Willis 😍

(via @malikwillis x @NFL)pic.twitter.com/OmecdnBuX4

— Sports Illustrated (@SInow) March 4, 2022
That said, he is not without his warts. Namely, how he adjusts to NFL speed is going to be massive for him moving forward. Often playing against sub-par competition, Willis had his struggles when matched up with superior talent. This showed in his three-interception effort against Ole Miss. His aggressiveness can get him in trouble at times as well. While he is never willing to quit on a play, it can also create some pretty ugly turnovers.
All of that to say, Willis does some things that just can't be taught. This, of course, is similar to what was said about both Josh Allen and Justin Herbert. Sure they weren't perfect prospects but the skillset was just too great to overlook. Willis fits in that same boat.
Malik Willis, QB1?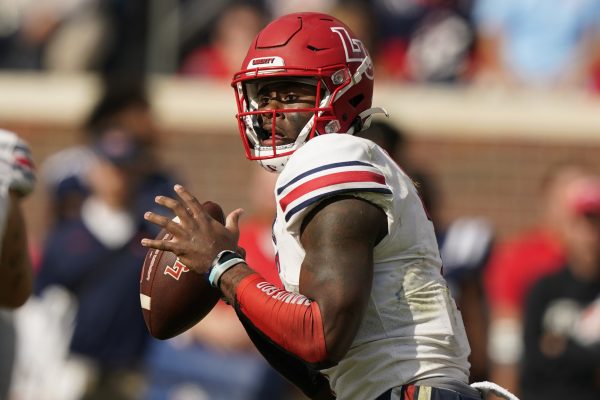 As recently as a few weeks ago, I would have said no. Claiming that, while yes his physical skillset is ridiculous, he will need time on the bench to cultivate his talents. This is startlingly similar to the thoughts I had on Herbert when he left school. As such, I gave Willis a day two grade initially. Eventually, Pitt's Kenny Pickett settled in as my QB1.
Alas, I refuse to make the same mistake three times. While I do believe that Pickett is a good player, I could not stop thinking about the potential Willis possesses and the mistakes that have been made on QB evaluations before him.  Simply, while he lacks the same polish, Willis can just make throws that Pickett cannot. If they all feel like dart throws, why not bank on the one with the highest upside?
Now do I think he will be a superstar right away? Absolutely not. The adjustments he will have to make from a mental standpoint are vast. Alas, the same can be said for his contemporaries in Matt Corrall, Sam Howell, and even Kenny Pickett.
Due to this, I have come to the conclusion that yes, Malik Willis is QB1. He will also undoubtedly become a first-round selection. When or if he hits his potential is anyone's guess, but the fact that he has it and others don't is enough for me.
Be sure to follow NFL Draft Lounge for more coverage on the 2022 NFL Draft and the offseason. As always, you can find us on Facebook, Twitter, and Instagram.