The 2022 NFL Draft will serve as a valuable opportunity for the Tampa Bay Buccaneers to replenish some of the talent they will be forced to sacrifice due to free agency. Last year, Bucs General Manager, Jason Licht, had the [extremely rare] luxury of returning all 22 starters. This allowed him and his staff to focus almost exclusively on drafting the best player available — regardless of position. This time around, The Buccaneers have enough flexibility to try and retain their highest priority free agents. However, the inevitable departure of some key contributors is looming. This will leave several holes on the roster to fill. Although we don't yet know where exactly these vacancies will exist, there's no reason we can't explore some of the options the Bucs may consider in this year's draft to help fill them. Below is a Buccaneers 7 round 2022 Mock Draft.
Be sure to follow NFL Draft Lounge for more coverage on the Buccaneers and 2022 NFL 7 round mock draft coverage. As always, you can find us on Facebook, Twitter, and Instagram.
1st Round – Pick 27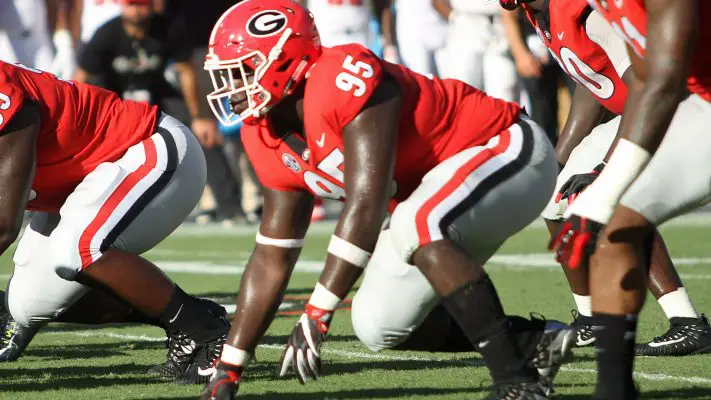 Devonte Wyatt, Defensive Tackle, Georgia
Ndamukong Suh and William Gholston aren't getting any younger. More importantly, both players are free agents. Whether or not the Bucs are able to retain either [or both] should not dissuade the team from addressing this position in the draft — especially with a player like Devonte Wyatt still on the board. He fits an obvious need, and pairing him with Vita Vea would provide the Bucs with a nasty 1-2 punch. The duo would have the potential to be one of the most formidable defensive line units in the NFL.
The selection of Devonte Wyatt would immediately bolster Tampa's stout interior, thus commanding additional attention from opposing offenses. This not only benefits the Bucs in defending the run, but it also frees up space on the edge. Shaquille Barrett and promising second year player, Joe Tryon-Shoyinka, would be able to rush the quarterback with less resistance. That being said, Wyatt has the strength, power, motor and agility to get to the quarterback himself, too. If he's still there at 27, Wyatt makes a ton of sense for the Buccaneers in round 1 of this 2022 7 round mock draft. 
2nd Round – Pick 60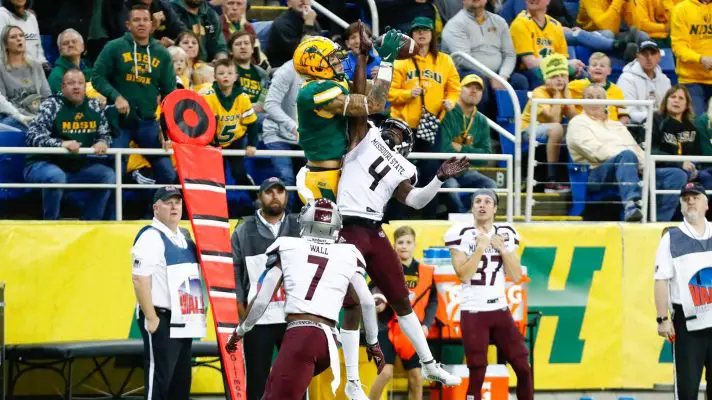 Christian Watson, Wide Receiver, North Dakota State
Jason Licht and his staff have a history of falling in love with players at the Senior Bowl. Christian Watson had a tremendous week in Mobile. In fact, there may not be a player who improved his draft stock as dramatically as Watson. The combination of size and speed helped him develop his reputation as a deep threat in College. At the Senior Bowl, he was able to showcase that he's capable of much more. He abused talented DB's all week and demonstrated sharp route running. Additionally, he showed good hands and the ability to create separation at all levels. Jason Licht loves big bodied receivers, and lining Watson up opposite Mike Evans would certainly put defensive coordinators in a bind. If they're able to re-sign Chris Godwin too? Look out. 
3rd Round – Pick 91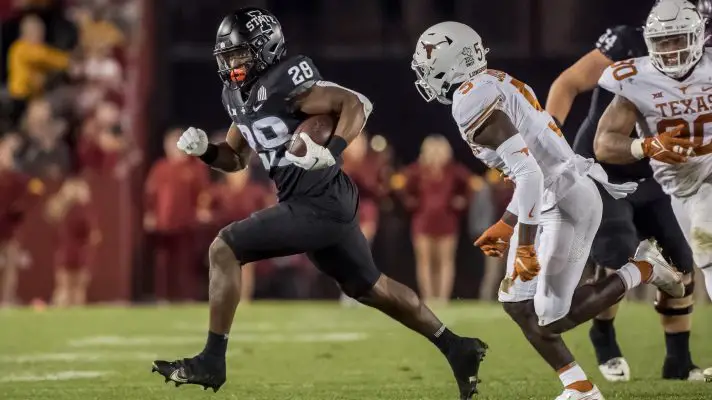 Breece Hall, Running Back, Iowa State
Breece Hall is a highly accomplished running back at the collegiate level. He was a dynamic and consistent playmaker for three consecutive seasons at Iowa State. However, his career really took off during his sophomore and junior seasons. It was during those years that he established himself as one of the best running backs in the country. Hall averaged nearly 6 yards per carry while amassing close to 1,500 rushing yards in back to back seasons to finish up his collegiate career. He's not just a one trick pony though. He also hauled in 59 receptions for 5 receiving TD's during that time.
Breece Hall is destined to be much more than just a college success story. He has the speed, durability, and big play prowess that scouts covet. Given all of this, he has top-round potential. With Leonard Fournette coming off his recent success, I could see Jason Licht opting for a more affordable option. Iowa State's Breece Hall would be an excellent option here. Kyren Williams of Notre Dame would be another great option for the Buccaneers to consider at this point of the 7 round 2022 mock draft, if available. 
4th Round – Pick 131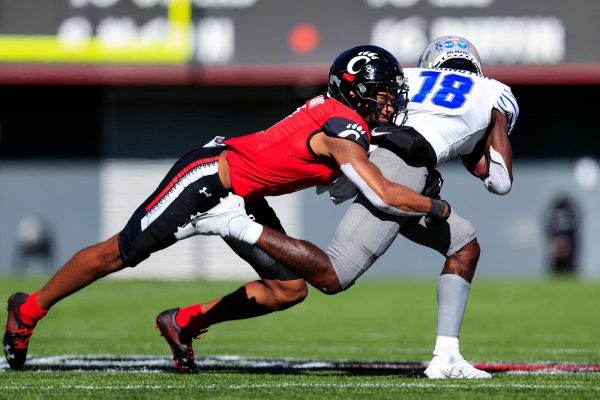 Coby Bryant, Cornerback, Cincinnati
Coby Bryant has good size and length for a cornerback In the NFL. Further, this is something that Jason Licht and his staff have demonstrated a great affinity for in previous drafts. Bryant has shown the ability to succeed in both man and zone coverages. He has tremendous ball skills, with the production to back it up. He's also a player with enough positional versatility to be appealing to the Buccaneers. He has experience playing in nickel packages for the Bearcats, and even some safety.
An added bonus is that he also has the physical tools to be a contributor on special teams early in his career. This is an important phase of the game in which the Buccaneers are actively trying to improve upon. One area that Bryant needs to improve at himself however is his tackling. As opposed to consistently demonstrating fundamentally sound technique, he too often gets caught diving low at ball carriers' ankles and whiffing on tackles. Regardless, you won't find a perfect prospect in the 4th round. The Buccaneers should be ecstatic to select one that has Bryant's potential. Especially given that he could become a starter at one of the most important positions on the field. 
5th Round – Pick 169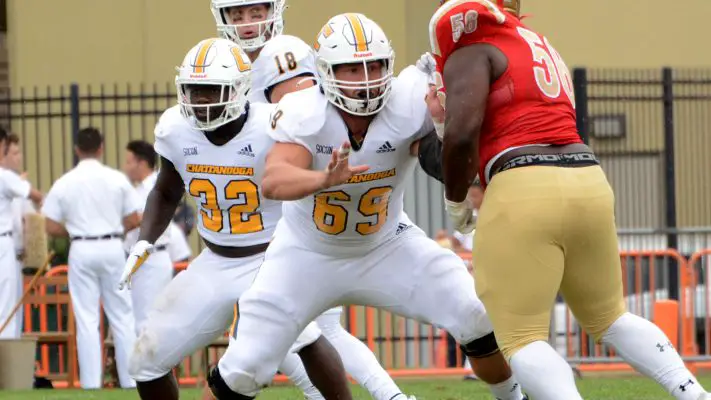 Cole Strange, Guard, Chattanooga 
Was Cole Strange an exceptional offensive lineman throughout his career at UT-Chattanooga? Yes. Will NFL teams question the quality of competition Strange faced playing in the Southern Conference? Yes. Do the Buccaneers have an impeccable success rate when drafting offensive guards from small schools? Also, yes. In fact, not one of the Bucs starting interior offensive lineman from each of the past three seasons played higher than division II football in college.
History tells us that when most NFL GM's are shrugging at the quality of competition faced by small-school prospects, Jason Licht is running to get the pick submitted. If he's still available in the fifth round, Cole Strange is absolutely deserving of that same treatment. Strange is extremely agile for a player of his size. He has excelled as a run blocker within Chattanooga's run heavy offense. Meanwhile, still demonstrating the ability to be an effective pass protector at the NFL level. He'll need to work on his footwork to reach his full potential. Nonetheless, Cole Strange would be a great value pick for the Buccaneers in this spot while also addressing a position of need.
7th Round – Pick 245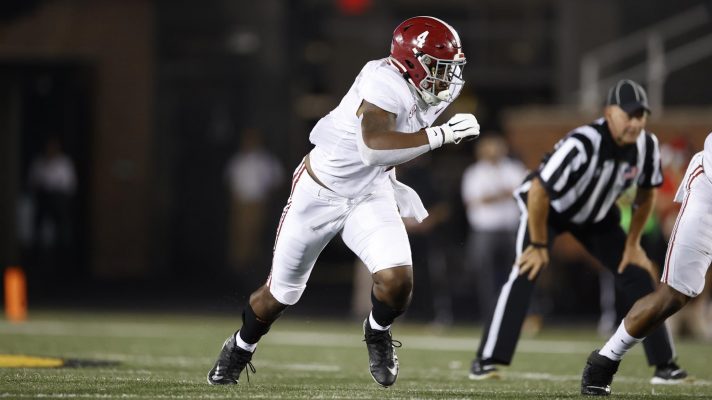 Christopher Allen, Edge, Alabama
To add a player in the 7th round with the pedigree of Christopher Allen feels like a win no matter how you slice it. Not only would the Bucs be adding someone who has a legitimate chance to make the 53 man roster, but they would be adding a useful player that they could insert into their special teams units and growing rotation of pass rushers. Allen is a physical player, with an extremely high motor. He has experience playing against the best competition the NCAA has to offer. He's not the twitchiest, or most physically gifted player to come out of Nick Saban's program but you know he's well coached.
By all indications, Allen has a fantastic work ethic, attitude and the right mentality to find a home in the NFL. His cleanest path to creating a niche for himself in the league may be on special teams but he has a realistic chance of earning a limited role as a rotational piece as well. I believe Christopher Allen would be the perfect fit for the Buccaneers as their 7th round pick in this 2022 7 Round Mock Draft. 
Although they're not in the same luxurious position they were a year ago, the Tampa Bay Buccaneers still have one of the more talented rosters in the NFL. Finding Tom Brady's successor via trade or free agency is definitely at the top of Jason Licht's priority list right now. Finding their next quarterback will go a long way in providing some clarity towards the direction they should take when filling out the rest of the roster. This will not only affect the way Jason Licht and his staff attack free agency, but the 2022 NFL Draft as well.
One thing is certain though, there is enough talent in place right now for the Buccaneers to remain competitive next season. There's also enough talent in this draft to get better. The Buccaneers can absolutely improve their chances at meeting these objectives simply by making good value picks on draft day, while at the same time adding quality depth to both sides of the ball. If the draft were to unfold similarly to the scenarios presented in this 2022 7 round mock draft, I think the Tampa Bay Buccaneers roster would be in great shape heading into the 2022 season.