Colorado State visited Middle Tennessee State this past weekend, a game that I was able to attend representing NFL Draft Lounge. Here's what I learned at the game:
Getting a look straight at prospects live in action is always the best way to go about scouting. NFL scouts travel to over a dozen games a year to get live looks at NFL prospects, reading the things that cannot be read over a screen on tape. It's an intricate part of the process so that body types can be assessed and little details observed. Between star players like Tory Horton and Dallin Holker, the Colorado State State offense was loaded against defenders the NFL is eyeing like Teldrick Ross and Tra Fluellen.
~ Read my last piece here: Shedeur Sanders and Quinn Ewers.
In Murfreesboro, Tennessee, three NFL teams showed up to check out the several prospects in the Colorado State and MTSU game, including representatives from the Buffalo Bills, Washington Commanders, and the Tennessee Titans.
Coming in, you always have a list of guys that you want to take a look at. This game was no exception. Colorado State had just come off of a heartbreaking loss to Colorado in overtime and was still upset about it. When they came out in the second half down 17-10, they played like they were pissed off.
Tory Horton is as advertised… With a slight knock
Tory Horton has been a statistical weapon all season so far for the Rams, catching 35 passes for 313 yards and 3 touchdowns through his first three games. There are a lot of little things that Horton does very well – a savvy route runner with good speed and short burst to create separation at almost any level of the field.
Horton's build is more like Philadelphia Eagles wide receiver DeVonta Smith. Overall, most people were surprised at how lean he was, almost treating it as a negative. Size didn't slow him down in this matchup, as he went for 10 receptions for 99 yards and two touchdowns.
The one, slight knock to his game is simply his lack of effort on some plays. "You can tell when he's not getting the ball," one scout told me, "and he doesn't run anywhere. Always walking." It is worth noting that Tory Horton was playing with an illness against MTSU, but this is a problem that becomes evident on tape from other games where he was feeling well. His motor will be something that teams will hold against him, but he should still be a top 150 prospect in the class.
Teldrick Ross and Tra Fluellen are both capable prospects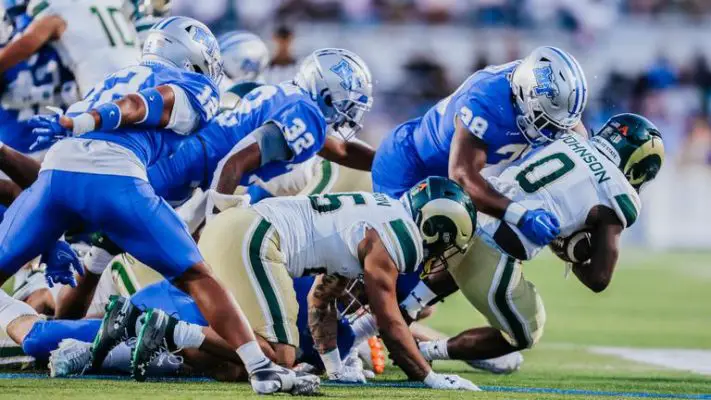 Two of the MTSU defenders flashed good ability all night, the two back-end studs Teldrick Ross and Tra Fluellen. Fluellen would end the night with 8 tackles and a half of a tackle for loss, while Ross would finish with 4 tackles despite not being tested too much all night.
The real question with Teldrick Ross is where he will best project at the next level. At 5095u and 190u, Ross won't be playing boundary cornerback at the next level like he is at MTSU. His short burst and quickness make him a very capable prospect as a nickel defender, working closer to the box and using his tough, physical play style in space underneath.
With Tra Fluellen, he's a good quick safety who shows good tackling wrap-up and is capable in zone coverage. All of that being said, Fluellen struggled with his pursuit angles all night, PFF grading him with 3 missed tackles. It could have just been a bad night, as his season missed tackle percentage right now is 17.5%.
Dallin Holker is a legitimate NFL prospect to compliment Tory Horton
Dallin Holker is surely a legitimate NFL prospect, standing at 6042u and 240u lbs. A transfer from BYU in his true junior season, Holker spent his LDS mission trip in Vina del Mar, Chile, from 2019 through 2020. A true junior by college standards, Holker is an older junior with a better-developed frame.
Holker was the player that Colorado State often turned to when Tory Horton was covered all night, and he responded with a resounding 11 catches for 112 yards and a touchdown catch on a fake field goal. He's a very serviceable receiver who can stretch into the intermediate areas of the field but does most of his damage after the catch.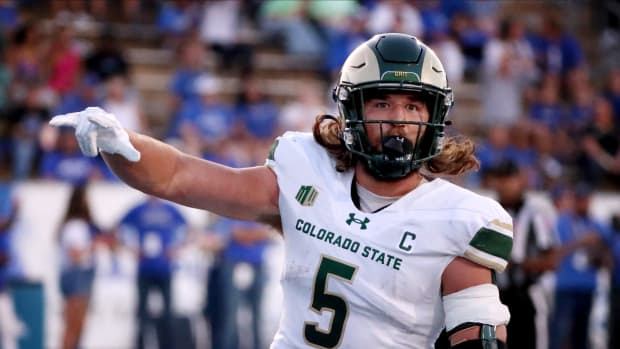 Like Colorado State's Trey McBride a few years ago, there's a really good chance that Dallin Holker decides to go pro after this season. He could also be a top 150 prospect in this class.
MTSU's Elijah Metcalf, Holden Willis stand out as prospects
Two players who weren't on my list to check out popped on both the field and the stat sheet, and forced me to turn my attention to them. MTSU's receivers were suitable all night too, but none better than Elijah Metcalf and Holden Willis.
Elijah Metcalf, a redshirt sophomore, is a smaller (5085u/167u) slot receiver who reportedly runs his ten-yard split in 1.44 seconds. Metcalf was a very large focal point of the offense, making 11 catches for 95 yards and a touchdown, and definitely showed great short bursts and some suitable run-after-catch ability.
Holden Willis was a bigger body that just showed excellent ball skills all night with a little wiggle after the catch. "Somebody close to that kid needs to tell him to put on some weight and move to tight end," one scout told me, "he has a real chance." Willis lit up the stat sheet, hauling in 9 passes for 118 yards and a touchdown catch.