Usually, the top quarterback prospects in the country are found closer to the coasts. This year, Shedeur Sanders and Quinn Ewers from Mid-America are rising with their performances. 
In Texas and Colorado, there are two quarterbacks rising to the forefront in the 2023 College Football season and emerging as legitimate NFL prospects. Between impressive starts and big statistical numbers, Shedeur Sanders and Quinn Ewers are both emerging early in the season as impressive quarterback prospects for a variety of reasons.
Shedeur Sanders has been part of the absolute explosion this season at Colorado, off to an early 3-0 start, passing for 1251 yards and 10 touchdowns in the first three games. I wrote about him in the spring when our scouting profile on Sanders was published. Sanders has so far displayed several cerebral traits that make him an intriguing prospect at the next level, showing no real drop-off from his production at Jackson State last season.
As for Quinn Ewers, he was expected to come into this season and take a leap forward by most NFL teams, and so far we have seen that leap – especially in Texas' road trip to Tuscaloosa. Ewers has thrown for 740 yards and 8 touchdowns in the first three games without a turnover blemish. His deep ball appears to have taken a step forward as he hit several against Alabama in the upset victory.
Between these two, we have two very different types of quarterbacks. I want to take a few minutes to dive into what these two are showing NFL scouts that they can do.
Shedeur Sanders is a legitimate NFL quarterback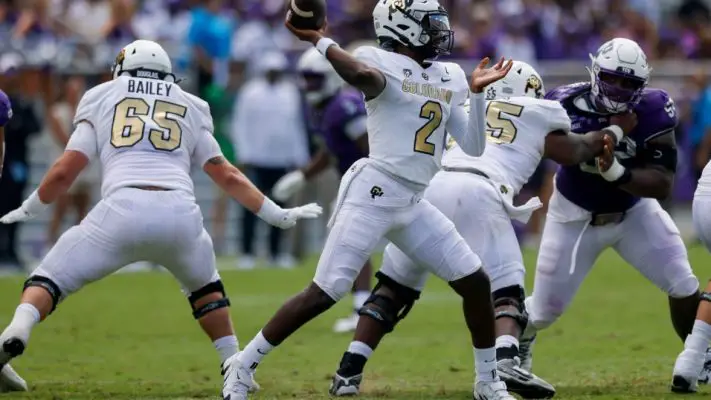 It's very true that Deion Sanders, Shedeur's famous father, has taken the nation by storm with this new brand of Colorado football. So far, he's been a good, balanced quarterback prospect who can move when he needs to as a more than capable athlete and showing good arm strength to be able to throw with velocity and get the ball deep down the field.
Buying enough time in the pocket
The first real thing that has impressed me about Sanders has been his ability to work a pocket down to the last second. As a quarterback, it's very easy to panic or try to force a football to the receiver before that ball needs to be thrown.
Sanders is fearless. He has a very natural feel for the pocket and moves within it very well. So well, in fact, that he converted a two-point conversion that ultimately won a scrappy and physical game against Colorado State because of his natural feel for where he has space.
Not every quarterback has this ability – we see many quarterbacks move in the face of pressure or struggle to move within a pocket. For Sanders, it's natural and almost effortless, and he will still manage to find a way not to take a huge shot a lot of times.
Shedeur Sanders is processing the field very well. 
The one question we had about Sanders coming up from Jackson State was processing and whether it would translate to accurate throws. So far, Sanders has been spot on. The speed of the game has not seemed to rattle him, nor become too fast for him.
We are already seeing him read the field completely, with a full-field read, looking off defenders with his head movement, and making a lot of great throws. So far, he's only thrown one interception on a ball that was tipped around and should have been caught by his receiver.
Taking care of the football has been his strength, and he doesn't often put the ball into harm's way.
Quinn Ewers has taken major steps forward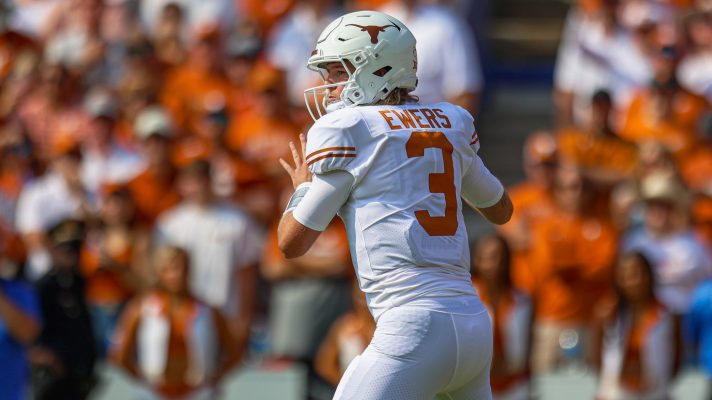 On the other side, Quinn Ewers has been a legitimate timing and rhythm quarterback. Most of what Ewers relies on is his ability to process a defense and deliver a good throw to any point across the field. This would make him more of a Kyle Shanahan system quarterback, otherwise known as a "west-coast" quarterback. His ability to make smart decisions makes up for the lack of arm strength he may have to drive the ball vertically and consistently.
Quinn Ewers' deep ball is getting better
Despite the lack of arm strength that Ewers displays, he's taken strides in this part of his game this year. Entering 2023, Ewers was just 16 of 52 (30.8% completion percentage) throwing the ball over 20 yards past the line of scrimmage, with 3 touchdowns and 2 interceptions. This season, in a huge road game against Alabama, he was 3 of 5 for 115 yards and 2 touchdowns.
Being able to hit the deep ball adds a dimension to Ewers' game that opposing defenses have to account for, and not something that Alabama had any respect for. Ewers made them pay, which was a huge step forward in his progression as a quarterback.
His improvability when the play breaks down is tremendous
The other real trait that Ewers has is his improvability to create a play when all chaos breaks loose. Ewers sees the field very well and can make throws on the move, even off-platform, that surprise you. Not only can he improvise, but like Sanders he too can work the pocket to extend plays just long enough to get a good ball out of his hand and to his receiver.
With the NFL being such a pass-oriented league right now, and most defenses being able to go several players deep across their defensive line, improvability is an important trait to possess. Being able to create when the play is broken is tremendous, which Ewers constantly displays well.
How likely are we to see these two enter the 2024 NFL Draft?
Now the next question, because we're discussing two junior quarterbacks here, how likely is it that either one of them enter the draft?
Clearly, this quarterbacks class is being heavily dominated by players like USC's Caleb Williams and North Carolina's Drake Maye, who appear to be the top two quarterback prospects in the class. After them, at this point of the season, is a large field of prospects including Sanders, Ewers, Oregon's Bo Nix, Washington's Michael Penix Jr, and a cast of other interesting players.
Considering the field, it's going to be tough for other junior players to separate throughout the pre-draft process.
Everything that Quinn Ewers has done throughout his football career has been about being a professional. He reclassed from the 2022 recruiting class back to the 2021 class, where he committed to Ohio State and took several NIL deals before transferring to where he had planned to attend college all along, Texas, replacing a long-time starter in Sam Ehlinger. To me, Ewers is headed for the NFL after this season.
Shedeur Sanders, on the other hand, has been more focused on the teams his father coaches. He turned down several Power 5 offers to attend Jackson State, where he dominated as a two-year starter. Then, he followed Deion to Colorado. I think that sustained success is more of Sanders's focus and if this season doesn't turn out as well as it could, he will return to quarterback a new, more experienced group of players together.
Either way, NFL clubs are undoubtedly excited about the potential between these two quarterbacks, who are starting to separate themselves as NFL Prospects this season.