The All-Star season is upon us! Football players across the country are receiving invitations to all-star games, and the Senior Bowl has already started to leak in accepted invitations to the game week scheduled for the last week of January and into early February. Today, we're looking at one of those players who has accepted his invitation, Florida State H-Back Jaheim Bell.
Jaheim Bell is the epitome of the modern NFL fullback. He is a versatile weapon who has played a little bit of everything over his career, from H-Back to fullback, running back, tight end, and even slot receiver. With that type of versatility, it's easier to project him onto a roster next season, but where will he truly excel in the NFL?
Let's get into what his skillset presents.
H-B Jaheim Bell, Florida State Seminoles
HT: 6017
WT: 239
DOB: 6/14/2001
Year: Super Junior
High School: Valdosta (Valdosta, GA)
HS Rating: 4 star (89.67)
Phil Steele: PS#65
A transfer from South Carolina, Jaheim Bell is a mismatch creator for an offense. He took snaps at running back for South Carolina against North Carolina in the Dukes Mayo Bowl and continued to do so throughout 2022. Used as a fullback, H-back, tight end, and running back in 2022.
Jaheim Bell: Athletic Ability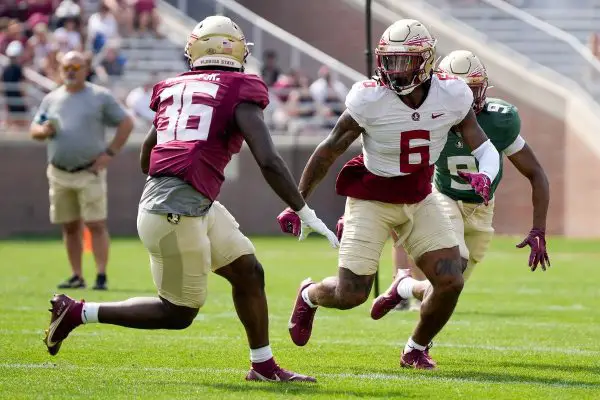 Speed/Athleticism
Good speed. Creates separation with his pure, underrated speed.
He doesn't look like he's moving very fast—long strider.
More of a running back skillset.
Average change of direction.
Good body control overall and makes a lot of little subtle moves that are very effective.
Acceleration is good.
Excellent explosion. Excellent athlete.
Strength/Power
Strong and physical throughout the repetition.
Solid lower half. Absorbs contact very well.
Has a bit of power in his game.
Jaheim Bell: Receiving Ability
Route Running
Very good route-running ability. Phenomenal talent.
Ran routes from almost every spot on the field.
He will have a ton of nuanced understanding entering the NFL.
Catch Ability
Excellent hands. Makes a bunch of super catches. Good catch radius overall.
Struggles with concentration drops. It looked like he was having issues with Spencer Rattler while at South Carolina.
Jaheim Bell: Blocking Ability
Not strong enough to be an inline blocker, but capable in the secondary.
Not a great run blocker. It doesn't look like he takes much pleasure in it.
Overview
Jaheim Bell would be a welcome addition to one of these schemes heavily influenced by Kyle Shanahan or Sean McVay because of his nuance and overall versatility, blending his athletic ability. It's hard to project him to a singular spot in the NFL because he doesn't possess a common skillset or is often seen at this level. I want to project him well, but it's still very difficult to do.
What we want to see in Mobile
Start to answer questions about his inline blocking. Is he strong enough to play inline?
Good length measurements. That will help his projection as well.
Pre-Senior Bowl Projection: 4th/5th
Roster Projection: Rotation Role