The Atlanta Falcons finished the 2021 campaign with a 7-10 record, marking the fourth-consecutive losing season for the franchise. Atlanta hasn't been endured this long a sub-.500 stretch since the 10-straight losing season from 1981 to 1990. Under first-year head coach Arthur Smith, Atlanta overperformed relative to their roster talent level, but this Atlanta Falcon team needs help pretty much across the board.
None of Atlanta's seven victories last season came against playoff teams, and six of those wins came in games decided by seven points or fewer. Couple that luck with a number of players outperforming their contracts proves 2021 might have been a mirage in Mercedes-Benz Stadium. Second-year general manager Terry Fontenot needs to deploy the Falcons draft capital well, considering the state of the team's cap situation.
Falcons Flightless Offense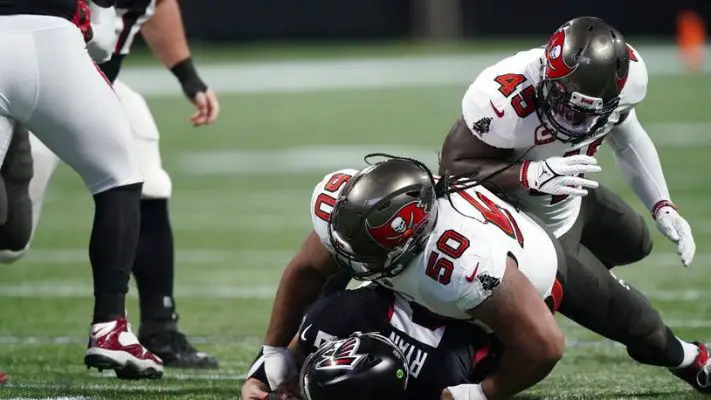 By all accounts, Matt Ryan helmed an underwhelming offense last season. The Falcons ranked 26th in scoring (18.4 points per game) and didn't post any of their seven victories last season by more than eight points. Their 10 losses came by nearly 18 points per game, which resulted in the league's 28th-worst point differential (minus-146 points).
While the passing game proved to be league-average (16th, 218.4 yards per game), the running game stood among the NFL's worst (31st, 85.4 yards per game). The Falcons' offensive line didn't help matters, surrendering the most QB Hits (84), the 11th-most sacks last season (40), and ranking 26th in pass block win rate (54 percent). That unit ranked 29th in run block win rate (67 percent), which helped explain Atlanta's struggles in the ground game.
The Falcons took a one-year flyer on Cordarrelle Patterson and witnessed his breakout campaign. Patterson transitioned to running back and put up career-highs across the board. He registered over 1,100 total yards and 11 combined touchdowns. He's one of many free agents for Atlanta this offseason.
Atlanta took Kyle Pitts with the No. 4 overall pick in the 2021 NFL Draft and saw him lead the team in targets (110), receptions (68), receiving yards (1,026), and yards per catch (15.4). Pitts' problem proved to be finding the end zone (only one touchdown catch).
Dismal Defense from the Dirty Birds
This Atlanta Falcons team needs to address the defense in 2022 in a bad way. Atlanta surrendered the third-most points last season (459) and ranked 29th in scoring defense (27.0 points per game). The Falcons ranked 25th in yards per game (364.4) and ranked 27th against the run (131.9 yards per game).
Atlanta ranked in the bottom half in the league against the pass, allowing 232.5 passing yards per game (18th). The Falcons allowed the third-most passing touchdowns (31) in 2021. Some of those numbers can be explained by Atlanta having the league's worst pass rush last season.
The Falcons registered the fewest sacks in the NFL in 2021 (18), 11 fewer than the next team. They sported the lowest sack rate (3.0 percent), the fewest QB Hits (59), and the lowest pressure percentage (16.7). Atlanta's pass rush produced the third-fewest hurries (48) and ranked 28th in pass rush win rate (34 percent). The defense registered the fifth-fewest tackles for loss (58) and ranked 26th in run stop win rate (28 percent).
Dante Fowler led the team with 4.5 sacks, but no other player on the team had more than 2.0. Foyesade Oluokun led the NFL in tackles with 192. A.J. Terrell seems like a lockdown corner the secondary can build around, and Adetokunbo Ogundeji had flashes as a rookie pass-rusher.
Falcons Draft Capital and Cap Space
Believe it or not, Atlanta enters the 2022 offseason with the best quarterback situation in the NFC South. The 14-year veteran stands head and shoulders above the likes of Sam Darnold, Taysom Hill, and Kyle Trask. That said, Matt Ryan's contract carries with it a staggering $48.7 cap hit, making him the most expensive player in the league.
According to OverTheCap.com, this Atlanta Falcons team needs to clear cap space considering they're more than $7 million in the red. Cutting Ryan isn't a realistic option, and trading him wouldn't be the profitable panacea many perceive. A move like that frees up about $8 million in cap space and leaves the Falcons without a starting QB.
The indefinite suspension of Calvin Ridley, who will be out for at least the 2022 season, could help the Falcons' cap situation. Ridley's contract guarantees could be voided and the $11 million owed for this year might not count against their salary cap.
GM Terry Fontenot started the cap clearing process by releasing the team's sack leader, Fowler, who was due $25 million in 2022. Other potential veteran cuts loom, with defensive lineman Tyeler Davison ($3.8 million) and running back Mike Davis ($2.5 million) among the most likely.
Among Atlanta's top free agents are Olukun, Patterson, Safeties Duron Harmon and Erik Harris, WR Russell Gage, and CB Isaiah Oliver.
The Falcons draft capital should provide the team with potential upgrades for a number of different position groups. Atlanta holds the No. 8 overall pick, two picks in the second round (11 and 26), and Pick 10 in the third round. On Day 3, the Falcons have one pick in the fourth (9) and fifth (8) rounds, and two in the sixth round (11 and 35).
Atlanta Falcons Team Needs
The Falcons draft sees Atlanta holding four of the first 75 picks. While the team needs to consider their future at quarterback, there's no must-have prospect among this year's QB class. This Falcons team needs to plug several holes, so the best-player-available approach seems like the most likely (and wisest).
1.     Edge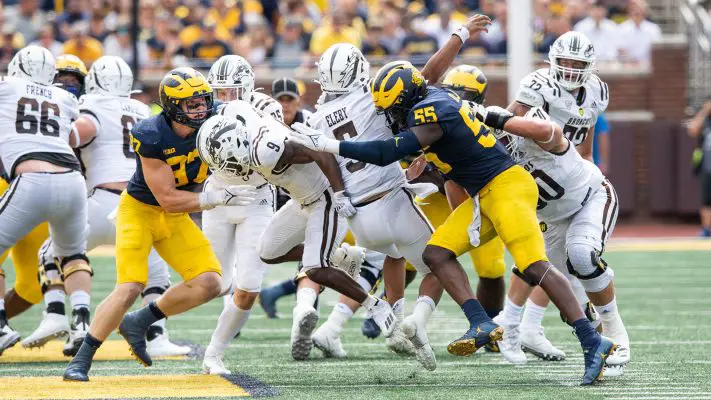 The Falcons sported the league's worst pass rush last season, so it's probably a good thing that they have to completely revamp that group. The only non-free agent outside linebacker returning to Atlanta is rookie fifth-rounder Adetokunbo Ogundeji, who flashed at times in his first year. This Falcons team needs to improve upon its league-low 18 sacks from 2021.
Edge rusher holds the most high-end position talent for the 2022 NFL Draft, with potential game-changing talent beyond just the trio of Michigan's Aidan Hutchinson, Oregon's Kayvon Thibodeaux, and Purdue's George Karlaftis. If those three are all off the board by Atlanta's selection, Michigan's David Ojabo and Georgia's Travon Walker both provide inside-out versatility.
2.     Wide Receiver
This Atlanta Falcons team needs help on the outside. Following the perhaps ill-advised (from a cap perspective) Julio Jones, the team's receiver group was further weakened by Calvin Ridley stepping away from the game. Ridley's suspension only complicates matters further, and eliminates the possibility of trading the young wideout for cap relief and draft compensation.
Atlanta should seek to re-sign Gage in free agency, but that still leaves wide receiver among the Falcons team needs. This year's receiver class is among the deepest positions for the 2022 NFL Draft, so the Falcons could find value and a potential starter on Day 2.
3.     Offensive Line
The Falcons draft may need to add another member to its o-line group, after picking up a pair in 2021. Chalk that up to the salary cap limbo and ineffective play almost across the board for that unit. Over the last four seasons, Matt Ryan's been sacked 171 times or 42.7 times per year.
Atlanta's offensive line finished 27th among Pro Football Focus' rankings for 2021, with the Falcons' interior trio combining to rank 29th in pass-blocking efficiency. Rookie left guard Jalen Mayfield allowed 11 sacks and 57 pressures, and right tackle Kaleb McGary allowed nine sacks.
Other Atlanta Falcons team needs include defense line, cornerback, and safety.
Be sure to follow NFL Draft Lounge for more coverage on the 2022 NFL Draft and the offseason. As always, you can find us on Facebook, Twitter, and Instagram.