The Friday night before the Senior Bowl is played in Mobile, Alabama, the event kicks off Mardi Gras with a Parade through downtown, kicking off a weeks-long festivity of celebration. The players walk through the streets donning their college jerseys, throwing beads, and gaining the fanfare of thousands of fans and spectators alike. It's an event unlike any other, especially for a young player and his family from West Virginia – Tyson Bagent.
The Senior Bowl is a fantastic event by Director Jim Nagy and staff every year with the City of Mobile's help, allowing the entire NFL to descend into their "Small-Town New Orleans." For decades, the all-star event has attracted top-tier talent graduating college and heading to professional football endeavors. In the following seasons, prospects have etched their names with impressive performances into the NFL's intense "Draft Season," when teams study countless hours and conduct hundreds of interviews and workouts to decide who they want to bring into their organizations.
For that Friday Night in Mobile, it is the final calm before the storm. A chance for players to relax, enjoy what the area has to offer and prepare themselves for the game being played the following day. For media, it's the chance to start to speak with players.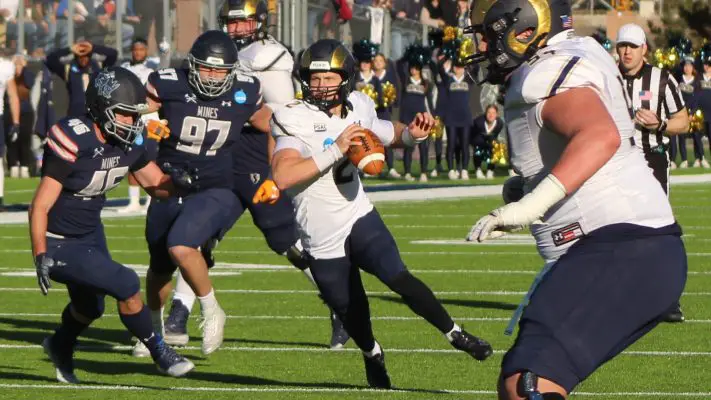 Most NFL Scouts leave the event Friday morning – they have conducted the interviews they needed, seen the practices, and gotten whatever confirmations they were searching for. Friday is the players' day off. So, for diligent media, it's a chance to network with fellow media colleagues and catch up with players who were busy the rest of the week.
Meeting Tyson Bagent
Coming into the Senior Bowl, Tyson Bagent wasn't quite like the others, feeling he had more to prove. A former Division II quarterback from the University of Shepherd, Bagent hadn't wandered far outside Martinsburg, West Virginia, most of his life. His father, Travis, a double-digit world champion arm wrestler, had also played football at Shepherd. His mother, Casey, had graduated from Shepherd in 2002 with a degree in Sports Management. Despite Tyson's Albany and Robert Morris offer, Bagent continued playing where his family had made their name.
Let's simply say he was a cut above.
Bagent would start over five seasons (one being the shortened COVID season), amassing over 17,000 yards passing and 159 touchdown passes – the all-time college record, no matter what division level an athlete performed. That's not considering the 12 touchdowns he ran for, either.
Bagent had been invited to the Hula Bowl and the NFLPA Bowl before he accepted a Senior Bowl Invitation, making the Senior Bowl his sole opportunity before the NFL Combine to show teams what he was about.
The impressive Senior Bowl performance
Tyson's Senior Bowl performance drew mixed reviews from the media over the three days of practice, but notable traits and aspects of his game stood out to me.
Tyson Bagent is the best QB out here. Has the best arm. Most polished prospect at the position.

Spoke with his OC at Shepherd. He's a very hard worker and outworked everyone on the team. #TheDraftStartsInMOBILE

— John Vogel (@DraftVogel) January 31, 2023
On the first day, Bagent's team was practicing second. He would work alongside Houston QB Clayton Tune and TCU QB Max Duggan. I wanted to see how clean his mechanics were and how fast his feet and release were compared to his colleagues. Going through simple drops and throwing routes in warmups, it was clear that Bagent had quicker feet and a smoother release. His feet were consistent, and his plant angle was strong.
QB rankings in the Senior Bowl practices this week:

1) Tyson Bagent, Shepherd
2) Clayton Tune, Houston
3) Jake Haener, Fresno State
4) Max Duggan, TCU
5) Malik Cunningham, Louisville
6) Jaren Hall, BYU

Bagent is the best overall guy here, has the strongest arm, most polished.

— John Vogel (@DraftVogel) February 2, 2023
As I observed him, I was introduced to his offensive coordinator from Shepherd, Jesse Correll, who was watching his quarterback.
By the end of the week, I thought that Bagent had looked like the best prospect at the position on the field.
Friday, February 3rd, 2023
As the Mardi Gras parade ended, I set myself at the bar inside the Renaissance Hotel, where hundreds of people were walking through. A fellow and his wife in an orange shirt sat beside me, ordering a drink. One thing in the conversation led to another, and this man was one of Bagent's High School coaches, Coach Sherman.
"You have to meet Travis," Coach Sherman told me as we discussed what made Tyson a strong quarterback, "He would love to meet you." It was almost as if on queue, Travis appeared at the bar.
Coach Sherman introduced me, as Travis and I shook hands. "I'm surprised you didn't break my hand," I joked. Travis laughed and replied, "I might have had to, but you tweeted good things about Tyson." After a brief pause, he invited me to join the family as they were about to migrate toward the Nelly concert about to take place downtown.
Tyson Bagent was a late bloomer and didn't grow too much until between his junior year of high school and his freshman year of college.

His body has forced him to constantly evolve and adjust his game. His work ethic is crazy too. He doesn't drink and is all business.

— John Vogel (@DraftVogel) February 4, 2023
When I arrived there, I found Tyson and his entire family, with Correll, family friends – a tight-knit extended family and friends group. His best friend was center Adam Stilley, who had joined the group for the week with his mother, Lori. Stilley had nothing but good things to say about Tyson and his skillset – they had been a center/quarterback duo since Tyson had started playing high school football, inseparable together.
As we walked toward the concert, Lori detailed how Tyson had grown as a person and player and how much her family loved him. "He didn't grow until later in his life," Lori told me. "Tyson had to relearn how to throw, and his growth spurt went into college."
I walked with the family down to the concert and spoke with Tyson. I told him my interest in his career, how excited I was for him, and how well I thought he had performed throughout the week. Tyson wasn't interested in all the positives. He wanted me to tell him what he did wrong so he could work on it in the offseason.
The difference between most quarterbacks and Tyson Bagent
That night, I walked away from him astounded. His support from his family and friends in the background, his work ethic, and his humble demeanor made him understand that football isn't a perfect sport – but he doesn't allow it to be an excuse not to chase perfection.
When I sat down with him later in February to do a Film Room breakdown, he showed off the impressive knowledge he had retained from the offense he ran at Shepherd and the offense he had learned in three days at the Senior Bowl. He remembered how to break down a play and what the calls meant. Then, he explained his thought process through several plays.
However, off camera, and I'm still very sorry I wasn't recording, I gave him a game and the time on the clock and asked him what happened. He gave me the play call, told me about the pressure he had to avoid, and how he improvised it into a big play. Bagent was absolutely right. He nailed it – proving his recall is phenomenal and backing that extensive work ethic of his.
When you compare Tyson to the many quarterbacks in the NFL, he doesn't have the most elite arm strength. He isn't the best athlete on the field. However, his arm is very good. He's smart. He processes information at another level.
Hard work and constant improvement have made Jalen Hurts one of the top five quarterbacks in the NFL. The difference between Tyson Bagent and other quarterbacks is the fact that he works harder than anyone. He's constantly trying to improve. We don't honestly know where his ceiling is and how much better he can actually be.
When Tyson Bagent gets his chance, he will shine
There is no doubt in my mind that he will be working his way into opportunities on the field. His story is inspiring and should teach all parents of young athletes the same thing. Support from family is paramount to climbing the mountain to impossible dreams. Building that support network was one of the foundations that made Tyson so humble.
#Bears QB Tyson Bagent is asked if he feels he's surprised teammates with his play during the preseason. pic.twitter.com/mbi78L4GBx

— Barroom Network (@BarroomNetwork) August 26, 2023
For young athletes, it should also be a reminder that being the hardest worker doesn't go unnoticed or unpaid. For Tyson, he was a Division II quarterback who made the most of his opportunity with sacrifice and commitment. For those who know him, no one was surprised this preseason.
Tyson Bagent is an exemplary case of sacrifice and commitment to his craft.