As an analyst of the NFL Draft, I always like to wait a few weeks before reevaluating player positions in my Big Board. We're getting ready to expand our 2022 NFL Draft Big Board Top 100 Prospect Rankings to 200 prospects. In doing so, I've been keeping track of 2022 NFL Draft stocks and which prospects are seeing their potential draft position rise. Below, we've listed five potential 2022 NFL Draft prospects that could be drafted much higher than they're currently projected to.
Be sure to follow NFL Draft Lounge for more coverage on 2022 NFL Draft Stocks. As always, you can find us on Facebook, Twitter, and Instagram.
Drake London – Southern California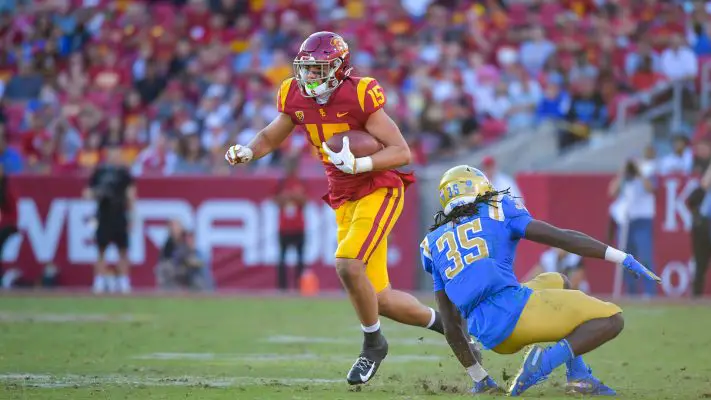 Quite frankly, Drake London is the USC offense. The wideout has accounted for 39 receptions for 540 receiving yards, along with three touchdowns. For context, London had similar numbers both of his previous seasons. However, this is only through four games.
If the Trojans can continue to feed their star receiver the ball, and show off his versatility and explosiveness, that will only raise his draft stock. In fact, I have Drake London's 2022 NFL Draft stocks as one of the biggest movers up.
Zach Charbonnet – UCLA
In his first year in the Pac-12, Zach Charbonnet has been a key player on the UCLA Bruins offense. The Bruins are playing much improved football this season, and Charbonnet is a huge part of that. In addition to his rushing ability, Zach Charbonnet has also displayed his above average receiving ability. In fact, Charbonnet is averaging 15.1 yards per reception.
Zach Charbonnet was a Top 200 prospect, in my opinion, heading into the 2021 season. However, UCLA head coach Chip Kelly has done a tremendous job of bringing out the best in his running back. If the Bruins can continue to play explosive football, and win games, then Charbonnet could have one of the top 2022 NFL Draft stocks come next April.
Zakoby McClain – Auburn
One of my favorite websites to track draft stock is NFL Mock Draft Database. They take mock drafts, as well as big boards, and track each individual's stock throughout each. You can check out Zakoby McClain's draft stock here. While McClain's draft stock didn't start well, it's clearly on the rise.
Auburn has a tough schedule the rest of the way in 2021 as they get ready to begin conference play. I don't have high expectations for the team as a whole, but they do have some solid draft prospects on their roster. If guys like Zakoby McClain are able to put together good game film, we could be looking at a mid-to-late second-round grade on the linebacker.
Daxton Hill – Michigan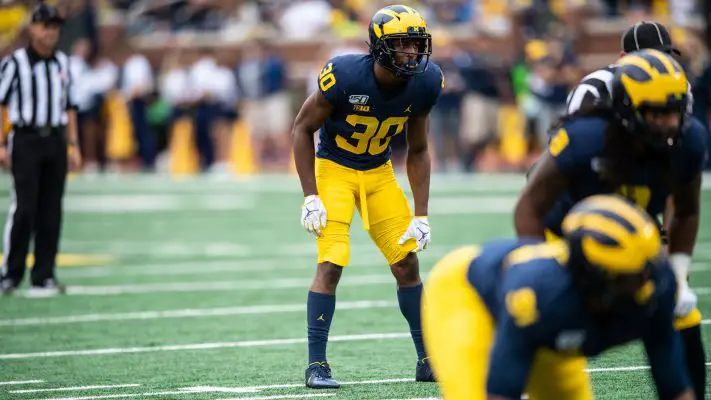 A common theme here are 2022 NFL Draft prospects on improved teams seeing their draft stocks on the rise. I don't know if there's a team that's more improved this season than the Michigan Wolverines.
Notre Dame safety Kyle Hamilton is clearly the top safety in the 2022 NFL Draft. In fact, he might be the best overall prospect. However, I have Daxton Hill's draft stock on the rise rather quickly. The Big Ten is extremely tough this season with Penn State and Iowa in the AP Top 25. If Michigan is able to stop those teams, they'll do so with Daxton Hill playing at a high level.
Grayson McCall – Coastal Carolina
While he may not be one of the top quarterbacks in the 2022 NFL Draft class, I've still been really impressed with Grayson McCall's game film. He throws with nice velocity on throws across the hash, along with some solid accuracy.
Coastal Carolina has an easy schedule this season, which should allow McCall to put up some monster numbers this season. I don't know if a top 100 draft position is attainable for Grayson McCall and the Coastal Carolina Chanticleers, but it is a possibility if he can continue to throw like he did last season.