The New York Jets finished their first season under head coach Robert Saleh 4-13. They found themselves occupying the familiar confines of the AFC East cellar. The Jets have finished last in the division in five of the last six seasons, and haven't enjoyed a winning season since their 10-6 campaign in 2015. This New York Jets team needs to develop its young talent while supplementing with additional playmakers.
New York hasn't won a playoff game in more than a decade, but there's hope for the future under Saleh. Although the Jets went winless in the division, it wasn't all bad for Gang Green. Several young players stepped into pivotal roles and seem on the cusp of becoming significant contributors in the Big Apple.
Jets' Turbulent Offense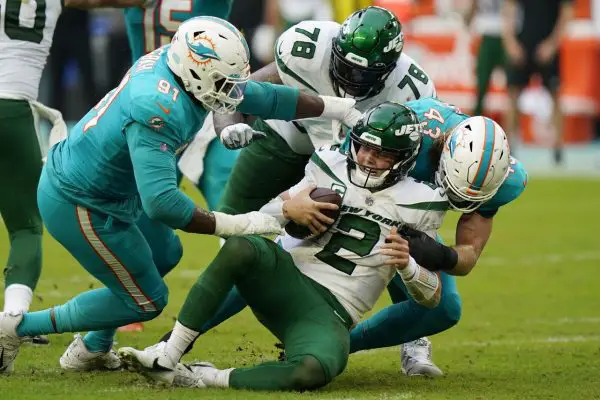 Going from fraudulent offensive guru Adam Gase to the defensive-minded Saleh at head coach didn't make much of a difference for the offense. The Jets threw No. 2 overall pick, Zach Wilson, to the wolves, and the rookie managed just a 3-10 record as a starter in his first year.
Wilson threw for 2,334 yards, with nine touchdowns and 11 interceptions, completing 55.6 percent of his passes. He was sacked 44 times in those 13 games, losing a league-high 370 yards along the way. Although these numbers aren't great, Wilson was much better in the second half of the year, posting a 5:2 touchdown-to-interception ratio over his final seven games.
Wilson, as well as Mike White, Joe Flacco, and Josh Johnson, piloted the 20th-ranked passing offense (208.3 passing yards per game) last season. The team's ground game ranked 25th (98.1 rushing yards per game). The Jets had the fifth-worst scoring offense in the league (18.2 points per game).
This Jets team needs to understand what it has with Wilson, who remains an unknown quantity. That said, New York seems to have found solid contributors in Elijah Moore and Michael Carter. Moore's 538 receiving yards and five touchdown catches led this Jets team, despite playing in only 11 games last season. Carter, meanwhile, finished with nearly 1,000 yards from scrimmage and led the team in rushing yards (639) and total touches (183).
Jets Defense a Flight Risk
Among the biggest New York Jets team needs entering 2021 was an improved defense. But Saleh, who spent four seasons as the defensive coordinator for the San Francisco 49ers before getting the head gig in New York, couldn't work miracles. It didn't help that their top free-agent addition, Carl Lawson, missed the entire season to an Achilles injury.
The Jets team defense ranked dead last in yards allowed per game (397.7) and points allowed per game (29.7). They were the only club to allow opponents to score at least 45 points in three different games last season.
New York's run defense ranked 29th, allowing 138.3 rushing yards per game. The pass defense ranked 30th, allowing 259.3 passing yards per game. The Jets' seven interceptions this season were the second-fewest in the league. Their 33 sacks tied for 25th.
C.J. Mosley led the defense, and his 104 solo tackles ranked second in the NFL. He finished fourth in combined tackles (168). The Jets secondary, while largely a sieve throughout the season, may have serviceable starters at cornerback in Brandin Echols and Bryce Hall.
Jets Draft Capital and Cap Space
New York's in good shape entering the 2022 offseason, but this Jets team needs an infusion of additional talent. The team has a number of veteran starters entering free agency. But savvy moves by general manager Joe Douglas have the squad positioned well moving forward.
According to OverTheCap.com, the Jets sport over $48 million in cap space entering the offseason. That's the fifth-most among all NFL teams. They could create additional room moving on from center Conner McGovern ($9 million) and guard Greg Van Roten ($3.5 million).
Key free agents for this Jets team include wide receiver Jamison Crowder, guard Laurent Duvernay-Tardif, safety Marcus Maye, and tackles Conor McDermott and Morgan Moses.
For the 2022 NFL Draft, the Jets draft capital stands at nine total picks, including four selections in the top 38. This marks the third draft since 1970 that New York four selections in the top 40. Thanks to the trade of safety Jamal Adams to Seattle, the Jets sport two top-10 picks in 2022. The trade of Sam Darnold to Carolina netted the team an additional second-round pick as well.
New York currently owns picks four, 10, 35, and 38. Beyond that, the Jets team needs to figure out what they'll do with pick five in Round 3, picks six and 12 in Round 4, and picks three and 20 in Round 5.
New York Jets Team Needs
This New York Jets team needs an infusion of additional talent to complement the young players already on the roster. Among the most pressing needs on offense include protecting their potential franchise quarterback, although that may be done via free agency. The Jets draft also must address the talent deficiencies on defense. But coaching at the Senior Bowl this season could give New York a leg up on the evaluation process.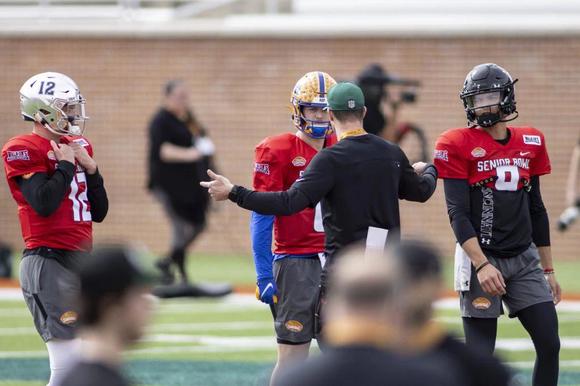 1.     Edge Rusher
This Jets team needs to add another pass rusher to their defensive line. New York finished tied with the seventh-fewest sacks last season, and defensive tackle Quinnen Williams and end John Franklin-Myers tied for the team lead with 6.0 apiece.
The 2022 Big Board sports several potentially game-changing pass rushers near the top and one of those might find his way to the Jets at No. 4 overall.
2.     Offensive Line
Among the other glaring Jets team needs is stabilizing the offensive line. Rookie QB Zach Wilson endured 44 sacks last season, which ranked third-most for the year despite his playing in only 13 games. New York has questions along the offensive line, but particularly among the interior positions.
The Jets o-line allowed 53 sacks last season (fourth-most) and lost 418 yards (second-most) in those plays. What's more, New York ran up the sixth-fewest rushing yards (1,667) and attempted the fewest carries in the league (380).
3.     Wide Receiver
This Jets team needs to not only needs to shore up the line in front of Wilson, but it also needs to provide him with playmaking pass catchers. Moore had a solid rookie season, but he doesn't fit the No. 1 receiver prototype. And beyond that, New York's other reliable wideouts stand to be free agents.
Among the other needs the Jets draft should address entering the 2022 offseason: safety, tight end, and outside linebacker.
Be sure to follow NFL Draft Lounge for more coverage on the 2022 NFL Draft and the offseason. As always, you can find us on Facebook, Twitter, and Instagram.