The All-Star season is upon us! Football players across the country are receiving invitations to all-star games, and the Senior Bowl has already started to pour in accepted invitations to the game week scheduled for the last week of January and into early February. Today, we're looking at one of those players who has accepted his invitation, Missouri cornerback Kris Abrams-Draine.
Kris Abrams-Draine started his high school career as a wide receiver – even making it as a four-star receiver prospect. However, he made the switch to cornerback after the COVID year, his second year at Missouri, and became a starter quickly.
Let's get into his game.
CB Kris Abrams-Draine, Missouri Tigers
HT: 5112
WT: 178
DOB: 10/4/2001
Year: Super Junior
High School: Spanish Fort (Mobile, AL)
HS Rating: 4 star (89.33)
Phil Steele: PS#69WR
The biggest thing to remember about Abrams-Draine is that he is still developing as a defensive back, considering he has been very impressive. The problem with his game currently, in my estimation, is that he doesn't understand who he is as a player yet. That will be enough for a few coaches in the NFL to feel like there's something to work with, but Abrams-Draine presents some huge upside as part of his game.
Kris Abrams-Draine: Athletic Ability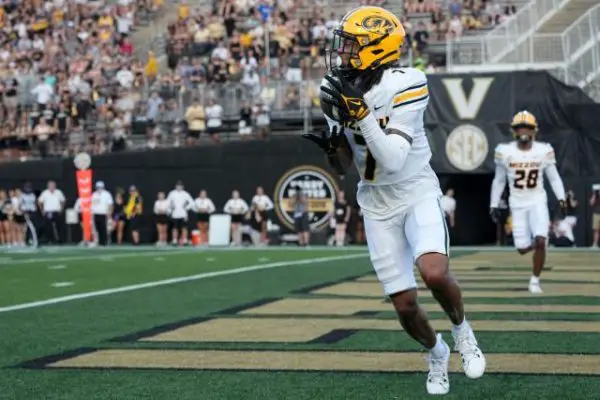 Speed/Athleticism
Good, not great, speed. Should test in the 4.5's.
Abrams-Draine struggled to stay in position against players with excellent speed.
Strength/Hips
Struggles to get off of blocks.
Doesn't change direction very well. Looks like his hips are pretty tight.
I don't see a lot of recoverability from him.
Kris Abrams-Draine: Defender Ability
Tackling Ability
Willing tackler, but not very strong.
Wraps up well. Very active in run defense.
Not intimidated by bigger bodies.
Does a great job assisting by putting his hat on the ball.
Coverage Ability
Tends to allow too much separation to be effective in man coverage.
He is just physical enough through the catch point.
Not particularly gifted at finding the right spots to settle and react effectively.
Doesn't react as well in zone coverage, either.
Tends to play trail and isn't particularly gifted at it.
Not physical enough at the line of scrimmage and too physical as he works downfield.
He has a lot of work to be done with his technique.
Overview
What we want to see in Mobile
How does he handle the homecoming? There will be some added pressure to perform well in front of family and friends. How does he handle it? Does he play up to the event with a lot of energy?
Really want to watch him closely in 1v1's. How does he handle different types of receivers? Is there a specific type of receiver that he covers better?
Pre-Senior Bowl Projection: 5th/6th Round
Roster Projection: Rotation Role/Future Starter