The All-Star season is upon us! Football players across the country are receiving invitations to all-star games, and the Senior Bowl has already started to leak in accepted invitations to the game week scheduled for the last week of January and into early February. Today, we're taking a look at one of those players who has accepted his invitation, Kansas offensive lineman Dominick Puni.
Dominick Puni wasn't a player who was highly sought after coming out of high school – in fact, he didn't have a single Division 1 football offer. Puni spent 4 seasons at Central Missouri before transferring to Kansas in 2022, where he started at left guard, and made the move to left tackle this season.
Let's get into his game a bit.
OG Dominick Puni, Kansas Jayhawks
HT: 6042
WT: 320
DOB: N/A
Year: Super Redshirt Senior
High School: Francis Howell (Saint Charles, MO)
HS Rating: N/A
Phil Steele: N/A
Dominick Puni played volleyball in high school. Cousin of Bills DE AJ Epenesa. Brother, Derrick, was a UDFA to Dallas in 2019.  Starts at left tackle for Kansas, and projects inside to guard. Started at left guard for the Jayhawks in 2022. As I had mentioned in the Cooper Beebe report, prospects at guard have to be able to play multiple positions on the offensive line. Puni fits that billing.
Dominick Puni: Athletic Ability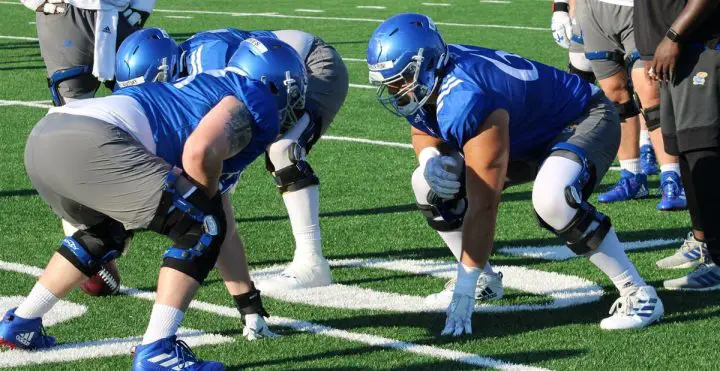 Athleticism
A capable athlete, but shouldn't test as anything special.
Appears to have good lateral quickness.
Strength/Power
Very strong, stout upper body.
Gives a good punch, and shows the ability to neutralize defenders with leverage and pure upper-body strength.
Has a little bit of brute power to his game.
Has decent strength as a run blocker. Flashes some serious strength to work into the second level effectively.
Dominick Puni: Lineman Technique
Anchor/Plant
Anchor isn't particularly impressive to me. Struggles to get set.
Won't show much recovery, but can "stop the bleeding."
Will allow himself to surrender a step at a time but can slow down the rate at which he retreats with his upper body strength neutralizing the defender.
Has an issue getting low, looks off from the moment he stands on the line of scrimmage.
Susceptible to quickness on counters.
Hand Usage
Hand placement is good, but not consistent.
Will miss with punches and not get hands-on before the defender beats him someplace.
Good, not great, hand strength.
Puni's hand technique tells me that he still has room to grow as a technical fighter.
Overview
Overall, Dominick Puni's lack of real bend and ability to get low is going to hurt him through NFL camp where he has to compensate with pure strength. While he's played outside at tackle, I don't believe an NFL team will want to put him out there, simply because he's so inconsistent in space. There are a lot of things to work into his game, and I don't think Puni will ever be an NFL starter consistently, but he will manage to stick around rosters for several years spot starting as a replacement to injuries.
What we want to see in Mobile
Puni needs to get lower in his stance and show that he has the bend to stay down and win against power consistently. We want to see some marked improvement in that aspect of his game.
What is Puni focusing this offseason on improving? Really want to see some marked steps in several directions.
Pre-Senior Bowl Projection: HPFA
Roster Projection: Career Spot Starter