The All-Star season is upon us! Football players across the country are receiving invitations to all-star games, and the Senior Bowl has already started to leak in accepted invitations to the game week scheduled for the last week of January and into early February. Today, we're taking a look at one of those players who has accepted his invitation, Kansas State offensive lineman Cooper Beebe.
Cooper Beebe is considered one of the top interior offensive lineman prospects in the 2024 NFL Draft class. Our own Brian Lamb had a phenomenal writeup coming into the year on Beebe. He's started at right tackle, left tackle, and left guard over his career at Kansas State. At 6'3″ and 335 pounds, he has great size and is very athletic considering his build.
Let's get into his game a little bit.
OG Cooper Beebe, Kansas State Wildcats
HT: 6032
WT: 335
DOB: 5/19/2001
Year: Super Redshirt Junior
High School: Piper (Kansas City, KS)
HS Rating: 3-star (0.8378)
Phil Steele: PS#207
Beebe came out of high school as a defensive tackle and made the switch to offense after arriving in Manhattan. Should wrap up his college career with 48 career starts.
Cooper Beebe: Athletic Ability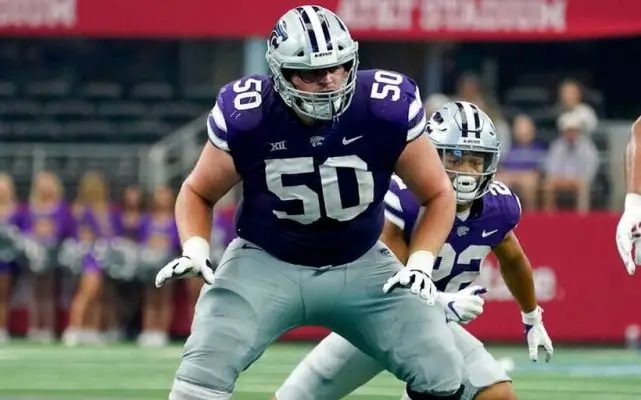 Athleticism
Very strong in short bursts. Moves well on pulls and other quick-moving plays.
Doesn't have a lot of lateral quickness and tries to make up for it with his power. When forced into situations that require him to move quickly laterally, he simply fails. Struggled at left tackle last year.
Strength
Added 12 pounds of muscle from 2022 to 2023, and it looks like most of it went to his upper body.
Very stout lower body. Ankles look huge. Looks like an outlier on the Kansas State offensive line.
Cooper Beebe: Lineman Technique
Anchor/Plant
Footwork isn't consistent in his drop, will struggle to handle the edge.
While he flashes the ability to set into an excellent anchor, he's suspect to quick moves and surrenders too much space at times. As a guard, however, his anchor is solid, knowing when he has help to his left or right.
Shows little to no recovery when he's beat.
Hand Usage
Initial hand placement looks good.
Decent pass protection strength. Holds up well in short bursts.
Other notes
Good run blocking strength overall.
Very effective in his pulls with sealing the hole.
Seems to understand his offense very well and when he can pass off mostly. Will sometimes try to pass off and it overwhelms his side.
Overview
One of the key components to projecting forward into the NFL Draft as an interior offensive lineman in the modern NFL is that as a guard, the prospect can also play either tackle, center, or all three. Cooper Beebe is more than capable of being able to do that. While he will always be more effective at guard, he has the ability to shift to the outside in a pinch. He can fit most schemes, but will most likely do better in one that runs the ball more often.
What we want to see in Mobile
Length measurements will be critical for Beebe to continue his projection to the higher rounds of the draft. Want to see him come in with good measurements.
A step up in the competition will be big for Beebe to show what he's really capable of. The Big 12 doesn't exactly have a lot of NFL-level defensive linemen, so seeing Beebe continue to play up to the competition level will be critical.
Pre-Senior Bowl Projection: 2nd/3rd Round
Roster Projection: Year One Starter