The All-Star season is upon us! Football players across the country are receiving invitations to all-star games, and the Senior Bowl has already started to leak in accepted invitations to the game week scheduled for the last week of January and into early February. Today, we're looking at one of those players who has accepted his invitation, New Hampshire running receiver Dylan Laube.
Dylan Laube entered 2023 and was considered an HPFA by most NFL teams. He still sits in that range, but his 2023 performance could push him into the later rounds. Handled special teams duties at New Hampshire. With the rise of the running receiver in the NFL, Laube may be among the most natural candidates to fill a role for a team in the NFL next season.
Let's talk about his on-field skillset.
R-R Dylan Laube, New Hampshire Wildcats
HT: 5095
WT: 204
DOB: N/A
Year: Super Redshirt Senior
High School: Westhampton Beach (Westhampton, NY)
HS Rating: N/A
Phil Steele: N/A
An invite to both the Senior and Shrine Bowls, Dylan Laube had an offseason full of accolades and praise from the all-star games anticipating his coming. He made both the Senior Bowl Watchlist and the Shrine Bowl 1000 and was identified by Jim Nagy as one of the country's best "small-school" players. He earned awards for the Senior Bowl's offensive player of the week and the Shrine Bowl's offensive breakout player for a massive week two performance against Dartmouth, where he caught 12 passes for 295 yards and two touchdowns while adding 7 carries for 30 yards and another score.
Dylan Laube: Athletic Ability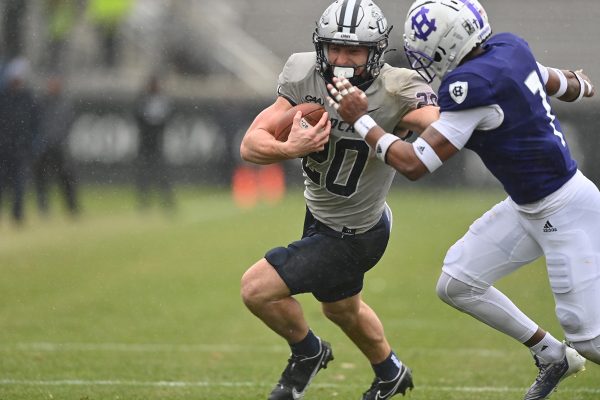 Speed/Athleticism
He has good speed and might be very good, but he hits a cap where he's moving as fast as he can move.
Change of direction is alright. Good for one cut, but after that he's pretty much a north/south runner.
Has good body control.
Strength/Explosion
Doesn't offer a lot of run power in particular.
His short burst is very strong.
Acceleration is almost unnoticeable and will see him break angles relatively consistently.
Dylan Laube: Running Back Traits
Knows how to set defenders up in space with his movement.
Decent contact balance between the tackles, tends to fall forward.
Isn't going to drag defenders for long distances or push piles consistently.
Shows decent contact balance in space.
Dylan Laube: Passing Game Ability
Receiver Skills
Good hands. Competent receiver out of the backfield and from the slot.
Strong hand-to-eye coordination.
Outstanding route runner and was used as a slot receiver as well.
Works through comeback breaks alright, maybe takes an extra step or two to get turned around.
Pass protection ability
Good power to be an effective pass protector.
Will struggle to get linebackers breaking free with a head full of steam but can get in the way and fill gaps well.
Overview
A new role we've seen open across all 32 NFL teams this season is the "running-receiver" role. A running back who can line up in the slot or out wide is special, and it's about creating mismatches across the defense. Laube fits that role extremely well. So we know that he can be a fit on all 32 NFL teams, now it's just a matter of finding the right team who wants to take that shot.
What we want to see in Mobile
Play up to the level of competition. Dylan Laube was able to dominate playing against a lot of lower-tier talent in the FCS that won't sniff the NFL – what does he do when the field is full of NFL talent?
This includes pass protection. He showed a lot of promise as a pass protector.
Pre-Senior Bowl Projection: 6th/7th Round
Roster Projection: Rotation Role