At this point, we are very familiar with the top wide receivers in the 2022 NFL Draft. Headlined by two Ohio State Buckeyes, we could see three or four receivers come off the board in the first round. However, that isn't what this piece is about. Rather, this article is about seven under the radar 2022 NFL Draft WR Prospects. The wide receivers below aren't likely to be drafted in the first or second round. Despite this, there's still quality prospects in the latter rounds.
Be sure to follow NFL Draft Lounge for more coverage on the rest of the 2022 NFL Draft WR Prospects. As always, you can find us on Facebook, Twitter, and Instagram.
Kearis Jackson – Georgia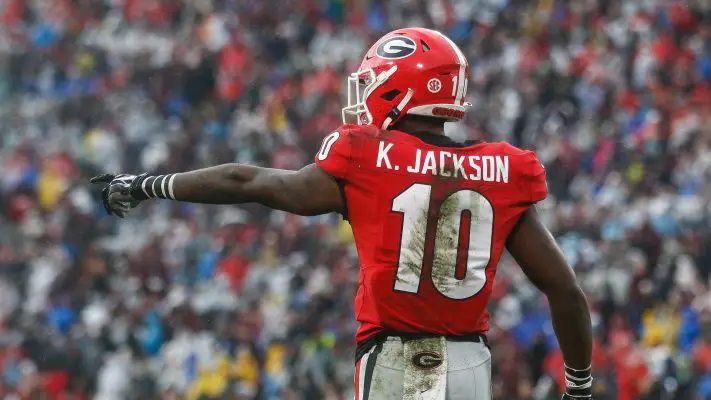 George Pickens is the most well-known wide receiver in Georgia's offense. However, in March, Pickens suffered a torn ACL. As a result, he hasn't been on the field this season. Despite this, Kearis Jackson was tied with Pickens last season as their leading receiver with 36 receptions. Furthermore, Jackson has displayed his versatility as the team's punt returner.
Kearis Jackson sees a lot of his reps in the Georgia offense from the slot position. Additionally, he's given the ball often behind the line of scrimmage through screen passes. Given his duties on special teams, Jackson excels at gaining yardage after the catch. Even further, Jackson does a great job of finding voids in zone coverage.
Despite all of this, Kearis Jackson has yet to make an impact this season for Georgia. As a result, his draft stock could take a hit this season. He's still a junior, so it's not definite that he will declare at the end of the season. With that being said, given the impact that he's had throughout his collegiate career, it's difficult not to image Kearis Jackson as one of the top promising 2022 NFL Draft WR prospects.
Jaquarii Roberson – Wake Forest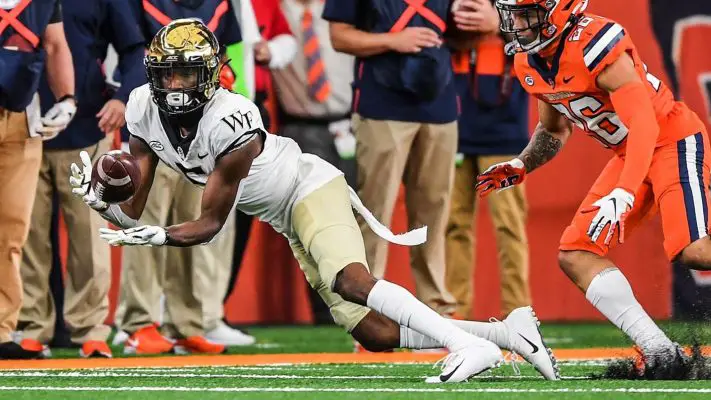 Jaquirii Roberson is a huge part of the offense for the Demon Deacons. Last season was a breakout performance for the Wake Forest wideout after posting 62 receptions in nine games. Furthermore, he finished 38 yards short of a 1,000 yard receiving season.
Roberson does a fantastic job of making difficult catches in the end zone. Additionally, he has a knack of completing the reception in traffic. Of all the prospects on our list, I firmly believe that Jaquirii Roberson is the most pro-ready. In fact, I think there are many comparisons that can be made to Laviska Shenault Jr.
Jaquirii Roberson has already made an impact this season for Wake Forest, albeit against lesser talent. Regardless, if he's able to continue to play at a high-level, he could sneak into the late-second to mid-third round of the 2022 NFL Draft as one of the most underrated WR prospects.
Khalil Shakir – Boise State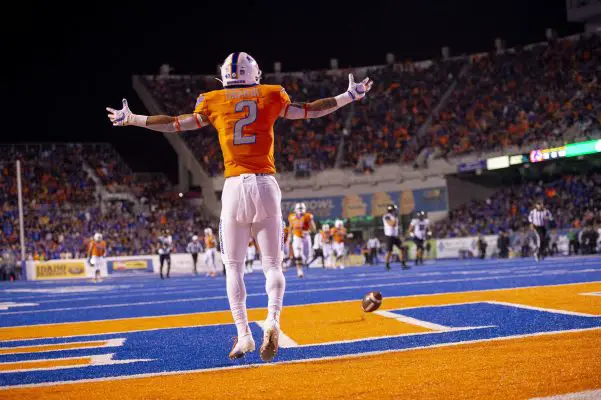 Third on our list is Khalil Shakir of the Boise State Broncos. Speed and quickness are the first two traits that identify themselves on his game film. However, on designed runs, he's very patient as he lets plays develop before accelerating upfield. Furthermore, Shakir has top-level ability to change direction quickly to evade defenders.
As part of the 2022 NFL Draft WR prospects class, I'm in complete belief that Shakir will be a top target as day three (rounds 4-7) begins. However, as a senior, Khalil Shakir is eligible to play in the Reese's Senior Bowl. In fact, he appears in the Senior Bowl Watchlist. If Shakir is able to produce a strong effort during the week of practices that lead up to the game, it could do a lot to improve his draft stock. As a matter of fact, we've seen numerous prospects capitalize from that very thing.
Romeo Doubs – Nevada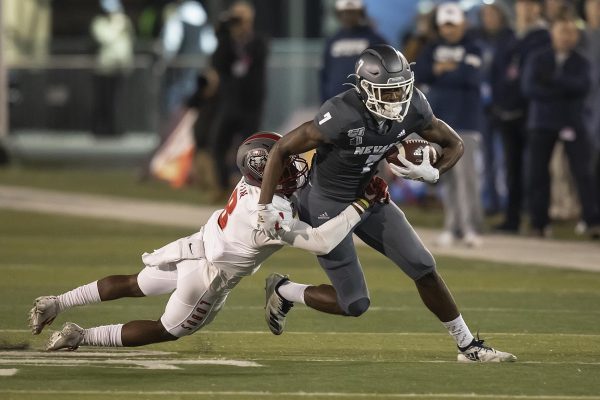 Nevada QB Carson Strong is considered to be one of the top QB's in the 2022 NFL Draft class. A large reason for Strong's draft stock continuing to rise is his teammate Romeo Doubs. Doubs is Nevada's most dangerous wideout as he consistently beats coverage deep. In doing so, the Wolfpack wide receiver is able to stretch the field and create options for Strong.
One of my favorites traits from Romeo Doubs is his route running. He's aggressive off the line of scrimmage with his violent hands, but has a knack to create space at the top of the route with his footwork. Furthermore, he's an intelligent runner that's able to manipulate coverage through head fakes, shoulder dips, and change of direction.
While QB Carson Strong is only a junior, Romeo Doubs is a senior this season. Much like Khalil Shakir, Doubs could see a boost if he's invited to participate in the Reese's Senior Bowl.
Tré Turner – Virginia Tech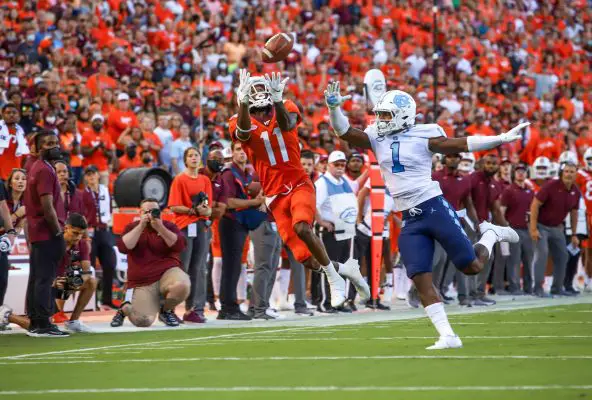 Next on our list, we have Tré Turner of Virginia Tech. His career for the Hokies has been very consistent, although it's lacking a breakout performance. During his freshman season in 2018, Turner started five games for the Hokies. Since that point, he's been a starter for Virginia Tech. Posting three straight 500 receiving yard seasons, also has 11 total touchdowns. Additionally, Turner has scored four rushing touchdowns, which just goes to show his versatility on offense.
The first thing that pops on tape for Tré Turner is his ability to win contested catches. He does a very good job of high pointing the ball and elevating his body to complete the catch. Additionally, he does a great job of tracking the ball downfield vertically, or over his shoulder to the corner of the endzone.
With the Virginia Tech Hokies playing much improved football this season, despite a loss to West Virginia, we could see Turner's draft stock rise. However, I still believe that he's a mid-day three draft selection. Nonetheless, given his abilities and versatility, he's one of my top under the radar 2022 NFL Draft WR prospects.
Dominick Blaylock – Georgia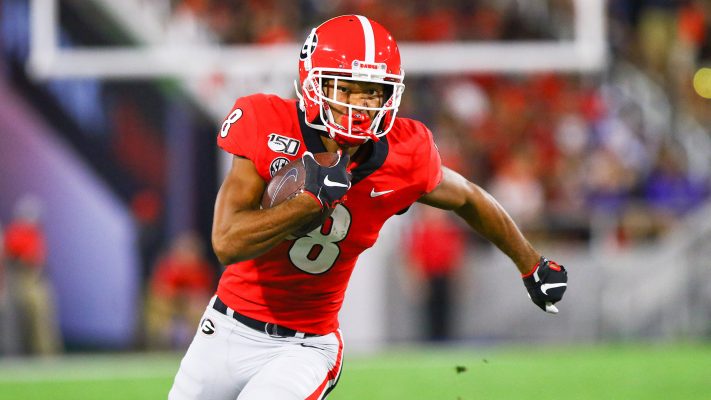 Dominick Blaylock first popped onto the scene in 2019 as a freshman. He finished with 18 receptions for 310 yards and five touchdowns. Before the season could end, Blaylock tore his ACL and had to end his freshman season early. Furthermore, he was also sidelined all of last season with a knee injury. In fact, it was the same knee, which could worry some NFL scouts. As a result of the injury, he has yet to take the field for the Bulldogs this season. Despite this, he appears to be close to a return, or at least ahead of teammate George Pickens.
Despite only being a redshirt sophomore, a strong performance this season could raise his draft stock a ton. Earlier this month, head coach Kirby Smart reported that Blaylock is "close" to coming back. When he does return, all eyes will be on Dominick Blaylock to see if he can return to form. Additionally, NFL decision makers will be watching to determine how durable his knee is.
Xavier Hutchinson – Iowa State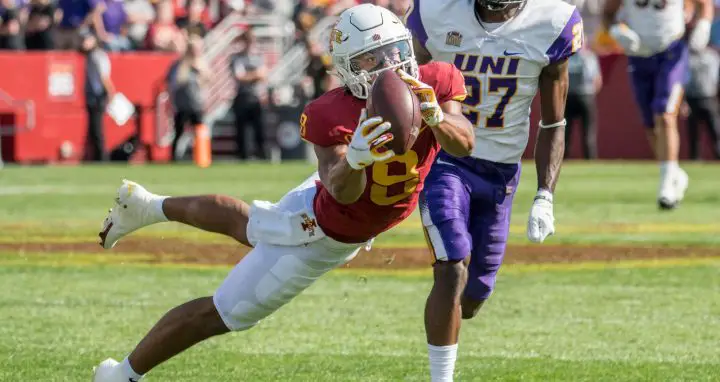 Prior to the start of last season, Xavier Hutchinson transferred to Iowa State from Blinn Junior College in Brenham, Texas. In 2020, Hutchinson finished with 64 receptions for 771 yards and four touchdowns. Considering that the offseason programmed was limited due to the pandemic, that's a heck of a performance from Hutchinson.
Xavier Hutchinson is fantastic at tracking the ball and adjusting his body to complete the catch. However, once the catch is made, Hutchinson is just as impressive at gaining additional yardage. If he can continue to perform well this season, he could play himself into a mid-day three NFL Draft pick. With that being said, I think it's likely that he's a priority undrafted free agent instead.