In March, we were supposed to have the first ever exclusive Historically Black Colleges and Universities (HBCU) football combine. The idea, founded by NFL legend Deion Sanders, was built to highlight the HBCU NFL Draft Prospects. Unfortunately, due to COVID-19, that combine was canceled. On top of that, COVID-19 is also taking away the fall season for these HBCU programs as well. The ability for these athletes to get recognized seems to be getting more difficult by the day. These small-school prospects are unsure if they'll compete for a shot in the NFL for the foreseeable future. 
HBCU football has been an overlooked feeder system to the NFL over the years. Legends such as Jerry Rice, Terrell Owens, Michael Strahan, Ed "Too Tall" Jones, and Aeneas Williams to name a few all hail from HBCU programs. Unfortunately, in this past draft only one player from an HBCU program was taken in the 2020 NFL draft. Without a fall season, it might be even harder for HBCU NFL Draft Prospects to get drafted. In this article, we will feature a few of the most talented players coming out of HBCU programs, that will hopefully get some sort of opportunity to make a name for themselves and maybe even hear their names called in the 2021 NFL Draft.
Jah-Maine Martin, RB, North Carolina A&T
(Photo via ncataggies.com)
Martin is nothing short of a beast at the FCS level. He averaged nearly 8 yards per carry with over 1400 rushing yards last season and was a slam dunk all-MEAC first-team selection. The Coastal Carolina transfer looked dominant last season. His size and strength overwhelm defenders as he falls forward or runs through opponents consistently.. He also has a great ability to make defenders miss and his deceptive speed prove to be a nightmare for defenders trying to bring him down in the open field.
Hailing from NC A&T where they are no strangers to playmaking running backs, A&T utilizes him very effectively in the running game. Where Martin will have to improve is his very minimal impact in the passing game. He only had a measly 44 reception yards last season. If he can become more of a presence in the Aggie passing attack and can continue running the ball the way he has, he should be recognized as one of the elite Running Back prospects.
Bryan Mills, CB, North Carolina Central
(Photo via nccueaglepride.com)
Bryan Mills is coming off of a fantastic junior season with NC Central. The 1st-team all-conference corner has great length standing at 6'2" and uses it to his advantage, Mills finished the season tied for first with 5 interceptions, which included three picks against conference foe Morgan State. In overall pass breakups, he finished tied for second in the conference with 13. Another one of his interceptions sealed a game against Delaware State. Due to his ability to perform in clutch moments, Mills was named to the BOXTOROW All-American team.
His playmaking ability truly makes him stand out and he has the size and length to compete for jump balls with the best of them. Where Mills can improve is by continuing to add strength. At only 170 pounds, his slight frame can get exposed by big receivers although he matches their height. However, it has proved to be risky when throwing to his side of the field and his nose for the football should make the pro scouts take a chance on him.
David Moore, OG, Grambling State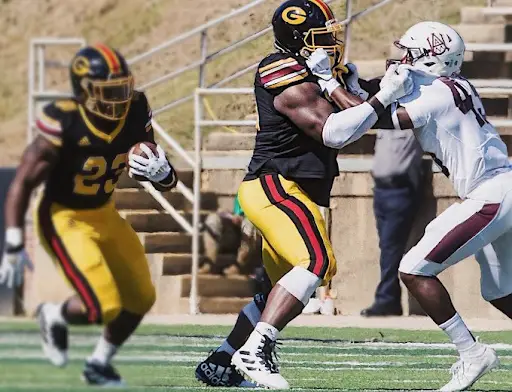 (Photo via NFL Draft Diamonds)
David Moore is known as one of the best small school draft prospects in the country. Standing at 6'3" and weighing 320 pounds his size and strength set him apart from his competition. When watching tape, it is evident to notice he is the most athletic man in the trenches on both sides of the ball on a consistent basis. His ability to get to the second level and flatten defenders provided the opportunity for the skill position players of the offense to shine. The Grambling State offense found success due to their powerful offensive line. They averaged nearly 30 points per game last season and over 200 yards rushing per game. 
Moore's impact on the field did not go unnoticed as he was voted Team MVP at the Left Guard position, which is incredibly rare. What is key for Moore is being able secure a combine invite. If he has a chance to how showcase how special of an athlete he is, it would be a shock not to hear his name called in the 2021 NFL Draft.
Donnie Corley, WR, Texas Southern
(Photo via Detroit News)
Detroit native Donnie Corley was 15th-ranked receiver in the 2016 recruiting class and was a premier recruit for Michigan State.  After an unfortunate situation at Michigan State, Corley transferred to a junior college and wound up at Texas Southern. 2019 was his first season suiting up for the Tigers and he made a name for himself immediately. He led the league in reception yards and was named the SWAC Newcomer of the Year and selected to first-team all-conference selection. He caught 72 balls for over 1000 yards.
His speed and crisp route running were on full display this past season. Corley's smoothness on his cuts made him a nightmare for opposing corners to defend. His ability to make defenders miss after the catch on an elite level will raise eyebrows of NFL scouts. Where Corley can improve is simply finding a nose for the goal line. Only three touchdown receptions last season will not be enough to get his talents the recognition it warrants.
Markquese Bell, Safety, Florida A&M
(Photo via FAMU Athletics)
Markquese Bell is going into his redshirt-Junior season with Florida A&M, therefore he does have two years of eligibility before he enters the draft. However, the immediate impact he made at Florida A&M displayed that he has the potential to be in the 2021 NFL Draft. The Maryland Terrapin transfer and New Jersey native was first-team all-conference in the MEAC. His two interceptions were key in their victory over arch rival Southern last season. Bell's speed is a huge advantage for him on the field as he is able to use it in run support and defending the pass as well. His size is also very impressive as well standing at 6'3" and weighing 205 pounds, he wins on jump balls and has the speed to stay over the top on deep routes.
Where he can improve his game is his tackling. Occasionally, Bell is caught trying to go for the big hit, rather than the sound wrap-up tackle. Additionally, he will occasionally take poor angles when trying to bring down ball carriers. These common mistakes are certainly fixable with more game experience. 2019 was his first full season on a Division-1 football field. He is an elite athlete and has the potential to make an NFL roster with his physical style of play.
Felix Harper, QB, Alcorn State
(Photo via Alcorn State University Athletics)
Felix Harper had a tremendous year in his first full year under center for Alcorn State. He was named the 2019 SWAC Offensive Player of the Year and the 2019 BOXTOROW Impact Player of the Year. Harper had big shoes to fill taking over for the previous SWAC Offensive Player of the Year Noah Johnson. However, Felix "Triggerman" Harper took his opportunity and ran with it. He was a finalist for the HBCU Player of the Year and finished 4th in the FCS with passing touchdowns with 33. Although he is undersized, he shows tremendous poise in the pocket. Harper has a very quick release and is able to release accurate passes under pressure. The Triggerman has the versatility to throw accurately on the run and in the pocket was vital to his team's offensive success.
The left-hander is fighting an uphill battle due to his size and the number of great prospects in this class. However, if he can repeat this season's performance, he could earn an NFL training camp invite.