The New York Giants finished yet another season under .500. The 4-13 2021 campaign left New York with more questions than answers, especially at important positions like starting quarterback, head coach, and even general manager. This New York Giants team needs a full reset, but the 2022 offseason provides an opportunity to do just that.
New York fired head coach Joe Judge after just two seasons and saw embattled general manager Dave Gettleman retire. With Joe Schoen and new head coach Brian Daboll installed, those two can evaluate this Giants roster, which has several spots to address.
Futile Offense in the Big Apple
The Giants finished the season ranked 31st in scoring for the second-straight season. Despite firing their offensive coordinator Jason Garrett in Week 11, New York did not improve meaningfully on the offensive side of the ball. The Giants finished the year averaging 15.2 points per game but averaged a league-low 9.8 points per game over the final eight weeks. New York scored just 26 points over their last four games total.
This New York Giants team needs an infusion of playmaking talent on the offensive side of the ball. New York finished 31st in total yards per game (286.9) and passing yards per game (187.6) while ranking 23rd in rushing yards per game (99.3). They scored the second-fest points (258) and gained the second-fewest yards (4,884) overall.
Quarterback Daniel Jones seems unlikely to get his fifth-year option picked up, considering the early inconsistencies of his career. Over three seasons, Jones has completed under 63 percent of his passes, with 45 touchdowns and 29 interceptions, netting just 6.6 yards per attempt with a passer rating of 84.3. In 2021, he was sacked 22 times in just 11 games played.
The Giants finished 2021 with the third-fewest passing touchdowns (15), but the second-most interceptions (20). New York quarterbacks combined for the third-worst completion percentage (59.2) and second-worst QB rating (70.1). The Giants' red zone percentage (44.7) ranked last in the league.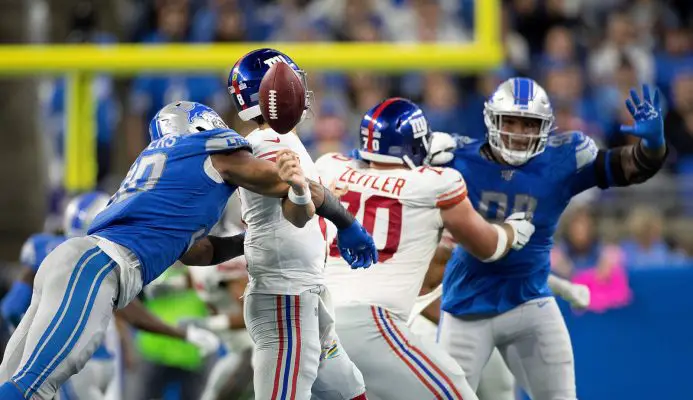 Defense Didn't Do Much More
New York's defense proved to be only marginally better than its offense. The Giants' defense allowed 24.5 points per game (24th) but finished 15th against the pass (225.8 passing yards per game). New York allowed 129 rushing yards per game (25th) and finished 21st in total yards (354.8).
New York's 34 sacks tied for the ninth-fewest this season. Their 20.1 pressure percentage was the third-lowest in 2021, and their 79 QB hits were fourth-fewest, despite blitzing 25 percent of the time (16th-most). The Giants managed just 53 tackles-for-loss, the second-fewest in the league.
The Giants allowed 4.5 yards per rushing attempt in 2021, 10th-most, and surrendered 15 rushing touchdowns. New York finished tied for 14th in takeaways (22), but that figure was more than offset by the league-leading 30 giveaways.
Giants Draft Capital and Cap Space
New general manager Joe Schoen has inherited quite the mess from his predecessor. The Giants enter the 2022 offseason as one of 11 teams over the cap. This means New York likely stays away from a major signing in the free agency market while looking to clear cap. Schoen has already gone on record to say he wants to build through the draft.
This New York Giants team needs to create more salary-cap space, and they can do that by cutting several underperforming veterans. New York can save more than $24 million by cutting James Bradberry and Sterling Shephard alone. The Giants can get to $30 million through jettisoning the likes of Blake Martinez and Kyle Rudolph as well.
There isn't a single must-have player among the Giants heading toward free agency, beyond perhaps safety Jabrill Peppers. Edge Lorenzo Carter and guard Will Hernandez could return, but they can also be replaced. The same is true for defensive tackle Austin Johnson.
This Giants team needs to use their draft assets well to address the roster holes. While Gettleman made plenty of mistakes, his trade-down in the 2021 draft with Chicago netted New York additional first-round and fourth-round picks in 2022.
The Giants draft assets in 2022 include two top-10 picks (No. 5 and No. 7), five picks in the first three rounds, and nine selections overall. New York holds Pick 4 in the second round, Picks 3 and 17 in the third round, Pick 7 in the fourth round, Picks 4 and 30 in the fifth round, and Pick 3 in the sixth round.
New York Giants Team Needs
This Giants team needs upgrades for several of their units. Beyond just quarterback, New York features an underwhelming receiving corps, a lackluster edge presence, and a shoddy offensive line.
1.     Edge
This Giants team needs a consistent pass rusher coming off the edge for this defense to take the next step. New York finished in the bottom third of the league in sacks (34), ranked 25th in sack percentage (5.3), and 30th in pass rush win rate (34 percent).
Azeez Ojulari showed promise as a rookie, leading the team with 8.0 sacks in 2021. Fellow rookies Quincy Roche (2.5 sacks) showed flashes too, but this Giants team needs more top-end edge talent.
While the top edge rushers will be gone by pick No. 5, George Karlaftis, the junior edge rusher from Purdue, could be a name to watch for this Giants draft.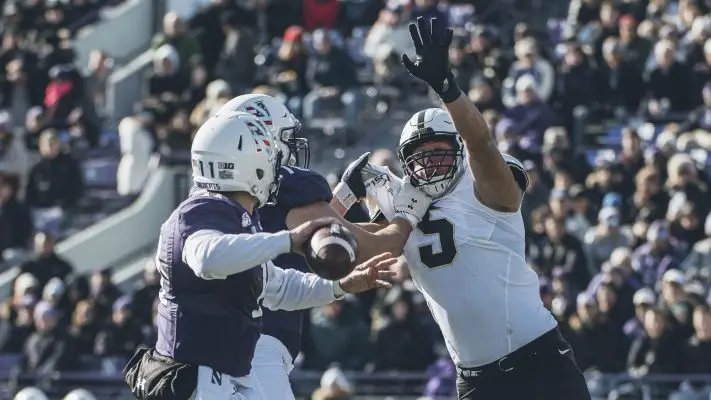 2.     Offensive Line
The Giants draft must also address shortcomings along New York's offensive line. The Giants finished 28th in pass block win rate (54 percent), and 18th in sack percentage (6.0). New York was also in the bottom third of the league in rushing yards per game (99.3), yards per rush attempt (4.0), and rushing yards (1,688).
Andrew Thomas stands as the only viable long-term starter among New York's offensive linemen, so this Giants team needs to bring in additional help. Thomas finished 10th in the league in run block win rate (78 percent), but that's about where the successes ended for New York's o-line.
Some intriguing tackle prospects that should be available between picks No. 5 and No. 7 are Trevor Penning of Northern Iowa and Ikem Ekwonu of NC State. Interior lineman Tyler Linderbaum is another name, but he's probably a reach in the top-10.
3.     Wide Receiver
This Giants team needs to identify additional playmakers on the outside. This unit stood out among the most injury-plagued for New York last season. Their big-ticket free agent, Kenny Golladay, finished with just 37 catches, 521 yards, and no touchdowns on the heels f his three-year, $72 million deal last offseason.
New York threw a league-low four touchdown passes to wide receivers in 2021. Rookie first-rounder Kadarius Toney caught 39 passes for 420 yards, but played in only 10 games and raised more questions than answers by the season's end.
Among the other New York Giants team needs entering the 2022 offseason: quarterback, linebacker, and tight end. The lack of a blue-chip prospect at quarterback makes it more likely this Giants draft will go in a different direction at that position.
Be sure to follow NFL Draft Lounge for more coverage on the 2022 NFL Draft and the offseason. As always, you can find us on Facebook, Twitter, and Instagram.