As the cliché goes, hindsight is 20/20. That's particularly true when it comes to the NFL Draft. The build-up to this yearly spectacle features countless Mock Drafts and volatile Big Boards. The postscript of the event finds talking heads passing out grades, sometimes lamenting reaches or missed opportunities. In some cases, fans immediately call for an NFL ReDraft.
Despite instant these draft grades, most pundits and analysts normally reserve fully evaluating a specific draft for at least three seasons. Redrafting NFL classes can be fun, particularly when the first overall selection is clearly not the best player to come from that draft. Boon or bust judgments emerge quickly, with some obvious in retrospect.
Those judgments become difficult when looking at specific team fits. The exercise here will take into account overall production, Pro Bowl, and All-Pro appearances, as well as years as a primary starter for his team.
So here's an NFL ReDraft of the Number 1 pick in each of the last five years. 
Who Should Have Gone First: 2021 NFL Draft
Original Pick: QB Trevor Lawrence, Clemson
Who Should Have Gone First: Too Soon To Tell
Players from the 2021 NFL Draft only have one season of pro experience at this point, so it's too soon to judge the merits of the draft order. Trevor Lawrence entered as the consensus top pick and arguably the best quarterback prospect in recent years. Lawrence, though, went to a difficult situation in Jacksonville, with a coach who wouldn't make it to the end of the season. Urban Meyer was completely unfit as an NFL head coach and largely sabotaged the development of the Jaguars and Lawrence specifically. 
Lawrence finished third among the 2021 quarterbacks in touchdown passes (12), but that figure likely jumps in 2022 under new head coach Doug Peterson and with talented receivers on the outside. Mac Jones (No. 15 overall) put up the best numbers of the five first-round QBs from this class. He'd likely land in the top-5 of a 2021 NFL ReDraft. 
Micah Parsons wouldn't go first in a redraft if considering team needs. But based strictly on production and game-changing ability, Parsons (No. 12 overall) belongs at the top of this class. After recording 13 sacks and three forced fumbles, Parsons won the Defensive Rookie of the Year award, finished second in the Defensive Player of the Year running, and earned spots at the Pro Bowl and on the All-Pro first team. 
Who Should Have Gone First: 2020 NFL Draft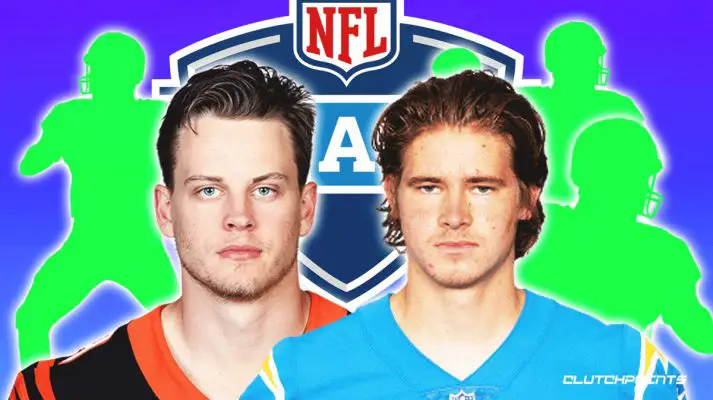 Original Pick: QB Joe Burrow, LSU
Who Should Have Gone First: QB Joe Burrow, LSU
While it's probably too soon to make any definitive judgments about the 2020 NFL Draft, the Bengals selection of Joe Burrow certainly seems to be the right pick. He's already led Cincinnati back to the Super Bowl, after a 30-year drought for the once-moribund Bengals. Although he trails Justin Herbert in overall production, Burrow's value goes beyond the numbers for those in Cincinnati, Ohio. Joe Cool's swag reinvigorated the franchise as a whole. 
And that's not to say Burrow's production isn't impressive. Down the stretch in 2021, Burrow put up MVP-level numbers. If not for a sieve of an offensive line that saw Burrow sacked 70 times (70!) last season, he might very well have brought the first Super Bowl title to Cincy.  
The other player with a real argument for the top pick in a 2020 NFL ReDraft is Oregon's Justin Herbert. He won the 2020 Offensive Rookie of the Year award after throwing for more than 4,300 yards and 31 touchdowns. He followed that up with a solid sophomore campaign, earning his first Pro Bowl berth after throwing for over 5,000 yards and 39 touchdowns. He's yet to make a postseason appearance, though. 
While these two quarterbacks would almost certainly go 1-2 in some order in any redraft, Jonathan Taylor (No. 41 overall) also has an argument. Taylor's churned up nearly 3,000 rushing yards over his first two seasons. He led the league with 18 rushing touchdowns last season, earned his first Pro Bowl berth, and was an All-Pro First Team selection. 
Justin Jefferson (No. 22) and Tristan Wirfs (No. 13) also merit top-5 consideration at this point. 
Who Should Have Gone First: 2019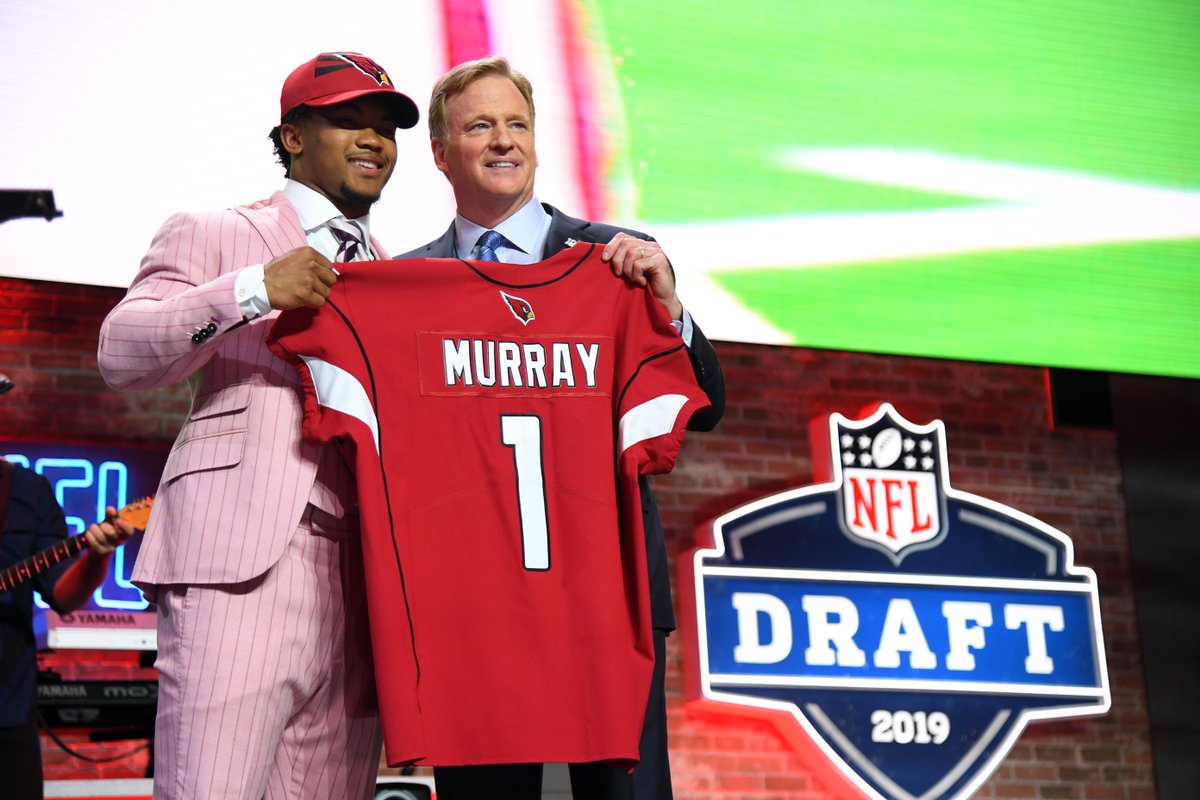 Original Pick: QB Kyler Murray, Oklahoma
Who Should Have Gone First: QB Kyler Murray, Oklahoma
While it still might be soon to tell, the top pick of the 2019 NFL Draft might very well have been correct. Kyler Murray went No. 1 overall out of Oklahoma to the Arizona Cardinals. He proceeded to have a productive rookie campaign. Murray took home the AP Offensive Rookie of the Year award after throwing for over 3,700 yards and posting over 4,000 from scrimmage overall. He registered 24 touchdowns (20 passing and four rushing).
Since then, Murray's made a pair of Pro Bowl berths and led the Cardinals to the NFC playoffs. Through his first three seasons, Murray has accounted for 90 touchdowns (70 passing, 20 rushing). No other players come anywhere close to that number. 
The 49ers made edge rusher Nick Bosa with the No. 2 overall selection in 2019. Bosa went on the terrorize opposing quarterbacks, including Murray. He registered 47 tackles (16 for loss), nine sacks, one interception, two passes defended, two fumble recoveries, and one forced fumble.
Bosa's nine sacks were third among all NFL rookies (fourth-most all-time by a 49ers rookie) and his 16 tackles for loss were tied for fifth among all NFL players. He led the NFL with 25 quarterback hits. Bosa took home the AP Defensive Rookie of the Year award. Although he missed most of the 2020 season, Bosa bounced back with 15.5 sacks (fourth-most) and earned his second Pro Bowl berth. 
18 different players have earned a Pro Bowl berth from the 2019 NFL Draft. An NFL ReDraft of 2019 probably still sees Murray go No. 1, and Bosa No. 2, but beyond that Devin White (No. 5), A.J. Brown (No. 51), and D.K. Metcalf (No. 64) could round out a new top-5. Deebo Samuel (No. 36) and Maxx Crosby (No. 106) deserve spots in the top-10, as well. 
Who Should Have Gone First: 2018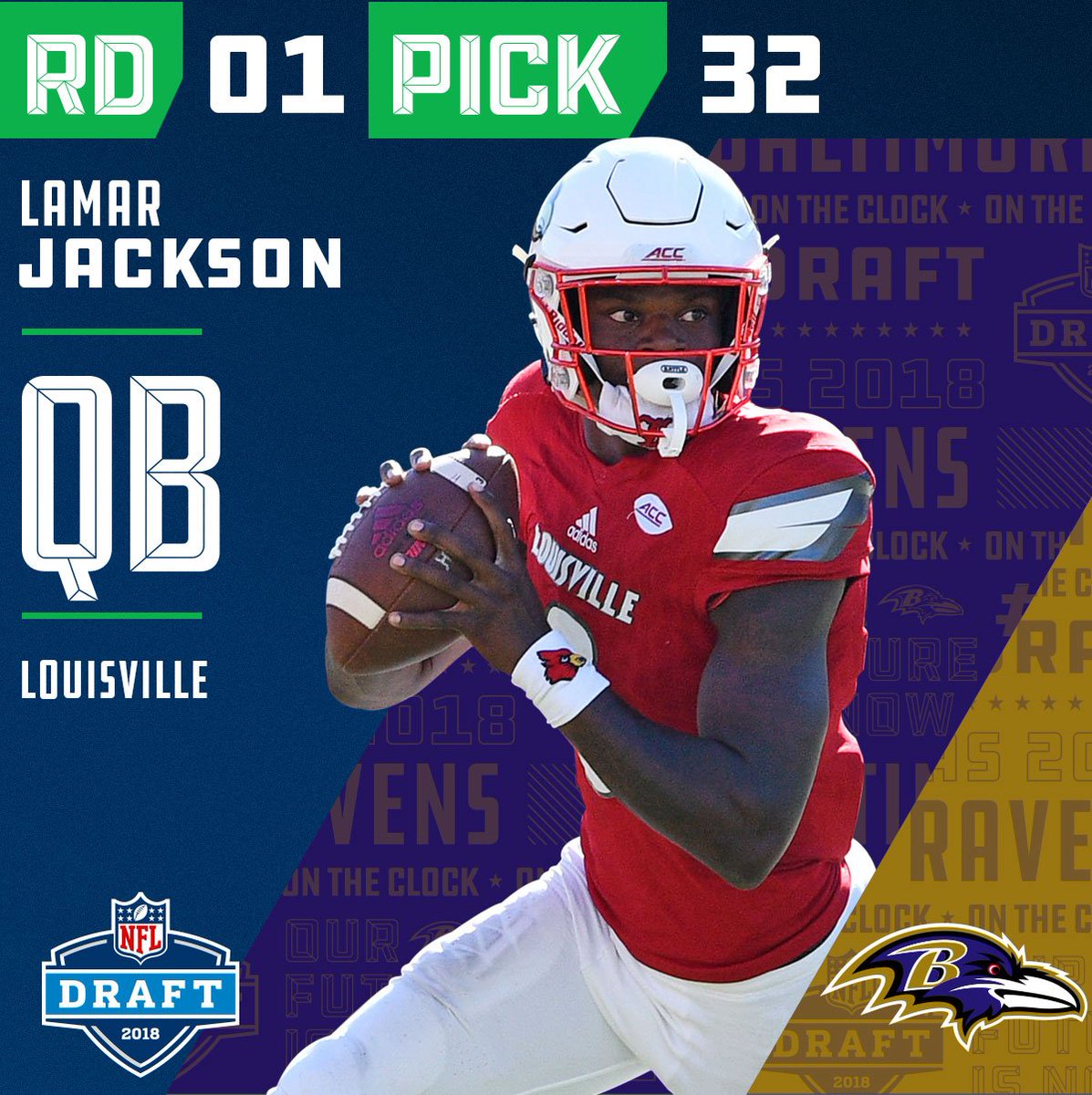 Original Pick: QB Baker Mayfield, Oklahoma
Who Should Have Gone First: QB Lamar Jackson, Louisville or QB Josh Allen, Wyoming
Entering the 2018 NFL Draft, Baker Mayfield boasted back-to-back 40-plus touchdown pass seasons, nearly 15,000 passing yards over four years, and a Heisman trophy. He shot up draft boards late in the process, leaping other prospects like USC's Sam Darnold in the process. But over his time in Cleveland, Mayfield has been inconsistent, despite the skill position talent surrounding him.
Lamar Jackson from Louisville nearly slipped from the first round entirely. He went No. 32 overall to the Baltimore Ravens and spent most of his rookie season on the bench. But as the primary starter in 2019, Jackson led the Ravens to a 13-2 record and won league MVP. He made his first Pro Bowl and earned a first-team All-Pro berth as well. He earned his second Pro Bowl berth last season.
Josh Allen has basically pulled even with Jackson atop the 2018 class and a real argument could be made that Allen should top a 2018 NFL ReDraft. Over his four seasons, Allen's earned three Pro Bowl berths and made deep playoff runs in each of the last two years. He's accounted for 134 touchdowns, most in this class so far (though Jackson would have more than 105 had he not missed time with injury).
Indianapolis Colts linebacker Darius Leonard came off the board with the No. 36 pick overall and he's arguably the best defensive player from this class. He'd certainly be a top-5 pick in any redraft of this group.
Saquon Barkley had an argument for the top spot as well following his first two seasons, but he's struggled to rebound from a 2020 injury. Nick Chubb has passed him as the most productive running back from this class. 
Who Should Have Gone First: 2017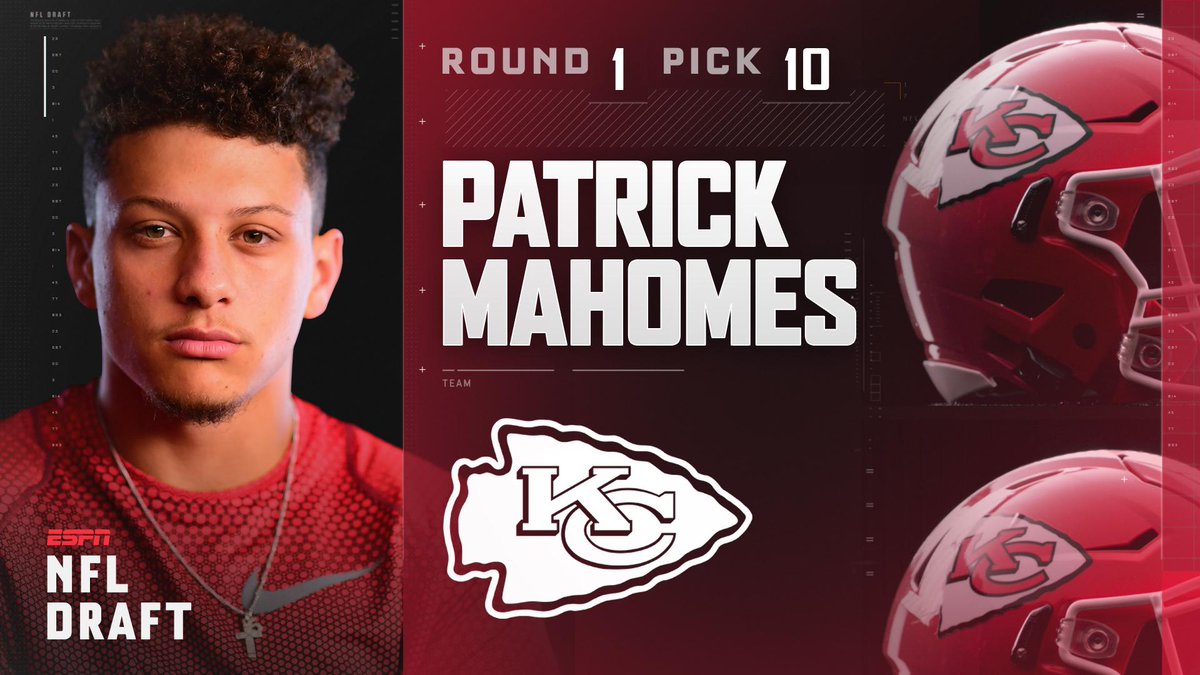 Original Pick: EDGE Myles Garrett, Texas A&M
Who Should Have Gone First: QB Patrick Mahomes, Texas Tech
The 2017 NFL Draft features several players who should have been No. 1 overall. Although Myles Garrett is not a bad football player, he's probably not the best player to come from this draft. He's best known these days for his assault on Steelers quarterback Mason Rudolph. Garrett has registered the second-most sacks in the class (30.5). He's certainly still a first-round pick in any redraft, and perhaps top-10.
Patrick Mahomes leads the pack in terms of who'd go first in a 2017 NFL ReDraft. Already with a Super Bowl win on his resumé, Mahomes also sports an MVP award, four Pro Bowls, and one first-team All-Pro berth. His 50 touchdown passes in 2018 led the league and tied for second-most in a single season all-time. Mahomes has thrown 151 touchdown passes so far and accounted for 159 TDs overall.  
The Top-5 of the 2017 NFL Draft would look vastly different if redrafted at this point. T.J. Watt, who went No. 30 overall to Pittsburgh, probably goes No. 2 now. Despite his current legal troubles, Deshaun Watson (No. 12 originally) could go No. 3. Beyond them, Alvin Kamara, Cooper Kupp, Christian McCaffery, and Ryan Ramczyk all have an argument to be top-5 as well. 
NFL ReDraft in Retrospect
Making the No. 1 overall selection becomes a much easier proposition in retrospect. Some teams find themselves reaching for players high in the draft, foregoing more established talents to fill obvious team needs. 
The worst No. 1 overall selection remains the Oakland Raiders selecting quarterback JaMarcus Russell from LSU. Calvin Johnson went No. 2 overall to Detroit and is already in the Hall of Fame. Adrian Peterson went No. 7 overall and will no doubt join Megatron in Canton soon enough. There have been other terrible No. 1 picks, too, like Steve Emtman (1992), Ki-Jana Carter (1995), and Courtney Brown (2000).
With no clear-cut top prospect for the 2022 NFL Draft, the Jaguars find themselves in a difficult position. As long as they don't trade the top pick, Jacksonville will be just the third franchise in the draft's modern era to make the No. 1 overall pick in back-to-back years. Both the Cleveland Browns (2018-2017, 2000-1999) and Tampa Bay Buccaneers (1987-1986, 1977-1976) have selected first two years in a row. 
Be sure to follow NFL Draft Lounge for more coverage on the 2022 NFL Draft and the offseason. As always, you can find us on Facebook, Twitter, and Instagram.