The 2022 NFL offseason shocked many fans following player movement. With marquee names changing teams almost daily through the first few weeks of free agency, the futures of many franchises have been forever altered. But it's not just those transactions that have moved the needle this offseason. Trades reshaped the 2022 NFL Draft landscape, especially in the first round.
Trades Change the 2022 NFL Draft
The quarterback carousel spun significantly this offseason, with Pro Bowlers swapping teams. Among the trades involving quarterbacks alone, 20 draft picks were involved, flipping from team to team, with a whopping 13 of those selections coming from the deals involving Russell Wilson and Deshaun Watson.
All told, 10 trades over the last two offseason have involved first-rounders in 2022. Nine of the top-32 pick coming in April have changed hands at least once. The two New York teams made the best moves heading into the draft, with their trades landing them each a second top-10 pick in April's proceedings. The Giants hold picks No. 5 and No. 7 overall, while the Jets sport picks No. 4 and No. 10.
The Eagles also positioned themselves to address their team needs with a pair of trades involving first-rounders. Philly facilitated the Dolphins' move up in the first round last year and netted an extra first for their trouble. The Eagles added another when they flipped Caron Wentz to the Colts. Holding picks 15, 16, and 19 makes Philadelphia major players on Day 1, perhaps setting up future trades in the 2022 NFL Draft.
The Texans added a second first-round pick when they sent Watson to Cleveland. That deal also added future draft capital for the Texans with extra first-rounders in 2023 and 2024. Houston enters April with the No. 3, No. 13, and No. 37 overall selections.
Three other teams currently hold two first-round picks via trades ahead of the 2022 NFL Draft: the Lions (Nos. 2 and 32), Packers (Nos. 22 and 28), and Chiefs (Nos. 29 and 30).
Factor in the moves involving second- and third-rounders, 26 picks between Days 1 and 2 have been dealt already. No doubt similar shenanigans await in the days to come.
Wide Receivers On the Move
Many teams have addressed roster needs through free agency and trades prior to the 2022 NFL Draft. Mock Drafts all over the internet have been forced to adjust to all of the moves this offseason. But with most of the major signings out of the way, what effect these free-agent additions and trades will have on the 2022 NFL Draft is yet to be known.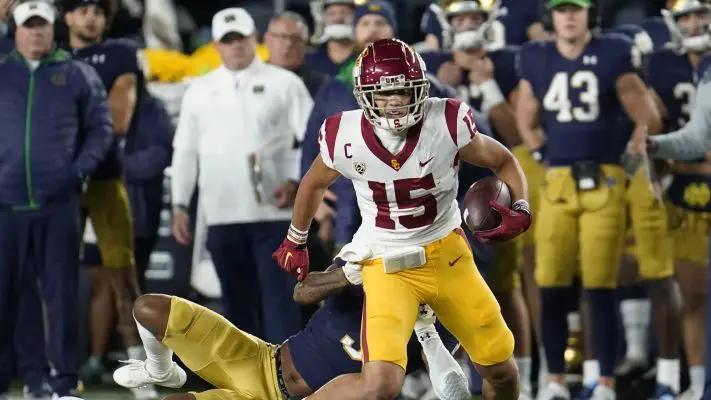 Notable free agent wide receivers switched teams this offseason, in addition to the game-changing deals involving Davante Adams and Tyreek Hill. These moves leave some teams needing help at receiver, most notably the Chiefs, Packers, and Patriots.
The 2022 Big Board lists six wide receivers among the top-32 prospects, including one, Ohio State's Garrett Wilson in the top-10. USC's Drake London and Penn State's Jahan Dotson round out those with first-round grades and high potential. With these game-changing talents on the outside, it would be no surprise if Kansas City opts to package its two first-rounders to trade up.
The Patriots could find one slips to No. 21. But the Packers may need to make a trade up, considering their offseason losses and the fact that as many as seven teams ahead of them (Giants, Jets, Washington, Houston, Philadelphia, New Orleans, New England) could conceivably choose a receiver.
Even playoff teams like the Cowboys and Titans, squads that have made moves with wideouts already this offseason, could elect to nab one of the talented receivers in this class early.
Quarterbacks Still in Question for 2022 NFL Draft
Although this year's quarterback class lacks the franchise-changing talent of previous years, there are still a few QB-starved situations out there. The league has seen an unprecedented amount of signal-caller talent switch teams, but a few franchises still need to address this position. There's no doubt some teams will select quarterbacks in the first-round of the 2022 NFL Draft.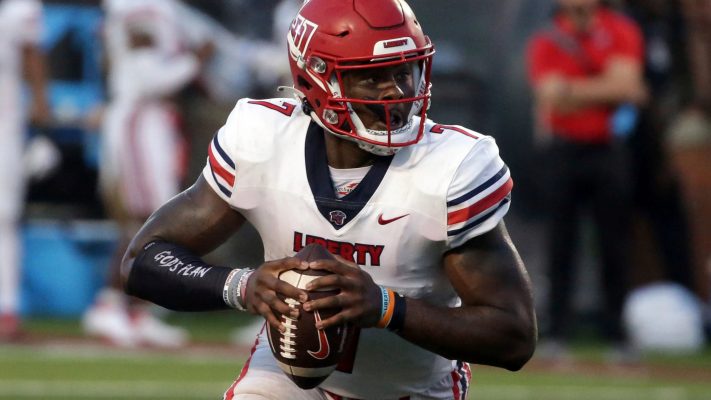 The Panthers hold the No. 6 overall selection and find themselves needing a new quarterback. Sam Darnold started 2021 well but faded to the point where this is a position of need for the Panthers. The Cam Newton reunion didn't work out for Carolina, either. Many see their first-round pick as a pivotal point for QBs, but this team also has dire needs along the offensive line.
The Falcons flipped former MVP and face-of-the-franchise Matt Ryan to Indianapolis a week ago but received only a third-round pick in return thanks to Ryan's hefty contract. Atlanta immediately moved to fill their quarterback void with a stopgap in Marcus Mariota. That leaves quarterback a long-term need for the Falcons, who could be the first team to take a QB with their No. 8 overall selection. That's barring any trades for a 2022 NFL Draft pick ahead of theirs.
The Seahawks shipped away their nine-time Pro Bowl quarterback to Denver. And although they received Drew Lock as part of the return package, nothing in Lock's career thus far indicates he's the long-term answer under center. Seattle holds the No. 9 overall pick thanks to the Wilson trade and could take a quarterback there.
The Steelers also have a clear need at quarterback following the retirement of Ben Roethlisberger. Pittsburgh signed Mitchell Trubisky, but he, like Mariota, feels like a stopgap. The Steelers reportedly love Malik Willis, but it's hard to imagine the Liberty QB making it to their pick at No. 20 overall.
Other Quarterback Possibilities for 2022 NFL Draft
Teams like Houston, Minnesota, New Orleans, Tampa Bay, and Washington all also have a potential long-term need at QB. It's unclear whether any of those teams would be willing to use first-round draft capital for quarterbacks for the 2022 NFL Draft. That said, the 2021 NFL Draft saw five of the first 15 picks used on quarterbacks, so there's no doubt some teams will look to fill a need at QB.
The Lions hold the No. 2 overall selection and have a long-term need at QB, too. That said, Detroit has veteran Jared Goff on the books for another three years at more than $50 million. The Lions have too many needs and other roster holes to justify a huge reach for a quarterback. However, they could shop the pick in trades, which would further alter the 2022 NFL Draft.
The two quarterbacks that have seen their stock skyrocket of late are Willis and Pittsburgh's Kenny Pickett. Both players could find themselves early first-round selections. Ole Miss' Matt Corral may also be a first-round pick following the impressive showing at his recent Pro Day.
Edge Rushers Abound
One of the deepest positions in this draft comes at a premium position of defense: edge rusher. Pro Football Focus listed edge and offensive tackle as the two positions with "A" grades ahead of the 2022 NFL Draft. Interestingly, every single NFL Draft since 2000 has seen either a quarterback, edge rusher, or offensive tackle come off the board first.
While quarterbacks have ruled each of the last four drafts, and five of the last seven, there's a real chance the Jaguars take an edge rusher with the No. 1 overall selection this time. Although the Jags also have a need at offensive tackle, talented players like Aidan Hutchinson and Kayvon Thibodeaux might be too good to pass over.
The Lions also have need at edge, and would love for the Michigan product, Hutchinson, to be on the board when they select No. 2 overall. NFL Draft Lounge's latest Mock Draft has three edge rushers coming off in the top-10, including Georgia's Travon Walker.
Beyond those three, this position group sports first-found talents in Purdue's George Karlaftis, FSU's Jermaine Johnson, and, Michigan's David Ojabo, whose unfortunate Achilles' injury may ultimately cost him his first-round slot.
With trades in the 2022 NFL Draft netting them extra top-10 picks, both the Giants and Jets could address this need early on. The Eagles could use one of their three picks on an edge rusher. The Texans, meanwhile, could either use No. 3 overall on an edge, then take a tackle at No. 13, or vice versa.
Tackles Among the Top of the Class
All these trades in the first round of the 2022 NFL Draft set up serious intrigue in the top-10. Six of the top 10 prospects in this class, and eight of the top-15, are either an edge rusher or offensive tackle. Perhaps the most intriguing element of the draft might be this Edge versus Tackle dynamic.
Alabama's Evan Neal, N.C. State's Ikem Ekwonu, and Mississippi State's Charles Cross represent three of the top seven players on not only PFF's big board but many others. These three prospects feature an elite status up there among some of the best tackle classes in recent years. Beyond those there, there's solid first-round depth at this position with Northern Iowa's Trevor Penning and Central Michigan's Bernhard Raimann.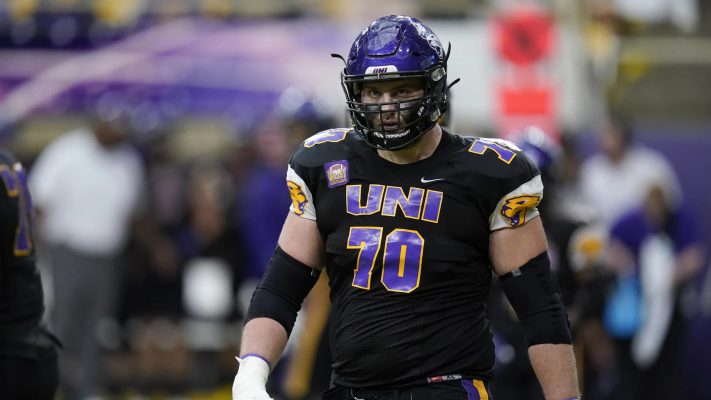 The Jaguars have need at both positions, as do the Texans. It's possible the top edge rusher and top tackle in this draft end up in the same division. The same could be true with Carolina and Atlanta, where another pair of top prospects may end up as divisional rivals.
The Giants, again holding two top-10 picks, need someone opposite Andrew Thomas at right tackle. The Saints may go with a tackle at pick No. 18. The Seahawks and Steelers have need at the position, too.  The Broncos, who don't have a selection until the end of the second round, also need a right tackle.
The volatility these trades have brought to the 2022 NFL Draft will no doubt keep analysts and fans guessing until the teams are no longer on the clock. Many of these moves carried implications for the betting odds associated with this year's draft.
Be sure to follow NFL Draft Lounge for more coverage on the 2022 NFL Draft and the offseason. As always, you can find us on Facebook, Twitter, and Instagram.