The Philadelphia Eagles welcomed a new head coach and leaned into the Jalen Hurts era in 2021. Philly finished 9-8, snagging a spot in the NFC playoffs. Despite the somewhat surprising results, this Philadelphia Eagles team needs to build around its young quarterback in order to become a true contender.
Eagles' Run-Centric Offense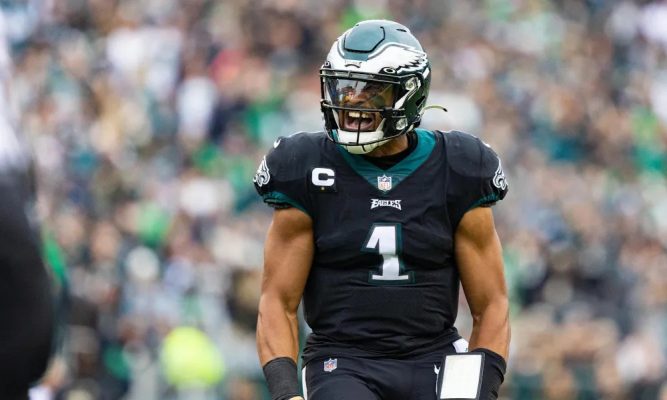 Although some still question his long-term outlook, Hurts helped lead the Eagles to the playoffs with a solid season. Hurts completed 61.3 percent of his passes for 3,144 yards, with 16 touchdowns but nine interceptions. The Eagles finished with just the 21st-ranked passing offense, though (202.8 passing yards per game).
Where Philly excelled last season was on the ground. The Eagles ranked first in rushing yards per game, 156.0. Hurts led the team and all quarterbacks in rushing yards (784) and rushing touchdowns (10). Miles Sanders and Boston Scott combined to rush for over 1,000 yards. These guys ran behind one of the better offensive line units in the NFL.
Rookie DeVonta Smith had a solid first season for Philadelphia, but beyond that, the wide receiver corps did very little. Jalen Reagor was particularly disappointing. The Eagles traded away longtime tight end Zach Ertz, giving Dallas Goedert the full-time role. Goedert finished second on the team in catches (56), receiving yards (830), and receiving touchdowns (4). The Eagles finished 14th in scoring (24.2 points per game).
Philly's Solid Defense
The Eagles sported a solid defensive unit that finished top-10 in both total yards per game (329.9) and rushing yards (107.8). Philadelphia ranked 11th against the pass, allowing 222.2 passing yards per game. The team finished 15th in scoring defense (21.9 points per game).
Darius Slay returned to his All-Pro form in 2021, nabbing a team-highs in interceptions (3) and pass deflections (9). He finished with 52 tackles and scored three defensive touchdowns last season. Linebackers Alex Singleton (137) and T.J. Edwards (130) led the team in tackles, while Davion Taylor was solid off the bench with 41 tackles in nine games and two forced fumbles.
The Eagles finished fourth in pass-rush win rate as a team (49 percent), but registered just 29 sacks (second-fewest). They ranked 22nd in pressure percentage (24.0). Philly tied for 25th in QB Hits (83). This Philadelphia Eagles team needs to get home more often in 2022.
Josh Sweat ranked third in pass-rush win rate (26 percent) among edge defenders and tied Javon Hargrave for the team lead in sacks (7.5). Hargrave ranked third in that metric (19 percent) for defensive tackles. Philly finished ninth against the run (107.8 rushing yards per game) and 17th in run-stop win rate (31 percent).
Eagles Draft Capital and Cap Space
This Philadelphia Eagles team needs more pressure on opposing quarterbacks in 2022, and they've looked to address that need in free agency. Philly signed outside linebacker Haason Reddick to a three-year, $45 million deal to help address that need. Reddick registered 23.5 sacks over the past two seasons (fifth-most) with his eight forced fumbles (tied for the third-most).
According to OverTheCap.com, the Eagles sport more than $23 million in cap space following the first wave of free agency. The team brought back defensive end Derek Barnett on a two-year deal and safety Anthony Harris on a one-year deal, but they lost Singleton.
Philadelphia general manager Howie Roseman made several moves to land three first-round picks but kept the Eagles out of the quarterback carousel despite having plenty of draft capital. Roseman announced Hurts will be the starting quarterback in 2022.
The Eagles draft features 10 selections, including three picks in the top-20, five through the draft's first two days, and three more in the fifth round. This collection of picks ranks sixth on the draft value chart. It affords Philly the flexibility to either choose the best player available or package picks to trade-up for a prized prospect.
Eagles draft capital:
First Round: No. 15 (from Miami), No. 16 (from Indianapolis), No. 19 (own)
Second Round: No. 51 overall
Third Round: No. 83 overall
Fourth Round: No. 124 overall
Fifth Round: No. 154 (from Washington), No. 162 (own), No. 166 (from Arizona)
Sixth Round: No. 194 (from Indianapolis)
Philadelphia Eagles Team Needs in 2022
This Philadelphia Eagles team needs to provide Hurts with another prolific weapon on the outside while addressing the weakness in sack production. The loss of Alex Singleton in free agency also created a need in the middle of the defense. Roseman has the draft ammunition to go get almost any player he wants the Eagles to draft.
1.     Wide Receiver
The 2022 Big Board features six wide receivers with first-round grades. It's one of the deepest position groups in the draft. Considering the lack of production outside of Smith, the Eagles could draft another first-round receiver and do well.
The addition of Zach Pascal in free agency helps, but the Eagles would do well to pluck one of these first-round talents at wideout as well. Ohio State's Chris Olave and Arkansas' Treylon Burks could both be available with any of Philly's mid-first-rounders.
2.     Linebacker
The Eagles lost their team leader in tackles when Alex Singleton signed with the Denver Broncos. T.J. Edwards looked good once he became a regular starter, but Philly could use a talent upgrade for this position. The Eagles haven't drafted a linebacker in the first round since 1979.
Utah's Devin Lloyd would fill the void at linebacker with an exciting young, off-ball talent. One of the best all-around defenders in college football last season, Lloyd registered 111 tackles, eight sacks, four interceptions, and a forced fumble. Georgia's Nakobe Dean could be another option.
3.     Edge Rusher
Philadelphia's defense ranked 31st in sacks last season, registering 29. Eagles edge rushers accounted for just 10.5 of those. The team brought back Derek Barnett, but he's underwhelmed in his time with Philly.
While they won't be in the mix for the top-tier pass rushers in the 2022 NFL Draft, all of whom will be off the board by No. 15, the Eagles could consider Florida State's Jermaine Johnson II with one of their first-round picks.
Among the other Philadelphia Eagles team needs are cornerback, safety, tight end, and interior offensive line.
Be sure to follow NFL Draft Lounge for more coverage on the 2022 NFL Draft and the offseason. As always, you can find us on Facebook, Twitter, and Instagram.