Although the Houston Baptist University football team struggled in their shortened 2020 season, their quarterback Bailey Zappe began his case to be selected in the NFL Draft. In that 4 game season, Zappe in just four games last season threw for 1,833 yards for 15 touchdowns and just 1 interception.
After Zappe's excellent 2020 campaign, he decided to forgo the NFL draft and enter the transfer portal. He decided to take on the challenge of playing at the FBS level he enrolled at Western Kentucky University. Once Bailey Zappe won the starting job at WKU, he has contributed to his case to be in the 2022 NFL Draft.
2021 Stats
Through five games, he has thrown for 2,231 yards with 21 touchdowns (which both rank 2nd in the NCAA) and only 3 interceptions. In terms of yards per game, he is currently leading the nation in that category with second place being 37 yards behind him. Those numbers have come against very solid competition playing the likes of Army, Indiana, and currently undefeated Michigan State thus far. Each of those games he led the offense to score 30 or more points against each opponent they have faced. In this coming NFL Draft, there most likely will not be a statistically more impressive quarterback than Bailey Zappe.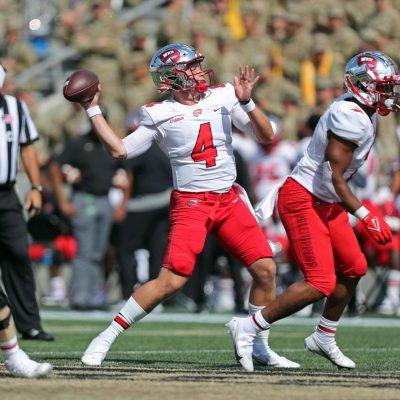 Throwing Ability
When analyzing the film of Bailey Zappe, it is evident that his strengths have helped him ease into FBS football. Thus far, he has made the jump from FCS to FBS look easy.
Firstly, he has incredible accuracy. Whether it is in the short passing game or driving the ball down the field he seems to know exactly where the ball needs to be and get it there. He throws a great spiral with excellent touch that makes it easy for his receivers to catch. A prime example of this below:
Hey there Bailey Zappe pic.twitter.com/2OmnRrfzv8

— Cory (@realcorykinnan) October 5, 2021
That being said, he knows when to fire it as well. His control of the football is among the best in the country. He can manipulate the velocity and the placement of the football is second to none. Pairing that with his feel of the game knowing when to decide to put some air under it or fire it in a tight window like he does below. This ability makes Bailey Zappe shine leading into the NFL Draft.
Jerreth Sterns caught a 20-yard pass from Bailey Zappe for his 7th TD on the year @WKUFootball pic.twitter.com/1iKiy19OLk

— Stadium (@Stadium) October 10, 2021
Decision Making and Pocket Presence
Another essential attribute of his is his decision making. During his three years starting at Houston Baptist, he improved his TD:INT ratio each season and made his biggest leap in 2020 from the 2019 season. In each of his games in the past two seasons, he has thrown for over 4,000 yards with 36 touchdowns and just 4 picks. In those 9 games, he has averaged approximately 51 passing attempts per game. Those numbers exemplify his excellent ability to make quick, smart decisions with the football. Zappe shows the ability to balance when to take shots down the field and when to check it down.
His successful decision making is in large part due to his command of the pocket. He does not get happy feet and panic when he is back there. Zappe has the ability to escape the pocket and throw on the run, when necessary. He has a great feel of where the pressure is coming from and just how much time he has. His ability to move in the pocket and give himself space to make plays he wants to make is elite. Below is a great showing of that touch and his pocket presence.
Bailey Zappe in the NFL Draft
In a year where the QB class is getting less and less clear cut with the disappointing performances of some of year's most hyped prospects. Preseason Heisman favorite Spencer Rattler of Oklahoma is coming off getting benched in Oklahoma's biggest game of the year. Sam Howell, who was second-favorite in the Heisman race has struggled this season as most of his weapons from last season are now in the NFL. Throw in significant injuries to D'Eriq King and Dillon Gabriel and it gets more unclear as to who will be of the first quarterbacks to be called in the NFL Draft.
Even after Zappe's electric 2020 season, he came into this season was 48th-ranked quarterback according to the PFF preseason QB rankings. It is pretty safe to say he has far outplayed that ranking and that has not gone unnoticed. In recent drafts, there are always a sudden emergence of a prospect who did go into the season with a ton of attention, but whose play skyrocketed their stock come draft night. If he keeps up the level of play, Bailey Zappe could just be this year's Zach Wilson.