The Carolina Panthers opened 2021 on a roll, but that 3-0 start is long forgotten in the Queen City. The Panthers managed just a 2-12 record the rest of the way, including ending the season on a seven-game losing skid. Those losses came by an average margin of 16 points, indicating this Carolina Panthers team needs to improve on offense in order to compete in 2022.
Head coach Matt Rhule survived the late-season collapse, but he's sitting squarely on the hot seat for 2022. General manager Scott Fitterer stands with an enormous task ahead of him, with limited assets to improve Carolina's roster.
Toothless Offense for the Panthers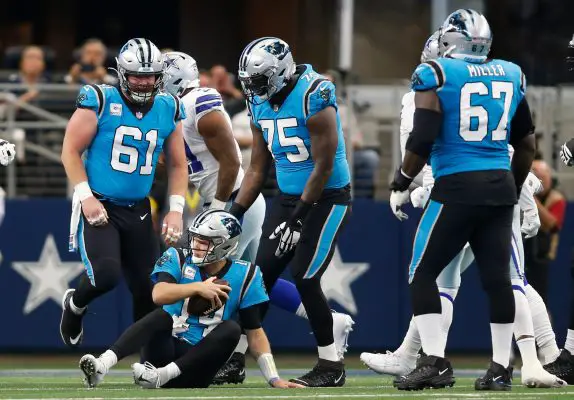 The Panthers' gamble on Sam Darnold seemed like it was paying off early in 2021. Carolina navigated the first quarter of the season with a 3-1 record, and Darnold put up 1,189 passing yards with 10 total touchdowns and just four turnovers over that stretch.
But then disaster struck. Over the next five weeks, the Panthers went 1-4 with Darnold under center. The fourth-year QB turned the ball over nine times versus only two touchdown passes. What's more, Darnold missed the next five games following a fractured scapula, and his return yielded less-than-impressive results.
This Carolina Panthers team needs upgrades on offense, considering it stood among the worst units in the NFL last season. Carolina ranked 30th in total yards per game (298.8), 29th in passing yards per game (190.5), and 29th in scoring (17.8). 10 of the team's 17 games finished with the Panthers scoring less than 20 points, and five of those saw the team end with 10 points or fewer.
Beyond questions at quarterback, Carolina's offensive line certainly didn't help matters. That unit allowed the highest pressure percentage (28.3 percent), the third-most hurries (82), and the fifth-most sacks (52) in 2021. The Panthers' o-line ranked 26th in run block win rate (68 percent) and 29th in pass block win rate (50 percent).
Christian McCaffrey endured another injury-shortened season in 2021, this time playing only seven games after his 3-game 2020 campaign. One of the most impactful offensive players in the league when healthy, McCaffrey's missed 23 of the last 33 games for Carolina, which makes the four-year, $64 million deal he signed last year even more questionable. The Panthers pieced together a passable running game in 2021, ranking 20th in rushing yards per game (108.4).
Decent Defensive Efforts in Carolina
Perhaps the lone bright spot for Carolina in 2021 was the play of its defense. The Panthers ranked second in total yards allowed per game (305.9) and featured one of the league's top pass defenses, allowing just 192.1 passing yards per game (3rd). They surrendered the second-fewest total yards (3,491) and second-fewest passing yards (2,120) last season but ranked 20th in scoring defense (23.7 points per game).
Carolina ranked second in the league in pass rush win rate (51 percent) and registered the 15th-most sacks (39). Haason Reddick, who's entering free agency, led the team with 11 sacks and tied for the team lead in QB Hits (18).
The Panthers were top-10 as a third-down defense, allowing conversions 37.8 percent of the time. That was better than nine playoff teams from last year. While the Panthers have an enviable young secondary core of safety Jeremy Chinn and cornerbacks Jaycee Horn and C.J. Henderson, the team did allow the fourth-worst passer rating on the outside (107.8) last season.
Panthers Draft Capital and Cap Space
This Carolina Panthers team needs to manage its cap space very carefully, considering six players eat up more than half of the projected cap for 2022. What's more, a number of key defenders, like Reddick and cornerback Donte Jackson, are entering free agency. According to Over the Cap, the Panthers enter with just over $12 million in salary-cap space, the 17th-most room in the league.
Carolina can create space by cutting veteran cornerback A.J. Bouye, saving $3.5 million, as well as veteran linebacker Shaq Thompson. Although Thompson was second on the team in tackles (104), he's on the books for $18.2 million in 2022. Cutting him would clear $12 million for a Panthers team that needs upgrades at several positions.
Darnold's more than $18 million salary remains fully guaranteed heading into 2022, making him virtually untradeable at this point. Darnold seems set in Carolina for at least one more season, but maybe not as the starter.
While the Panthers draft starts with the No. 6 overall selection, Carolina doesn't hold another selection inside the top 100 as of yet. GM Scott Fitterer sent away the team's 2022 second and fourth-round picks as part of the Darnold deal and flipped their third-round selection to the Jacksonville Jaguars as part of the swap for Henderson.
This Carolina Panthers team needs to manage the remainder of its selections well to help plug holes on the roster. Carolina enters the 2022 NFL Draft with six total selections, including No. 105 overall in the fourth round, picks 142 and 147 in the fifth round, pick 199 in the sixth round, and pick 220 overall in the seventh round.
Fitterer could trade down from No. 6 to acquire additional draft picks, especially considering this year's quarterback class seems underwhelming. Carolina could also entertain offers for McCaffery, which may help build their asset base.
Carolina Panthers Team Needs
This Carolina Panthers team needs help in a number of areas heading into the 2022 season. It's clear neither Darnold nor Cam Newton, who's a free agent, is the long-term answer at quarterback. Leaving the offensive line unaddressed could further sabotage the signal-caller situation. And they need to find additional playmakers on the outside.
1.     Left Tackle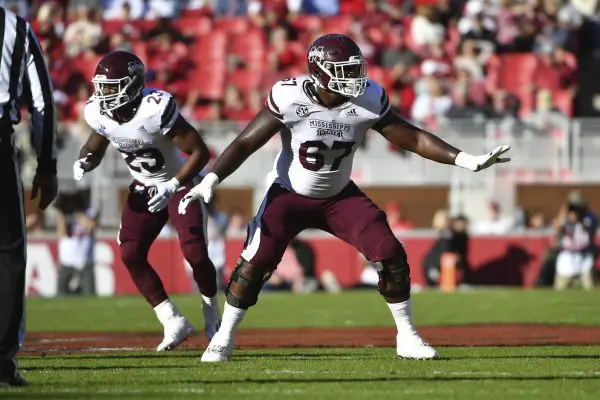 Carolina's offensive line was abysmal in 2021, and no position has been more of a problem for the Panthers than left tackle. Cam Erving allowed 31 pressures at the position last season, and Pro Football Focus ranked Carolina's o-line 31st in the NFL following 2021. The Panthers started 12 different starting combinations along the offensive line and didn't find a suitable one.
Left tackle has been a turnstile in Carolina since Jordan Gross retired in 2013. The Panthers saw 14 different players start at LT between 2014-20, with four different tackles starting there last season. The Panthers haven't spent a first-round pick on an offensive lineman since 2008 (Jeff Otah). They'd be wise to invest their No. 6 pick in this position rather than reaching for Kenny Pickett or Malik Willis.
Mississippi State's Charles Cross became a dominant pass-protector in 2021. After allowing 44 pressures on 574 pass-blocking snaps in 2020, he gave up only 16 pressures on 719 pass-blocking snaps last season. Alabama's Evan Neal and NC State's Ikem Ekwonu would also be valuable first-round additions if available.
2.     Quarterback
The Panthers draft could start with the selection of a quarterback at No. 6 overall, but that would be a reach with this class. Missing on Darnold, and witnessing the flameout of Cam Newton upon his return, makes this a position of need for Carolina, but taking someone like Sam Howell that high seems like it would compound previous errors.
If the Panthers team needs along the offensive line get addressed in free agency, they'll likely have their pick of the quarterbacks from this class. Howell took a step back as a passer in 2021. However, he's a proven dual-threat who could make up for pass blocking concerns. Willis showed out at the Senior Bowl, but don't rule out Pickett, who actually committed to Matt Rhule at Temple before his senior year in high school.
3.     Linebacker
While the Panthers draft has leaned heavily on defense over the last two seasons (11 of their 18 picks), they may have to do so once again in 2022. The lack of depth at linebacker is among Panthers team needs to be addressed moving forward. That weakness could only be compounded should the team cut ties with Thompson and see both Reddick and Jermaine Carter Jr. walk in free agency.
Utah's Devin Lloyd could be someone in the mold of Micah Parsons. He made 90 tackles and four interceptions in 2021. While playing as an edge rusher, Lloyd registered eight sacks, seven QB hits, and 16 hurries.
Other Carolina Panthers team needs entering the 2022 offseason include interior offensive linemen, wide receiver, and tight end.
Be sure to follow NFL Draft Lounge for more coverage on the 2022 NFL Draft and the offseason. As always, you can find us on Facebook, Twitter, and Instagram.