I've long been an NFL Draft addict, but this is my first time covering it for NFL Draft Lounge. My path to today accidentally began at my bachelor party, which just so happened to be on the night of the 1st round of the 2021 NFL Draft.  That story is below.  Otherwise, feel free to skip ahead to the picks in this final 2023 NFL Mock Draft.
My best man, knowing me well, made a game of predicting the top 10 picks (I certainly would've gone all 32, but not so much for all the attendees).  If you don't remember, most people were confident the top two picks would be Trevor Lawrence and Zach Wilson so essentially the draft, and the bachelor party game, started at 3. The rumor, met with plenty of skepticism, had been that the 49ers traded up for Mac Jones even though many assumed it had been for the athletic yet inexperienced Trey Lance. Lucky for me, unlucky for most of my competitors, and probably thanks to my addiction to reading every possible draft rumor even on the weekend of my wedding, I picked correctly. I viewed picks 4 and 5 through the lens of being an Eagles fan. "We" were in desperate need of an elite pass catcher after whiffing on JJ Arcega-Whiteside and Jalen Reagor in back-to-back drafts with Justin Jefferson and DK Metcalf on the board (#pain). Say what you want about Howie Roseman's history of hitting on 1st round picks, but nobody reads the draft and slides up or down better. As soon as he moved out of the 6 spot I assumed he was confident that both Ja'Marr Chase and Kyle Pitts would not have been available and while I felt strongly the Bengals should focus on protecting Joe Burrow with an elite OT talent like Penei Sewell, it appeared they were more interested in reuniting him with Chase. I don't recall if I had any specific reasoning on Jaylen Waddle being the pick for the Dolphins other than the idea that teams were going out of their way to pair their QBs with their WRs from college, but I'm sure it was rumored somewhere. I was able to nail pick 7 being Sewell and pick 9 being Patrick Surtain II. As a Justin Fields believer, I was offended when my first wrong pick was at 8 when the Panthers passed on him for Jaycee Horn. Sitting here today, with no offense to Horn, I think the Panthers would like that one back. Lastly in the top 10,  I had Rashawn Slater. While he clearly turned out to be a stud worthy of a top 10 selection, it was probably a mistake because I was essentially projecting a team trading up for him specifically at 10.
Anyways, I finished 8/10, obviously won the bachelor game (I should probably note here that NFL Draft Lounge owner Brian Lamb was there) and proceeded to verbally guess a ridiculous amount of the final 22 picks while enjoying several adult beverages, constantly lamenting the Justin Fields miss and wondering why QB needy teams would pass on my guy. Virtually every time Justin Fields does something ridiculous in an NFL game, I get a text from a friend because of that night.
I knew 8/10 was an outrageous hit rate that I would probably never be able to repeat, but I didn't learn until later that Underdog Fantasy's Josh Norris, whose analysis I followed, set a new mock draft record that day by correctly predicting 16/32 and 27/32 of the players selected in the 1st. Congrats to Josh, but I immediately knew my new goal would be to correctly predict 17 one day.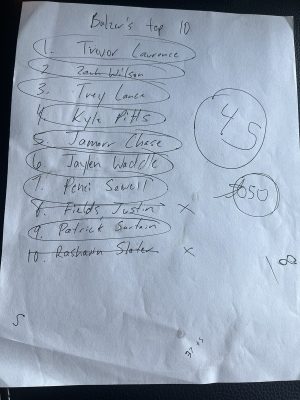 So here I am, giving it my first fully documented try in a year where pretty much nobody knows anything beyond pick 1 (we think). I almost certainly won't go 8/10 or 17/31 (Thanks a lot Dolphins for making it even harder) but I have read every possible rumor and report up until the moment I hit publish on this thing, so here goes nothing:
1. Carolina Panthers (from Bears)
They paid a lot to get here, but the Panthers kick off the draft with my QB1 all offseason.  I'm not at all buying the weird last minute Will Levis rumors.
Excited to see Bryce remind Carolina who is the best player in the draft https://t.co/UQJ4unZrrx

— Sean Balzer (@SeanBalzer) March 23, 2023
2. Houston Texans
I don't know what planet we are living on over the last 48 hours with Will Levis' odds to go 1 overall jumping from roughly 40/1 to 4/1 because of some random guy on reddit, but on this planet I'm going to project him at 2.  Good luck figuring out what the Texans actual plan is but I refuse to believe they will leave the first round without a QB and passing at 2 puts the ability to take one of the top 4 QBs in jeopardy.  In the last few hours before posting this, we got a good ol' fashioned source off between two respected Houston area guys in Lance Zierlein and John McClain with one saying Levis to Houston is 0% and the other saying they will take him with no hesitation.  With no disrespect to Lance, I'll throw my hands in the air and side with John.
3. Arizona Cardinals
Surely Monti Osssenfort (great hairstyle) would like to sell this pick for a king's ransom, but if I've learned anything from "good" mock drafts over the years its that projecting trades in a final mock is a fools errand and I'm not sure there is someone willing to pay a premium to jump Indy. I'm tempted to give them OT Paris Johnson Jr due to recent reports Kyler wants him and has been asking for more protection for years, and think they would do it with a good trade down offer, but I can't see them passing on Will Anderson to do so without a trade.
4. Indianapolis Colts
Either Chris Ballard, and lets face it – Jim Irsay, have good poker faces or they really do like Will Levis more than the draft community does and are willing to stick at 4 to get their guy.  However, prior to a week or so ago when the Stroud negativity started, I don't think they thought they had any chance at getting CJ and are absolutely thrilled when he makes it to them at 4 in this final 2023 NFL Mock Draft.
5. Seattle Seahawks (from Broncos)
I've been pounding the table for the Seahawks or Lions to trade up to 3 for Anthony Richardson, but in this scenario John Schneider stands pat and gets his guy to sit and develop behind Geno.
6. Detroit Lions (from Rams)
Devon Witherspoon, CB, Illinois
I'm still holding out hope the Lions end up with Anthony Richardson because I think he has a better chance of hitting his monster ceiling behind that offensive line with Amon-Ra St Brown, Jameson Williams and perhaps another weapon at 18, but I'll shake things up a tad here, pass on Carter due to Dan Campbell's focus on culture and go with a CB to replace the recently traded Jeff Okudah in this final 2023 NFL Mock Draft.
7. Las Vegas Raiders
Christian Gonzalez, CB, Oregon
Quarterback should be under consideration because Jimmy Garoppolo isn't a long term solution, but the top 4 are off the board in this final 2023 NFL Mock Draft and they reportedly aren't in on this QB class anyways. They can take BPA which just so happens to be one of their biggest needs, but I think they would be a likely trade up spot if Tyree Wilson and/or Jalen Carter are still available.
8. Atlanta Falcons
I think this is the first spot where Bijan Robinson could go, but the Falcons have many more pressing needs and rookie RB Tyler Allgeier had over 1000 yards rushing at 4.9 yards per attempt.  Here they benefit from a small Wilson slide due to the top 4 QBs coming off the board in this final 2023 NFL Mock Draft.
9. Chicago Bears (from Panthers)
I applaud Ryan Poles for making the trade down to 9 and picking up enormous capital on top of a great young WR in DJ Moore for Justin Fields and while I think he would like to continue trading down, I think the next move is to continue to build around Fields and try to better protect a QB who took approximately 397 sacks last year.
10. Philadelphia Eagles (from Saints)
If Carter gets past the Seahawks and Lions, I think Howie Roseman tries to trade up to 7 or 8 to get his guy.  The talent is undeniable and reports are that the Eagles told Carter he wouldn't get past 10.  Philly is in a unique position to add Carter right next to last year's first round pick and good friend Jordan Davis both on and off the field, with former teammate Nakobe Dean right behind them. Plugged-in beat writer Jimmy Kempski of Philly Voice puts the odds they take Carter at 37% and Tony Pauline of ProFootballNetwork confirmed their interest in moving up for a pass rusher.
Confirmed with multiple sources- the Eagles are setting the ground work for a potential move up from pick #10 if they could get one of the pass rushers. https://t.co/Dt123MfR5q

— Tony Pauline (@TonyPauline) April 26, 2023
11. Tennessee Titans
The Titans paid Andre Dillard to be a starting tackle after the in-season loss of Taylor Lewan made them a bottom 5 offensive line in the league. Taking the versatile Skoronski would give them the option to put him at guard if inconsistent lineman Nicholas Petit-Frere can handle RT duties and RT if he can't.  This pick could and probably should be QB Hendon Hooker, but there is no question they need help on the offensive line.
12. Houston Texans (from Browns)
I don't have any idea where Bijan is going to go, do you?  I don't even think this pick makes sense as Dameon Pierce proved plenty capable last season.  Credit the Texans for keeping us all guessing, but my best guess is this is closer to Robinson's floor than his ceiling.
13. Green Bay Packers (from Jets)
As soon as the Aaron Rodgers trade was announced and included a small jump up in this year's first round my immediate thought was they were jumping New England to have a better shot at JSN and sure enough Tony Pauline of ProFootballNetwork tweeted exactly that:
Number of people tell me the move from 15 to 13 for Green Bay is the hopes it will be easier to secure Jaxon Smith-Njigba.

— Tony Pauline (@TonyPauline) April 24, 2023
14. New England Patriots
Nolan Smith, EDGE, Georgia
I think with Bijan and JSN off the board, the Patriots will shift their focus to the defensive side of the ball.  With both of the top CBs gone as well it comes down to their pick of edge rushers.  I'll go Nolan Smith, but we could just as easily see Lukas Van Ness or Myles Murphy.
15. New York Jets (from Packers)
Broderick Jones, OT, Georgia
I think the pick is offensive line, but which one?  I would imagine they prefer more the versatile options of Skoronki or Johnson Jr. with the ability to play guard but the more likely scenario is those two are off the board and they select one of Broderick Jones or Darnell Wright and plug them in as a day 1 starter at RT.
16. Washington Commanders
Deonte Banks, CB, Maryland
One of my hot takes from last week's podcast with NFL Draft Lounge's Brian Lamb was that Banks would be drafted over consensus CB3 Joey Porter Jr. so I'm going to stand by that here and fill an obvious need for the Commanders in this final 2023 NFL Mock Draft.
17. Pittsburgh Steelers
Darnell Wright, OT, Tennessee
The Steelers tend to have one of the worst poker faces in the league regarding their first round pick, with their interest in Kenny Pickett and Najee Harris being widely reported the last two years. This year I feel less of a direct connection to a player than a position after several reports of their focus on all of the top OT prospects at the Senior Bowl and the Combine. One possible curveball I see here is that CB is a need and it might be hard to pass up on the son of Steelers legend Joey Porter. Brian Branch also feels like a Steelers type.
18. Detroit Lions
The best all around TE in this draft replaces TJ Hockenson and helps mitigate some of the production lost from Jameson Williams being suspended for the first 6 games.  Wide received depth needs to be addressed, but I'd be surprised if they prioritized it in the first round.
19. Tampa Bay Buccaneers
Anton Harrison, OT, Oklahoma
This might feel a little high for Harrison, but the Bucs are in desperate need for help on the offensive line, especially if Donovan Smith doesn't re-sign. If the board does fall this way, I'd expect the Bucs to attempt a small trade up.
20. Seattle Seahawks
One of the reasons I think the Seahawks will pull the trigger on Anthony Richardson at 5 is that they can address their pass rush needs here at 20.  Murphy has as high of a ceiling as anyone they could've taken earlier.
21. Los Angeles Chargers
Much like the Cowboys, this feels like a WR or TE only spot.  Keenan Allen turns 31 tomorrow. Mike Williams has struggled with injuries, isn't exactly a burner and is headed into his age 29 season.  The Chargers absolutely have to improve in the downfield passing game if they want to compete with Mahomes and Allen in the AFC.
22. Baltimore Ravens
Pick 16-22 feel like the hotspot for Porter, but I'll stand by my podcast hot take and slot Porter here behind Banks.  I don't think the Ravens should be in play for a WR in the first round after adding OBJ to Rashod Bateman and Mark Andrews, but I wouldn't rule it out as a way to make Lamar happy. There is also some smoke around them trading for DeAndre Hopkins which would certainly rule out wide receiver.
23. Minnesota Vikings
I think the Vikings would've liked to draft a QB last year, but with a weak QB class they pivoted and gave Kirk Cousins a one year extension.  This would give Hooker a year to learn the offense while getting back to 100% health and gives the Vikings the added benefit of the 5th year option.  Recent reports suggest they could look to trade up if one of the top 4 slides.  If they miss out on a QB, I'd expect them to consider WR.
24. Jacksonville Jaguars
Brian Branch, DB, Alabama
I'm intentionally listing Branch as a DB instead of safety because I think a team like Jacksonville, who has needs at safety and corner, could talk themselves into starting him at either position.  I would be surprised if this pick doesn't address the secondary.
25. New York Giants
The Giants desperately need to improve their WR room and I think they are ecstatic that big-bodied outside WR Quentin Johnston is still available to pair with their currently rostered 47 slot WRs.
26. Dallas Cowboys
Dalton Kincaid, TE, Utah
Unless Bijan Robinson is somehow still here, it is going to be a WR or a TE.  I don't think they are ready to essentially give up on Michael Gallup by making him WR4, so I'll go with my favorite pass catching TE in this class and Daniel Jeremiah's #9 overall player.  I'll throw out OL Steve Avila out of TCU as a wildcard if their preferred WR and TE options are gone.
27. Buffalo Bills
Zay Flowers, WR, Boston College
The Bills offense lost a little steam late in the season and 29 year old WR Stefon Diggs can't be counted on to do it all himself.  Third year WR Gabe Davis failed to establish himself as a reliable #2 and while rookie slot WR Khalil Shakir showed some flashes he can't be counted on yet.  Flowers would give them the splash on offense they are looking for.  If they can pull off a trade for a veteran WR like DeAndre Hopkins, DT Calijah Kancey would make a lot of sense.
28. Cincinnati Bengals
Jahmyr Gibbs, RB, Alabama
There is plenty of smoke around Gibbs going in the first round as well as Peter King reporting that some teams have Gibbs over Bijan.  As far as I know I'm on an island here matching him with the Bengals but with last year's primary pass catching RB Samaje Perine off to Denver and Joe Mixon a high probability cut, I'm going RB.  One of the top 5 OTs would make sense if they trade Jonah Williams on draft day.
29. New Orleans Saints (from 49ers)
Lukas Van Ness, EDGE, Iowa
I'm not as high on him as the rest of the draft community (currently 15 on mockdraftdatabase), but he is still likely to go in round 1.  With Cam Jordan entering his age 34 season and Marcus Davenport moving onto Minnesota, New Orleans gets some much needed pass rushing juice.
30. Philadelphia Eagles
Emmanuel Forbes, CB, Mississippi State
I think this is another spot for Calijah Kancey if they don't pick up Jalen Carter early in the draft.  With DT already addressed earlier in this draft and last year, the Eagles shift their focus to the fast rising but extremely small Forbes to learn behind fellow Mississippi State alum Darius Slay and James Bradberry and perhaps compete with oft injured slot corner Avonte Maddox.
31. Kansas City Chiefs
Will McDonald IV, EDGE, Iowa State
I feel similarly to McDonald as I do Van Ness, but he does not appear likely to fall past 31.  DE and WR feel like the top two needs for the Chiefs and they are one of many reasons I feel confident we get at least 4 WRs in round 1.  In this scenario they miss out on the top 4 WRs and gladly scoop up the top remaining EDGE.  I do think there is a chance my 5 WR in the first round hot take hits here with the last pick, but I'm not dumb enough to mock it.
First 5 out – Calijah Kancey, Felix Anudike-Uzomah, Bryan Bresee, Steve Avila, Kelee Ringo
Be sure to follow NFL Draft Lounge for more coverage and analysis on this final 2023 NFL Mock Draft. As always, you can find us on Facebook, Twitter, and Instagram.