The Houston Texans find themselves in a similar position entering the 2022 offseason. Last year at this time, Houston was coming off a 4-win season and hiring a new head coach. Seems like it's déjà vu all over again. This Houston Texans team needs an infusion of young talent now that they have the steady hand of Lovie Smith directing the squad for the 2022 season.
One thing that helps the Texans right off the bat is having their own first-round pick this season, which wasn't the case in the 2021 NFL Draft. Although they've missed the playoffs in each of the last two seasons, as was witnessed with the Cincinnati Bengals, a quick turnaround is absolutely possible with the right players and coaches.
Texans Offense Left Much to Be Desired
Any team playing without the best, most dynamic playmaker, which was the case in Houston, would struggle. Not having Deshaun Watson submarined the efforts of first-year head coach David Culley right from the start. The team tried a stop-gap quarterback with Tyrod Taylor, but injuries and uninspired play ultimately led to rookie third-round pick Davis Mills getting his turn.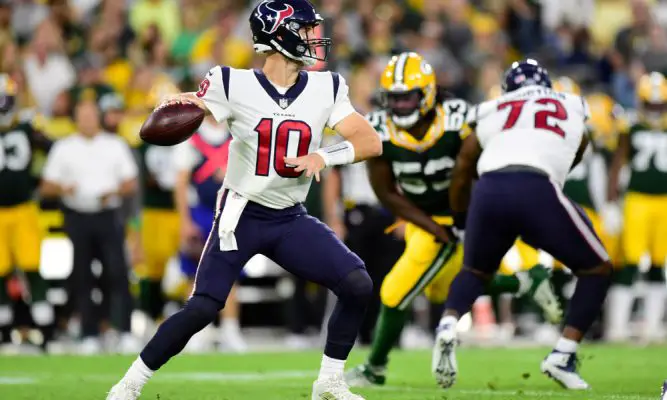 The Texans offense ranked 32nd in total yards per game (278.1) and rushing yards per game (83.6). Houston ended with the fewest rushing yards total (1,422) this year. They ranked 30th in scoring (16.4) and 28th in passing yards per game (194.4). Seven of Houston's 17 games this season saw the team score less than 10 points, and they lost each of those. They were the only team to be shut out twice this season.
Mills provided a glimmer of hope in the second half of the season. He made 13 appearances, with 11 starts, leading the Texans to two wins. Mills completed 66.8 percent of his passes for 2,664 yards, 16 touchdowns, and 10 interceptions. He finished second among rookie QBs in touchdowns and third in passing yards, despite being the seventh quarterback off the board last year.
The larger issues with Houston's offense manifested not in unreliable quarterback play, but unreliable skill talent for the quarterback to use. Only one wideout finished the season with more than 450 receiving yards, and none of the team's running backs eclipsed 450 rushing yards. Houston's offensive line surrendered 44 sacks, which was ninth-most this season.
Defense Didn't Help Much Either
The Texans team defense wasn't much better, unless they were playing the Jacksonville Jaguars. Houston ranked 31st in both total yards allowed per game (384.4) and rushing yards allowed per game (142.2). The Texans pass defense checked in at 22nd overall in passing yards per game (242.2). Their scoring defense ranked 27th, allowing 26.6 points per game.
Houston finished 12th in the league in turnovers, but 10 of their 25 takeaways came in just two games. The Texans finished tied for eighth in interceptions (17), and their secondary was responsible for 14 of those, sixth-most among all secondary units. That said, Houston's defensive backs allowed opposing quarterbacks a 94.1 passer rating, the 12th-highest figure in the league. They allowed 8.0 yards per attempt, which was tied for the highest average allowed last season.
It didn't help the secondary that the Texans' front seven couldn't get to the quarterback. Houston finished with the fifth-fewest sacks (32), fourth-fewest quarterback hits (39), and third-fewest quarterback pressures (124).
Houston Texans Draft Capital and Cap Space
Perhaps the biggest of the Texans team needs entering the 2022 offseason is getting Watson's contract off the books. Watson's base salary of $35 million is fully guaranteed, and he's projected to carry a $40.4 million cap figure next season. Should the NFL suspend Watson for the season, Houston could get off the contract with a one-time dead cap hit of $16 million, which is the figure they'd eat if they can trade him.
According to OverTheCap.com, Houston sports $17.9 million in cap space entering the 2022 offseason. That slots them 16th among the 32 NFL teams. However, the Watson issue figures significantly into that number, so it's likely to change in a meaningful way at some point during the offseason.
Houston heads to the offseason with 12 starters on expiring contracts, including linebacker Kamu Grugier-Hill, cornerback Desmond King II, linebacker Christian Kirksey, safety Justin Reid, and quarterback Tyrod Taylor. The Texans likely let some of those 12 players walk, including Taylor.
For the 2022 NFL Draft, the Texans hold nine selections overall, including four in the first two days of the draft. Houston's most valuable picks are their own at the tops of rounds one, two, and three. They have two fourth-round selections, and three sixth-round picks, as well as one in the seventh round.
The Texans are reportedly open to trading the No. 3 overall selection, which could net them a haul of additional picks to play with. If Houston sees both Aidan Hutchinson and Kayvon Thibodeaux come off the board with the first two picks, they may be tempted to trade No. 3 overall to a team that wants Alabama offensive tackle Evan Neal.
Houston Texans Team Needs
More than anything else, this Texans team needs an infusion of young talent, especially at the playmaking positions on both sides of the ball. Houston's inability to run the ball compounded Mills' inconsistent play under center. And this Texans draft definitely needs to address the defense's failing in pressuring opposing quarterbacks.
1.    Edge Rusher
After back-to-back 4-win seasons, the Texans need dynamic playmakers all over the field, but an edge rusher is a solid place to start. The 2022 NFL Draft sports a pair of elite pass rushers at the top of the Big Board. The problem for Houston is, they're picking third.
The Texans do have a decent edge rusher on the roster in 2020 third-round pick Jonathan Greenard, who led the team with 8.0 sacks last season. That said, Houston finished with the fifth-fewest sacks and ranked 18th in pass-rush win rate.
2.    Offensive Line
This Texans team needs to upgrade along the offensive line, so if Evan Neal is there for them at No. 3, Houston should at least consider selecting him. Laremy Tunsil made the Pro Bowl in his first year with the Texans (2019), but he played in less than 25 percent of total snaps this season and his future with the team is uncertain. Houston lost their other starting tackle, Marcus Cannon, for the year in Week 4.
The Texans ranked 27th in pass block win rate (54 percent) last season and allowed 44 sacks (ninth-most). But they were even worse in the run game. Houston ranked dead last (32nd) in run block win rate (65 percent), and managed the fewest rushing yards in the league last season. Over his last two seasons at Alabama, Neal allowed just 25 pressures.
3.    Cornerback
According to Pro Football Focus, the Texans sported the lowest-graded secondary in the NFL last season. PFF noted only Tavierre Thomas, the Texans' nickel corner, finished with a coverage grade above 60.0. Sure, Houston's secondary finished with the sixth-most interceptions, but figures like that can be fluky from year to year. The Texans forced 25 takeaways, but 10 of those came in just two games.
So, it's clear this Texans team needs a long-term answer on the boundary. Cornerback remains a key area of need for this squad. Houston could consider LSU's Derek Stingley Jr. near the top of the first round or players like Florida's Kaiir Elam and Alabama's Josh Jobe in Day 2.
Other Texans team needs for 2022 include wide receiver, quarterback, and linebacker. Mills flashed as a rookie, but Houston can't be sure he's the long-term answer.
Be sure to follow NFL Draft Lounge for more coverage on the 2022 NFL Draft and the offseason. As always, you can find us on Facebook, Twitter, and Instagram.