The 2022 College Football season is winding down, and with it, it's time for a new mock draft. This 2023 NFL Mock Draft only covers one round, and was built using our Mock Draft Simulator. We aren't including any trades in this mock draft, although they're sure to happen in April.
Be sure to follow us on Facebook and Twitter for more coverage on 2023 NFL Mock Draft articles.
1. Houston Texans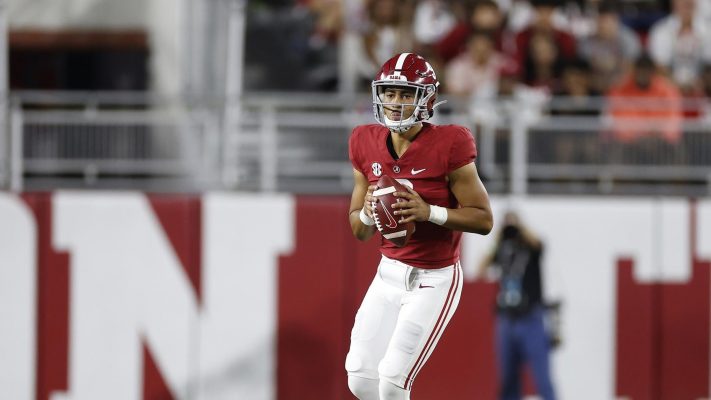 Bryce Young, QB, Alabama
QB Davis Mills has been a short-term solution to Houston's long-term problem at quarterback. I'm not sure how long of a leash Lovie Smith or Nick Caserio will have moving forward, but selecting Bryce Young should be a step in the right direction.
2. Chicago Bears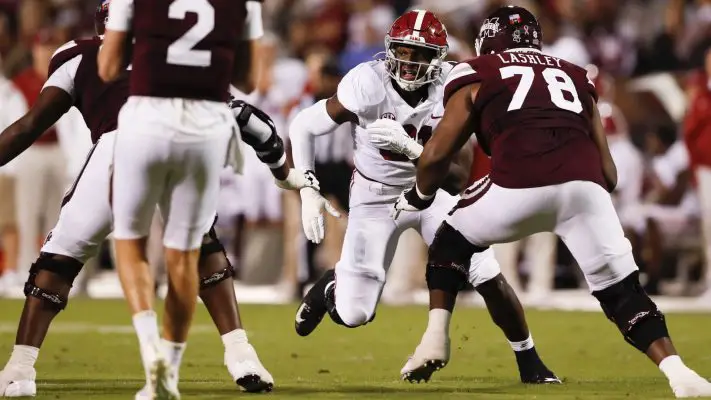 Will Anderson Jr, EDGE, Alabama
The Bears have Justin Fields to build around on offense, but let's find then a franchise piece on the defensive side of the ball. When compared to Georgia DL Jalen Carter, I believe that Will Anderson Jr can help this team long-term.
3. Seattle Seahawks (Via Denver Broncos)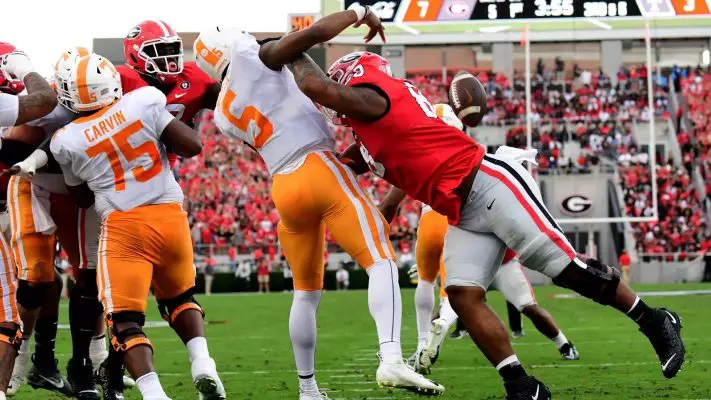 Jalen Carter, DL, Georgia
The Seahawks are one of the worst teams in the NFL against the run. Finding someone that can stop the run, as well as get after the quarterback, such as Jalen Carter, should be a priority for Seattle's front office. With the Broncos struggling this season, a top five pick could fall into Seattle's hands.
4. Detroit Lions (Via Los Angeles Rams)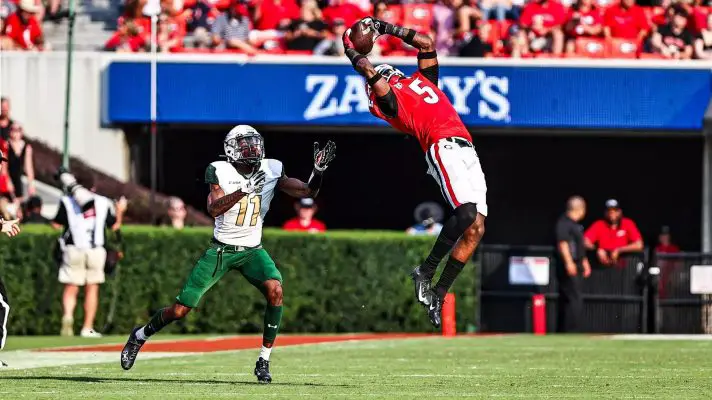 Kelee Ringo, CB, Georgia
If reports are true that the Lions are looking to keep Jared Goff under center, then that could change things up in this mock draft. Going off of those assumptions, I have Detroit selecting a top corner in Kelee Ringo.
5. Arizona Cardinals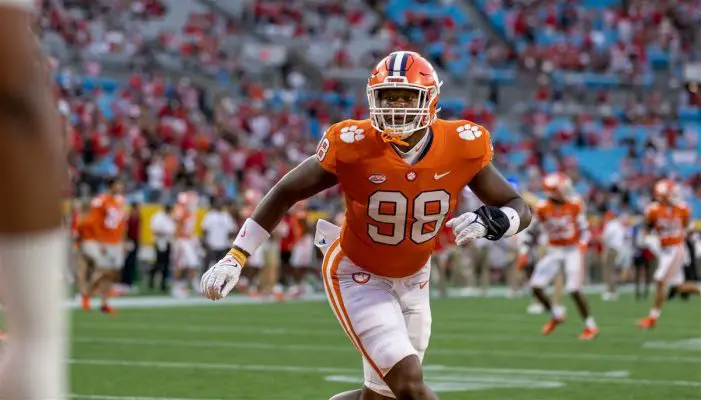 Myles Murphy, EDGE, Clemson
Things are a mess right now for Arizona, and I don't see things getting any better overnight. The Cardinals signed HC Kliff Kingsbury to a five-year extension in the offseason, seemingly keeping him in place for the foreseeable future.
Myles Murphy is a stud off the edge that can start from day one in this league. Peter Skoronski is a possibility here, but I'll stick with defense.
6. Indianapolis Colts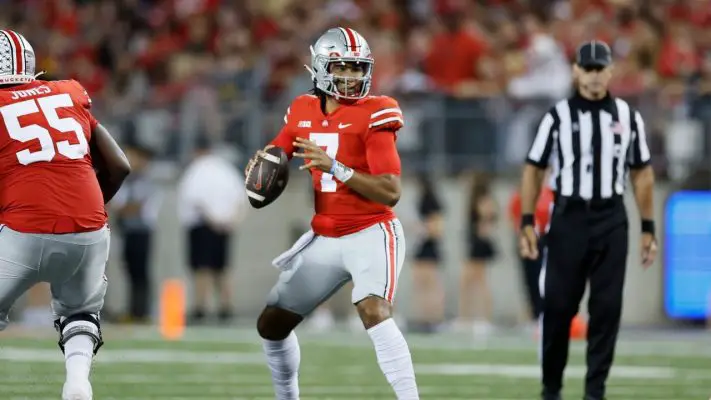 CJ Stroud, QB, Ohio State
Regardless of who is making decisions for the Indianapolis Colts in their draft room, it's time to put an end to the 'QB Rental' mentality. CJ Stroud has the tools and abilities to start in this league, and paired with the right offensive-minded head coach, could be a star.
7. Atlanta Falcons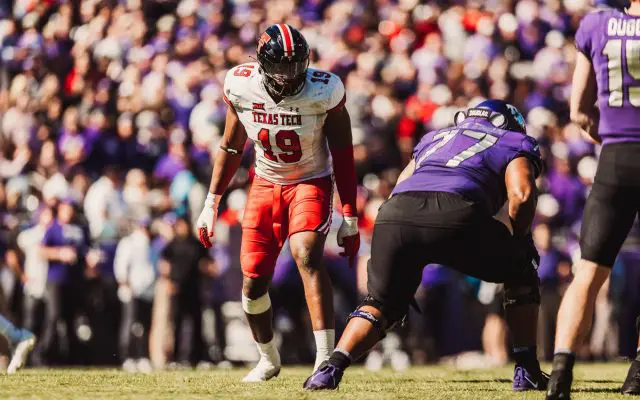 Tyree Wilson, EDGE, Texas Tech
The reins have been turned over to Desmond Ridder at quarterback of the Falcons. Finding someone on the defensive side of the ball to build around could pay off in the same manner. For me, that's Texas Tech EDGE Tyree Wilson. He's played across the front-seven for the Red Raiders, but I think he fits best at DE or OLB in the NFL. Both of which, by the way, are needs for the Falcons.
8. Carolina Panthers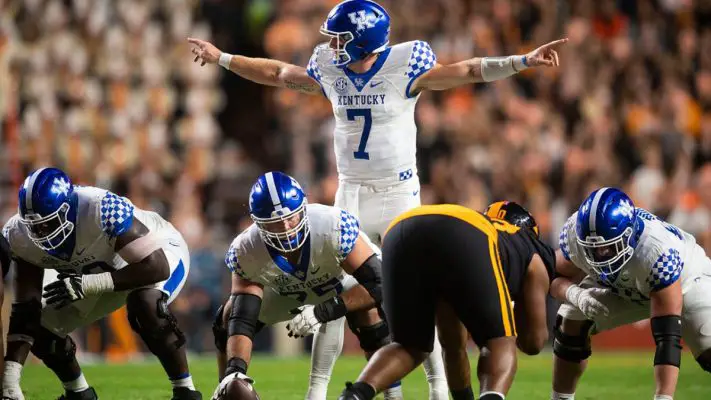 Will Levis, QB, Kentucky
I'm not sure that I buy into the first-round hype surrounding Will Levis, but I'm not really sure where else the Panthers can go with this pick. It's clear that the organization has a need at quarterback, but I'm not sure if Will Levis is the solution. Regardless, I find few other options for them at this point.
9. Philadelphia Eagles (Via New Orleans Saints)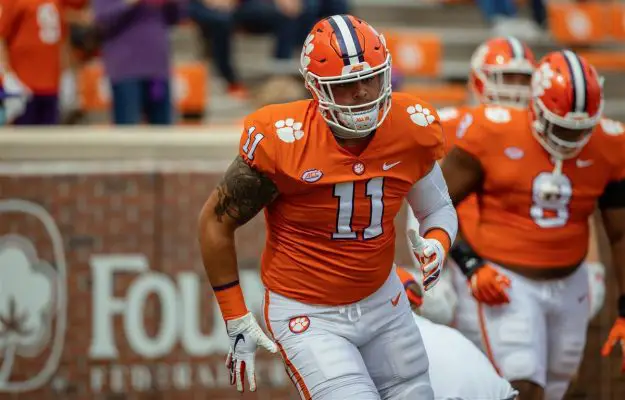 Bryan Bresee, DL, Clemson
With the Saints pick here, the Philadelphia Eagles, one of the best teams in the NFL, could get much better. Whether he plays at defensive end or defensive tackle, both are positions in which Bryan Bresee's abilities would shine. While they've been great against the pass, the Eagles are middle of the road in terms of stopping the run. Bresee penetrates the pocket better than most, and is equally efficient when attacking the run.
10. Las Vegas Raiders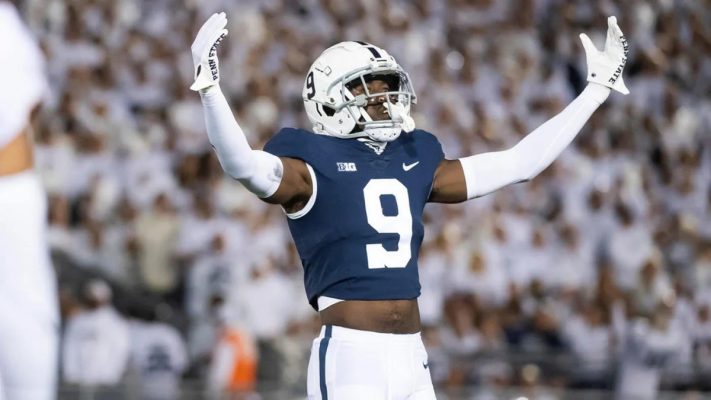 Joey Porter Jr, CB, Penn State
The raiders are one of the worst teams against the pass this season, giving up 3,420 yards in the air. Between depth and talent, Las Vegas needs to upgrade the position. By doing so with this pick, they'll get one of the best in this year's class.
11. Jacksonville Jaguars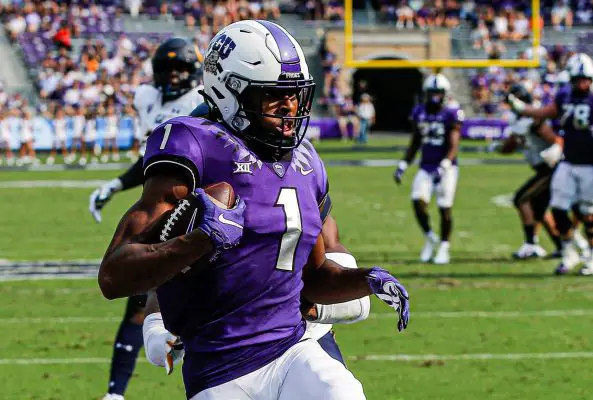 Quentin Johnston, WR, TCU
While I find it unlikely that the top wide receiver in this class could fall out of the top ten, here we are. Despite that, let's look at the Jaguars.
Trevor Lawrence, with capable NFL coaching, has turned into a very solid quarterback in the NFL. Finding him a WR1 in the 2023 NFL Draft should be a priority for GM Trent Baalke. TCU's Quentin Johnston is arguably the best receiver in this class. He's capable of playing any receiver position in this league.
12. Houston Texans (Via Cleveland Browns)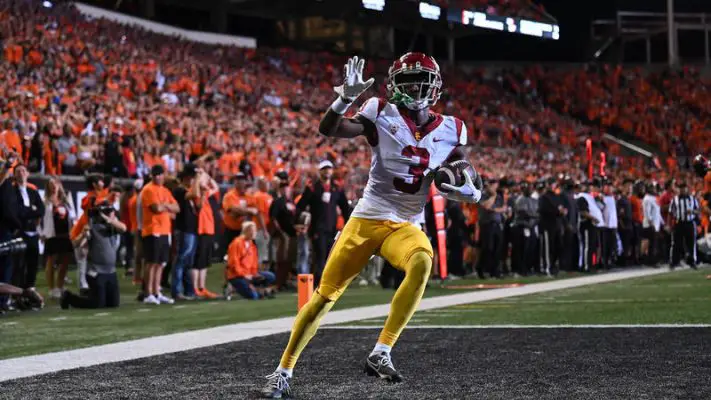 Jordan Addison, WR, Southern California
With the Texans selecting Bryce Young as the first pick in our 2023 NFL Mock Draft, it's time to find him a target. I find it unlikely that Brandin Cooks will be with the team long-term. If they're able to find a team that will take on the rest of his contract, I expect the Texans to explore a trade. Nico Collins has been nice, but I'm not sure if he's anything more than a complimentary piece.
Jordan Addison is my top receiver in the 2023 NFL Draft class, and regardless of who the head coach will be long-term, Addison is an impactful player form day one.
13. Pittsburgh Steelers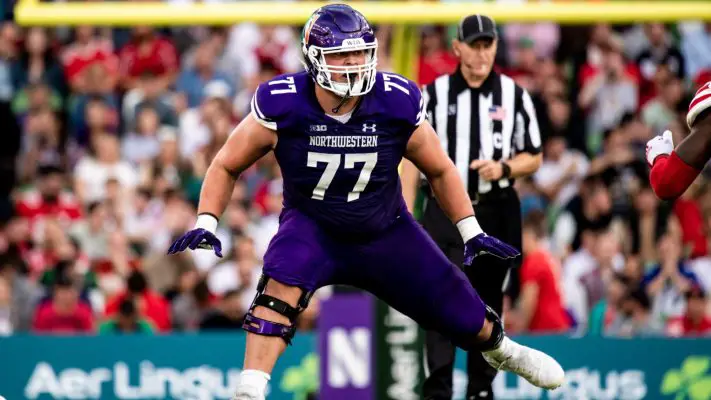 Peter Skoronski, OT, Northwestern
The Steelers have a 9 to 13 touchdown to interception ratio this season. They seem committed to Kenny Pickett beyond this season, so giving him more time to throw from the pocket is the pick here. Peter Skoronski is my top offensive tackle in this draft class, and I'm not even sure if it's close.
14. Green Bay Packers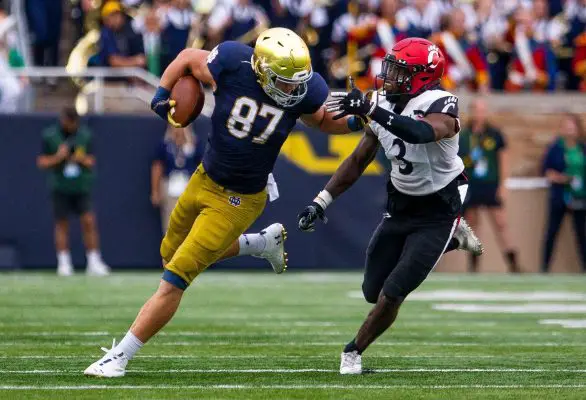 Michael Mayer, TE, Notre Dame
We're all unsure of how much longer Aaron Rodgers will play in Green Bay. However, regardless of what he decides in terms of his future, this franchise needs to find a tight end that they can count on. Michael Mayer has been one of the best at the position in college football, even going back to last season.
15. Seattle Seahawks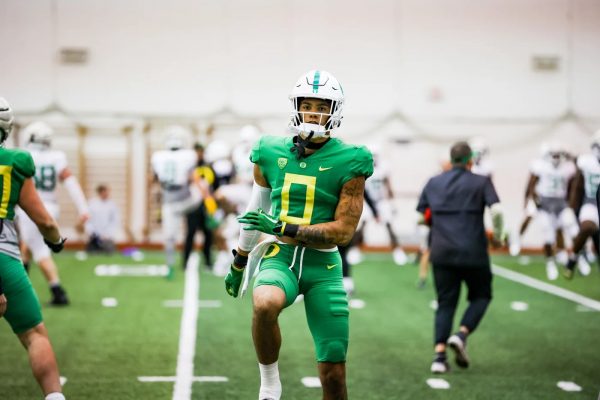 Christian Gonzalez, CB, Oregon
The Seahawks have benefitted from Denver's struggles this season. They'll likely end up with a top five pick following the Russell Wilson trade. In our 2023 NFL Mock Draft, I had them selecting Georgia DL Jalen Carter with the fourth pick. With this selection, it's back to defense as I have them addressing a need in the secondary.
16. New England Patriots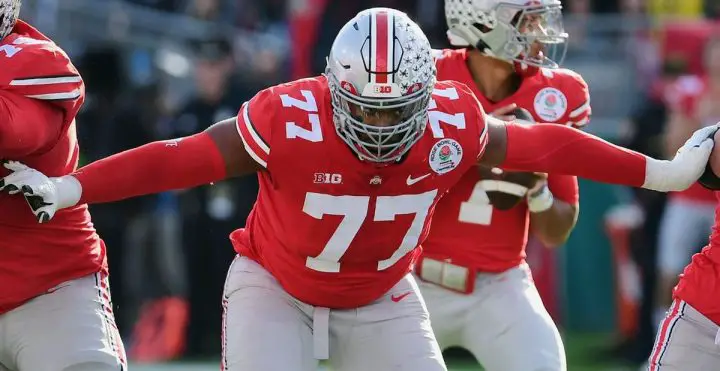 Paris Johnson Jr, OT, Ohio State
Overall, the Patriots lack depth on their offensive line. Assuming that they can figure out their play calling issues, they should be a much better team in 2023.
17. New York Jets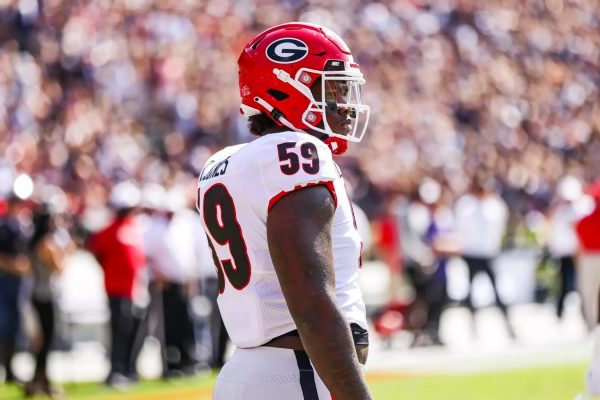 Broderick Jones, OT, Georgia
This should help the New York Jets run the ball on a more consistent basis, as well as give the quarterback more time in the pocket. If they can figure out how to solve those two issues, the Jets are a much-improved team in 2023.
18. Detroit Lions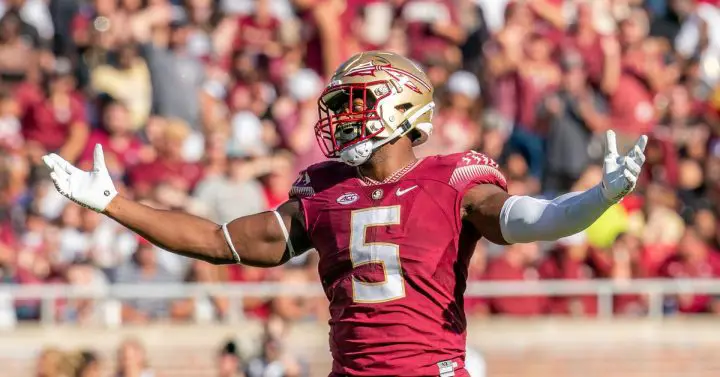 Jared Verse, EDGE, Florida State
Once again, let's assume that the Lions do stick with Jared Goff at quarterback for the foreseeable future. In my opinion, Jared Verse is someone that can take some pressure off of Aidan Hutchinson, while also providing some depth and versatility in the front-seven.
19. Tampa Bay Buccaneers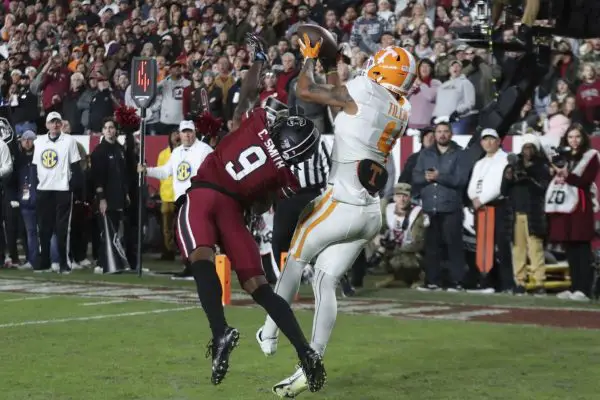 Cam Smith, CB, South Carolina
The Buccaneers have won the games that they should have, and lost some games against some really good opponents. If they want to get back into contention, they can do so with this pick in our 2023 NFL Mock Draft.
The cornerback position is one that the franchise hasn't addressed seriously in several seasons. Cam Smith can play the outside corner slot position from day one in the league.
20. Tennessee Titans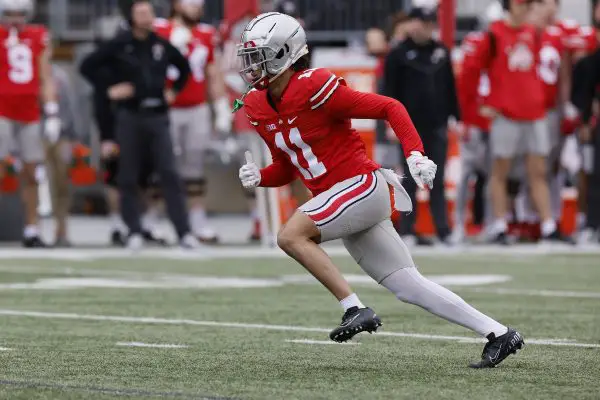 Jaxon Smith-Njigba, WR, Ohio State
As good as Treylon Burks has been this season, he isn't A.J. Brown. Finding someone that can lineup on the opposite end of the field, and open things up for the offense, should be a priority this offseason. If they don't do it through free agency, look for them to draft a receiver in the 2023 NFL Draft.
21. Washington Commanders
O'Cyrus Torrence, IOL, Florida
The Commanders have been hot as of late, winning six of their last nine. I really like the idea of adding O'Cyrus Torrence to this roster. He's been a pivotal part of two college programs and their ability to run the ball consistently. Expect more of the same from him in the NFL.
22. Los Angeles Chargers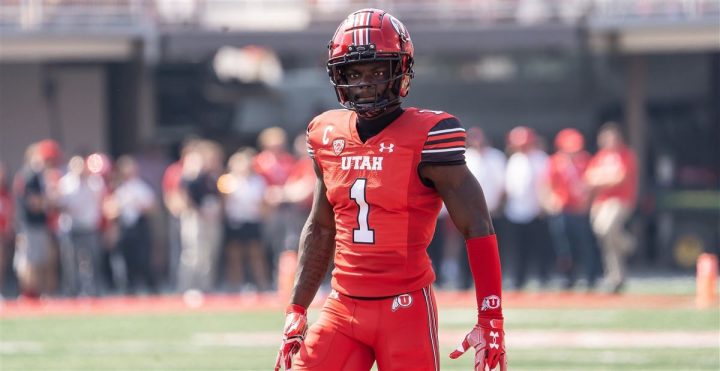 Clark Phillips III, CB, Utah
The Chargers are out of position here to draft a run stopper to anchor the middle of their defense in this 2023 NFL Mock Draft. Rather, I have them addressing an alternative need in the secondary. Los Angeles is towards the bottom half of the league across the board in defensive stats, and it shows. This is a move that can take some pressure off of the offense, but also get them over the hump against top opponents.
23. Miami Dolphins
This pick was forfeited following an investigation into tampering.
24. New York Giants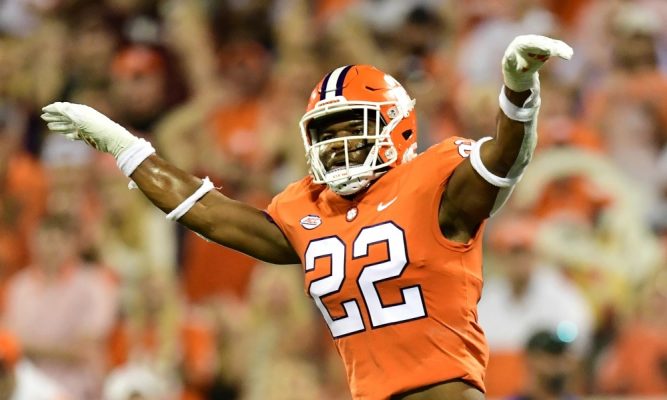 Trenton Simpson, LB, Clemson
The slot receiver is an area of need that the front office can look seriously at, but I want to go a different direction in this 2023 NFL Mock Draft. The Giants have struggled this season against the run, giving up the third-highest rushing yards.
25. Baltimore Ravens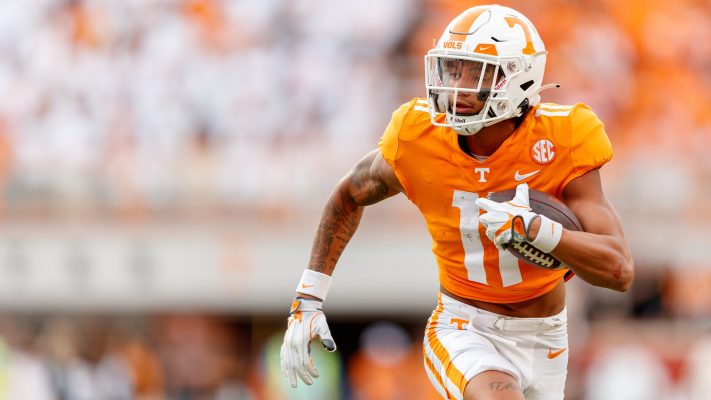 Jalin Hyatt, WR, Tennessee
This season, Jalin Hyatt was an absolute monster for the Tennessee Volunteers. If the Ravens select him, he'd be an upgrade over an aging DeSean Jackson. Hyatt has mostly only played the slot receiver position, but I think he has the talent to play outside, too.
26. Denver Broncos (Via San Francisco 49ers)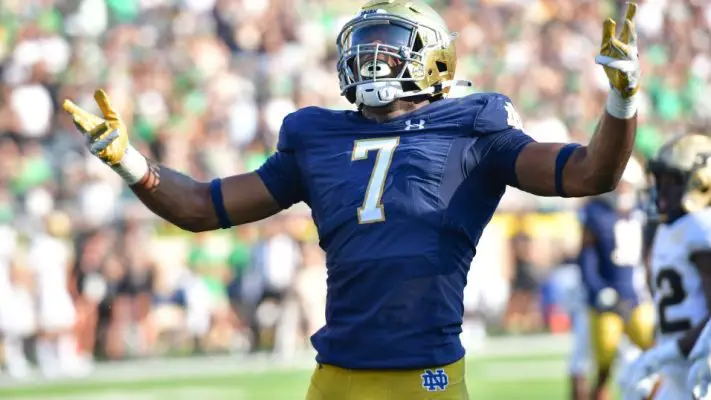 Isaiah Foskey, EDGE, Notre Dame
This is Denver's only pick until 68th overall in the third round, so hopefully they can make it count. It's not going to be enough to fix all of their issues from this season, but it can be a start. Isaiah Foskey has seen his draft stock dip a bit over the last month, but I still think he's a first-round talent, especially so for a depleted Broncos pass rush.
27. Dallas Cowboys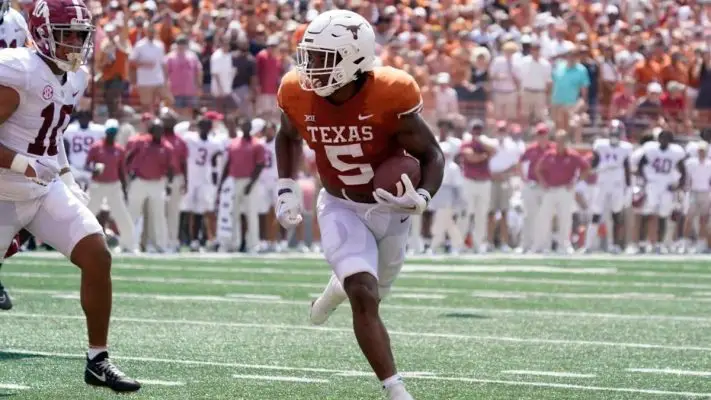 Bijan Robinson, RB, Texas
This isn't a pressing need for the Dallas Cowboys, but Jerry Jones does like to make moves that will attract fans. Ezekiel Elliott is 27 years old and the Cowboys have a potential out in his contract in the offseason. I'm not sure if they'll take the out, but I do know that it's unlikely for him to make it to the 2026 season.
28. Cincinnati Bengals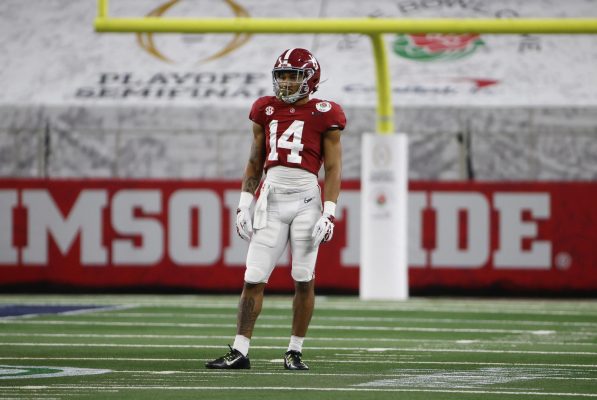 Brian Branch, S, Alabama
Cornerback is a position of need for the Bengals, but safety is, too. I have Cincinnati selecting my top safety on our 2023 NFL Draft Top 200 Big Board.
29. Kansas City Chiefs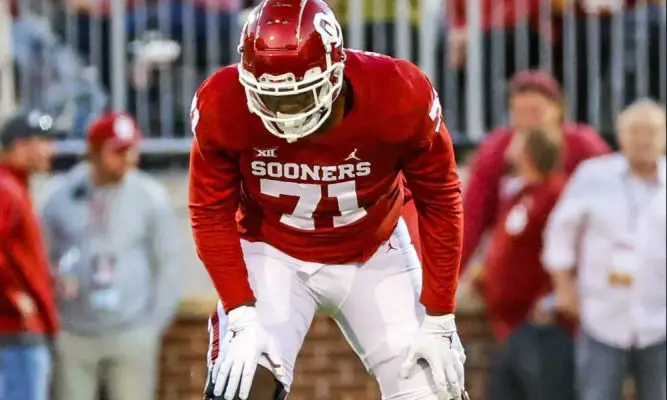 Anton Harrison, OT, Oklahoma
The Chiefs really haven't addressed the offensive tackle position in quite some time. Anton Harrison probably isn't an immediate upgrade over Orlando Brown, but it is unlikely, in my opinion, that Brown will be back with the Chiefs in 2023.
30. Minnesota Vikings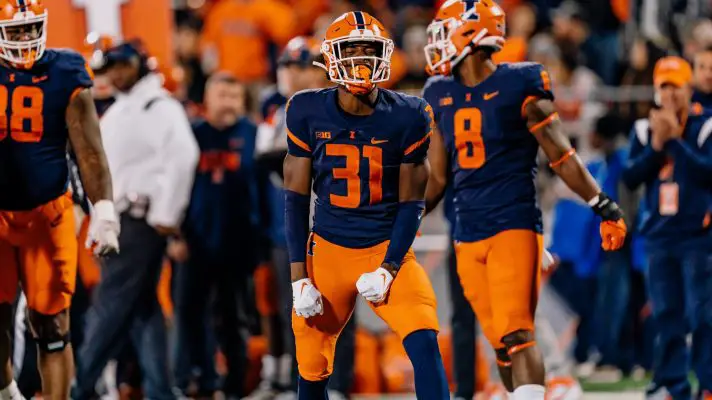 Devon Witherspoon, CB, Illinois
Devon Witherspoon's draft stock has been trending upwards over the last month. Look for that to continue as we get into the pre-draft process. Cornerback is a top need for the Vikings, and if they're able to select Witherspoon, it checks off a huge need.
31. Buffalo Bills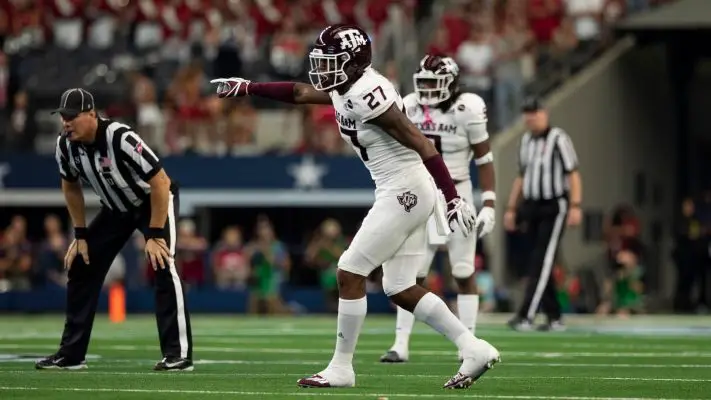 Antonio Johnson, S, Texas A&M
While running back is an option here, I find it unlikely. Instead, I'll have them addressing the secondary by way of a safety. Antonio Johnson is capable of playing safety or corner, both of which the Bills could use some depth.
32. Philadelphia Eagles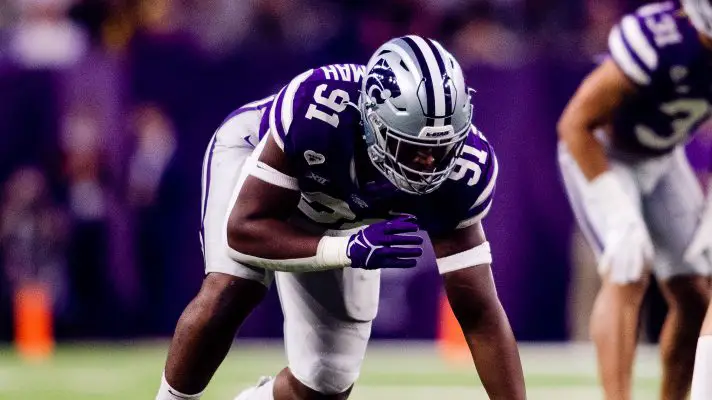 Felix Anudike-Uzomah, EDGE, Kansas State
To end our 2023 NFL Mock Draft, let's plug an edge rusher into this defense. I really thought that Felix Anudike-Uzomah had a great season last year for the Wildcats. While his numbers have dipped a bit this season, I still think he's a fringe first-round draft pick.